Combing Anguilla's Beaches for the Best
Anguilla Beach Lovers brings you the latest additions to one family's experiences of the "best of all things Anguillian."

If you like this e-zine,, please do a friend a favor and "pay it forward."

If a friend did forward this to you and if you like what you read, please subscribe by visiting...
---
Year 4 of The Anguilla Card is HERE!
We have been hard at work gearing up for Year 4 of the Anguilla Card! With 12 new Partners (77 total!), Anguilla Card 2017 is the highest value Anguilla Card yet. This year's version is also the prettiest... :-)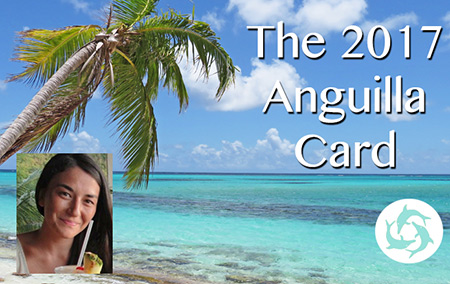 Before going any further, thank you to all Card Holders for your support. You, along with our Site Sponsors, provide the budget to keep breaking new ground with Anguilla Beaches. It's not cheap to keep flying drones into the Caribbean Sea ;-)
Since the 2016 release, Covecastles' Restaurant, Tropical Sunset, Covecastles (luxury villas), Twin Palms Villas, Anguilla's Lit Fest and CuisinArt's award-winning Venus Spa have joined the Anguilla Card.
(To skip the news and purchase your Anguilla Card, click here.)
Who is brand new to the Anguilla Card this year? Here are our six newest Partners...
Sarjai's Restaurant
Set in the heart of Long Bay Village, Sarjai's Restaurant is a product of passion. It is home to one of Anguilla's highly revered star chefs...
Chef Darren Connor
Chef Darren is known as the man who always brings home the gold for Anguilla. In years past, he was Anguilla's "MVP" at the Caribbean's prestigious "Taste of the Caribbean" culinary competition each year in Miami.
A humble and kind man, Chef's career began in 1995 when he worked with another local celebrity, Chef Lenard Smoke Sharplis. "Smoke" honed Chef Darren's skills as he worked at Koal Keel and Smokey's. It wasn't long before Chef Darren set off to expand his skills at the Culinary Institute of America in New York City.
Today, his passion for delighting palates can be tasted at his family-run restaurant, Sarjai's...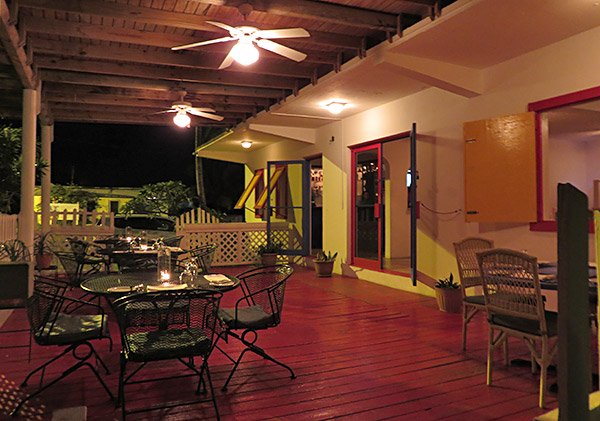 Named after his daughter, Sarjai's is a family affair. Chef Darren heads up the kitchen while his warm-hearted wife Cherise takes good care of you in the dining room.
What's on the menu? Anguillian cuisine with Chef Darren twists!
Chef's appetizer menu features a soup of the day, a variety of fresh salads, crispy calamari, fish tacos and...
Tuna Tartare Crisp
Thin layers of tuna are bathed in olive oil with lemon and then layered with herbs and topped with Jalapeños. Served with tortilla chips, it is almost a Mexican take on the French classic. The Jalapeños are an excellent touch, lending a pleasant zest to each bite.
Chef also prepares nightly special appetizers. A favorite is the crayfish...
Sweet crayfish are coated with secret spices and herbs before being thrown on the BBQ. Grilled to perfection, they are then gently placed atop whipped potatoes. Vegetables on the side. Divine!
When it comes to entrées, this dish is an absolute must...
Coconut crusted shrimp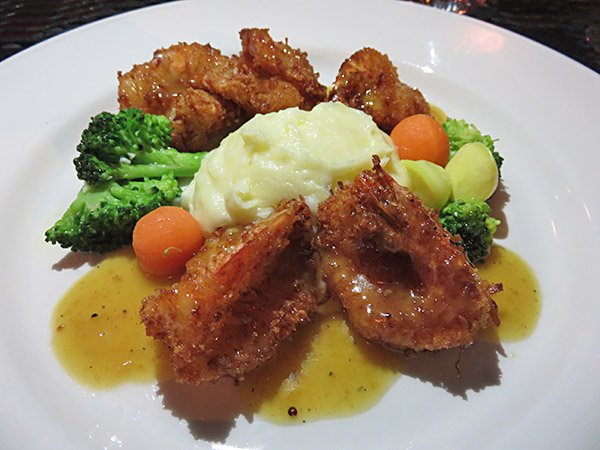 Shrimp are breaded and fried to a golden-brown. Crisp and light, Chef then bathes them in a Malibu-pineapple sauce. Dangerously addictive, each bite is like biting into a sweet piece of heaven with Chef's silky smooth whipped potatoes.
---
Romney's Restaurant & Bar
A little known spot that packs a whole lot of flavor, Romney's Restaurant & Bar has become a local favorite since the Romney family opened their doors in 2014.
Originally Bistro Phil many years ago, then later Luna Rosa and AXA Seafood House, today, Romney's is a family-owned operation. The open-air restaurants is perched over Anguilla's crystal clear Atlantic waters, with views of North Hill & Road Bay to the right and Sandy Island to the left.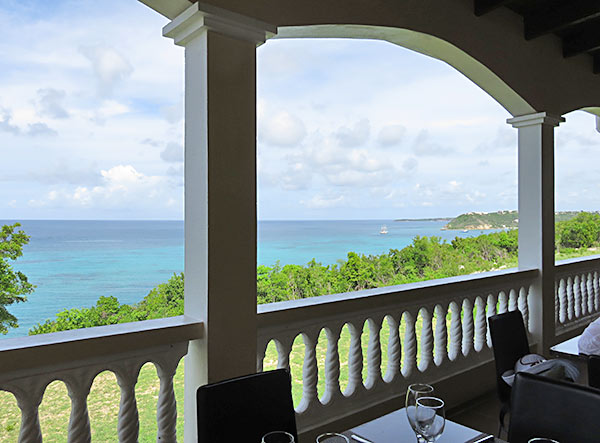 Romney's popularity is a credit to their chef, Chef Kevin Paul.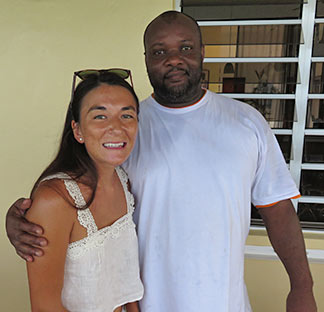 Best known for his years as one of Straw Hat's head chefs, Chef Kevin's famous creations can be seen on Romney's menu today. Organic tomato pie and bread pudding are two popular choices available for dinner. (Full report coming soon.)
What's for lunch? A variety of expertly-prepared wraps, pizzas, local dishes (ex., stewed oxtail, fresh snapper, etc.), and sandwiches, including...
Romney's Chicken Sandwich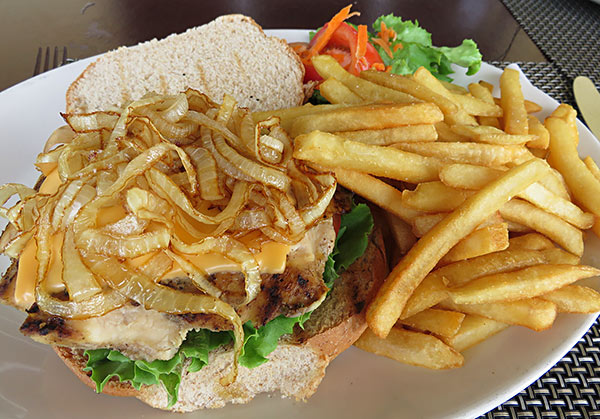 Chef grills chicken breast and tops it with all of the "musts" (tomato, lettuce, cheese). The extra-special touch? Fried onions. A sizable portion, each bite is better than the next.
With efficient service, excellent eats and at a reasonable price, Romney's is a gem of a find!
More on Romney's Restaurant & Bar.
---
Elvis' Restaurant
Welcome to the home of The King!...
Elvis' Restaurant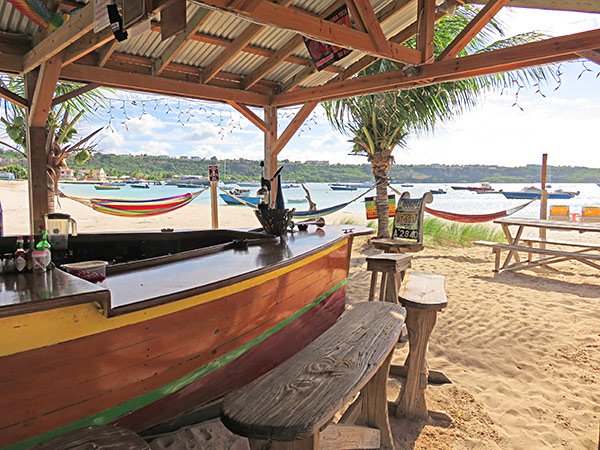 In Anguilla, there is no beating Elvis' loyally-loved beach bar on the sands of Anguilla's nightlife capital, Sandy Ground. A barefoot bar and restaurant by the water's edge, owners Elvis' and Brett keep the fun vibes rolling in Anguilla.
Elvis...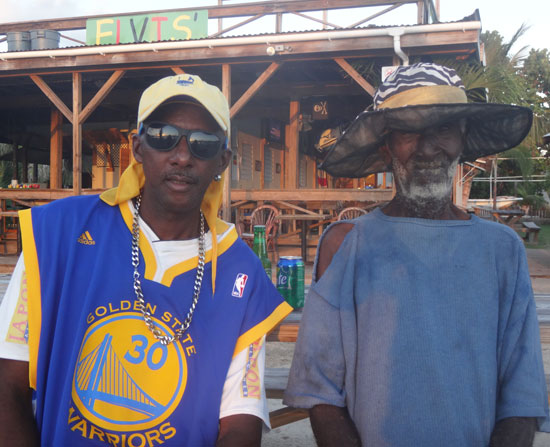 Brett...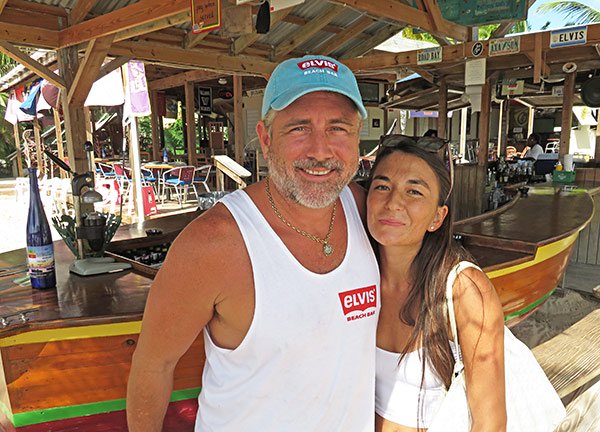 A favorite for a pre-sunset cocktail, late nights and a "must" for all sports lovers (Brett broadcasts every game and has you covered in football season), Elvis' is also a top pick for Mexican eats on the beach.
Toes in the sand and rum punch in hand, it all goes down smooth with their Mexican menu with Anguillian touches. For example, their "Goatchos," nachos with tender pieces of goat.
Our picks are...
Elvis' Nacho Supreme
And...
Elvis' Fish Tacos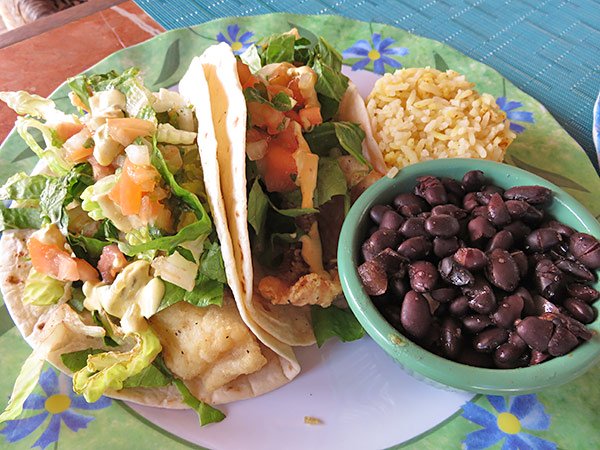 ... rated the best fish tacos in Anguilla and for good reason!
More on Elvis' Restaurant here.
NOTE: Discount does not apply to drinks only. Applies to total bill (food and drinks) on restaurant meal.
---
Wesley House
One of Anguilla's only villas overlooking Savannah Bay, Wesley House is unique in its location alone.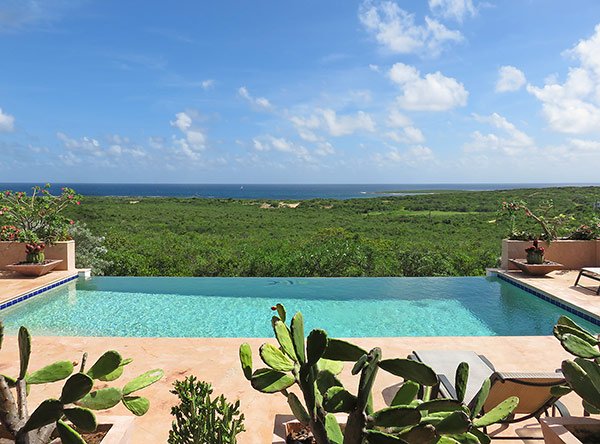 Step inside and you are in a completely different kind of Caribbean villa. Wesley House embraces all of Anguilla's natural beauty.
Clad in warm tones and adorned with Caribbean-inspired art, Wesley House exudes a warm feel almost reminiscent of a South African lodge. The villa features three bedrooms, a gourmet kitchen, living room (with 50" flat screen and surround sound) and indoor dining area.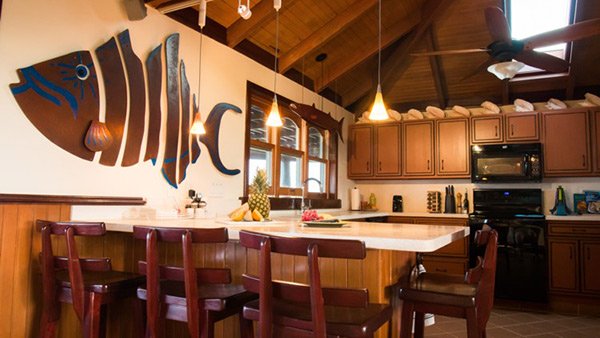 It all opens onto the villa's oversized terrace, with ample outdoor seating and dining areas and even hammocks, all shaded by an expansive pergola. Facing south east, a cooling Caribbean breeze constantly blows through. You will never overheat at Wesley House.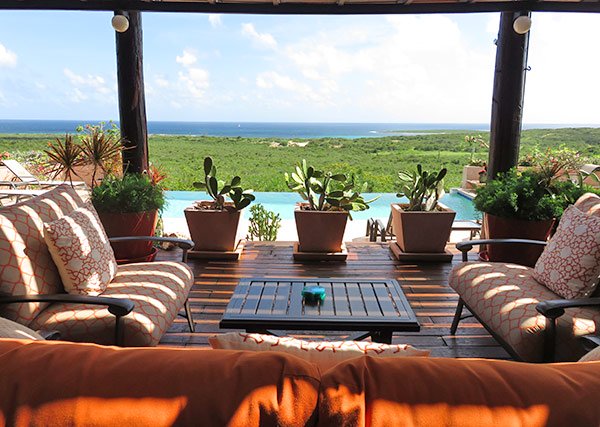 Standing on this deck and taking in the views, you realize how special Wesley House is for its location and all of its features that lets you embrace Anguilla's natural beauty.
---
And now for something completely different!
Corail Helicopters
Prepare for an overdose of blue...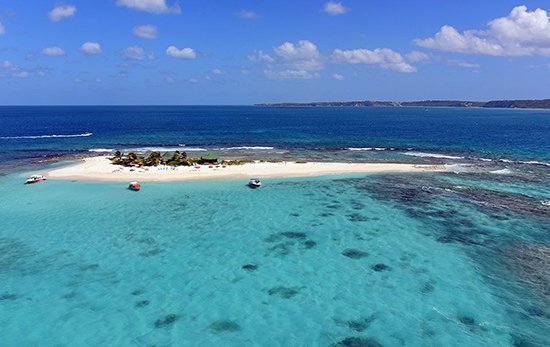 The most scenic, and certainly the most exciting way to see Anguilla, Corail Helicopters is known region-wide for their helicopter tours. The most trusted company in the Caribbean, Corail Helicopters began operations in Réunion Island in the Indian Ocean.
Today, they have a base in St. Martin where they operate their most popular tour... their tour of Anguilla. Flying in close over Anguilla's most famous beaches (Rendezvous Bay, Maunday's Bay, Meads Bay, Shoal Bay East) and even three of the outer cays (Scrub Island, Prickly Pear, Scrub Island), there is no better way to experience Anguilla from the air.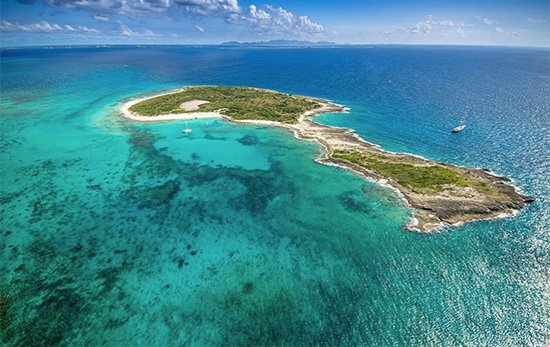 Corail also offers helicopter transfer services from St. Maarten's Princess Juliana Airport to Anguilla's airport. The ultimate way to travel to Anguilla in style - and the most efficient way to get from SXM to AXA, too!
Click here to purchase the Anguilla Card.
---
Fitness at The Reef
Staying in shape has never been so cool as it as by the pool at The Reef by CuisinArt!
The Reef has introduced two exciting fitness programs. The first are their Aqua Cycling classes...
State of the art aqua bikes are set inside The Reef's modern pool. An intense cardio work out, you don't build too much of a sweat basking in the pool's cooling waters. It is excellent for your core and your legs (the water adds extra resistance)!
In addition to Aqua Cycling, The Reef is one of the few hotels in Anguilla that offers weekly yoga and meditation classes. Yogi Sammi Green leads the classes beach-side at Breezes restaurant on Merrywing Bay.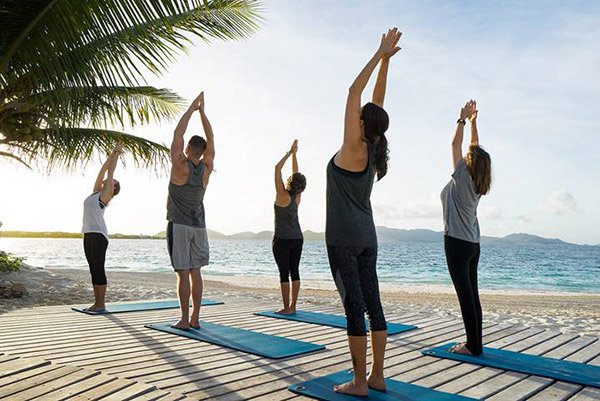 The focus of the classes are to work on flexibility and strength, and for you to leave wholly revitalized.
Yoga classes are $25, Aqua Cycling classes are $35. Both are open to non-hotel guests. To book, call the number below.
Tel.: (264) 582 3494
---
Good-Bye To...
I am sad to announce that a loyally-loved favorite, Le Bar has closed its doors. Le Bar is currently available for rent. At $3,500/month, it's an excellent opportunity for anyone who is interested in starting a restaurant in Anguilla and/or living in Anguilla. For more information, contact Jackie Pascher. More on Jackie Pascher here.
We also bid adieu to La Vue and Flavours. If you purchased your Anguilla Card before today (Dec. 1), you may still use it at La Vue.
---
More Partner News!...
A Fresh Look at Little Butterfly
When it comes to "where to affordably stay in Anguilla," few properties compete with the likes of Little Butterfly.
1. Contemporary Design & Luxurious Amenities
Set behind strong wooden gates, Little Butterfly is a peaceful oasis that gazes out to mountainous St. Martin.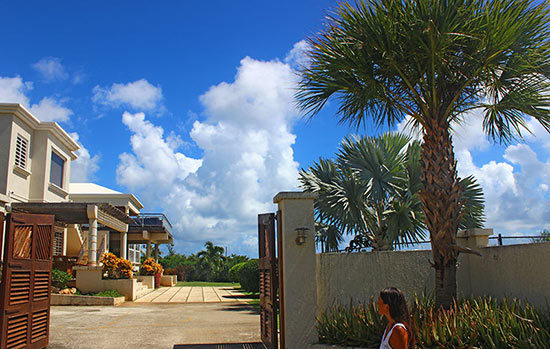 Little Butterfly is a spacious and modern rental. A full kitchen, dining area, living room (with flatscreen TV and cable TV) and outdoor patio make up its main areas.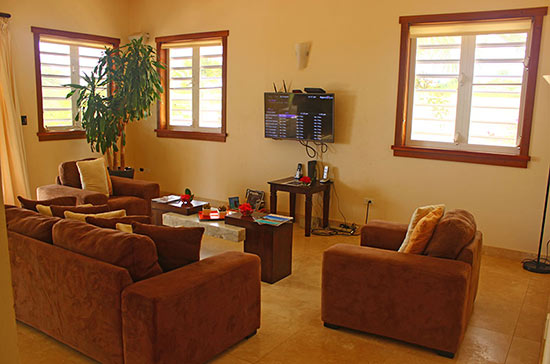 The bedroom is plush, with a king-size bed and a lavish bathroom complete with a sumptuous sink tub and a luxurious walk-in shower.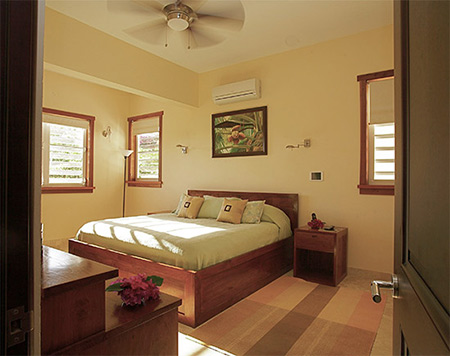 Other amenities include full gym, tennis courts and 24/7 high speed Internet. The kind folks of Little Butterfly meet you upon your arrival in Anguilla (at Blowing Point or the airport), housekeeping and laundry are included twice/week, and even your requested first day's breakfast items are pre-stocked for your arrival.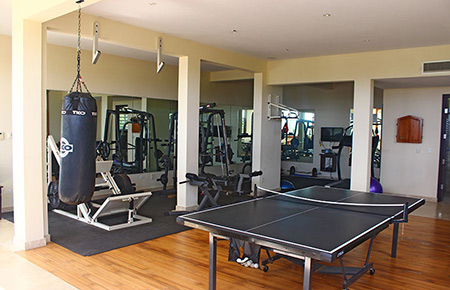 When it comes to the villa itself, living is easy at Little Butterfly.
2. Location
Little Butterfly is centrally set.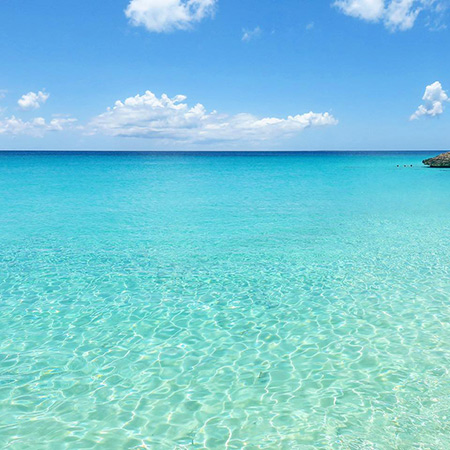 Conveniently located in Little Harbour, you are only 5 minutes from Blowing Point (Anguilla's ferry terminal). Major grocery stores are 5 minutes away (in The Valley). And, best of all, you are just 10-15 minutes from Anguilla's best beaches, including Rendezvous Bay, Meads Bay and Shoal Bay.
Special Bonus: No need to pack your own beach chairs, umbrellas and coolers. They are all included in your stay.
Explore Anguilla's natural beauty by day and relax in total comfort by nightfall.
3. Price
At $246/night (including ALL taxes and service charge), Little Butterfly is one of Anguilla's highest value rentals, especially if you are visiting for more than one week.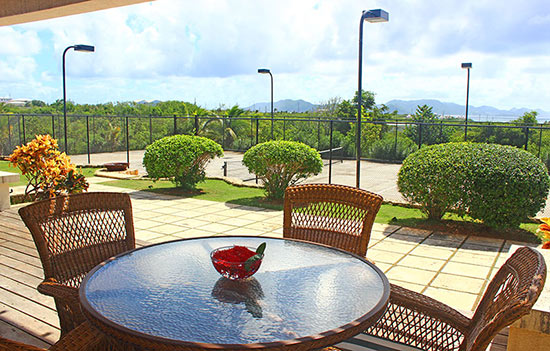 Little Butterfly delivers all of the comforts of home at a high-value rate!
More on Little Butterfly here.
Click here to purchase your Anguilla Card.
---
Tequila Sunrise Villa's NEW Additions
The luxury villa that offers it all, Tequila Sunrise Villa's owners Joel and Robin go above and beyond. They have thought of every possible amenity to make your vacation 100% relaxing...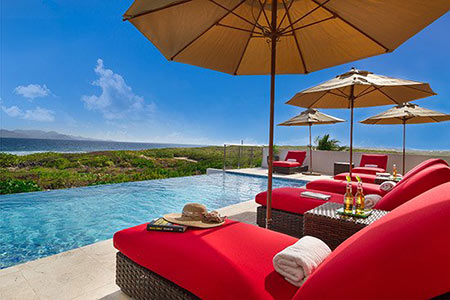 3 luxurious bedrooms (complete with private terrace and spacious en-suite bathroom)
Continental breakfast prepared daily
Daily laundry service
Meet and greet at Anguilla's airport or ferry
Views of the Caribbean Sea, St. Martin and even St. Barth on a clear day
Just a 2 minute walk to an exclusive snorkeling cove
Unlimited ice-cold Patron on-tap
And so much more...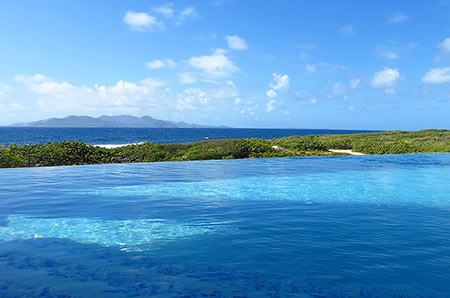 NEW for 2016, Joel and Robin have now added...
A 55" Smart TV with Apple TV
Perfect for quiet nights in, or on the rare rainy afternoon, guests can enjoy Netflix, Hulu, games and much more via the slick 55" Smart TV with Apple TV.
Squareless Routes GPS
In addition to the Smart TV, your stay also includes a complimentary GPS unit from Squareless Routes. Perfect for days of exploring beautiful Anguilla, Squareless Routes pre-loads their GPS units with every Anguilla restaurant, hotel, villa, all 33 beaches, and points of interest on the island. Just ask for it and it's included in your stay, too!
The amenities at Tequila Sunrise Villa never cease to impress!
More on Tequila Sunrise Villa here.
---
Chef Marc Alvarez Joins The Restaurant at Malliouhana
With a reputation for its haute cuisine and prestigious setting, The Restaurant at Malliouhana has long set the standard for fine dining region-wide. Today, the restaurant introduces Executive Chef Marc Alvarez who promises to push that reputation higher yet.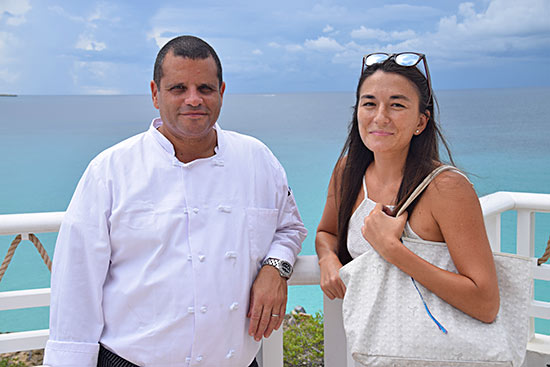 Chef Marc Alvarez who elevated the profile of Covecastles in 2015. He has developed a cult following over his years in the kitchen. Known and loved by discerning palates, his cuisine has often been described as "genius" by high-profile travel magazines.
A match made in heaven, The Restaurant at Malliouhana is a perfect fit for Chef Marc's sophisticated cuisine. What's on the menu?...
Chef Marc's lunch menu starts at the "Raw Bar." Seemingly simple dishes are flawlessly executed.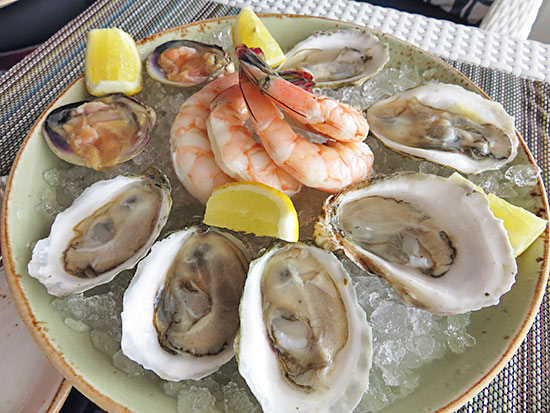 The first half of the raw bar is made up of a "Seafood Sampler." Seasonal oysters, Little Neck clams, Top Neck clams, poached shrimp and chilled local crayfish. Chef Marc sources each of the delicacies, the seasonal oysters generally coming straight from the cold Atlantic waters of Maine.
Delightfully refreshing, this is the way to eat on a warm, tropical afternoon in Anguilla.
Next on Chef's menu is "Greens & More." Chef satisfies cravings for light yet interesting dishes. You won't see a "chicken caesar" here.
Instead, Chef Marc makes a mean Thai chicken salad. NOTE: If you can't handle spice, let Chef know. This salad is fire-engine red hot.
The star of the show? The Ahi Tuna and Kingfish Poke Bowl.
Generous amounts of tuna and kingfish are mixed with avocado, cucumber and mirin-crisped Hijiki seaweed. The entire concoction is laced with a potent wasabi vinaigrette. A dish with a bite, it is addictive.
More on Chef Marc's menu at Malliouhana here.
---
da'Vida's Shuttle Service
The elegant restaurant set on the shores of Crocus Bay, with the gentle lapping of the waves setting the mood, da'Vida has exciting news this season!
They now offer a complimentary shuttle service from your hotel/villa to da'Vida. No need to worry about getting to and from one of the best sunset spots in Anguilla...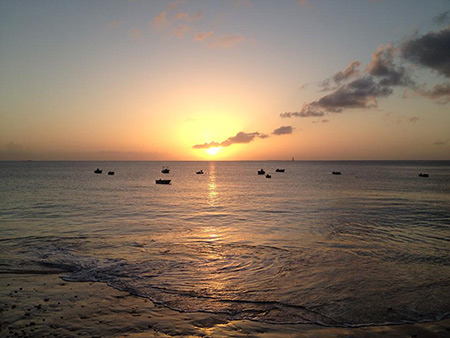 A favorite for tapas and dinner (da'Vida is home to the best lobster spring roll made with sizable chunks of lobster)...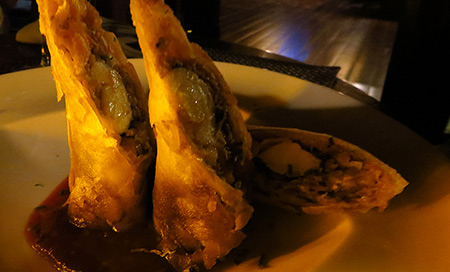 To organize your shuttle and to make a reservation, call: (264) 498-5433
---
Last, but certainly not least, a big thanks to Anguilla Card Holder Geoff for sending in this blissful account of his recent trip to Anguilla...
Hi Nori,
Nancy and I had an absolutely fantastic vacation on Anguilla! The flight connection worked out perfectly, our refrigerator was stocked with all of her favorites, and the Jeep and Anguilla card were waiting for us when we arrived. Our hotel was the perfect place for us and we spent a lot of our time on the beach and in the water on Meads Bay just kicking back and forgetting about all of the stressful things that we left behind in the big city.
We also spent time on Sandy Ground, Island Harbour, Shoal Bay East, and Rendezvous Bay while exploring some crazy side roads in-between that required a Jeep. Our bird watching tour with Jackie of Nature Explorers Anguilla was excellent and she sent us a bunch of great pictures.
The Anguilla Card more than paid for itself. Your e-mail newsletters are worth the price all by themselves! The Card will be a great souvenir for a collector like me and I was also able to add some great magnets to my large collection.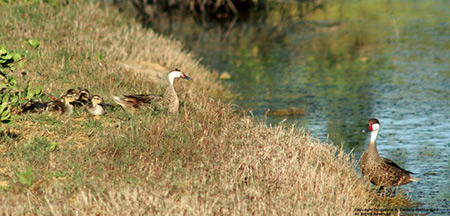 We definitely felt the Anguilla vibe and were limin' in no time. Everyone that we came into contact with was very warm and friendly. We had breakfast at Geraud's one morning so I stopped into Grands Vins de France to thank Nathalie in person for arranging the champagne for Nancy. We were lucky enough to hang out with Bankie Banx for a while! He was still getting his Dune Preserve ready for the season but he welcomed us in and sat at the bar with us to share a drink.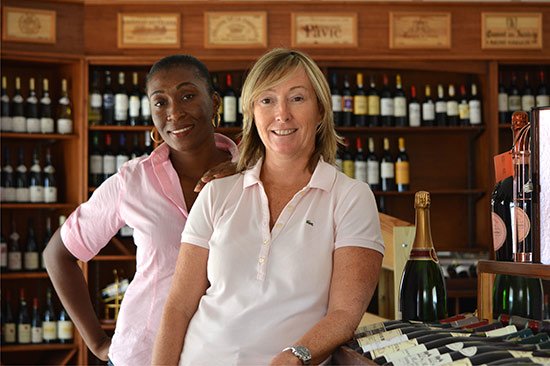 We had a lot of fun and it was a much needed escape for us. We were only able to scratch the surface regarding all of the wonderful things there are to enjoy on Anguilla so I guess we will just have to come back when we can.
Thanks again for all of the information on your website as well as your personal tips and advice. It was clear that Anguilla is a paradise that we had to experience!
Geoff
Thank you, Geoff for your very kind words. And a special thanks for calling out the weekly Newsletter. I am delighted you had a wonderful time!
And a big thank you to everyone who has dropped me a line. It is so much fun to hear about the Anguilla Card being used to such good effect.
Here's to many more happy trips to Anguilla and more great savings this year :-)
To order your Anguilla Card click here.
If you already have an Anguilla Card, click here to renew.
Stay tuned for updates as we continue to expand the Anguilla Card this year!
Nori
Anguilla-Beaches.com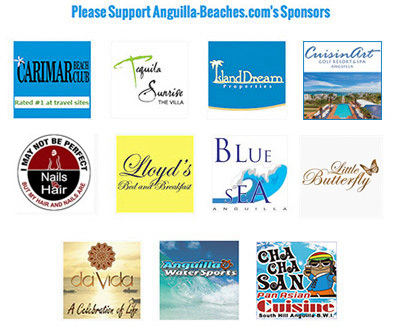 Do you have your Anguilla Card yet? Save 10% at 77 Partners!
---