Twin Palms...
A Charming Anguilla Villa Enclave By The Beach
Located just across the road from one of the best beaches in the Caribbean, the magnificent Meads Bay, lies a treasure of an Anguilla villa...
Twin Palms Villa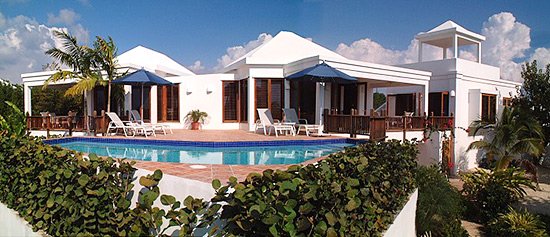 What makes the villa so special and charming are the memories that have been housed here. Owned by Jim and Lynn Mead, they have a special story with how they came to find and fall in love with Anguilla and build in this beautiful paradise right near Meads Bay.
Here's the story of the Meads on Meads Bay...
Finding Anguilla

Three generations of Meads on Meads Bay Beach... fate or just a coincidence?
Perhaps it may be that both elements are intertwined in our romantic and happy journey that cumulates with the beautiful Twin Palms Villas.
Meads Bay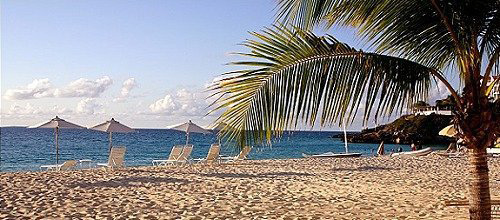 Our family, the Meads, first visited Anguilla sixteen years ago. Previous years, we had vacationed at various other Caribbean islands but always returned home with the desire to keep searching for another destination. Upon arrival in Anguilla, we were surprised by the arid terrain and more rustic charm, but our hearts were soon won over by the endless, quiet beaches, the fabulous restaurants, and the warm, welcoming Anguillan culture. We had found our island.
Year after year, we returned to Anguilla staying at the Carimar Beach Club on Meads Bay Beach. The ideal location on such a pristine beach within walking distance of some of the islands best restaurants provided the perfect setting for our two grown children to join us for many memorable vacations.
Meads Bay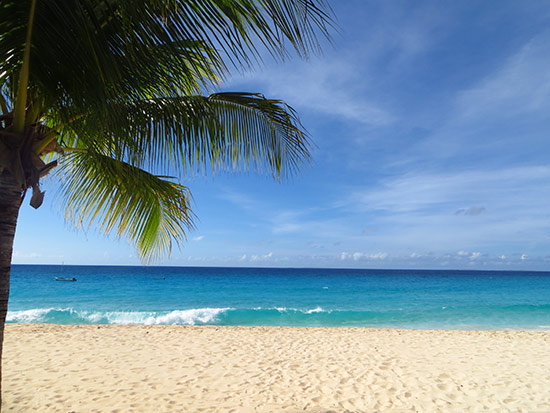 Falling in Love
Our ties to Anguilla's Mead Bay were sealed in the summer of 1998. During a spring visit, our son Eric and his fiancée began planning their summer beach wedding at Frangipani. In July, our family flew in from all parts of the country to celebrate and little did we know that this would be the beginning of a new family tradition.
Us with our son and his wife

Cupid's arrow struck our daughter Holly on her flight to join us, and she fell in love with her seatmate on the airplane.
On Holly's wedding day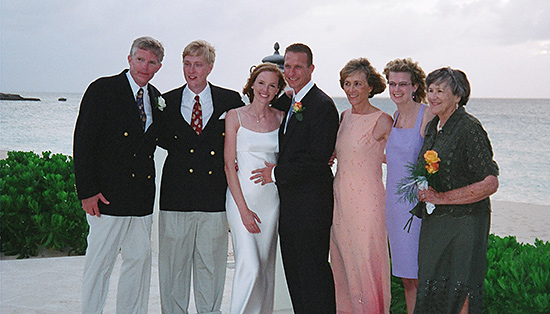 Two years later, there could not be a more appropro setting for their wedding than Anguilla's Meads Bay.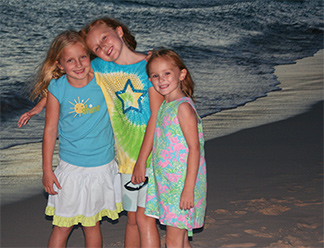 As our family grew, we continued to stay at the Carimar Beach Club in multiple units to accommodate our family additions.
However, during a walk on the property for sale immediately adjacent to Carimar, we began to dream of a private family retreat with all the restaurants and Meads Bay just a stroll away.
On this two-acre property, we envisioned two separate villas, each with their own swimming pool, private patios, and breath taking views.
Planting Roots in Anguilla
Although some might think that building two villas while living in the US might be a daunting task, it was a wonderful process.
Renound architect and Temenos designer, Iain Smith, carefully listened to our vision of a unique layout for the two villas that would allow each villa privacy if rented separately but proximity if rented together. Iain led us through the creative design and planning of these adjacent villas enclosed by a walled lush garden all within a quick stroll to our beloved Meads Bay Beach.
Beach days on Meads Bay

Rooftop patio with stunning vistas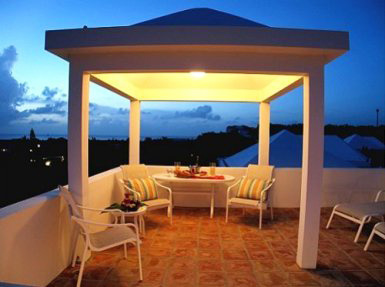 Each of our family members had special requests that were woven into the design plans... private, outdoor showers, rooftop patios, separated bedrooms for quiet afternoon naps, and child-proof pool fences to name a few.
Next, Leonard and his team enthusiastically and precisely constructed our homes and made these dreams a reality.
Pool time with the family

To celebrate the joy of completion, this wonderful team joined us for a festive, catered B&D BBQ before we opened our villa doors to guests.
Twin Palms Today
Inspired by the beauty of Anguilla,
our granddaughter wrote about a
trip to Anguilla for a school assignment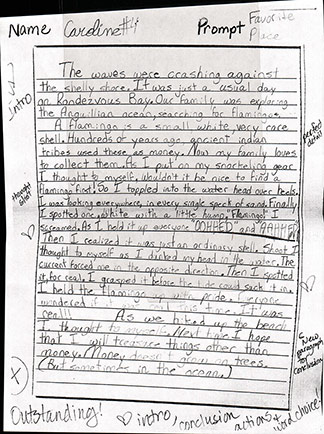 We are very proud of our team which has been with us almost from the beginning.
Our housekeepers, Violet and Sharon, have years of experience caring for villas and the needs of our guests.
Our head gardener, Leo is a master at nurturing our lush gardens that include a path to the beach.
He has even transplanted several palms from his and his grandmother's homes.
Leo also cares for our umbrellas and chaise lounges at the beach which are accessible by an easement beside Carimar.
Our Grandchildren with Leo in the Garden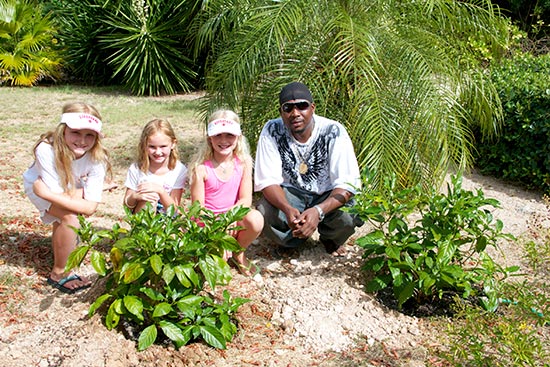 Catherine Orchard manages the villas with the enthusiastic assistance of Stacian Fuller-Hughes and together they provide a multitude of island services for our guests. They were just named Anguilla villa managers of the year.
To our delight, the popular Straw Hat restaurant moved to Meads Beach. Then Blanchards famed restaurant opened the neighboring Beach Shack, specializing in lunch, families and sunset drinks.
Taking in our view of Meads Bay with our family

The location just gets better and better. It really is home.
-The Meads
Inside Twin Palms
It sounds like fate to me, Jim and Lynn.
Who would have ever guessed... Meads living on Meads Bay? :-)
I had the pleasure of seeing in person all that I had read about and learned about while talking with Jim and Lynn.
Set in an exotic garden, Twin Palms has a cozy, comfortable, laid-back beach house type of feel. Twin Palms is made up of two villas actually. They are called Beach Palm Villa and Coconut Palm Villa. These separate villas can be rented together or separately. Both are spacious and afford plenty of privacy. Let's take a look inside...
The Entrance

Twin Palms' pretty white buildings with wood accents reminded me a lot of classic Caribbean design and architecture, similar to that of Malliouhana Anguilla resort, one of the original luxury resorts in Anguilla. With swaying palm trees and lush gardens surrounding the home, you feel like you're in an exotic place, indeed.
Beach Palm villa has been designed to be lived in.
If you are vacationing here for longer periods of time, you will find everything you need to feel right at home.
When you walk through the front entrance, there is a complete kitchen and dining room. This is perfect for nights in. Anguilla dining can get pricey, so shopping at the local grocery stores and spending nights in, is always a fun alternative to eating out. The kitchen has everything you may need cooking-wise.
The Kitchen and Dining Area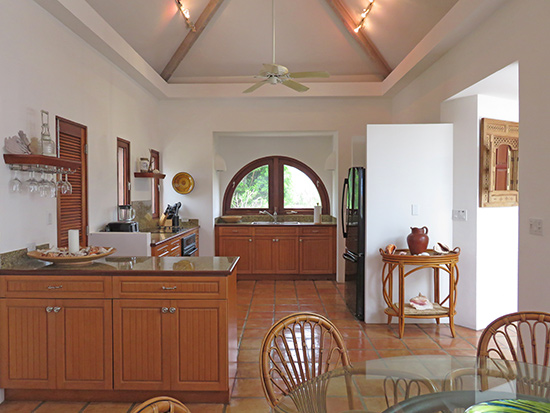 While walking through Twin Palms, it's hard to miss the pretty fixtures and furnishings. My Mom especially liked the granite counter tops. I enjoyed all of the ocean-inspired knick knacks. From shells, to corals, to sea fans, it all really makes you feel like you are in a beach house. But, a Caribbean beach house of course!
Back to the tour...
Next to the kitchen/dining area is the living space.
The Living Area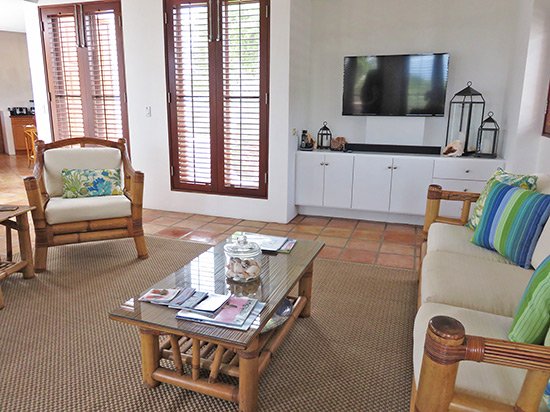 The living area, dining room and kitchen all open onto the large patio, which is complete with outdoor seating area and access to the private pool, perfect for endless afternoons spent lounging!
The Pool!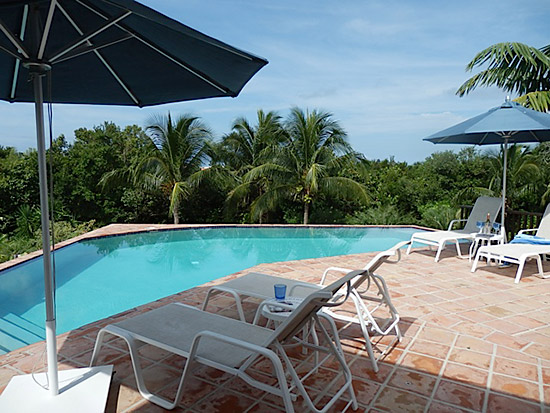 Outdoor Dining Area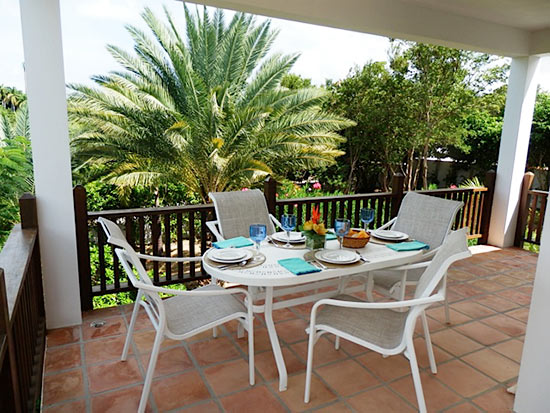 In a private garden, the villa is truly separate from the one next door, Coconut Palms.
As you can see, the villa has quite a tropical feel to it in its decor. Blended with the tiles that are quite Provencal, it's designed to feel like the ultimate home in the sun.
Downstairs, you will find two bedrooms.
The Master Suite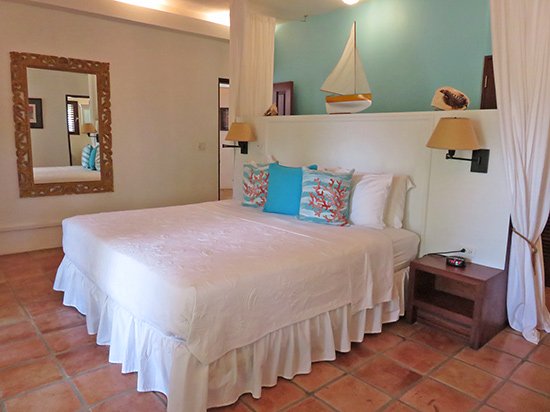 Both bedrooms have central air conditioning and ensuite bathrooms. The master is a king size bed. There is a crib available too, if you might need it.
In the master bedroom, behind the sleeping area, is a cozy desk and plenty of storage space for putting your things.
The Master Suite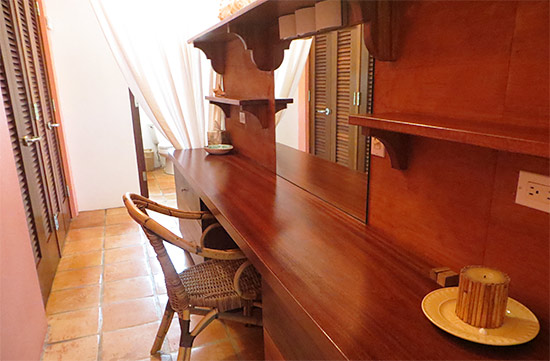 Across the hall is a smaller bedroom. This bedroom would be good for kids to share, or for another couple. This bedroom has a private entrance into the exotic garden, as well.
Private bedroom that opens into the lush garden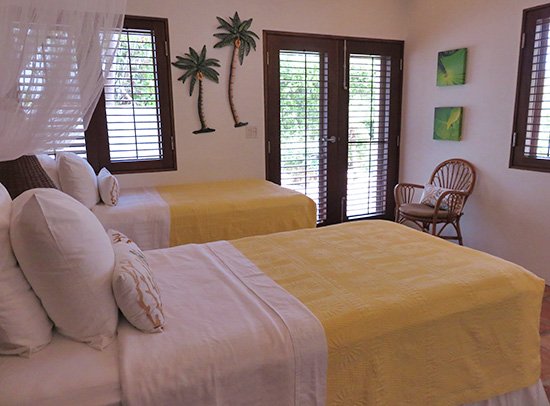 It also has an ensuite bathroom, one of my favorites I've seen.
Luxurious Walk-In Shower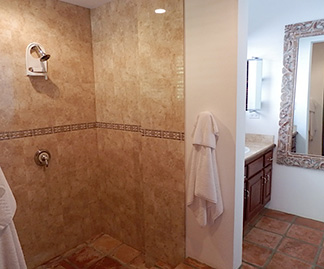 Enter the refreshing bathroom, and on your left is the shower.
But, this isn't your ordinary bathroom shower.
This shower is set down a few steps into a real luxurious shower.
Also on the first floor you will find a washer and dryer.
It really is the perfect villa for a family vacation (with two kids), or for couples traveling together and wanting to have all the amenities of home with luxurious extras.
After visiting Beach Palm, we went next door to Coconut Palm.
Inside Coconut Palm Villa
On the other side of the large, tropical garden, you will find Coconut Palm. Coconut Palm is very similar to Beach Palm.
Here, there is a spacious kitchen, complete with everything you need to cook and stay in. There is a big dining room table. Across the way, there is a comfortable living room, with the same charming relaxed, beach cottage theme.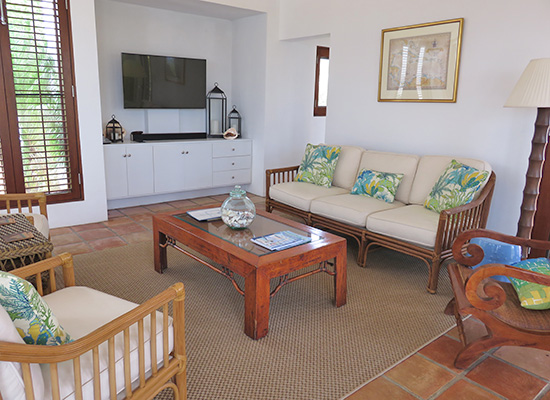 Downstairs, unlike Beach Palm, in Coconut Palm you will find 3 bedrooms.
The Master Bedroom

The master bedroom and one of the smaller bedrooms faces the garden. The third bedroom is located in the back, facing the same way as the front of the house. Colorful and bright, the bedrooms are most inviting.
Comfortable Jacuzzi Tub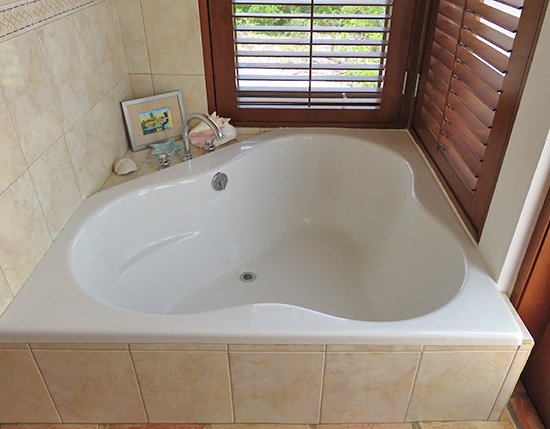 Each has its own bathroom, too. The master bedroom's bathroom is particularly pretty. With a shower and a large jacuzzi tub, and an outdoor shower, there are plenty of soothing bathing options.
Outdoor Shower Beyond The Master Bathroom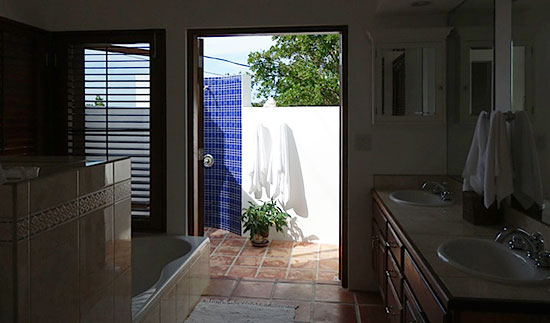 Outside, the villa has its own private pool and large, tiled terrace as well.
The Pool Below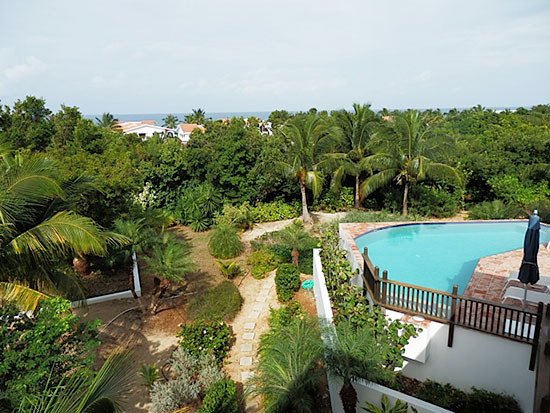 A special treat afforded to those who stay at Coconut Palms is the sun roof. Up in a pretty observatory, you can take in the sunshine and sea views. I imagine sunsets from here must be special!
Rooftop patio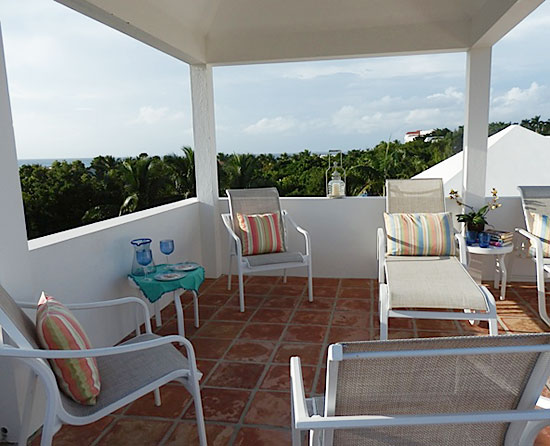 Renting Coconut Palm and Beach Palm
One of the unique aspects to Twin Palms is how its two villas, Coconut Palm and Beach Palm, can be rented together or separately.
When visiting, I immediately noticed that the villas' large, lush garden truly separates them. If you are renting either one, you would have plenty of privacy from the villa next door. You are quite set apart.
Path to Beach Palm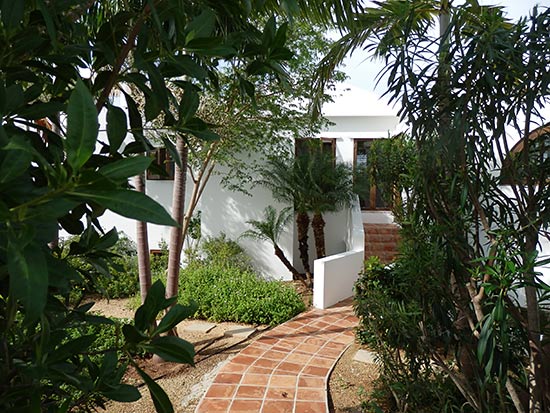 At the same time, the villas are immediately next door to each other. The proximity lends itself well to being rented for families traveling together, or inter-generational families traveling together.
Traveling this way, you split the cost of the villa, too, which makes it very affordable.
Location
This comfortable, laid-back beach house wouldn't be quite right if it wasn't located near the beach, right? And that's one of the very best things about the villas at Twin Palms.
Here, you are just 2 minutes from Meads Bay beach! It is literally across from the end of the driveway.
It is one of the most picturesque beaches, perfect for floating when it's as still as a pond.
Meads Bay's soothing seas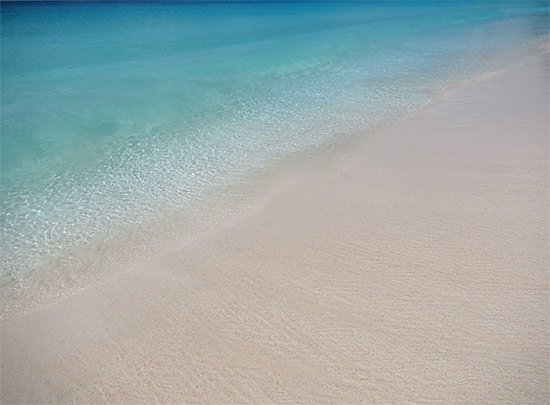 And, your stay includes chairs right on the beach, too!...
Twin Palms' Beach Chairs on Meads Bay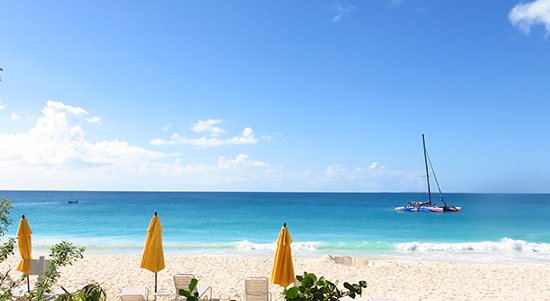 Meads Bay is an excellent spot in terms of convenience, as well.
Right here, you have a plethora of restaurants to choose from everyday. Some of our favorites are Blanchards Beach Shack, Blanchards (main restaurant), Straw Hat, Jacala, Ocean Echo and B&D's BBQ (open on weekends).
From laid back lunches and rum punches at Blanchards Beach Shack, to upscale dinners at Straw Hat, you're covered at Meads Bay.
Tasty lunch at Blanchards Beach Shack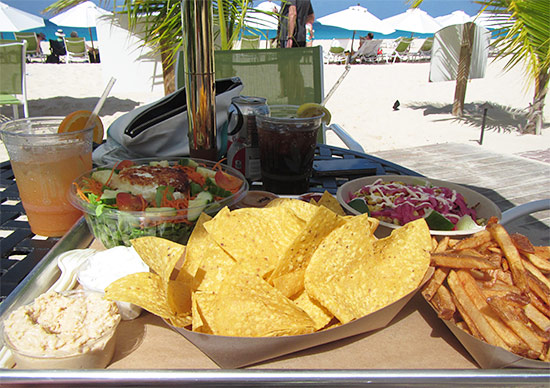 If you're planning on spending your vacation at the beach, you won't need to rent a car, if you're staying at Twin Palms. If you are planning on doing some exploring and seeing some of the island though, you should consider renting a car. Anguilla is safe, and renting a car is much cheaper than paying for days of taxi tours.
Rates & Reservations
Beach Palm (2 bedrooms)
Dec. 20-Jan. 2 (Winter Holiday Period - min. 14 nights): $1,425/night
Dec. 19-Apr. 30 (excluding Winter Holiday Period - above): $895/night
May 1-Dec. 18: $695/night (min. 7 nights)
Coconut Palm (3 bedrooms)
Dec. 20-Jan. 2 (Winter Holiday Period - min. 14 nights): $1,650/night
Dec. 19-Apr. 30 (excluding Winter Holiday Period - above): $1,050/night
May 1-Dec. 18: $795/night (min. 7 nights)
Both (5 bedrooms)
Dec. 20-Jan. 2 (Winter Holiday Period - min. 14 nights): $3,000/night
Dec. 19-Apr. 30 (excluding Winter Holiday Period - above): $1,350/night
May 1-Dec. 18: $1,050/night (min. 7 nights)
These rates include daily maid service. (10% government tax and 10% service charge and $3/person/night government levy not included.)
More on Twin Palms Villas