Romney's Restaurant & Bar...
A Family Business With A Celebrity Chef
Update 2017: I am sad to report that Romney's has closed.
Tucked away on the backroads of South Hill set on a breezy promontory overlooking Anguilla's azure Atlantic waters, Romney's Restaurant & Bar is a familiar sight.
Overlooking Sandy Island From Romney's Restaurant & Bar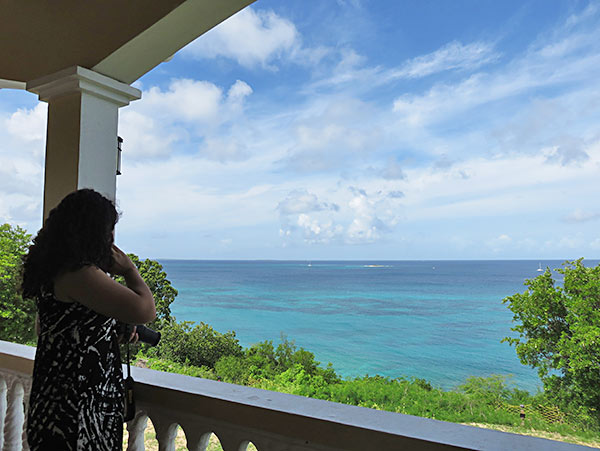 You may remember this open-air restaurant as the former AXA Seafood House. Before AXA Seafood House, it was Luna Rosa. And many years before that it was Bistro Phil. Today, it is the family owned Romney's Restaurant & Bar.
Inside Romney's Restaurant & Bar
We stepped inside Romney's to meet the owner, Paul Romney. Paul and his family have always owned this land. After AXA Seafood House closed their doors, Paul and his family decided it was time to pursue a dream of theirs. Running a restaurant. And so, Romney's was born.
Inside Romney's Restaurant & Bar

A spacious, open-air dining space with bar opens onto a breezy patio that overlooks 100% Anguilla blue...
Romney's Patio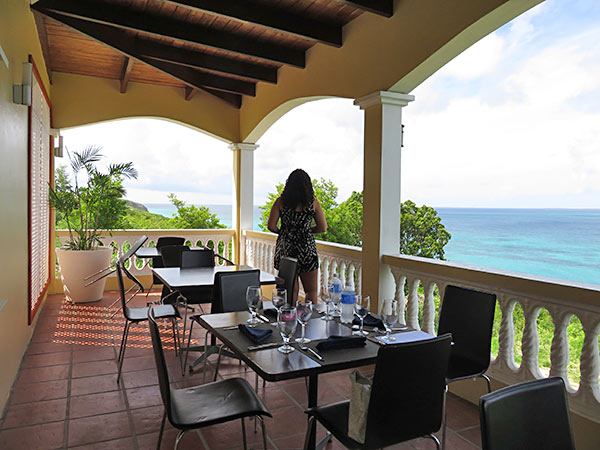 100% Tranquility Wrapped in Blue Scenery
From Romney's perch, you can see Road Bay, North Hill and even the spit of land that makes up Little Bay way in the distance.
Looking Out to North Hill & Road Bay

Look the other way and Sandy Island comes into view...
Sandy Island, Anguilla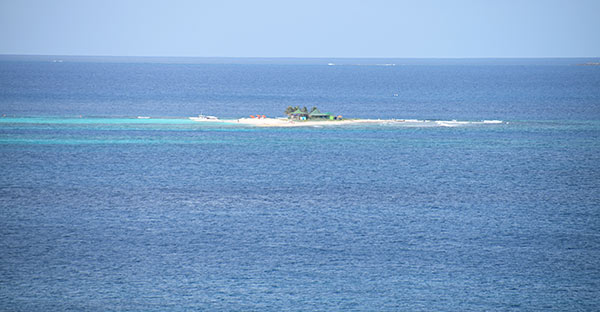 A particular part of Anguilla that is ripe with sea life, keep your eyes peeled as you dine. It is not uncommon to spot sea turtles surfacing for air, dolphins at play and even during March-April, Humpback Whales have been known to make their way through this channel.
Sea Turtle Surfacing For Air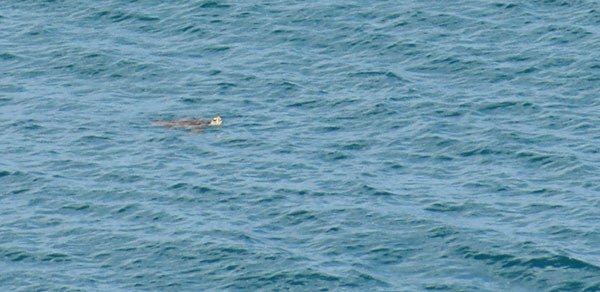 Meet Chef Kevin Paul
Chef Kevin Paul

The key to Romney's growing local popularity is a credit to their chef, Chef Kevin Paul.
Chef Kevin Paul is best known for his early days at Straw Hat.
Back when Straw Hat was located in Forest Bay, Chef Kevin was one of their star chefs.
If you know Straw Hat's cuisine (and their loyally-loved dishes including the tomato pie and bread pudding), you know what to expect with Chef Kevin.
Nothing but excellence!
Romney's For Lunch
Romney's is open for lunch and dinner, with take out being very popular for both.
There are two sections to their lunch menu. The local side of their menu is made up of classic Anguilla dishes. Conch creole, snapper filet, curry goat, oxtail, stewed pork, baked chicken.
In addition to their local lunch menu, Chef Kevin prepares a variety of burgers, sandwiches, wraps, quesadillas and pizzas. Two of the "must tries?"...
Romney's Chicken Sandwich

Served on a locally-made, oversized whole wheat bun, a generous portion of grilled chicken is served with all of the trimmings. Lettuce, tomato, mayonnaise, American cheese and the extra-special touch? Grilled onions.
A sandwich of daunting proportions, each bite is better than the next. The sumptuous chicken is enhanced by the zesty onions. Served with fries and salad, my plate was polished in no time.
The chicken sandwich is only rivaled in quality by Chef Kevin's...
Grilled Seafood Wrap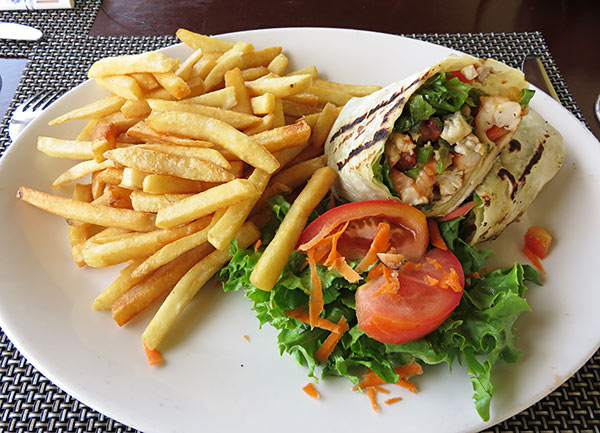 Shrimp and fish are mixed with lettuce and tomato and elegantly placed inside a tortilla wrap. The whole wrap in grilled on charcoal, lending a rich smokey flavor and a pleasant crunch to the wrap.
Romney's is a quality find!
Dinner at Romney's: Chef Kevin's talents really shine once the sun goes down. Conch fritters, rum-glazed shrimp, chicken Française, Osso Bucco and many Chef Kevin specialties, including the tomato pie (organic tomatoes are layered in puff pastry), bread pudding and traditional rum cake.
Stay tuned for our dinner report!
Directions, Hours & Contact
Directions: If you are coming from West End, go past Geraud's. You will see the sign to Romney's a few seconds later. Make the left turn at the sign. Follow the road and take the first right.
Hours: Lunch and dinner daily. Closed Mondays.
Tel: 264-497-6810