Combing Anguilla's Beaches for the Best
Anguilla Beach Lovers brings you the latest additions to one family's experiences of the "best of all things Anguillian."

If you like this e-zine,, please do a friend a favor and "pay it forward."

If a friend did forward this to you and if you like what you read, please subscribe by visiting...
---
Welcome, CuisinArt Golf Resort & Spa!
I am excited to announce that five-star luxury resort, CuisinArt Golf Resort & Spa has joined Anguilla-Beaches.com as a Site Sponsor!
Set on the sparkling, smooth crescent beach that is Rendezvous Bay, amidst swaying royal palms and blossoming bougainvillea, CuisinArt Golf Resort & Spa surpasses the term "Anguilla luxury resorts."
We have, of course, been covering CuisinArt's many strides forward in recent years. It was time to archive our previous articles and experience how it all ties together in 2016.
As you know from the website, Sponsorship is not advertising. Our Sponsors enable us to grow the increasing number of ways that we expose Anguilla to the rest of the world. That said, every Sponsor must live up to our high standards. We experience each in-depth.
When I explained that to the good folks at CuisinArt, they didn't blink. "The resort is open to you, Nori," and that is how the whole family ended up taking a mini-vacation "away" (10 miles away!) from home.
Click here to read the full review.
CuisinArt Golf Resort & Spa
As you approach CuisinArt's signature sky-blue domes and archway view to the sea, exhale and relax. You are in excellent hands, ready for a world-class experience.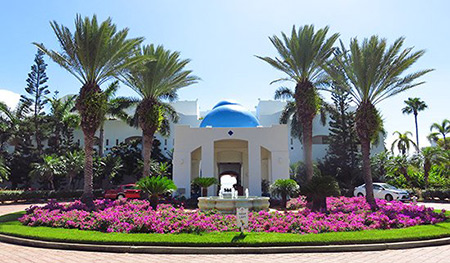 We arrived ready to unwind. Devon at the front desk welcomed us, scooping up our "mini-bags" and commencing the luxurious CuisinArt experience.
Through the bright lobby, past the negative-edge pool, and soothed by the rustling of the palms and gentle garden aromas...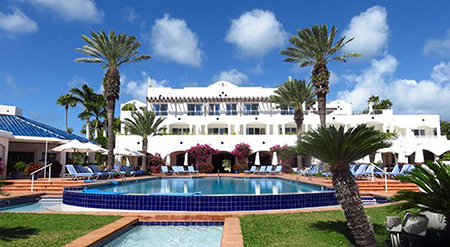 ... Devon led the way to our room.
---
Luxurious Rooms & Suites on Rendezvous Bay
Before we moved to Anguilla (in 2008), CuisinArt became our Anguilla resort of choice. It was the luxury hotel that my over-worked parents could rely on to relax, recharge, renew.
Their favorite hotel room was the Beachfront One Bedroom Suite. The views from the third floor take your breath away.
One step inside the One Bedroom Suite, and we felt at home. Memories of our early years vacationing in Anguilla came rushing back. It felt the same, but everything was either replaced, upgraded or totally new.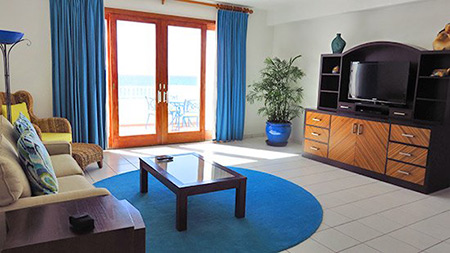 Both the living room and the bedroom (with its own living area) face the water. Keep the sliding doors open and the sound of the Caribbean Sea fills the room.
Another aspect to the suite that my parents remembered with a great fondness? The grand ensuite bathroom.
With a large sink-tub encased in marble, walk-in shower, his and hers sinks, and adjoining private sun-deck and outdoor shower, it is spacious and luxurious.
We didn't stop at the Beachfront One Bedroom Suites, though. We explored every type of room CuisinArt offers.
The Beachfront One Bedroom Suites are located in the resort's three-storey buildings that line Rendezvous Bay. These buildings also house other suites, including Junior Suites, Deluxe Junior Suites and Two Bedroom Suites. Seaview penthouses and suites are located inside their main resort house.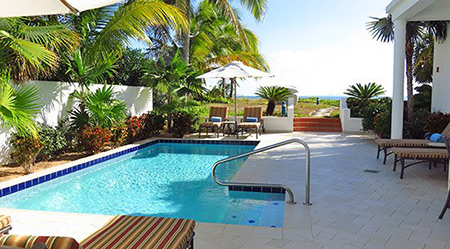 The resort also offers larger villa suites, which are set on the east end of the property. The beachfront villa suites open right onto Rendezvous Bay.
---
Rendezvous Bay & Pool Daze
Having Rendezvous Bay at your finger tips (toe tips?) feels like a dream.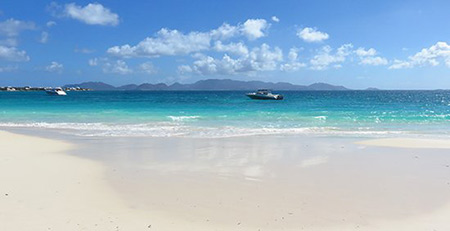 Long and smooth, with powdery-fine sand, warm, calm waters, and views to St. Martin, it's physically flawless. Because Rendezvous Bay is consistently calm, without big undertows or rip currents, it's also idyllic for families with young children.
While my Mom and Dad walked the beach, Yuki and I slipped into a dream-like state on CuisinArt's floating sun deck. This is my new favorite spot on Rendezvous Bay.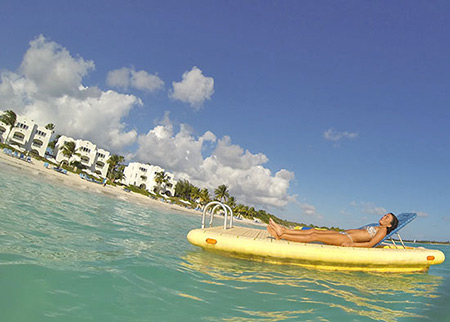 To say it is "relaxing" is an understatement. (If you burn easily, apply sunscreen before hand.)
Upon waking? We headed to the Beach Bar & Grill, situated right on the sand and home to some of Anguilla's best frozen cocktails.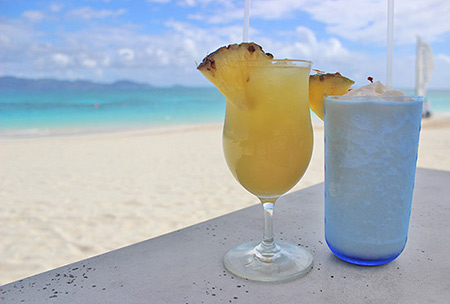 This is luxury-beaching at its best. For some, of course, the pool will call. CuisinArt answers.
The impressive pool is set in front of the lobby and just next to Café Med in the middle of the resort's grounds.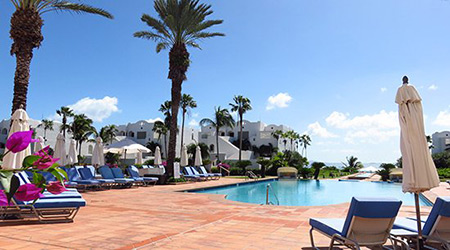 Nothing sets you into a day-dreaming trance faster than gazing the length of the pool whose view drops into the Caribbean Sea.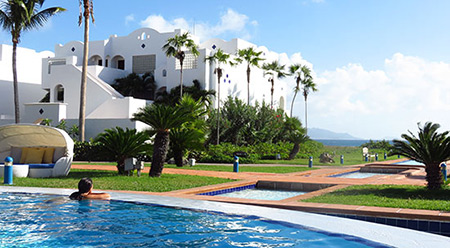 Mid-afternoon turns into early-evening all too quickly when you're floating in the pool, and soon your stomach rumbles. You don't have to go far for outstanding cuisine at CuisinArt Golf Resort & Spa.
Five-Star Dining
Executive Chef Jasper Schneider conducts CuisinArt's culinary renaissance with a fine attention to detail, right down to the fresh produce sourced daily from their on-site hydroponic gardens.
(With Chef Jasper)
Today, the resort is home to the best resort dining on the island. It goes beyond "resort dining," though. Its restaurants belong in any "best of" list.
Dinner
Italia (

NEW:

Italia's Southern Italian menu)
As day moves into night, you will also find nightly live music (provided by Director of Entertainment, Michael Masci) and a variety of dining activities (including cooking classes and wine tastings).
During our stay, we dined at my Dad's favorite, Le Bistro at Santorini, this is also the restaurant that's nearest and dearest to Chef Jasper's heart. We put ourselves completely in his hands with his Chef's Tasting Menu.
(Course Two on Chef Jasper's Tasting Menu: Maine Scallop Bathed in Dill & Lemon, Served with Horseradish Creme)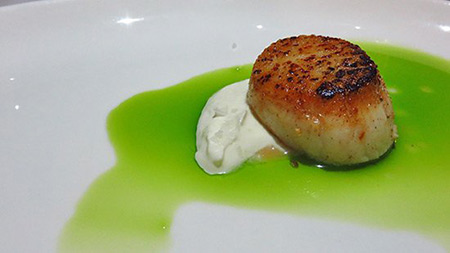 We knew we were in for an exquisite culinary experience when Chef Jasper clapped his hands together and said, "Let's have some fun!"
(Course Five on Chef Jasper's Tasting Menu: Magret Duck Breast with Duck Confit Green Lentils & Dried Cherry Duck Jus)
Simply unforgettable, dinner that night was one of my Dad's all-time best.
Chef Jasper is passionate about his craft. He lives to delight your tastebuds with his gourmet preparations. That goal is achieved in a non-intimidating, even light-hearted atmosphere. Chef is a highlight of staying at CuisinArt and is one of Anguilla's hidden gems.
More on Chef Jasper's Tasting Menu.
---
World-Class Golf & Spa
The resort rounds out its world class offerings with two more award winners...
1. Their PGA-level, Greg Norman designed golf course, CuisinArt Golf Club.
7,000+ yards of 18 manicured holes stretch along the south shore of Anguilla, gazing out to vistas of the Caribbean Sea and St. Martin's majestic mountains. Forbes calls it "The Hidden Gem of the Caribbean" and Robb Report even refers to its first hole as "The Caribbean's answer to the 18th at Pebble Beach."
A crew of dedicated landscapers diligently maintain the greens, fairways and tees (no easy task in Anguilla, where grass is extremely difficult to nurture and sustain). A team of engineers water this desert-island course through its desalination plant. And everything is powered via CuisinArt's solar energy plant.
If Anguilla is Tranquility Wrapped in Blue, CuisinArt Golf Club is an oasis of green wrapped by desert.
Head Golf Professional, Scott DeLong gave us a tour of some of his favorite and most challenging holes on the course. Click here to take the pro's tour.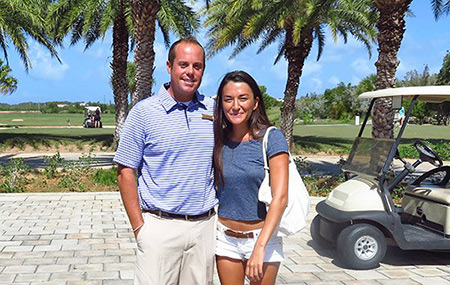 2. Their Award-Winning Venus Spa
When you're in need of transcendental Tranquility Wrapped in Blue? Venus Spa, one of the world's best, remedies all.
Venus Spa has been the recipient of Condé Nast Johansens' prestigious and highly-coveted "Most Excellent Spa Hotel" award on more than one occasion. It sets standards for elite spas down the Atlantic coast, through the Caribbean and even the Pacific Islands.
(Venus Spa's "Gods of Wind" Blowing Away "Bad Juju")
The sumptuous three storey spa sits on the western corner of the resort's lush property. Plush locker rooms, relaxation lounges, a "Healing Waters" pool and sixteen treatment rooms offering a plethora of scrubs, facials and massages await you.
Click here to step inside Venus Spa with Spa Director, Sylvia Heinonen.
---
... Wrap that all up with the consistently excellent service and an all-star concierge and it's fair to say that CuisinArt is top of class.
Even though we live in Anguilla, this really was a mini-vacation for us. Before we knew it, Day 3 was upon us and check-out time loomed. They say "all good things must end," but memories made at CuisinArt last forever.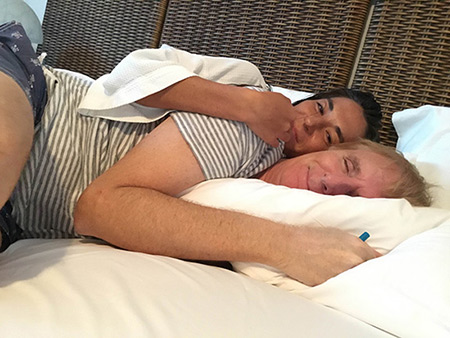 To read about our stay at CuisinArt Golf Resort & Spa, click here for the full article.
For more details on CuisinArt, visit CuisinArt's official website...
Or, call for reservations: 1-800-943-3210
That's all for now! I hope your February is off to a great start :-)
Sending you warm wishes from Anguilla & talk to you soon,
Nori
Anguilla-Beaches.com
---