Le Bistro at Santorini...
Re-Defining Five-Star Cuisine in Anguilla
Update 2023: Le Bistro at Santorini has closed. This Anguilla hotel is now Aurora Anguilla. More on Aurora Anguilla here.
At A Glance
Pico de gallo-esque cevice. An open-face foie gras sandwich with bacon and quail egg. Braised pork cheek with pork belly and corn grits. Executive Chef Jasper Schneider is redefining five-star dining at Le Bistro at Santorini. With creative concepts and only the finest of ingredients, the menu breathes new life and the experience exceeds expectations.
More on this CuisinArt restaurant below...
You just need to ask Le Bistro's Executive Chef Jasper Schneider "What's new?" to get a quick sense of what you are in for at any of his restaurants at CuisinArt Golf Resort & Spa.
"The Burrata flown in from Italy weekly, the 500 year old spices from California, a variety of eclectic Japanese sauces, French pastries made in-house, fresh-fruit popsicles for down on the beach, just the right dry cheese for pizzas at Cafe Med..." Jasper's list goes on.
Le Bistro at Santorini

He puts this attention to detail into each and every restaurant at CuisinArt. Le Bistro, formally called Le Bistro at Santorini, is his gem, the restaurant he holds especially dear and near to his heart.
Executive Chef Jasper Schneider

Jasper Schneider joined CuisinArt's team in 2013. He has been raising the luxury resort's level of cuisine consistently ever since.
With roots in London, New York City and Hawaii, his background is impressive. He's trained with the best of the best, having studied at the French Culinary Institute in Manhattan and having worked with some of the top names in the industry (including Éric Ripert).
Fun With Chef Jasper at Le Bistro!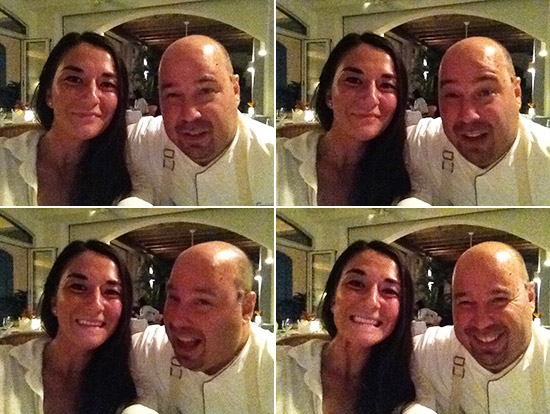 Before arriving to Anguilla, he was executive chef at the Regent Palms Resort in Turks and Caicos, the Ritz Carlton in the USVI and opened the ever popular and famous Sushi Samba in Coral Gables.
Charged with the task of bringing CuisinArt's cuisine to new heights, he came in a-blaze with creative concepts and with the experience to execute.
Listening to him list the changes, both at a high-level (new menu items) and at a granular one (ingredients), it's hard not to get excited about what he's been developing. Le Bistro sounded especially enticing and so we made a reservation.
Round One
Elegant, Le Bistro at Santorini is tucked away overlooking CuisinArt's courtyard and pool area. With Sprocka playing on Thursday nights, a soothing ambiance was set.
The warm and inviting hostess seated us and brought us our menus.
The wine list is extensive with fine selections.
A bottle of Sancerre, my Dad's favorite, and we were on our way.
While we looked over the menu, our kind waitress offered us a selection of bread.
Jasper had mentioned that all bread is made in house, fresh daily.
Classic ciabatta, multi-grain bread (with 8 types of grains) and bacon cheese were the choices that night.
Our waitress had us at bacon!
Warm, crisp on the outside and soft and light on the inside, with that savory, smokey flavor throughout...
Served with a side of basil olive oil and butter, this was a good sign of things to come.
Fresh Made Bacon-Cheese Bread

After taking in the first bites of bread, we took a closer read of the menu.
The appetizer menu includes such items as...
Tuna tartare with meyer lemon and micro greens (ossetra caviar can be added for an extra cost)
Bacon & organic egg frisée with truffle vinaigrette, served on country bread
Tomato water gazpacho with avocado, basil and cucumber gelée
One of Jasper's favorites sounded especially interesting... grilled octopus served with fingerling potatoes, pickled shallots and celery romestco. "It's a twist on the patatas bravas you get in Barcelona," he would tell us later that evening.
We pondered for a few moments and placed our orders.
Amuse Bouche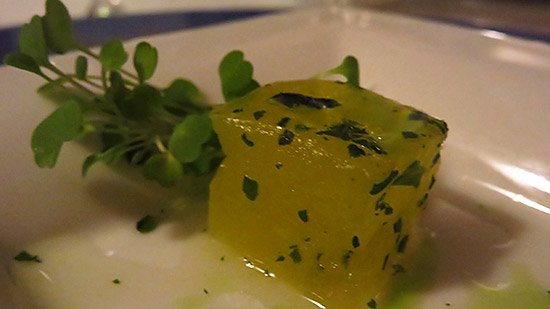 It wasn't long before an amuse bouche of mango mojito arrived to our table. A little refreshing bite to whet our appetites and clean our palates.
And then...
The Cevice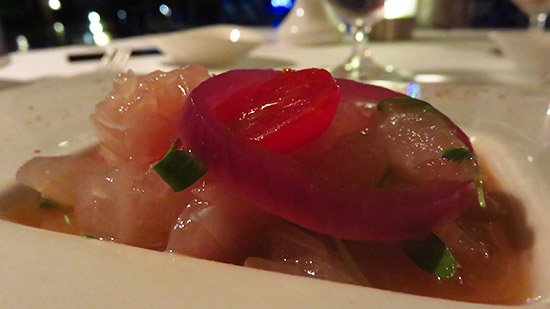 A new creation made with fresh local snapper, Jasper bathes it in a pico de gallo-esque sauce that is meticulously prepared. He actually drains the salsa so only the juice remains. Then, adds cherry tomatoes, raw onion and cilantro.
The Oysters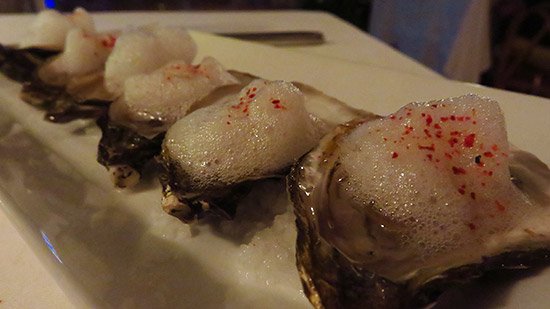 Oysters on the half shell are not new to the menu at Le Bistro, but they have been re-invented. These are far from your standard oysters. They are topped with a whipped pickled shallot mignonette and a touch of pepper. Served on a bed of sea salt, the flavors complement the oysters perfectly without detracting from the delicacies themselves.
Round Two
The main courses are equally interesting.
"The braised pork cheek served with pork belly and corn grits is a new one," Jasper started when he dropped by our table to talk about the new menu. "This one is a little tongue and cheek, if you know what I mean. We're having fun," he laughed.
He went on to explain that he's also changed up their lobster and now their lamb chop features spices that are over 500 years olds. He sources that out of California.
Other choices include...
Maine diver scallops with celery root puree and a black truffle sauce
Prime New York steak with wild mushroom ragout and a homemade Worcestershire sauce
Kobe short ribs with a mustard-horseradish crust, cipollini onions and pomme purée
And, you can't forget crayfish...
We sampled a crayfish special served over a bed of kale and porcini mushrooms (all of CuisinArt's ingredients are grown on-island). Each bite left us wanting just one more.
The Lobster

For main courses, my Dad went with the lobster. Served out of the shell and butter poached, it is accompanied by wild mushrooms and puffed rice. Its Thai flavors are gentle, making it tangier than your average lobster without stealing the spotlight from the lobster. Jasper strikes that balance well.
A Foie Gras Sandwich

I ordered off of the appetizer menu for my second dish. Their foie gras sandwich sounded irresistibly decadent. There was no passing it up. Open face, it is carefully layered with bacon, dates, black truffle and a sunny-side up quail egg finishes it off. It is served with a foie gras parfait.
Creative and outstanding!
Desserts
There wasn't much room left by the time we reached dessert, but taking a peek at the menu never hurts.
Chocolate, mocha mousse with coffee mascarpone and chocolate sorbet
Elderflower with Greek yogurt, panna cotta, basil oil and fraise des bois
Their signature chocolate souffle with brick pastry, rum anglaise and vanilla ice cream

... are amongst the choices.

We settled for a lighter after-dinner treat. A plate of macarons, chocolates, jelly bites and soft, tasty, strawberry marshmallows that defy description.

A perfect ending to an idyllic evening. It wasn't over just yet, though...

Sous Chef, Jonathan Hughes

Before the night could come to a full close, Jonathan Hughes, the sous chef, came out to say hello.

With Chef Jonathan Hughes


He works with Jasper at Le Bistro. Gourmet cuisine is in his blood. His family owns E's Oven, after all!

He works tirelessly, constantly evolving the menu and honing his skills with Jasper. His enthusiasm for teaming up with Jasper is immediate and obvious. And what an excellent pair they make. Here's to many more terrific dinners with Jasper and Jonathan :-)

The evening exceeded expectations. From the concept of the dishes, to the ingredients which have been chosen so carefully, to the presentation, to the excellent service and Jasper's fun, down to earth nature, Le Bistro offers a five-star gourmet experience with zest and flare, built with passion.

Chef Jasper has indeed brought something special to Anguilla!

More on Le Bistro at Santorini

Chef's Tasting Menu An unforgettable experience, it was one of our family's best meals ever.
Lobster BBQ Le Bistro at Santorini becomes a five-star gourmet food festival with its once/week event, an all you can eat "haute cuisine" BBQ lobster dinner for $95. It is a high-value "must do."

Directions, Hours & Contact

Directions: Le Bistro is located just behind Lobby Bar inside CuisinArt Golf Resort & Spa.

Le Bistro

Gourmet dining at its finest.

Hours: Nightly for dinner. Closed Sunday.

Tel: 264-498-2000