Chef's Tasting Menu at Le Bistro at Santorini...
An Haute-Cuisine Masterpiece
Update 2023: CuisinArt is no longer. Aurora has taken over the property. Updates here on Aurora Anguilla.
The best moments in life tend to happen when you least expect them. And so it is with food. You expect a reasonable meal at a hole-in-the-wall fish & chip shop in Scotland, a little-known carbonara restaurant in Rome and most restaurants in a five-star hotel anywhere. Every now and then, though, your very first bite speaks to you...
"You are about to be blown away."
My Mom, Dad and Sister, Yuki at Le Bistro at Santorini

While fancy hotel restaurants are not generally known for offering the most sought-after meals within a destination, CuisinArt's AAA Four Diamond restaurant, Le Bistro at Santorini has carved out a prestigious reputation over the years.
So, it is hard to say that terrific cuisine at Le Bistro at Santorini would be a surprise. With such accolades, we did expect a "great for a resort" quality dinner. However, Executive Chef Jasper Schneider has raised the bar to a whole new level.
Today, Le Bistro at Santorini offers one of the best dining experiences in Anguilla, bar none. It now belongs in the ranks of "Top 3 Restaurants in Anguilla."
Le Bistro at Santorini Dining Room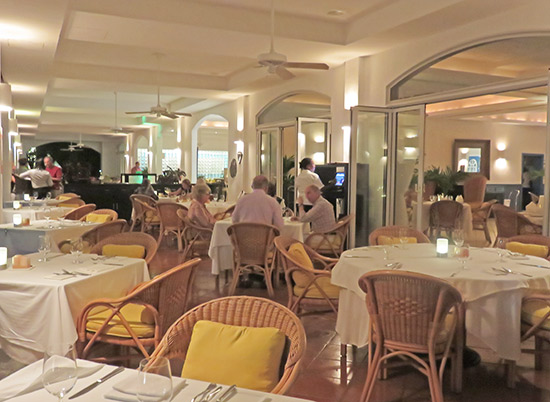 Elegantly tucked to the east side of CuisinArt's lobby, overlooking the resort's pool, and with palm trees a-twinkle, the atmosphere is distinctly refined.
Director of Entertainment, Michael Masci's live music brings warmth to the dining room nightly, as palm trees rustle in the distance.
Executive Chef Jasper's Tasting Menu

Executive Chef Jasper Schneider has been responsible for culinary leaps in all three of CuisinArt's dinner restaurants. All are among the island's best and lead resort dining in Anguilla. Spend 30 seconds with the man and you will know that this is a person who passionately lives to cook, or perhaps lives to cook passionately.
He had impressed our palates on previous meals at Le Bistro at Santorini. With our complete trust and confidence, this time, we put ourselves entirely in his hands. We were ready to try a dining concept that defines Le Bistro at Santorini, the Chef's Tasting Menu.
Executive Chef Jasper Schneider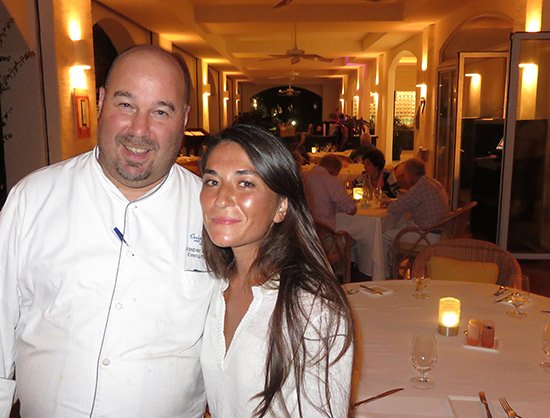 Chef Jasper explained what to expect next. The Chef's Tasting Menu is a mix of dishes that are on the menu and whatever Chef Jasper decides to cook that night, emphasizing his favorite ingredients in-kitchen right now. He went on to say with a smile, "I'll take you through "Farm, Sea & Land." Sit back, relax... and are there any allergies I should know of?"
My sister winced. She's allergic to all seafood and nuts. A big task in front of him, especially as his menu emphasizes "Farm, Land and Sea." He laughed, "No problem!"
"Let's have some fun," Chef Jasper exclaimed. He was off to the kitchen and our culinary journey was set in motion.
House-Made Ciabatta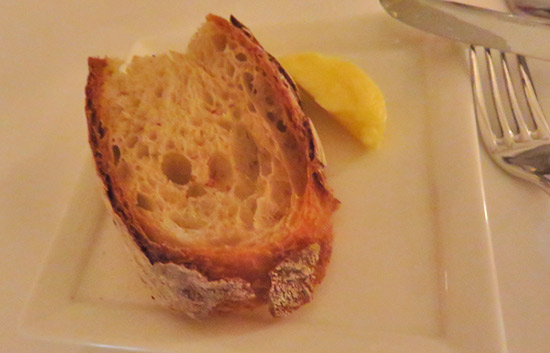 First course on its way, we took in the evening's ambiance and my Dad ordered a bottle of Sancerre to the table. (CuisinArt has an extensive wine cellar and offers tastings weekly. The Chef's Tasting Menu can also be done with wine pairings.) As we sipped, we selected the ciabatta from their ample selection of fine, house-made breads.
Fresh Beginnings
To whet our appetites, tomato and crab gazpacho.
Tomato & Crab Gazpacho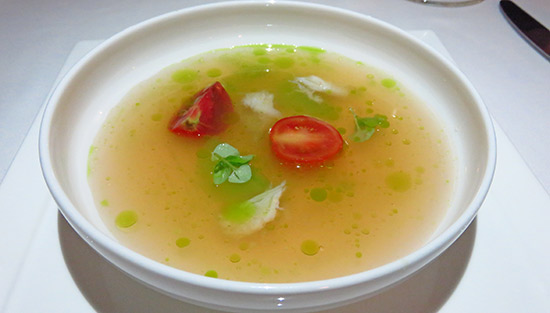 A particularly light broth, the touch of crab a nice complement to the tomatoes, which were picked that day in CuisinArt's hydroponic garden. Utterly fresh and refreshing!
Course One
Chef Jasper ever-so-carefully introduced our palates to the masterpiece meal that lay ahead. The meal opened with pickled white asparagus, topped with caviar and served with browned butter.
Pickled White Asparagus with Caviar & Browned Butter

A spot-on balance. The caviar emphasizing the pickled white asparagus, the browned butter's sweetness both offsetting the bitterness of the pickled asparagus, while enhancing the slight sweet within the caviar.
Course Two
The next course built on the previous, Chef Jasper delicately teasing tastebuds by introducing increasingly unique flavors and creations.
Maine Scallop Bathed in Dill & Lemon, Served with Horseradish Creme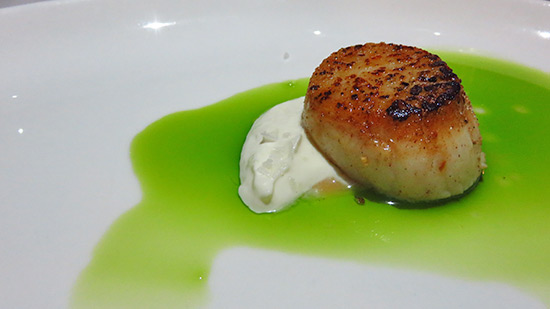 "We have a good set up with FedEX. These scallops are on their way direct to Anguilla from the minute they're pulled out of the sea in Maine," Chef Jasper beamed.
We have enjoyed more than our fair share of excellent scallops in Digby, Nova Scotia, scallop capital of the world. Chef Jasper's scallops were as fresh as you can get without being on a seaside wharf in Digby.
Crisp on the outside, soft on the inside, the scallop was expertly grilled. Chef Jasper bathed the fresh scallop in dill and lemon. The horseradish creme sharpens the otherwise gentle dish.
It was a favorite of the whole family. Even Yuki enjoyed her version, where the scallop was replaced by beets.
Curious & Winning Combinations
Course Three
Our eyes widened as Chef Jasper introduced course three. Seared foie gras served with maple powder, date parfait on the side.
Seared Foie Gras with Maple Powder & Date Parfait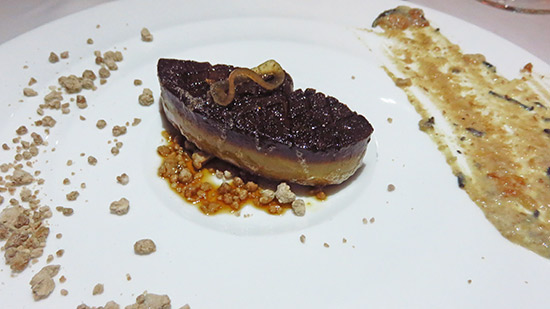 Brushing slight hesitation aside, we took the first bite. Sumptuous and warm, the foie gras melts its distinctive taste in your mouth. The sweet maple dissolves into the foie gras as the dates accentuate the decadence of the dish.
"Maple sugar, for dinner?" my sweet-toothed Dad smiled, "I feel like a kid again." His tastebuds tickled, it is a playful, unique and winning combination.
Course Four
In perfect contrast, Chef Jasper's fourth dish exchanged sweet for savory.
Quail Egg & Edwards Farm Bacon with Country Bread & Truffle Vinaigrette

When my sister saw Chef Jasper approaching with the dish, she was overjoyed, "I saw this on Instagram and always wanted to try it!" Picture-ready, Edwards Farm (Virginia Smokehouse) bacon is layered on rustic country bread, topped with a sunny-side up quail egg, and served with a truffle vinaigrette.
Gourmet breakfast in two square inches, it is available on the regular menu. It is a definite repeat.
Grand Endings
Course Five
The foie gras and the "breakfast sandwich" crescendoed to the final note of the evening, exquisite magret duck breast.
Magret Duck Breast with Duck Confit Green Lentils & Dried Cherry Duck Jus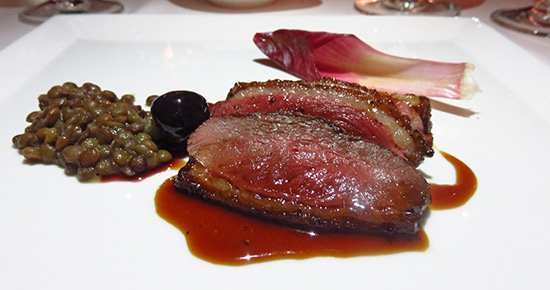 Pan roasted, thinly sliced, especially tender, with a fine, crisp edge of salty fat, it was expertly prepared. With a side of green lentil duck confit, endive and in a dried cherry duck jus, each element works together, creating a rich fusion.
After the first bite, you will find yourself curiously determined to savor each and every bite to come.
Sweet Repose
The evening came to a close with a selection from Le Bistro's dessert cart.
Pink Lady Apple Compressed, Olive Cake, Apple Puree & Apple Chip

My Mom's favorite that evening was Le Bistro's heavenly apple dessert. Slices of compressed Pink Lady apples, served with a fluffy olive cake, apple purée and crisp apple chip.
Hazelnut, Ice Cream, Sponge Cake & Candied Hazelnuts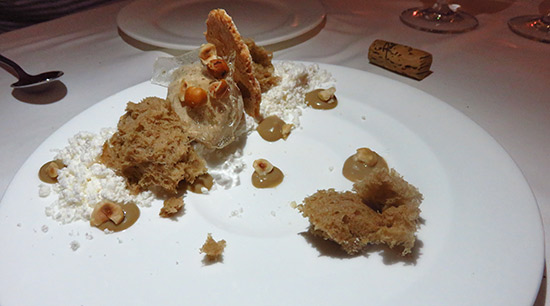 After a gourmet five-course meal, my Dad fell for Le Bistro's hazelnut dessert. Exceptionally light, the sponge cake quickly disappeared from the plate.
In a state of sweet repose, we said our "Thank you's" to Chef Jasper and reflected on the tremendous meal. Chef Jasper had outdone himself.
My Dad may have summarized the evening best when he said, "This was the best meal of my life." And, just as importantly for us, Chef Jasper has a unique ability to deliver haute-cuisine dining experiences in the most approachable, unpretentious way.
We cannot recommend Le Bistro at Santorini highly enough. Any meal at Le Bistro will please you beyond expectations. We suggest, though, that you put yourself in Chef Jasper's passionate hands and let him treat you to a meal that you, too, will never forget.
To reserve Chef Jasper's Tasting Menu, call: 1-264-498-2000