CuisinArt's Beach Bar & Grill...
"Rendezvous" With Caribbean Bites & Blue
CuisinArt Golf Resort & Spa has one of the most desirable locations in Anguilla. The five-star luxury resort lines the beach that has been voted the Caribbean's "best" time and time again, Rendezvous Bay.
Right on the beach's pillowy sands, in the hotel's center, CuisinArt's Beach Bar & Grill takes full advantage of this prime location.
Welcome to CuisinArt's Beach Bar & Grill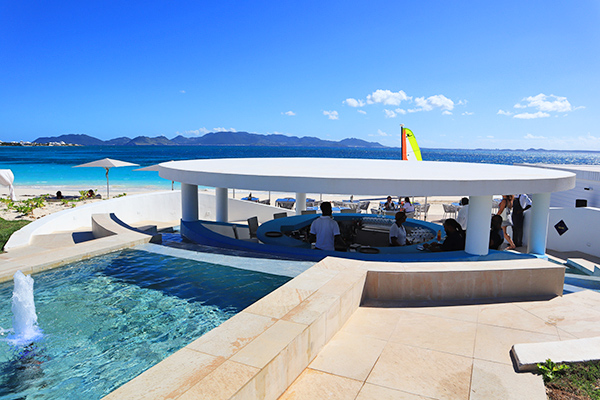 Here, frozen drinks are blended in the restaurant's famous circular bar. Refreshing lunch bites are served out on the dining area. Today, that dining area is wider than ever, stretching out onto the beach.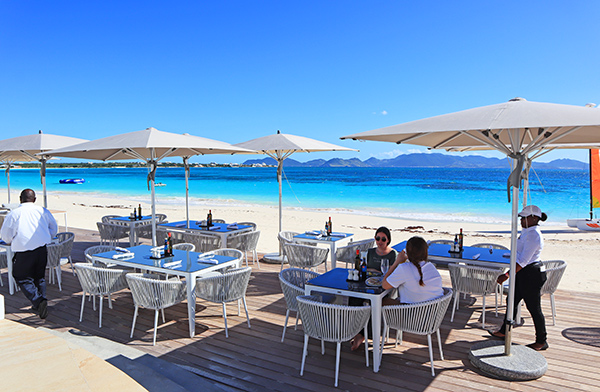 BLUE-tiful RendezVIEWS

CuisinArt's Beach Bar & Grill's patio extends over Rendezvous Bay's powdery-fine sands.
Spacious and open-air, the patio is level with the beach.
It features dining tables, couches for lounging and even cabanas for a post-lunch snooze.
Step off the patio onto the beach. Dip into Rendezvous' blue waters. Return for a gourmet lunch bite, a cool cocktail or an afternoon nap.
Yes, the terrace is built for indulgent days at the beach.
The patio's expansion goes hand in hand with a re-invigorated lunch menu.
CuisinArt's Chef Alan Larch is bringing the Beach Bar & Grill's menu to new heights.
Meet Chef Alan Larch
CuisinArt Golf Resort & Spa has welcomed the most distinguished chefs over the years. They have been responsible for defining CuisinArt as a culinary destination in Anguilla. The man behind the resort's current culinary scene? Chef Alan Larch.
With Chef Alan Larch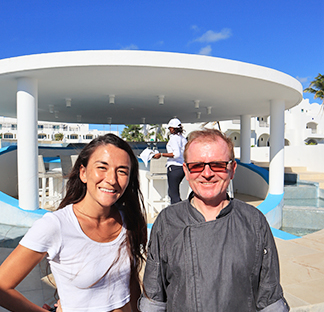 Chef Alan began his career in 1997. He has worked all over the world, with many years spent in the Caribbean. His resume boasts some of the finest names in hospitality, including the Mandarin Oriental Hotel Group, The Pink Sands Club, Fregate Island Private in Seychelles, Fairmont Hotels & Resorts and Raffles Hotels & Resorts. Today, he brings his vision to CuisinArt Golf Resort & Spa.
"When you arrive to the island, you see the ocean, you smell the salt air, you hear the waves and the music, you can touch the sand. Thus, you should also taste the island and the flavors that make it so unique, to paint the full picture of the experience and forge a deeper connection."
Let's see what Chef has in store down on the shores of Rendezvous Bay.
Fresh Caribbean Bites & Blue!
Lunch at CuisinArt's Beach Bar & Grill always begins with a cool cocktail. There is no better compliment to the blue backdrop than a vibrant frozen or blended drink.
A Classic Rum Punch & Piña Colada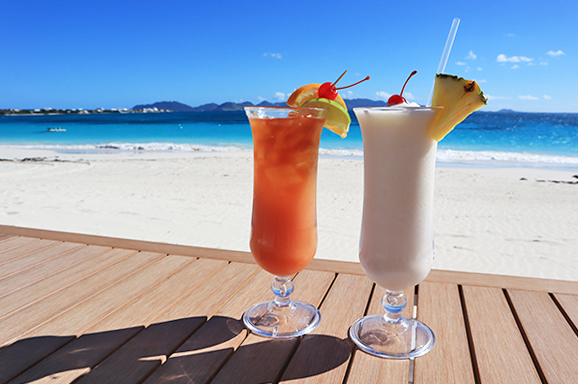 The Beach Bar is known for serving up mean and frosty drinks with a potent punch.
Cooled by a refreshing cocktail, what's next? To tackle the diverse and varied food menu!
The menu showcases Caribbean specialties from across the region. Nods to neighboring islands include, the Flying Fish Cutter sandwich with guava pepper jelly hailing from Barbados, chicken and vegetable roti from Trinidad, half jerk chicken - a Jamaican specialty and a regional favorite...
Conch Fritters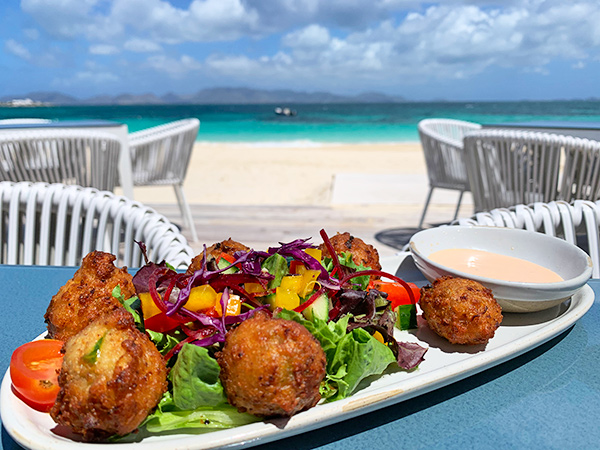 These crispy fried conch fritters make for a perfect sharing dish. The best part? The dish comes with a side of Cruzan rum aioli. It is impossible to stop eating! The fritters also come with a colorful serving of salad.
Next from the "Local Specialties"...
Carib Beer-Battered Fish Fillet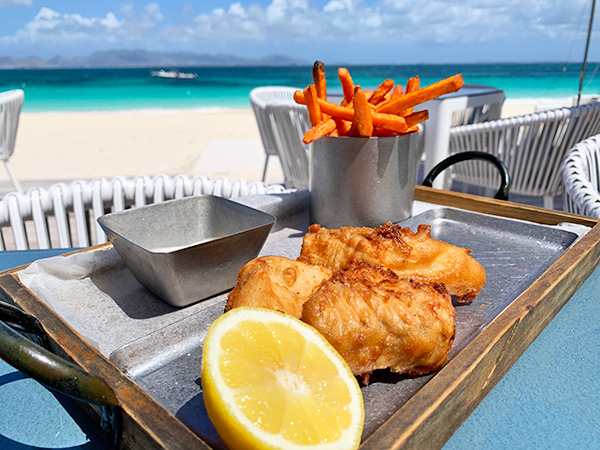 Chunks of fresh fish are fried golden-brown in a light Carib beer batter. They are served with your choice of sweet potato fries or home-style french fries and accompanied by a tangy tartar sauce.
Also from the "Local Specialties" part of the menu..
Traditionally Baked Anguillian Snapper Fillets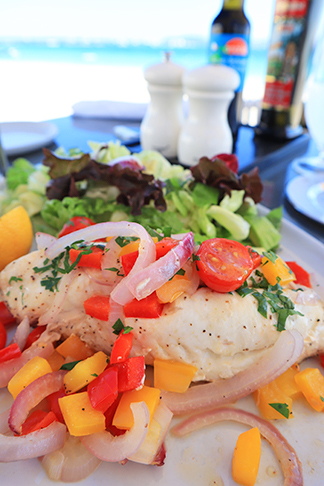 Fluffy fillets of freshly caught snapper are baked with roasted cherry tomatoes. Chunks of sweet bell peppers and slices of red onions are layered on top of the sumptuous snapper. The dish is rounded out with an avocado and mixed green salad. Delightfully refreshing and light!
Moving on to the "From The Grill" section.
Half Rack BBQ Baby Back Ribs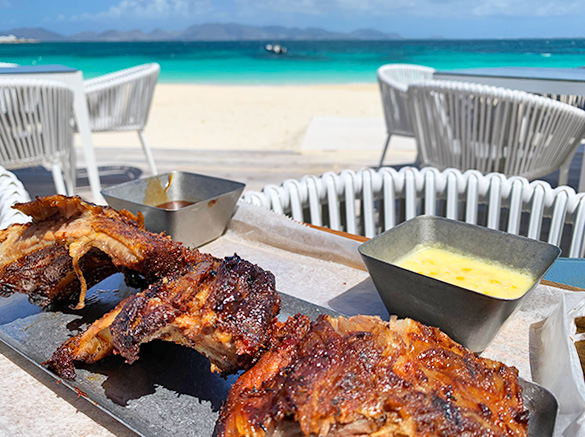 A serving of HUGE and tender ribs with a tasty smoked chipotle barbecue sauce. The ribs are paired with buttermilk corn.
The fried fish filets and ribs are top picks for finger food "to share."
BBQ Baby Back Ribs & Fish Fillet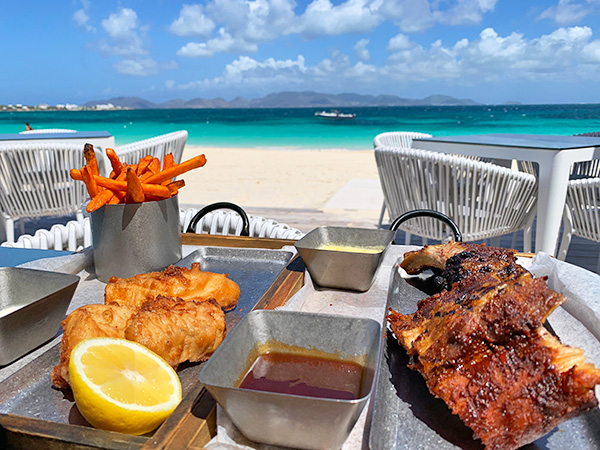 In addition to Caribbean specialties, the menu features an Angus burger, chicken Caesar wrap and dishes with Mediterranean flare. The Brochettes are one of the most palate-pleasing and eye-catching items on the menu...
Shrimp & Chorizo Brochette

The presentation is surprising! Large pieces of char-grilled shrimp and chorizo arrive suspended on a brochette skewer, drizzled with a refreshing tzatziki sauce. The dish is complete with savory flatbread topped with a colorful salad with a cabbage and radish-strip crunch.
The combination of flavors blend perfectly. The chorizo adds spice to each Mediterranean-seafood bite! For a closer look at this heavenly dish, see the video below...
Satisfying in every way, CuisinArt's Beach Bar & Grill delivers a sumptuous lunch experience. The last thing to do? Take in more RendezVIEWS and snooze...
Cabana View of Caribbean Blue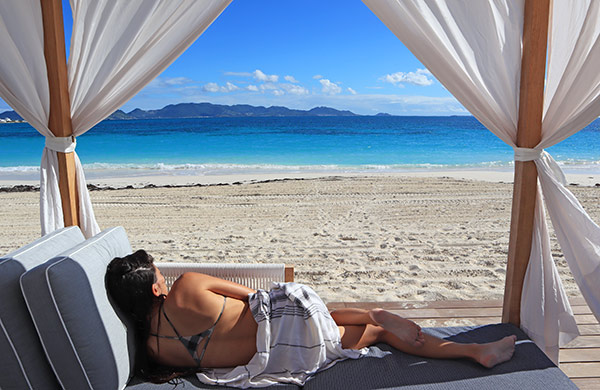 CuisinArt's Beach Bar & Grill gets our vote for a luxurious beach bar best!
Directions, Hours & Contact
Hours: CuisinArt's Beach Bar & Grill is open daily for lunch. Opens Tuesday night for Lobster BBQ.
Tel: For reservations, call: 264-498-2000
Directions: At CuisinArt Golf Resort & Spa.