CuisinArt's Beach Bar & Grill...
A Fresh Bite on the Beach
Update 2018: CuisinArt is currently closed. Updates to come as the property prepares to re-open Nov. 2018.
Looking for a healthy, fresh bite on the shimmering sands of Rendezvous Bay?
Kick off your shoes and follow the sparkling, blue-water "road"...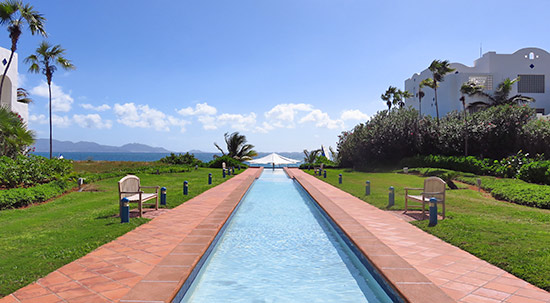 ... to one of the most popular bars on Rendezvous Bay, CuisinArt's Beach Bar & Grill.
CuisinArt's Beach Bar & Grill
CuisinArt's Beach Bar & Grill is your quintessential sandy, barefoot bar on the beach.
Laid-back and casual, inhibitions fade from the moment you take a seat at the bar, and that's before you order a cocktail! ;-)
The Caribbean Sea laps at Rendezvous' sandy shores just a few yards away. Gentle tradewinds blow in from the east. The open-air atmosphere puts you right at ease.
CuisinArt's Beach Bar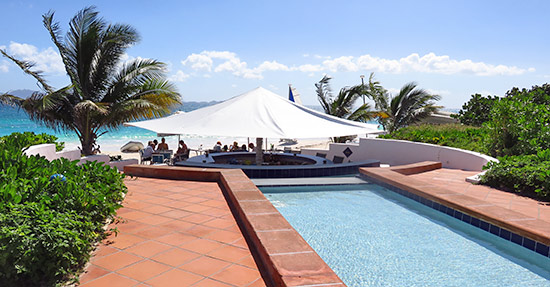 The relaxed feel is also a credit to the spirited folks who man the bar. Many famous personalities in Anguilla (including the beloved Garvey Lake) got their start here.
Today, you are in Justin's excellent hands. We've known Justin since his days at Valley Bistro. He knows good service and goes above and beyond to deliver. Efficient, he is also a blast to chat with. Easy-going and light-hearted, we know we're in for a good "lime" when we see Justin.
Your Host, Justin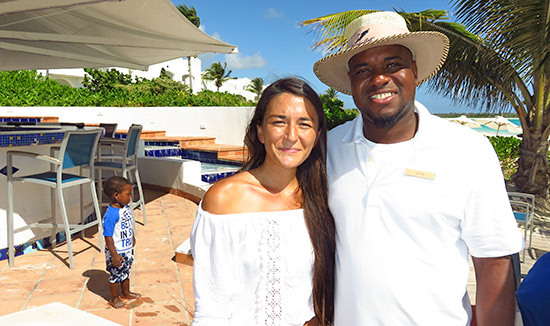 The Grill
Back in the day, CuisinArt's Beach Bar was just that... a bar on the beach. Now, they have expanded further onto the sand with an intimate wooden deck. Only a few tables are available, so be sure to show up either before or after the lunch rush. They get busy right around 1pm!
Beach Bar & Grill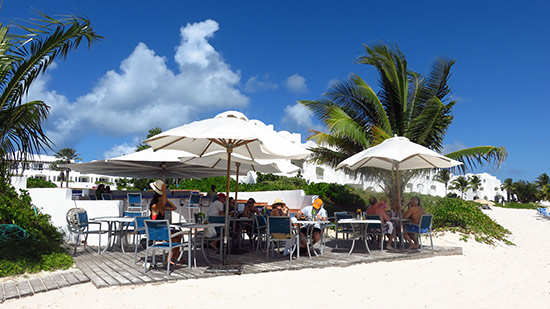 With this setting...
Rendezvous Bay Beach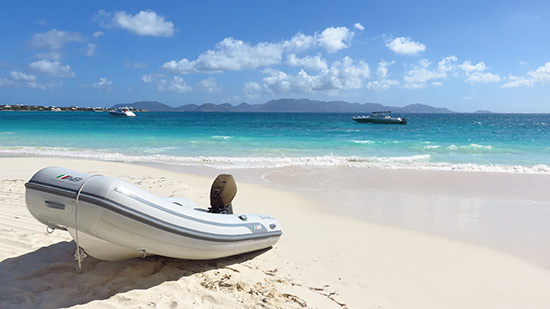 And this view from your table...
Your Lunch Time View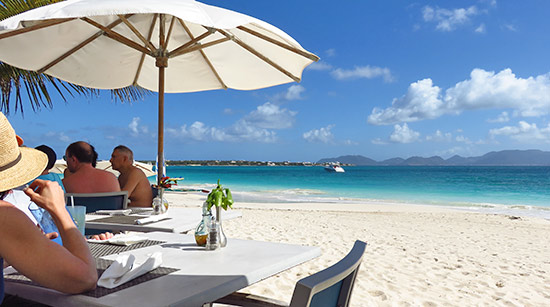 ... it's not hard to see why it's a favorite lunch stop for locals, visitors, CuisinArt guests and even day-trippers from St. Martin.
After lounging on the beach and walking the length of Rendezvous Bay, my sister, Yuki and I were ready for lunch. Justin settled us in and brought over their chalkboard tableau, which lists the menu of the day.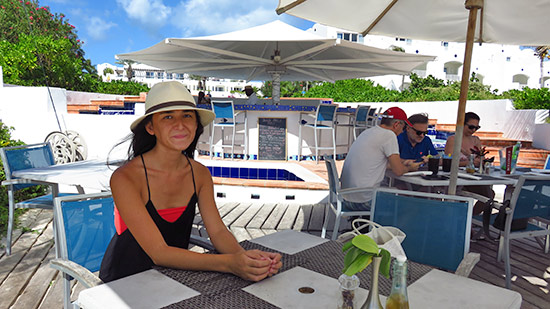 What's For Lunch?
Plantain Chips & Tropical Salsa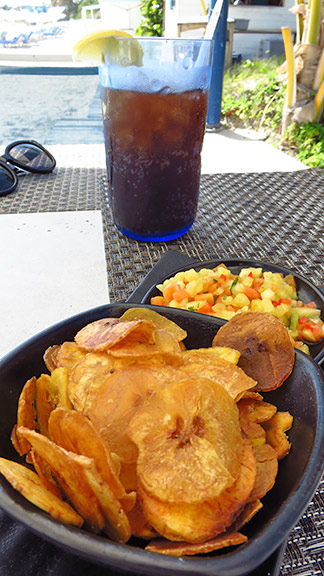 Every meal starts with savory plantain chips.
Fresh fruit (ex., pineapple and papaya) are mixed together, forming a sweet and tangy salsa, which is served on the side.
(Each plate of plantain chips is free with lunch and available at a reasonable cost with drinks. They make a terrific snack!)
The menu itself emphasizes Anguillian cuisine.
It changes based on what's fresh.
Almost regularly you will find BBQ ribs (served with rice and peas), jerk chicken and a variety of seafood...
Snapper, shrimp, all grilled on their charcoal BBQ, giving it that rich, smokey taste.
What really sets CuisinArt's Beach Bar & Grill apart is their emphasis on fresh produce.
BBQ plates come with a crisp salad, the lettuce, tomatoes and cucumbers picked that day in the resort's hydroponic gardens.
Yuki's BBQ Ribs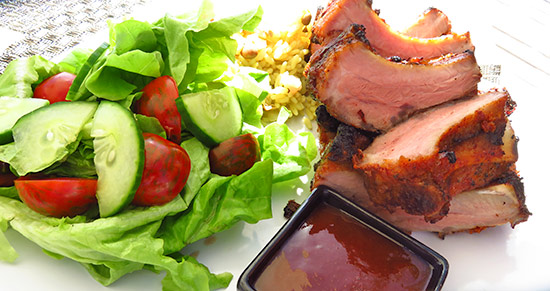 Succulent and ultra-fresh, they are a welcomed treat, especially when you have fallen into the habit of eating heavy on vacation.
One of my favorite lunch specials is their grilled vegetables with goat cheese. Simple yet satisfying and healthy, it's even topped with quinoa.
Grilled Veggies with Goat Cheese, Topped with Quinoa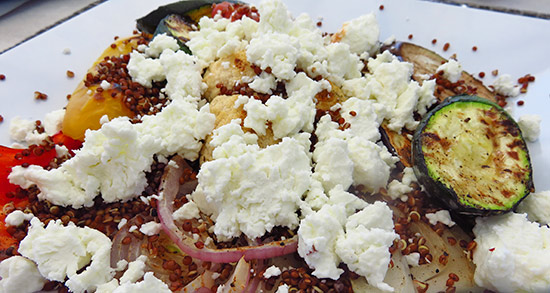 Of course, sitting at the edge of one of the best beaches in the Caribbean...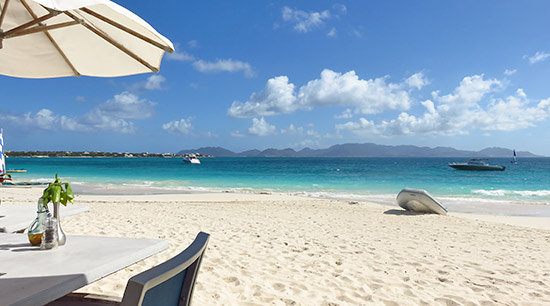 ... without a care in the world, it's hard to not want to indulge.
Beach Bar & Grill's menu answers with popsicles, ice cream sandwiches and the best frozen cocktails on the island.
My Mom's favorite is their "Frozen Mojito," with white rum and hydroponic mint. My pick is the "Frozen Coconut," a combination of Malibu, amaretto, coconut cream and fresh coconut.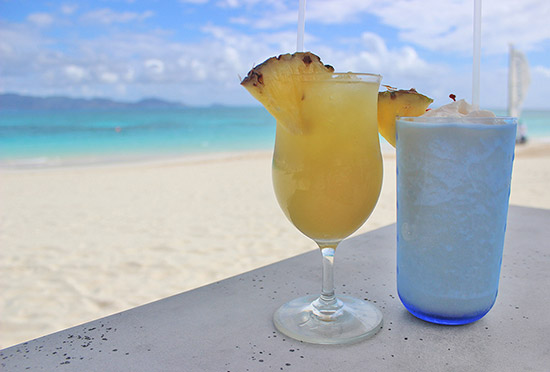 Cocktails in-hand, there's only one thing left to do... drink it all in!
CuisinArt's Beach Bar & Grill is open daily from 10:30am-6pm.