Italia, Buon Appetito!...
Serene Italian Dining at
CuisinArt Golf Resort & Spa
Update 2023: Italia is now home to Aurora Anguilla's, D Richard's. More on Aurora Anguilla here.
Italia At A Glance
Hands down, Italia serves some of the most authentic Italian food on the island.
With Chef Biagio preparing fresh-made pastas and specialties hailing from the South of Italy, and their attentive staff ensuring you're well taken care of, Italia offers a five-star dining experience across the board.
More on Italia, below...
Back in 2005 our family took a six week driving trip around Italy. We spent 3 weeks in Rome and 3 weeks in Tuscany. From the landscapes, to the people, to the language, we fell in love with everything about Italy, especially the dining experiences.
From five-star restaurants in the hills of Tuscany, serving some of the top steaks in the world, to the "al dente" pastas and "filleti di baccala" in Rome, to the salted sea bass in Venice, we loved the food and the friendly, flamboyant service.
Ever since our trip to Italy, we've searched for that restaurant experience, one that matches what we found in Italy. Who would have guessed that it could be found in Anguilla?
With Italian natives Chef Massimo in the kitchen, and restaurant manager, Fabio on the floor, Italia Restaurant delivers one of the most authentic Italian dining experiences.
When we heard that they were both flown in from Italy for this restaurant, we didn't hesitate to make a reservation!
Inside Italia

Located inside CuisinArt Golf Resort & Spa's golf course club house, you always have a feeling of luxury walking up to the club house entrance.
Stark white and tall, the space is elegant and expansive, feeling exactly the way an upscale golf club should.
That feeling carries through the bar and dining room.
Dining Room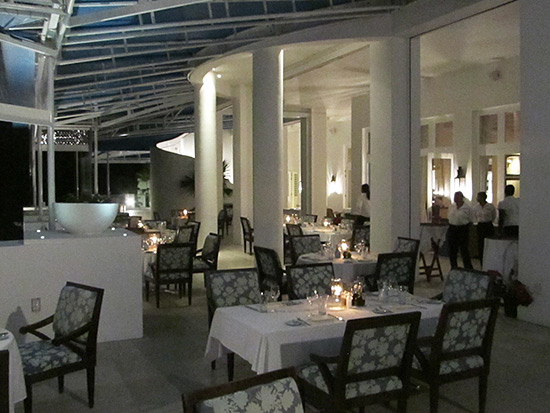 The dining area is out on a wide, covered terrace overlooking the Greg Norman golf course and St. Martin. The terrace is elevated, the views are sensational, gazing out down the fairway, to the Caribbean sea and over to St. Martin. At night, you are treated to the twinkling lights of St. Martin in the distance.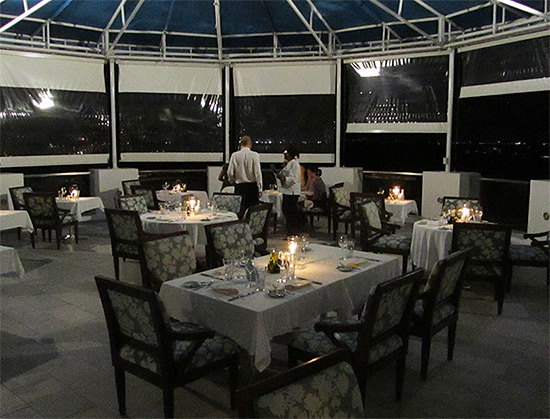 Italia's kind staff greeted us and brought us to our table.
Before long, Fabio, Italia's manager introduced himself. Fabio is friendly, well informed, and is very proud of their chef. He explained that each of the dishes the chef has chosen has an inflection from his native area of Italy.
Excited by fine Italian dining, Fabio makes Italia a true Italian dining experience. When dining in villages in Italy, even though we hardly spoke Italian and the Italians spoke little English, we felt welcomed and part of a fun, lively experience. Fabio brings that feeling to Italia.
Italia's menu features authentic Italian fare. For starters you have, "Sicilian caponata," Italian rice balls, parmesan/pear salad, tuna tartare, prosciutto, calamari soup and a fillet of chicken. These range from $13-17.
The fried eggplant with Sicilian olive oil caught my eye. The eggplant was lightly breaded and fried. Not oily, not heavy. A tomato puree was on the side, complimenting the flavors just right. Even non-lovers of eggplant have raved to me about this dish.
It is quite easily the best eggplant I have ever had.
Appetizers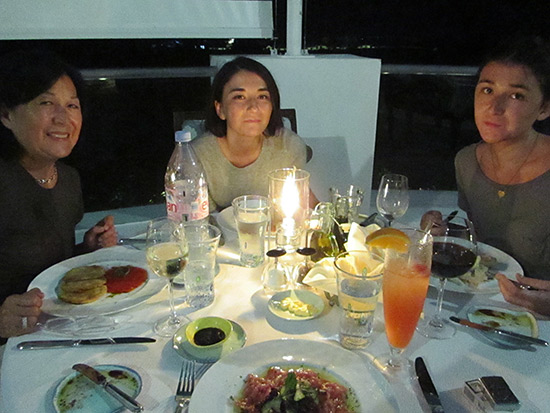 For second courses the menu features pasta and risotto. The risotto options range from a wild mushroom risotti, to seafood risotti, to parmesan risotto. For pastas, they have eggplant parmesan, tortelli stuffed with pumpkin, lobster maltagliati, lobster ravioli and lasagne. These are in the $24-32 price category.
Dinner at Italia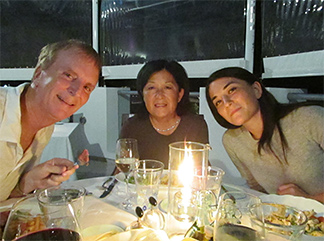 For $32 you can try Chef Massimo's "pasta selection." This features a little taste of tagliatelle bolognese, crepes with cheese and mushrooms, and gnocchi with pesto.
If you are in the mood for "carne" or "pesce", they have you covered. From Mediterranean branzino, mahi mahi and crayfish to Angus fillet to veal ossobuco, the options are plenty. Fabio assured us the "carne", the steak, would be reminiscent of ones devoured in Tuscany.
Yuki's Tortelli

The dinner menu is thoughtfully arranged with something for each diner in mind.
On impulse, I chose the lobster ravioli.
Fabio had sold my Dad on the Tuscan steak.
Tempted by the bolognese, my Mom went for Chef Massimo's sampler, and Yuki settled on the tortelli.
With the arrival of our dinner, Fabio wished us buon appetito.
Each dish out did the next.
Yuki enjoyed her tortelli. My Mom fell in love with all 3 of the pastas in the sampler, exclaiming how the gnocchi was especially smooth and soft.
Fabio noted that the pasta is rolled out and made fresh each and every day. No wonder it melts in your mouth!
My Dad's steak was exactly as how he had remembered steaks in Tuscany. A rare find, especially on a small island like Anguilla.
I tried a bite of their meals. Each was exceptional. I might be biased, but I still believe the lobster ravioli was the dish of the night. I took my time with this one, savoring each and every bite. Gentle ravioli pasta, stuffed with tender pieces of lobster, bathed in a light lobster bisque sauce, and with a kick of thyme, it all worked. The dish was heavenly, not a bit heavy or overly rich.
There was just no room for dessert but after looking at the dessert menu, I made myself a promise to return to this Anguilla restaurant just for dessert. Dessert includes tiramisu, panna cotta, vanilla gelato, sicilian cassata ice cream, Semifreddo with Amaretto, sorbets and ice creams. A true Italian menu!
Post-Dinner Drinks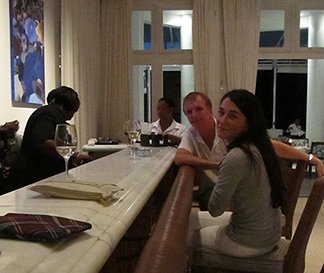 Though we had no room for dessert, we can always make room for a post-dinner drink.
Especially a fine-dining expert such as Fabio recommends something that will "make" your meal.
We chit-chatted with Fabio and ordered the Limoncello.
It is one of the quintessential liqueurs of Southern Italy.
A perfect blend between strong, sweet and sour, chilled and served in shot glasses, it was the perfect ending to a perfect Italian dinner.
"Grazie Mille" to Chef Massimo and to Fabio!
Update 2016: Chef Biagio Brings the South of Italy to Anguilla
Italia's former Chef de Cuisine, Massimo took us "Under a Tuscan Sun" on dinners at Anguilla's authentic Italian restaurant, Italia. Today, Italia highlights a different region of Italy, thanks to their new Chef de Cuisine, Biagio Longo.
Hailing from Sorrento, a seaside city on the Bay of Naples, Chef Biagio brings robust Southern Italian flavors to Anguilla's shores.
Out on The Terrace at Italia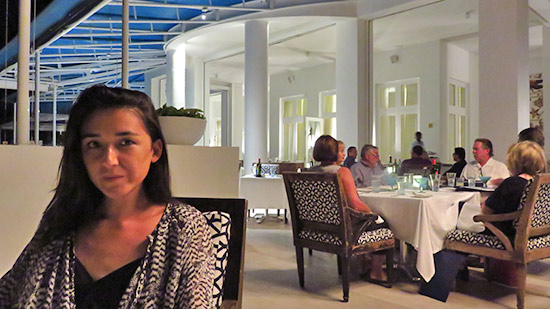 House-Made Breadsticks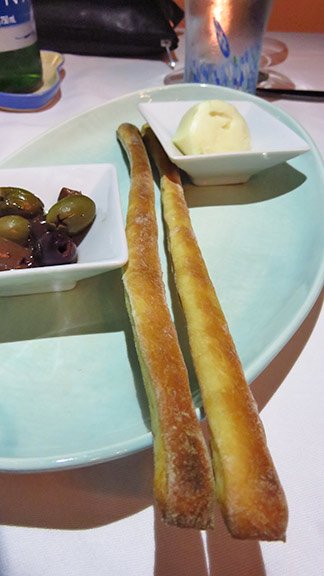 On Italia's lofty terrace, looking out to the twinkling lights of St. Martin, the ambiance always impresses.
Dinner begins with an assortment of house-made breads.
Soft focaccia, rich in olive oil, is baked with rosemary and topped with sea salt.
Sizable rustic breadsticks, also prepared that day in-house, are served with a whipped ricotta and olives.
With a glass of red wine, it's a savory way to begin a culinary journey through the South of Italy.
As my sister, Yuki and I sipped and nibbled, we took a look at the menu.
Certain classic dishes remain (for example, the heavenly burrata with cherry tomatoes starter).
For the most part, though, Chef Biagio has made the menu all his own, adding plenty of specialties that define Southern Italian cuisine.
House-Made Focaccia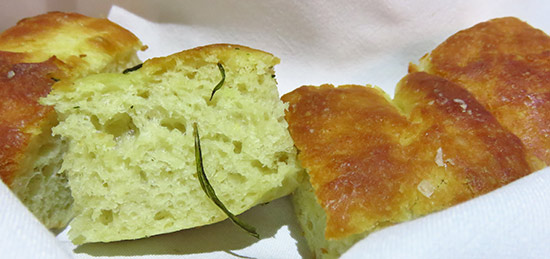 Antipasti
Salami with Calabrian hot peppers and Sicilian oregano. Meatballs al forno with fresh ricotta. Arancini di riso with basil and mozarella. These are just a few of the staples that make up Chef Biagio's Southern Italian menu.
Arancini di Riso, Basil, Mozzarella, Fresh Tomato Sauce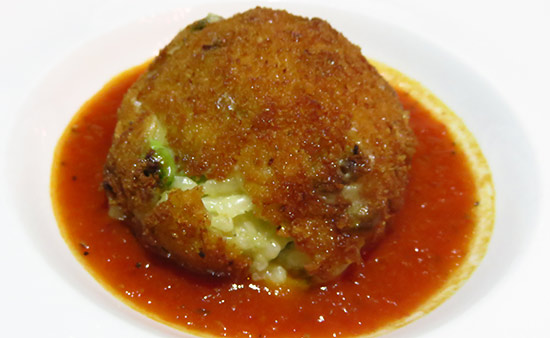 I started with the arancini. A sizable portion (about the size of a baseball), it's a high-value serving. A crisp, fried layer surrounds warm and creamy risotto, melted with mozarella. It is all bathed in a fresh tomato sauce.
Tip: Ask for the sauce on the side so you can dip as you go.
Fried Zucchini, Lemon, Pecorino, Chile

My sister's choice was melt-in-your-mouth outstanding. Shards of zucchini are fried to golden-brown perfection. Not oily, not heavy, not soggy or wet, this is how it is done. The lemon and chile adds zest to the dish. Also a large serving, it is best shared.
Primi
Caprese, ravioli, hydroponic tomato sauce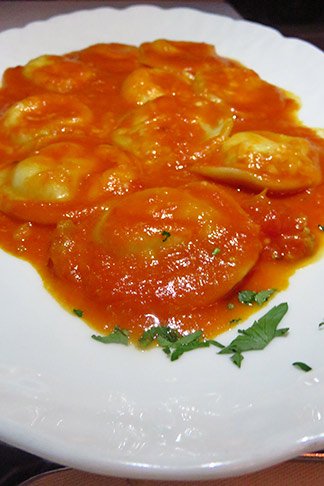 Emphasizing tomato-based sauces and fresh vegetables (ex., eggplant, pumpkin, etc.), Chef Biagio's "Primi" menu is true to its Southern Italian roots.
It also makes good use of CuisinArt's hydroponic gardens.
All sauces are fresh, using ingredients grown on-site.
Bolognese (now served on Cavatelli) and baked lasagna are still on the menu.
New creations include...
Scialatielli with eggplant and meatballs, Paccheri with Anguillian lobster, caprese ravioli and Agnolotti with local pumpkin.
Yuki took her cue from CuisinArt's Executive Chef Jasper that night.
He recommends the caprese ravioli, his favorite at Italia.
Utterly light and refreshing, each ravioli is rich with mozarella and basil. A terrific recommendation!
I went with the Paccheri spiny Anguillian lobster with cherry tomato, olive oil and garlic.
Served al dente, the balance between tomato and garlic was spot-on. The chunks of lobster add a pleasant, fresh-seafood bite to the thick Paccheri.
Paccheri Spiny Anguillian Lobster, Cherry Tomato, Olive Oil, Garlic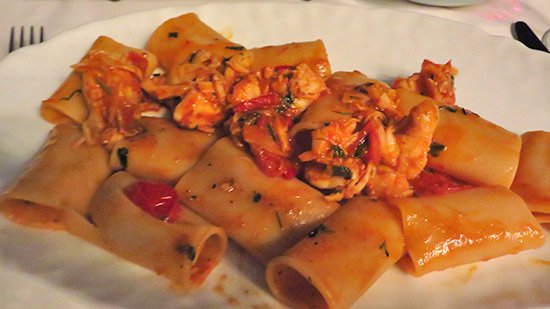 Truly a hearty meal, be sure to bring your appetite to Italia! Yuki and I didn't make it to the third part of the menu, "Chef Biagio Specialties." It focuses on chicken, beef and fish, with the salt-crusted whole snapper sounding especially enticing.
An excellent meal, and a delightful first taste of Southern Italian cuisine, we will be back.
Benvenuto, Chef Biagio and we look forward to tasting our way through the South of Italy again soon!
Update 2016: Italia For Lunch
For years, CuisinArt's Golf Club served classic clubhouse fare by day (at the "Clubhouse Grill") and was transformed into a gourmet Italian restaurant by nightfall ("Italia").
Today, the "Clubhouse Grill" is no more. Its menu has been replaced by one that brings you a taste of Italy. Yes, for all Italia fans, I have good news... Italia is now open for lunch and dinner.
The Day-Time View
Overlooking the 18th Hole at CuisinArt Golf Club, CuisinArt's club house has one of the best views on the island.
Frozen Mojito at Italia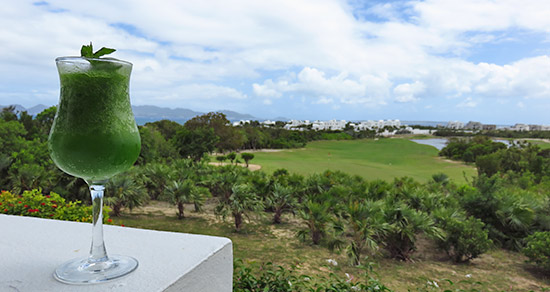 Green fairway meets pristine luxury villas before the view drops off to the Caribbean Sea and St. Martin in the distance. Breezy, and with a more refined yet unassuming ambiance, it has long been a top pick for leisurely lunches.
Italian Lunch Cuisine
Chef Biagio's lunch menu is split into three sections, "Antipasti," "Primi" and "Specialties."
Antipasti and Primi offer a peek at Chef's dinner menu, with a selection of original lunch dishes sprinkled in. Eggplant caponata, Grandma's spaghetti & meatballs and Cavatelli with pesto Genovese are a few of Chef's options that are available for lunch only.
The Pesto Genovese

For those who love basil, the Cavatelli pesto is a must. Soft pieces of Cavatelli are coated in pesto, made with basil fresh from CuisinArt's hydroponic gardens. Arguably one of the best pesto dishes in Anguilla, it is sublime.
Chef's Specialties menu is only available for lunch. The menu includes smoked ham with buffalo mozzarella and tomato salad, organic chicken parmesan sandwich and the short rib burger (a favorite from the previous Clubhouse Grill menu).
The #1 choice for those who love Italian delicacies?...
Prosciutto di Parma, Smoked Mozzarella & Arugula Panini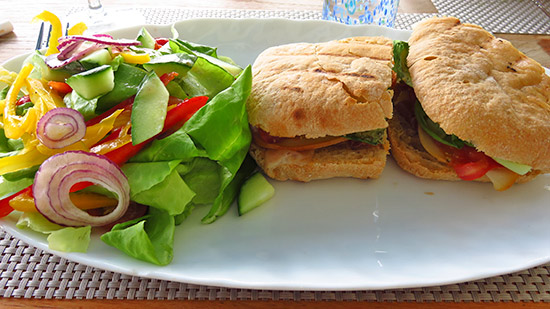 Perfectly thin slices of Prosciutto di Parma melt in your mouth. The smoked mozzarella accentuates the savory flavors, with the sharp arugula offsetting the sandwich's rich qualities.
The bread it's served on deserves a special mention, too. A crusty bread, similar to ciabatta, it is oily and crisp, house-made. With CuisinArt's juicy-fresh tomatoes, each bite is heaven.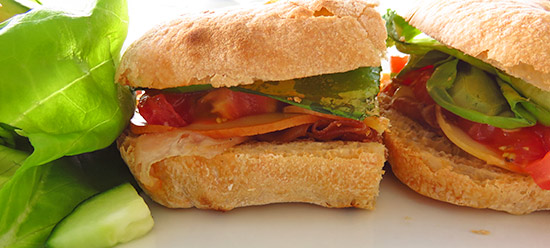 This sandwich is an absolute stand out and rivals any "best sandwich" in Anguilla.
Whether dining post-golf or seeking a lunch spot with endless vistas, Italia impresses for dinner and lunch!
Directions, Hours & Contact
Directions: Italia is located inside CuisinArt's golf course club house, just past the turn off to Bankie Banx's the dune, if you're coming from the east. See the map below for full directions.
Italia
Good for fine Italian dining.
Hours: Italia is open for lunch and dinner. Closed on Mondays.
Tel: 264-498-5602