Combing Anguilla's Beaches for the Best
---
Anguilla Beach Lovers brings you the latest additions to one family's experiences of the "best of all things Anguillian."

If you like this e-zine <>, please do a friend and me a big favor and "pay it forward."

If a friend did forward this to you and if you like what you read, please subscribe by visiting...
---
Issue #062, December 24th 2011
The early-morning wake up call, dense tunnel traffic and holiday-long security lines are a small price to pay. The pre-holiday stress of internship interviews and final exams and projects is already fading...
"The children are nestled all snug in their beds,

while visions of sugar-plums dance in their heads."
The sweet, warm feeling of being home in Anguilla washes over us, the NYC pressure-cooker far behind. Meanwhile, on the home front...
---
Anguilla is Buzzing!
CuisinArt has opened a new sushi restaurant (at their Spa). Their golf course now sports an Italian restaurant (Italia). Blanchards just announced a lunch spot (the Beach Shack). Mango's has a tasty new lunch menu, too. And Moments replaces Sea Sand at Ku (the hotel is still open, by the way!).
So we've some catching up to do for the website. Yum!
---
Facebook Photo Challenge!
Dad is hosting a Photo Challenge on Anguilla-Beaches.com's Facebook page. He will be posting a series of 10 photos over the next couple of weeks. My Mom and Dad will take out the winner to dinner at a 5 Star restaurant.
Here's how to win. This links to the most recent challenge (#3), which also includes guidelines about how to win and includes links to the previous 2 challenges.
Dad plans some pretty interesting photos. It's not too late to enter. Simply "like" Anguilla-Beaches at the Anguilla Facebook page!
Once you like that page, you should see new posts from Anguilla Beaches on your Facebook news feed. When you see a photo challenge, pop over and play! You can still add stories to previous entries and there's lots of time to win... 7 new photo challenges still to go.
---
What Else Is New Since I Last E-Mailed You?
1) Petals Boutique at Meads Bay Is Now Open!
My Mom and good friend Kristin Bourne recently checked out Petals. They found an original shopping experience with many precious and affordable items, right on beautiful Meads Bay.
2) Guide to Top Anguilla Beaches
Kristin loves taking long beach walks, snapping photos as she goes. She is turning those walks into some fabulous new pages, comprehensive tours of Anguilla's best beaches. Here are her first two...
My Dad's Internet business recently held their 7th conference. They are hosted all over the world. This time, it was in Anguilla!
Held at the Paradise Cove Resort, attendees rated this conference "best conference they'd ever attended." They absolutely raved about Anguilla!
Check out the conference review and their comments at the bottom of that page.
4) Tasty's Anguilla Restaurant...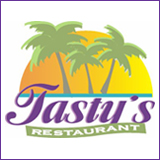 Tasty's Restaurant is one of Anguilla's best-loved institutions. Open daily for breakfast, lunch and dinner since 1999, it just may be our favorite spot for breakfast.
No trip to Anguilla is complete without a meal at one of the most authentic and tasty Anguilla restaurants.
5) da'Vida Updates
da'Vida has many exciting updates to announce this holiday season!
Dinner menu has added Caribbean potato fish cakes and Asian shrimp dumplings as appetizers. Their new entrees include blackened Fiji shrimp and garlic infused lamb loin. I know what we'll be eating on our next visit!
Pizzas, pastas and desserts are now part of their Bayside Grill lunch menu.
Music? Saturday and Sunday now feature live music at the Bayside Grill. And British Dependency plays on Wednesdays in the main restaurant, with Boss & Co. on Saturdays.
6) New Year's Eve
We'll be celebrating Anguilla's "Old Year's Night" (New Year's Eve) at da'Vida! This year's menu is "A Night In Japan."
We celebrated at da'Vida's last year, too. Here's our report.
They sell out fast, so make your reservation now... 1-264-498-5433
7) Explore Anguilla With Your iPad
A reader wrote to tell me about using my Anguilla map PDF (derived from Google Maps, but sectionalized for easy use) on iPad to explore Anguilla. My Mom tried it out and it worked!
If you have an iPad, give it a try if you're the type that likes to explore every nook and cranny of Anguilla. Happy exploring!
P.S. I also updated the Anguilla Maps page, for those who prefer exploring with a "paper map."
8) Other New Pages
The above pages are the highlights. Other new pages appear at the site's Anguilla Blog.
That's all for this year. See you "next year" and I hope to bump into you if you'll be in Anguilla during the next 6 weeks. We're home until the end of January! :-)
Wishing you happy holidays and all the best for 2012,
Nori
Anguilla Beaches Home Page
---
New!

Comments Have your say about what you just read! Leave me a comment in the box below.