Combing Anguilla's Beaches for the Best
Anguilla Beach Lovers brings you the latest additions to one family's experiences of the "best of all things Anguillian."

If you like this e-zine, please do a friend and me a big favor and "pay it forward."

If a friend did forward this to you and if you like what you read, please subscribe by visiting...
---
Issue #067, December 9th 2012
It's that time of the year, the most exciting time of the year... the Holidays!
This is my first Holiday season in Anguilla. Every past December I was either in Montreal (where I grew up), or in NYC (where I went to university). This year? No snow, no sub-zero temperatures, no problem! :-)
'Tis the season in Anguilla. Folks are putting up sparkling Christmas lights, the warm weather is cooling off (a steady 80-85F instead of 88-90F in the summer/fall months), and the holiday hustle and bustle is here.
In Anguilla, we're building up to the busiest time of year... the Festive Season that stretches from Christmas to the first week of January. During those two weeks "they're" all here... the Michael Jordans, Liam Neesons and Paul McCartneys. They fly in on private jets, or stay on private yachts offshore. Keep your eyes peeled!
Before we launch into the holiday madness, here's a little peace and quiet from Anguilla's shores...
---
Memorable Moments in November
You can tell that November marked the beginning of the new season. Most of our memorable moments were enjoyed beach-side at some of our favorite bars and restaurants that had opened after taking a well deserved break in September and October...
Saturdays at The Cove...
Sundays at Garvey's Sunshine Shack...
Luxurious lunches at Bamboo Bar & Grill...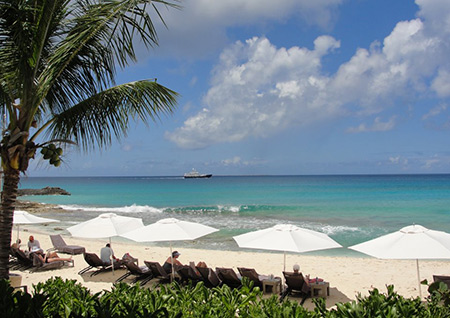 Miss Panama also visited Anguilla in November. She hung out with our good friend Laurie Gumbs at Pumphouse...
We had wonderful tropical light shows...
And we gave thanks for it all over a mouthwatering Thanksgiving dinner. These photos are all from our Facebook page. Follow us on Facebook, and on Google Plus, for more updates and photos.
---
Welcome New Sponsor: Blue Sea
I'm excited to welcome our new site sponsor, Blue Sea Anguilla!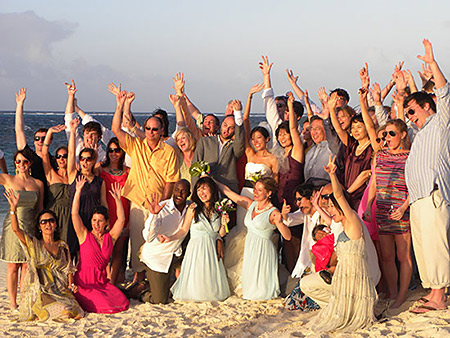 Organizing a group that size (see photo above) while trying to enjoy the serenity of Anguilla can be a challenge. Blue Sea Anguilla makes it hassle-free.
Blue Sea is a small team of long-term tourism professionals with extraordinary connections in Anguilla, and talent for making the largest and most tedious events come together beautifully.
If you are planning a small family vacation and could use help with organizing your excursions and meals OR if you are planning an event of any size, be it a wedding, reunion, or a company incentive trip or getaway, don't hesitate to reach out to two of the hardest working women on the island, Mimi and Amelia, "Team Fire & Ice," at Blue Sea.
---
Rest Your Head
---
Tasty Eats
---
daVida Updates
I have exciting news from one of our favorite restaurants, da'Vida!
Their main restaurant has officially opened. We couldn't be happier! From the luxurious ambiance, to the friendly service, to the tasty food itself, we miss da'Vida when they're closed in the off-season, especially their tapas menu (lobster spring rolls and shrimp dumplings are my favorite).
They will be starting a shuttle service! Yep, that's right. Da'Vida will pick you up and drop you off from wherever you're staying.
Omari Banks, son of Bankie Banx, plays at da'Vida every Sunday. It is THE place to be on a Sunday afternoon, and our favorite day of the week. Click here for a video of Omari at da'Vida on Sundays.
---
Specials
Carimar Beach Club Carimar has exciting "Food & Fun" high-season specials going on now! The specials include a 7 night stay, 4 dinners and 4 lunches (at some of our favorite spots including Straw Hat, Blanchards Beach Shack, Italia and DaVida), and 2 days of rental car.

It's all available Jan. 5-20 for $476 per night and Apr. 1-30 for $370 per night (1 bedroom beachview room). A superb deal considering all that's included for the nightly rate!
Tequila Sunrise Villa Tequila Sunrise Villa has a new, family getaway special!...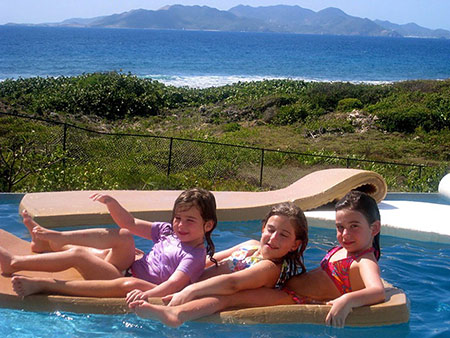 Book a stay from January-Easter and get 15% off. Tequila Sunrise Villa is truly an excellent choice for families traveling together. Splitting the cost of 2 or 3 bedrooms between families makes Tequila Sunrise the most affordable luxury villa.
Their top-notch villa management can arrange extra roll-away beds for the kids, too. Discount offer is good when you book it before Christmas 2012.
Email Joel and Robin, the kind villa owners, direct here: joel@tequilasunrisevilla.com
---
Your Reviews
Do you have a review of a hotel, villa or restaurant? With the holiday season upon us and many travelers planning their trips to Anguilla, everyone appreciates insider-tips, insights and reviews.
If you have a review, please use the links below to share it. A big thank you from me and all of the Anguilla-Beaches.com readers who deeply value real, personal reviews! They are so helpful.
Here's wishing you and your loved ones the happiest of holidays.
I hope to see you in Anguilla this winter!
'Til next time,
Nori
Anguilla Beaches Home Page
---