Cheap Eats in Anguilla...
Corner Bar Pizza, A Neighborhood Favorite...
Great Pizza, Prices & People
Romaro Richardson, Anguilla-Beaches.com's 18 year old intern, student of "Ani Art Academies Anguilla" and passionate photographer shares his views on the popular spot for cheap eats in Anguilla.
Corner Bar At A Glance
Cheap and centrally located, Corner Bar is a convenient choice for tasty take-out pizza.
More on Corner Bar, below...
Another great week on the isle of Anguilla, and after a day at the Ani Art Academy, Nori, Jahvade (fellow Anguilla-Beaches.com intern) and I decided to check out Katouche Bay and Sandy Ground and capture some photos.
Pulling up to Roy's Bayside Grill, I wanted to get some snaps of the slowly descending sun. Sandy Ground is quite the scenic beach in the evening. My favorite shooting spots being around the Johnno's Beach Bar.
Scenic Sunset from Sandy Ground Beach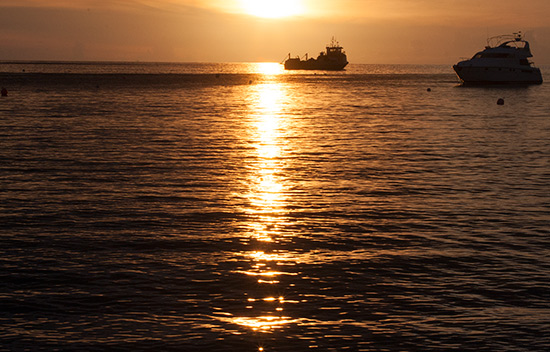 About a half hour passed and the sun now resting in the heavens, a hunger descended on all our stomachs (signs of a hard days work).
Nori and Jahvade Outside Corner Bar Pizza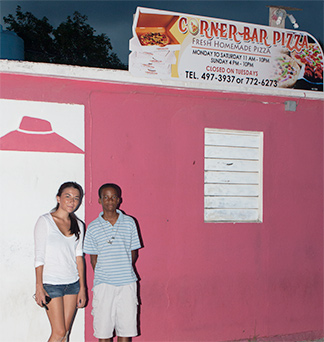 Since we were near the village of North Hill, we decided to grab a bite before heading home.
Pulling up to the village of my upbringing brought back plenty memories, especially when seeing the kids I knew from "diaper days."
Just a block away from my old home is a great food outlet called Corner Bar Pizza.
You can say I lived "around the corner from Corner Bar." ;-)
The Pizza!
We made our way inside to meet with the folks running the business, and ordered our pizzas!
Corner Bar Pizza Has Some of the Nicest & Friendliest Staff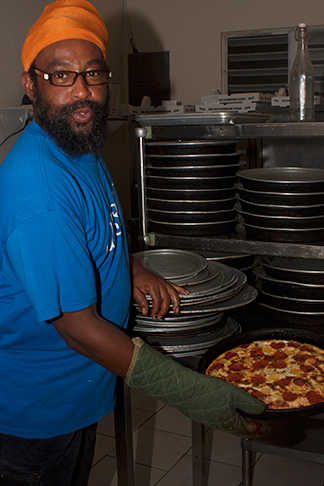 In typical Anguillian fashion I was greeted by my mother's first name.
We were then greeted by the friendly folks in the back working hard, producing some hefty pan pizzas.
Our turn to order came around and we each chose a small sized pizza covered in our favorite topping.
When it comes to toppings, Corner Bar Pizza doesn't lack.
They have toppings from Bacon to Shellfish.
My choice is the "Garbage Pizza," which has everything on it.
They have a nice assortment of soft drinks and other beverages, too.
If you're looking for more than just pizza, don't fear.
You can find chicken, salmon, and veggie burgers at Corner Bar Pizza, served with fries and salad. They have a great selection of side orders, too, from garlic bread (plain or with cheese), to hot wings!
Fresh and Hot out of the Oven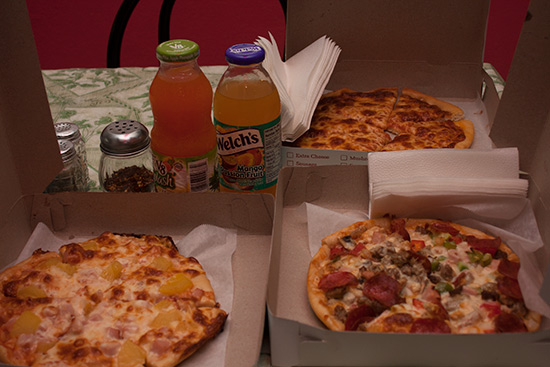 The pizzas looked good. Nori went with a plain pizza and Jahvade got a ham and pineapple. Crisp, tasty and cheap, Corner Bar's pizza is a neighborhood favorite.
A small pizza, which is a reasonable size, is $6 US (that includes 1 topping) and extra toppings are $1 US. A large pizza is $14 (includes 1 topping), and additional toppings are $2 US. Garlic bread is $1 and French fries are $1.50.
Tip? Call ahead and place your order. Because of its popularity, they can get backed up with orders.
Directions, Hours & Contact
Directions: Corner Bar is tucked away in North Hill village. If you are coming from the Sandy Ground roundabout, take the first left. Follow that road past Pampered Pets, Kel's Candy and the speed bump. After the speed bump, the road will curve. Corner Bar is on that bend.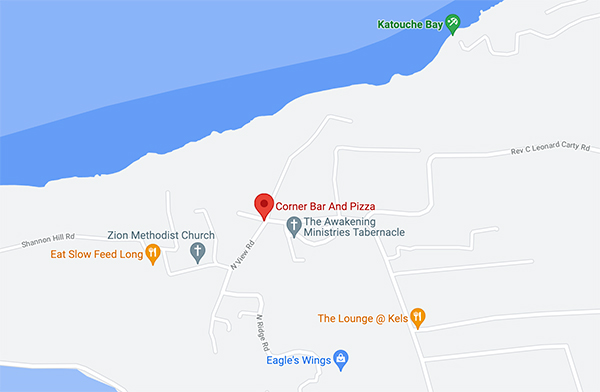 Hours: Corner Bar Pizza is closed Tuesdays. Open from 11am-10pm. On Sundays from 4-10pm.
Tel: 264-497-3937
Menu: Click here