Combing Anguilla's Beaches for the Best
Anguilla Beach Lovers brings you the latest additions to one family's experiences of the "best of all things Anguillian."

If you like this e-zine, please do a friend and me a big favor and "pay it forward."

If a friend did forward this to you and if you like what you read, please subscribe by visiting...
---
Issue #081, July 22, 2014
We are smack dab in the middle of summer and we can sure feel it!
Summers in Anguilla are marked by...
Calmer seas
Beaches virtually all your own
Quieter restaurants and dining experiences
An overall utterly tranquil vibe
It is indeed a picture-perfect time of the year to escape to Anguilla.
Let me show you exactly what I mean...
---
Summer Beach Scenes From Anguilla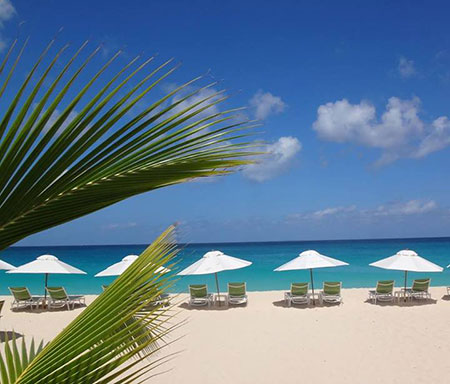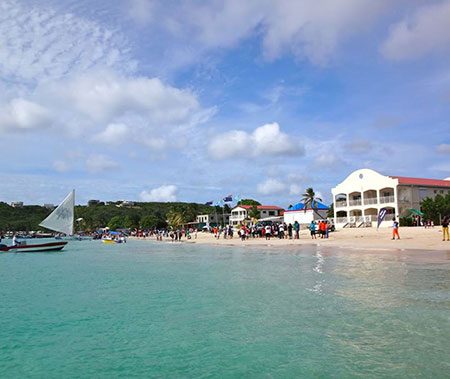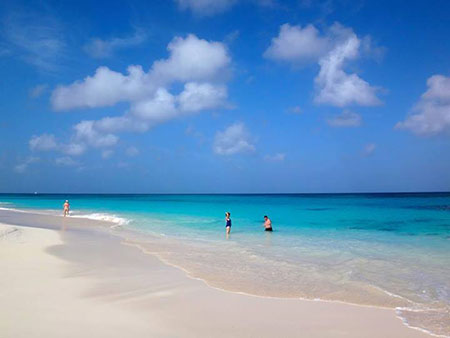 ---
Blissfully calm :-)
The vibe gets a little spicier come end of July and August, where we are now...
Everyone is preparing for Carnival!
The festivities are many... BBQs fire up, the music turns up on "load," and boat races all begin.
And, in celebration of Carnival, I am very excited to announce a special Summer Festival Contest...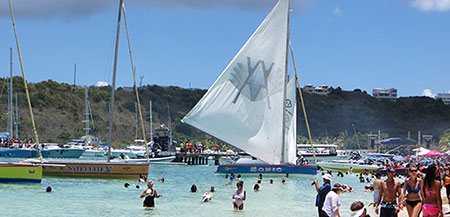 ---
A Happy Carnival Contest
Sailboat racing is Anguilla's National Sport. The biggest race of the year? August Monday (August 4th)!
A day on the high-seas, on boats without decks, where spirits are running high, it's an exciting part of Anguillian culture, one that runs deep.
I'm excited to say that we have managed to secure two spots on Satellite (the sailboat from North Hill) on August Monday. This is indeed one for the adventure seekers and sailors looking to experience the Anguilla tradition first hand!
To enter, simply click over to our Facebook page and submit a small blurb saying why YOU should win these spots. The post with the most social support wins the prize.
Naturally, you would have to be on-island to claim the prize. Next to Christmas-NYE, it's one of the best times of the year to be in Anguilla.
Visit our post on Facebook for more details on this contest!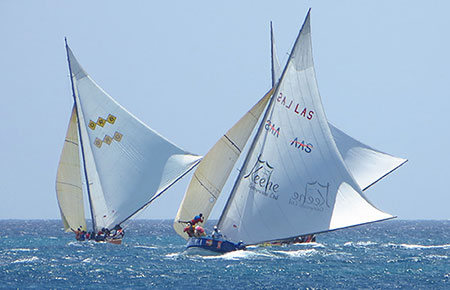 If you are thinking of a list minute getaway to Anguilla to get in on the Carnival action (especially if you win the contest!), here are a few terrific summer specials.
---
Summer Specials For Last Minute Travel
Tequila Sunrise Villa
NEW special rates! For all months without an "R" plus September-December '15 2014...
1 BR $772.00 per night
2 BR $945.00 per night
3 BR $1,158.00 per night
Plus 10% government tax and pre paid gratuity. For new reservations only and cannot be combined with any other offers.
Also! If you want to get planning early, Tequila Sunrise Villa is offering a mouthwatering Thanksgiving Special for direct bookings during the holiday. A private chef will prepare and serve a traditional Thanksgiving Dinner dinner for 2 or 3 BR 1-week booking between 11/22-11/29.
More on Tequila Sunrise Villa.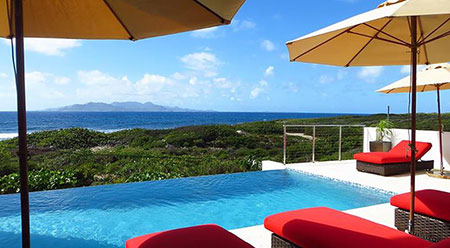 Carimar Beach Club
7 nights for the price of 5 Summer Special ~ as low as $1440 (double occupancy, includes all taxes and service charges for 7 nights)
Valid May through November 15, 2014 - Note: Closed September 1 – October 31, 2014
Beachview one-bedroom suite $1440
Beachfront one-bedroom suite $1750
Beachview two-bedroom suite $2074
Beachfront two-bedroom suite $2384
Little Butterfly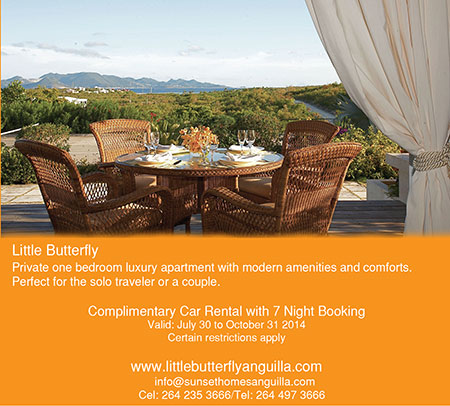 ---
Tasty Spotlight
Come off-season, many restaurants close for a couple of months to relax and rejuvenate for the upcoming season.
You can see a full list of restaurants that are remaining open this off season, here.
The good news is Anguilla is in never short supply of excellent eateries. Here's where we have been eating...
Blue Bar on Friday Nights
Overlooking tranquil Crocus Bay, Blue Bar delivers a high-end dining experience for a reasonable cost.
The menu features a variety of gourmet pizzas and calzones. My #1 choice? The Classica with ricotta and spinach!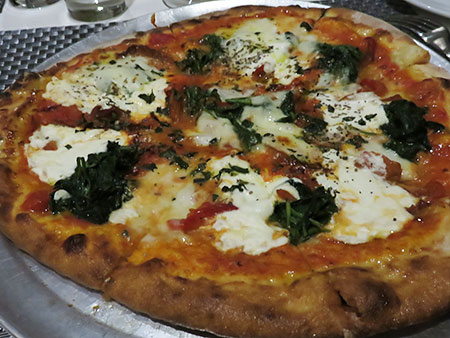 Their Italian desserts are must-haves, too...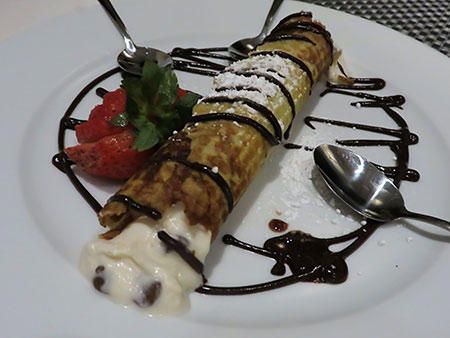 The vibe is best on a Friday night with Leslie Nanton's smooth voice soothing your soul live. With friends, we had a delightful time.
Ferry Boat Inn's Curry Night
Also on Friday Night, Christian McClean, our friend over at Ferry Boat Inn has started Curry Night!
Each Friday he serves a few different curries. Coming from Trinidad, it's no wonder they are prepared just right. We had the Chicken Tikka Masala with an appetizer of Cassava balls and white wine sauce.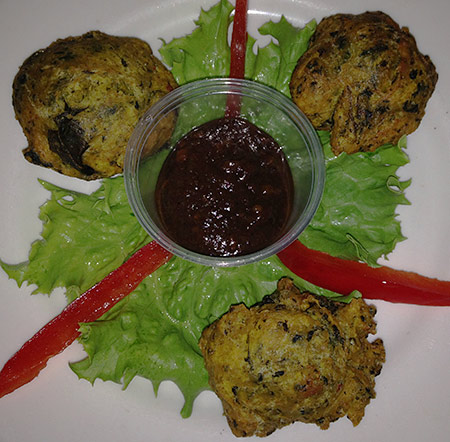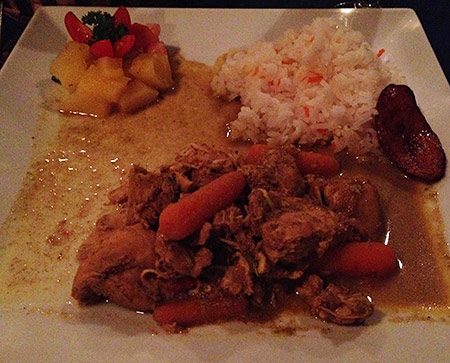 Cocktails and wine are $5, too! It's a cozy spot to tuck in for a good plate of curry and a fun, friendly atmosphere.
Asian Cuisine
Probably our most frequented two spots on the island (could it be because of our Asian heritage? ;-)) are...
a) Cha Cha San
Chef Ken Lin has overhauled his menu, re-creating a few of his dishes and adding new creations.
Two of our staples?
The California Roll (made with REAL crab) and the fried angus beef Yaki Udon!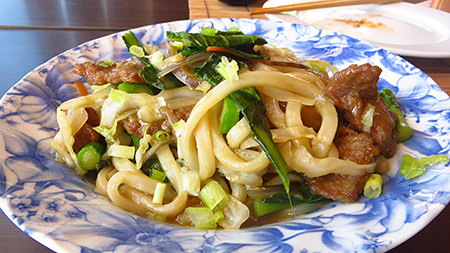 "It's too good for this world," My Dad always says after biting into the hot plate of noodles served with savory beef and veggies.
b) Tokyo Bay
When we're feeling for something a little lighter, we head to Tokyo Bay.
Their Chef de Cuisine, from Japan, (who is coincidentally named Yuki - my sister's name!) prepares one of my favorite dishes anywhere...
Salmon Nori!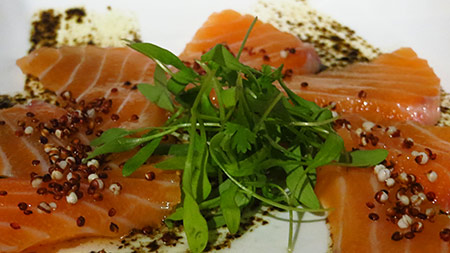 Maybe I am a little biased as my name is in the dish ;-)
Fatty Salmon is gently garnished with puff quinoa. Ask for a double order. One just isn't enough!
---
What Else Is New?
Hall's Bakery Budget-friendly, tasty and convenient, Hall's Unique Bakery is a top-choice if you're seeking island favorites such as Johnny cakes, coconut tart and a full Anguillian breakfast.
Caribbean Restaurant Take a bite of local cuisine at the aptly named Caribbean Restaurant! With lots of Anguillian favorites on the menu, drop by if you enjoy Caribbean dining.
Casa Hughes Set in the middle of Anguilla, with views out to St. Martin, Casa Hughes offers clean and spacious apartments, perfect for either an affordable getaway or a long-term stay.
Gumbsy's Bar & Grill A local BBQ stand open weekends only, Gumbsy's Bar and Grill is a gem of a find that lies off the beaten path. They serve up tasty lobster and other ultra-fresh straight-from-the-sea delicacies. Give owner, Mikey call to see what's available and fresh!
Zack Shwarma An all-Lebanese cuisine dine-in/take-out spot that's open into the wee hours, Zack Shwarma is NEW and hopping in Anguilla. Lovers of a good shawarma, we dropped in to find out what all of the buzz is about!
Anguilla Off Season The complete list of restaurants that will be remaining open this off-season.
Carimar Beach Club High-value beach-front hotel, Carimar has shared the beautiful history of their charming spot on the sand. Visit their site to read the story and for photos of Meads Bay pre-Malliouhana!
Tequila Sunrise Villa Sleek and intuitive, a big congratulations to Tequila Sunrise Villa on their brand new website. The new site lays out all of the villa's features and special offers (including all you can drink Patron). If you're looking for a top-value luxury villa, visit their site to take a look.
---
Your Stories & Photos
Dan & Wendy's Snorkeling Report Snorkeling enthusiasts, Dan and Wendy share their favorite Anguilla snorkeling spots and fun finds, from schools of Blue Tangs to magnificent Manta Rays. Come explore Anguilla's down under!
Anguilla Through The Lens of John Thomas Based out of New York, John Thomas' passion for photography started at a young age. Today, he's a professional photographer (having even worked with National Geographic for years!), shooting photos of all kinds across the globe. These photos are a sample of his favorites snapped in Anguilla.
Jock Gill's East Side Scenes Fellow Anguilla-lover, Jock Gill has shared wonderful photos of his recent trip to Anguilla, intermingling personal shots capturing "moments of life" and pretty landscapes. Thank you so much, Jock!
If you would like to share your Anguilla stories and photos with Anguilla-lovers, please feel free. You can contact me here.
---
News From The Anguilla Card
Last but not least...
It's been nearly eight months since we launched the Anguilla Card and all has been going strong!
I'm happy to say that we are now offering payment via Credit Card (Visa/MasterCard) as well as through PayPal.
And, we have added new Partners, including...
Fat Cat Pasta salad! Potato salad! Patties of all kinds! Wraps and sandwiches, fresh baked cakes and pies, even full meals of tasty curries, soups and sides... Fat Cat is a go-to for gourmet cuisine at reasonable prices. Deli-style, drop in to pick up food for a picnic at the beach or a cozy night in.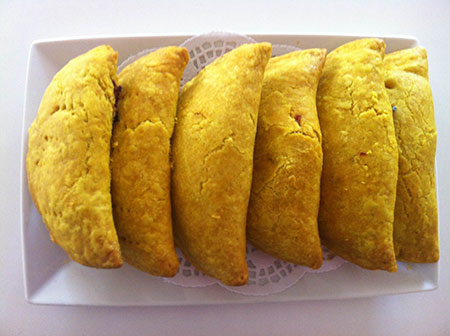 Freedom Rentals Get up close and personal with Anguilla's coastal shoreline in one of Freedom Rental's mini motor boats OR roam rugged landscapes in one of their ATVs.
Elite With an expertly-trained chef, Elite serves five-star Italian food in an elegant beach side setting in the charming fishing village, Island Harbour.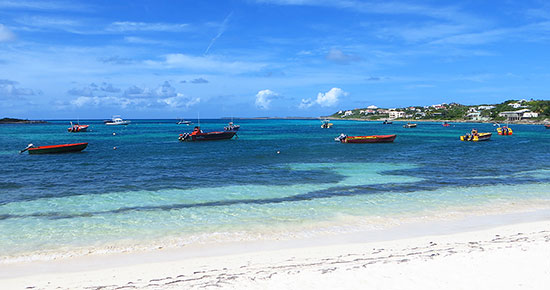 On Da Rocks Overlooking Island Harbour from "on the rocks," this laidback, breazy spot is known and loved for its ultra-fresh crayfish, knockout rum punch, unforgettable sunsets and owner, Timmy. One of the coolest guys we know, say to "Hi" to him for us when you pop in!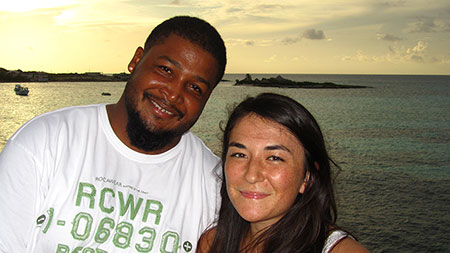 For more on the Anguilla Card, click here.
That's all for now :-)
Here's wishing you a warm, warm summer and a wonderful start to Fall!
See you soon,
Nori
Anguilla Beaches Home Page
---