Caribbean Restaurant...
A Bite of Local Cuisine
By: Kirmani Honoré
Well-known spots are generally popular for good reason. But, here in Anguilla, there are spots that are equally delicious, just a little more unknown. All it takes is a bit of searching, a keen eye and an adventurous spirit to find them!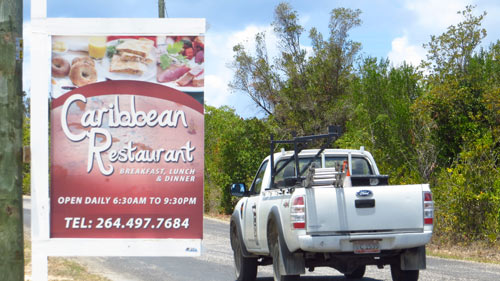 This week we had the chance to eat at Caribbean Restaurant, a simple restaurant tucked away on the quiet backroad on the western side of the island. Seeking something new, Nori, our new intern, Kyiv, and I set out for a fun lunch outing.
The Gang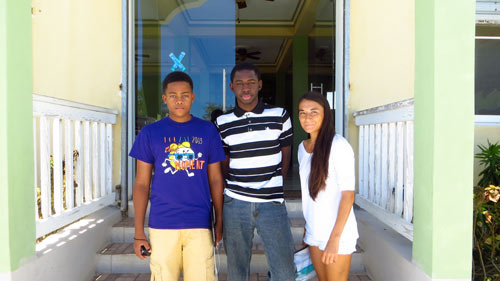 The Setting
From the outside Caribbean Restaurant may not give off a very welcoming vibe. There are still hurricane shutters on some of the windows and there's a certain stillness that surrounds the restaurant that makes it seem a tad vacant. But don't let that put you off. That vibe is only what's on the outside.
Inside, however, the mood brightens up with shades of yellow, green and beige against darker earthy tones.
Calming Pastels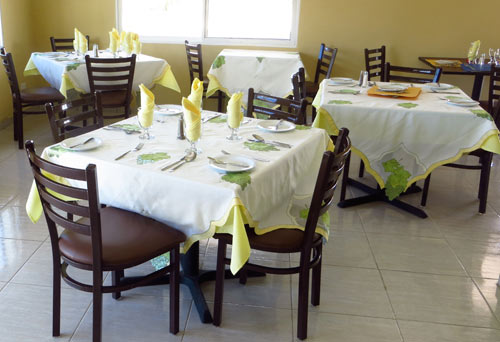 The colors create a lively atmosphere, without being too vibrant on the eyes. The vibe sets a nice tone for a casual afternoon lunch.
More of the Dining Area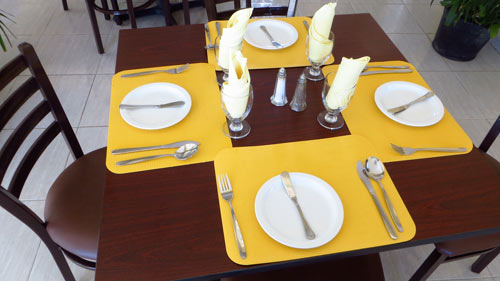 The Menu
We were shown to our seats and were given the menu promptly.
Caribbean Restaurant has a number of reasonably priced selections on their menu. The lunch entrees include soup, pastas, light salads, burgers and even sandwiches.
We put in our orders, all opting for Caribbean classics. Our kind waitress returned with toasted rolls. Freshly baked, they were melt-in-your-mouth yummy.
Deliciously toasty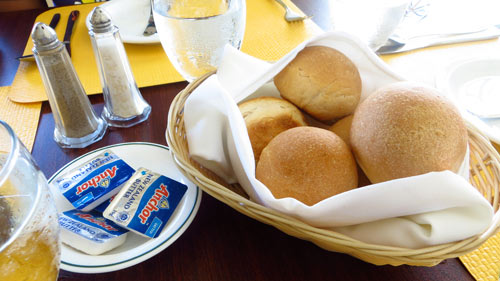 Nori and I weren't really up for special drinks, but Kyiv was. He had a tall, cool glass of fruit punch, swearing that it was one of the best he's ever had. He asked the waitress how she made it. With a twinkle in her eye she said, "it's my special recipe!"
Shortly after, our orders came. Nori had the grilled chicken breast with mushroom sauce, a side of fried ripe plantain and a small salad. The chicken, juicy and grilled to perfection, and the fresh crispy vegetables added color to the dish. Succulent and light, Nori said it was "just right."
Mmm... Grilled to perfection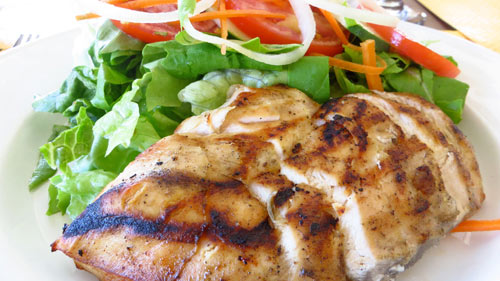 Yum!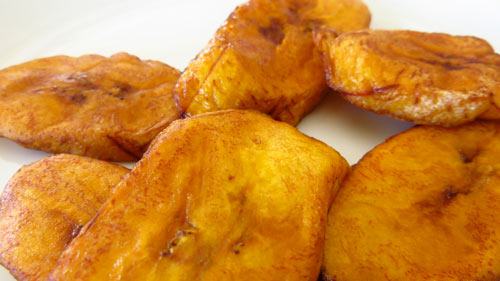 Kyiv ordered the Vitorina fried chicken and a side of mashed potatoes. Fried to a golden crispy brown, it sure did taste as good as it looked, according to Kyiv. Especially after helping himself to some of Nori's mushroom sauce, a brilliant combination...
Did I mention that Kyiv also interns at the popular high-end restaurant, Veya? He has a palate for good cuisine!
Golden, Crispy Perfection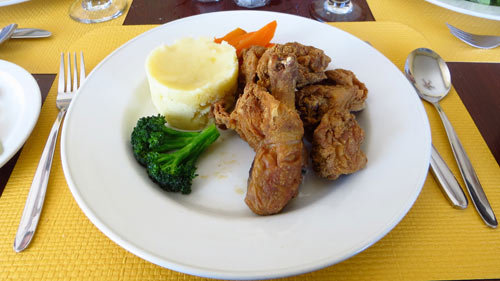 I had the Spanish chicken... stewed chicken in an onion, garlic, cilantro, oregano and tomato sauce. The meat had a perfect texture and had a lovely Spanish flavor thanks to the sauce.
Mouth-watering

I had mine with a side of mashed potatoes and a salad. The mashed potatoes were creamy and smooth, expertly made.
...So Good!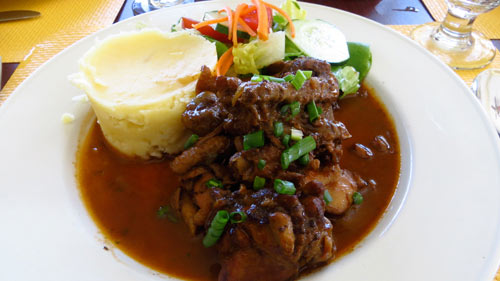 We skipped desert, but there are so many tasty treats to try on the menu like cheese cake, chocolate brownies and home-made apple pie. Sadly, at the time they only had ice cream available. We'll have to make a second trip just for dessert.
The Chef
Finally, we got to meet the owner and chef, Alfonso, a cheerful and well-spirited man. A veteran of the culinary business in Anguilla, Alfonso's career spans over many decades on the island at some of the most popular restaurants. One of them being Blanchards.
Good Luck Alfonso!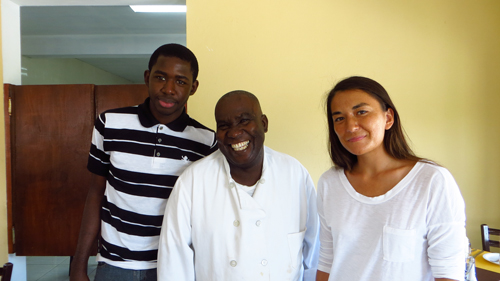 After leaving Blanchards and his most recent position at Cap Juluca, Alfonso decided to open up his own restaurant, something more low key and in the spirit of true Caribbean dining.
Best of luck to Alfonso!
Hours, Contact & Map
Hours: 8am to 9pm Monday-Saturday. 8am to 3pm on Sunday. Public Holidays- 8am to 3pm
Tel.: 264-497-7684
Menu: Click here
Directions: Set on the west side of Spring Path Road, the road on the south side of the road just after Geraud's if you're heading from east to west.