Anguilla Snorkeling...
Wendy & Dan's In-Depth Report!
One of our favorite places in the world, right up there next to Anguilla, is Kingsburg, Nova Scotia. A tiny town tucked into Nova Scotia's south shore, with long, wide, misty beaches, it's simply breathtaking yet it remains largely undiscovered.
So, you can imagine my surprise when I met a couple, Dan and Wendy, on their recent trip to Anguilla, who are from that exact spot.
It's a small, small world!...
Chatting with them, I quickly learned that they are snorkeling enthusiasts. Armed with a map from the Anguilla National Trust that outlines Anguilla's reefs, they explored just about every snorkeling corner here in Anguilla.
This is what they found...
Dan and I are keen snorkelers. I have been snorkeling since 1988 when I was first introduced to the sport in St. John, USVI, by a good friend and avid naturalist. Living in Nova Scotia where water temperatures don't encourage the sport, I've had to wait for Caribbean vacations to pursue my interest.
In Dominica I learned to scuba dive and the experience was fantastic but I found it to be equipment intensive and reliant on people with boats. It's so much more fun to walk to the water's edge and jump in with just your mask, snorkel and fins.
Dan and Wendy

I introduced Dan to the sport two years ago here in Anguilla and he is now a keener like me. Armed with some reef identification books and the internet we see and learn more every day we go out. Anguilla is blessed with many good snorkeling spots around the island. We like the areas that you can reach with just a swim from shore.
Here you will find a description of our favourites in terms of diversity and accessibility.
Shoal Bay East
First, would have to be Shoal Bay East on the lee side of the island where the water is usually calm enough for good snorkeling. The best reef is just to the right of Elodias. You can see lots over the shallow front of the reef but the main attraction is the outer edge where corals and sea fans abound.
To reach this you enter the water at the far eastern end near where the beach comes to a point. Just follow the sandy channel to the outer edge and then drift west with the current.
A School of Blue Tangs

At Shoal Bay you will spot most of the fish species Anguilla has to offer. In abundance is the feisty little black-barred Sergeant Major and plenty of colourful Wrasses, Snappers and Grunts.
The smiling Ocean Surgeon, the most colourful of which is the Blue Tang, is everywhere and on a good day you may swim among large schools of them, flashing bright blue in the sunshine. The big Parrotfishes are a regular feature at Shoal Bay ranging in colour from red with brown spots to turquoise and lavender with brilliant yellow markings.
Stoplight Parrot Fish


Photo: Reefguide.org
One of our favourite sightings is the Smooth Trunkfish, a little triangular box in vivid black and white polka dots, swimming on his own. The dreaded, invasive Lionfish, is starting to show up at Shoal Bay now, but it is indeed a thing of beauty with its multiple featherlike fins.
Smooth Trunk Fish at Shoal Bay East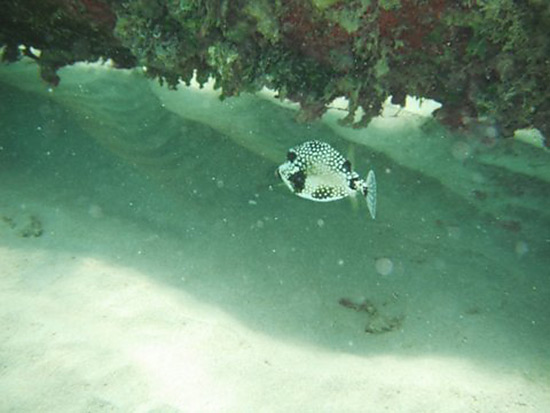 There are many more interesting fish, such as the Trumpet fish, the File fish, the Butterfly fish, Damsels and Hamlets but our most exciting find is always the Hawksbill Turtle who will, on occasion, be unconcerned and go about his business while you hover quietly above.
A word of warning – don't touch anything or stand on the reef. It is easily damaged and a lot of it can be stinging.
Blade Fire Coral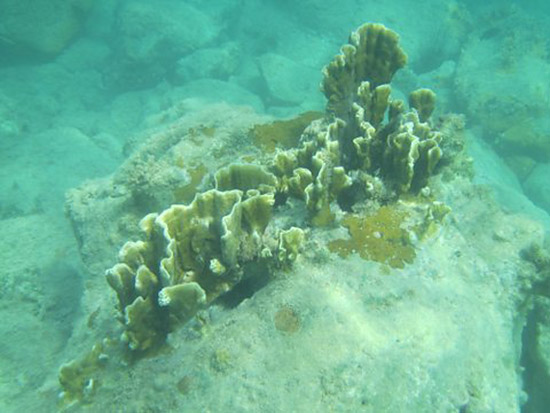 This type of coral is common in shallow water reef tops. Contact with bare skin will produce an intense but usually short-lived sting. So watch out for it – mustard to brown with white top edges. Another good reason to never stand on the reef.
Sandy Hill Bay
Sandy Hill Bay is a great spot for beginners. There is reef right on shore with good sandy access. It's on the windward side of the island but the bay itself is protected by a long spit of coral rubble keeping the waters relatively calm.
The road in is well signed and is just before the roundabout on the Long Path Road. This is where we take our first time visitors for an initiation to the joys of snorkeling. The inner reef is healthy with lots of coral and a good variety of fish and the long spit of coral rubble is usually inhabited by larger Parrot Fishes and Tangs.
Meads Bay
Another good spot for beginners is Meads Bay on the west end of the island. This is a beautiful beach with easy access. There are lots of fish to be seen right off the beach as the bottom is ribboned with ridges of coral shelves and the occasional pillar coral standing majestically on its own.
The best snorkeling is along the cliff edge in front of Viceroy. Here we have been lucky enough to see the exquisite black and yellow French Angel Fish and the carefully hiding Spotted Moray.
Spotted Moray


Photo: Abyssdivecenter.com
Crocus Bay
Now to our favourite spot, Crocus Bay. This location requires a longer swim but the vibrant reef and diversity of species is its own reward. You enter the water in front of DaVida's and swim out along the cliff edge on the far right. The rubbly bottom inshore is a nursery for juveniles of many species of fish. It is full of dark nooks where the shyer species, such as the Squirrel Fishes and the Rock Hind, hang out.
As you swim out watch for smaller reef creatures like the Christmas Tree Worms and Feather Dusters that retract into their tubes when startled.
Smooth Starlet Coral with Christmas Tree Worms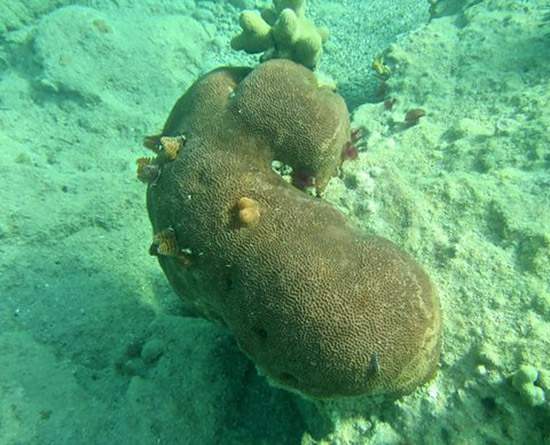 The Christmas Tree Worm is a type of segmented worm which looks just like a pair of colourful Christmas trees.It has a doubled spiral crown in shades of brown, orange, maroon or white.When disturbed it retracts and disappears entirely. They are plentiful at Crocus and Little Bay.
Bearded Fire Worm (on the left) and Yellow Feather
Duster Worm with two Black Spiny Sea Urchins

There are lots of Bearded Fire Worms, if you look carefully, in shades from red to green to yellow and brown. These are definitely look-but-don't-touch. Their bristles can easily break off and penetrate skin with painful consequences.
Magnificent Feather Duster and Yellow Fan Worms

Feather Dusters come in great variety, most with crowns about one inch across. The brilliant yellow ones are easiest to spot. The Magnificent Feather Duster can be up to six inches. They flutter in the current and immediately retract into their tubes if disturbed. If you wave your finger in front of one and it disappears, you'll know for sure it was a worm.
About half way out to the point is a beautiful reef formation covered with corals, soft and hard. It is a good hiding place for the Spiny Lobster (we counted ten piled together one day) and the Lionfish lurks here as well. You will see lots of the usual fish, the Grunts and Snappers, the Surgeon Fishes, Trumpet Fish, Butterfly Fish, both the Banded and the Four Eye.
We've also seen some Nassau Grouper and the Porcupine Fish. Watch also for the Needlefish and the Balao which swim at the surface and don't be surprised to encounter a Barracuda or two.
Three-Rowed Sea Cucumber at Crocus Bay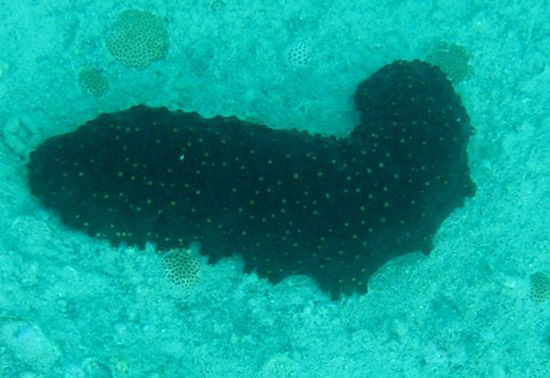 That long, lumpy thing you may spot on the bottom is a Sea Cucumber. We mostly see the spotty, foot-long Three-rowed Sea Cucumber at Crocus Bay in sandy areas between the reefs. This is the most common Sea Cucumber but occasionally we see the "Donkey Dung" which looks just like the name.
If you swim all the way out to the point, you may be lucky enough to see the Queen Angel Fish in its brilliant blues and yellows.
The Hawksbill Turtle can often be seen here at Crocus cruising along the reef.
Hawksbill Turtle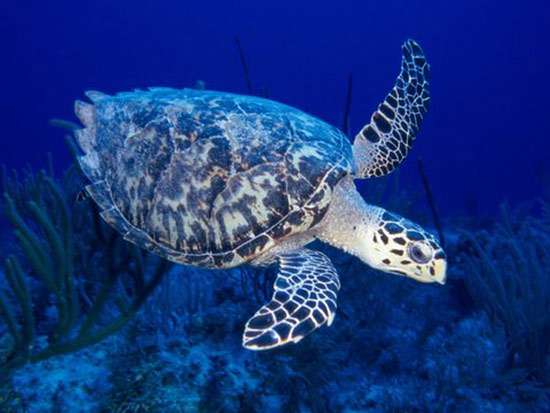 Photo: Seaturtles911.org
Our most exciting day at Crocus was the day we saw the Giant Manta Ray. Calvin was following it with a boat full of tourists. He estimated it to be about eight feet across. What couldn't be seen from the boat was the baby manta swimming under its mother.
Manta Ray at Crocus Bay

Junk's Hole
Jumping in at Junk's Hole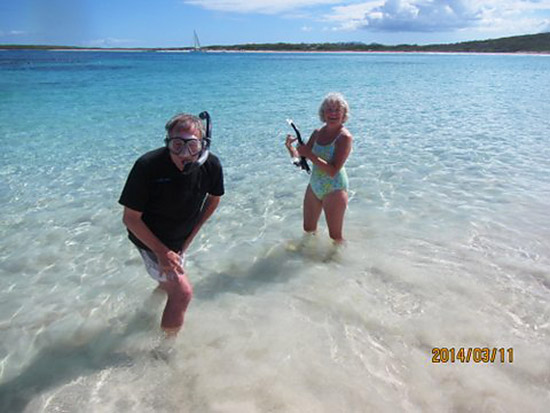 Junk's Hole on Savannah Bay, "Where Happiness Awaits You", is another place we like to frequent. The water is well-protected by a distant reef and the inshore reef, while not as resplendent with coral as some other spots, usually has a good assortment of reef fish. The reef is just below the surface so you can float right on top of some of it for a good close look. This is when you are likely to spot the anemones and tube worms and bristle worms.
Recently when we were there, a tiny juvenile Yellow Snapper, about two inches long, befriended us and followed us around, hovering mere inches from our backs or leg , often peering right into our masks. He was a silvery white with a brilliant yellow outline and tail and seemed to be just as curious about us as we were about him.
Limestone Bay
Limestone Bay is not always accessible as it tends to have a strong wave crashing on shore. But it is definitely worth checking out. It is a beautiful garden of Gorgonians. These are the soft corals such as the sea fans, the sea feather plumes and sea rods.
There are lots of fish here and this is one location where you are sure to spot the Blue Chromis, electric in its brilliance.
Blue Chromis


Photo: Oceanclassrooms.com
On more than one occasion we have seen the Spotted Eagle Ray here. This week we also managed to spot an octopus who completely blended with his environment once he knew we were watching.
Little Bay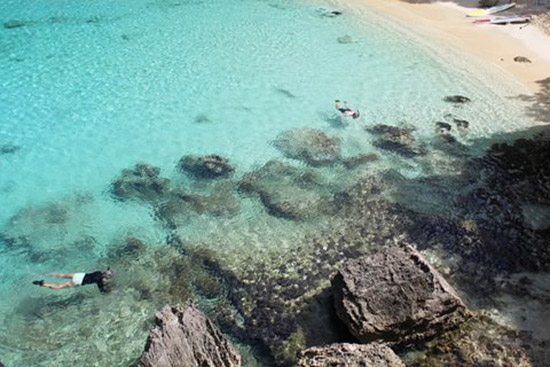 Always a treat is Little Bay, a pristine little cove just a short jaunt from Crocus Bay in Calvin's Boat. He'll take you there and return for you, all for fifteen bucks US. There is good snorkeling right inshore and you can swim out along the cliff edge on either side of the cove.
Red Eye Sponge Crab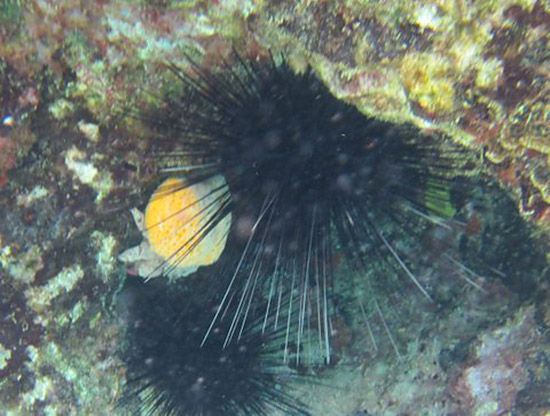 We spotted this crab at Little Bay and now refer to him as Sponge Bob. He cuts and shapes a sponge "cap" to hide under during the day. At night he'll emerge to hunt for food.
It's fun to take a picnic and watch the Red-billed Tropicbird diving for its lunch. You can snorkel one side before lunch and the other side after
If you're interested in identifying and learning more about what you see, New World Publications publishes a series of excellent reference books by Paul Humann and Ned Deloach. Check out www.fishid.com.