<![endif]-->
Zack Shwarma...
Late Night Lebanese Cuisine in Anguilla
Zack Shwarma At A Glance
A dine-in/take-out spot that stays open late, Zack Shwarma serves all-Lebanese cuisine at an affordable price. Fish, shrimp, lamb, chicken and beef shawarma are currently available. Skip the chicken and order that which is hot-off-the-spit!
More on Zack Shwarma, below...
"I waited one hour, but it was worth it!"
"I inhaled it! It was wonderful!"
Having "heard the good word" about this recently opened sit down/take out spot, and as lovers of a good Lebanese sandwich, Zack Shwarma got our attention in a hurry.
It is set on Main Road in a modest but bright-red building, immediately in front of Anguilla's airstrip. Zack Shwarma is hard to miss, especially with cars parked three deep in the lot!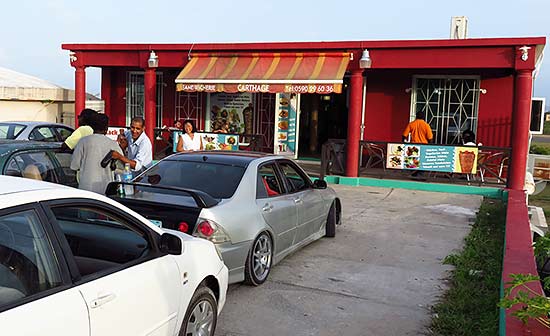 Jammed, Zack Shwarma is a-buzz in Anguilla. Bustling with activity, brimming with clients, we licked our chops.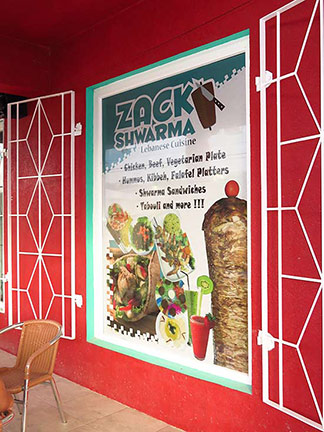 No question about it, Zack Shwarma jumped to our #1 to-try Anguilla restaurant.
Coming from Montreal, where the Lebanese community is large and quality take out spots are many, you almost have to fly to Lebanon for better!
Since moving to Anguilla, we often longed for a chicken shawarma carved right off the spit! With sides of tabouli and fries. And maybe some falafel with hummus dip. We wondered...
"Will Zack Shwarma satisfy our craving for the garlicky zest of a great Lebanese sandwich?"
... especially in the wee hours after a night out. ;-)
So here we were, with Zack Shwarma's signs promising to deliver those Lebanese cuisine dreams to Anguilla!
Inside Zack Shwarma
It was crowded and busy inside, usually an excellent indication that people have found a great thing. However, the line you see (below) was actually a sign that service was terribly slow.
Customers were shouting over the counter tops for their orders, others sitting, waiting, looks of frustrated anticipation on their faces.
"It's been 40 minutes," one customer complained.
"I guess he hasn't tried the food yet," I thought, figuring that the wait must be worth it. "Putting in your time" seems to be part of the process at Zack's, at least for now.
To be fair, let's chalk it up to growing pains. We were told that two of the staff did not show up.
Faced with a long wait ahead, I eyed the lucky patrons who were biting into the luscious-looking pita pockets. But the wait was so long. Stay or leave?
"We've waited years for this, so what's one more hour?" My Dad and I agreed.
Zacks features all of the classics...
Tabouli, falafel, hummus and a variety of shawarma sandwiches including lamb, chicken and beef. And for the less adventurous, they have non-Lebanese wraps, burgers, steaks and salads, too.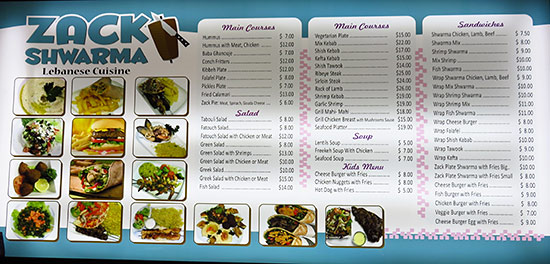 (click to enlarge)
The lady at the counter was stressed to the hilt, with order after order being thrown her way. From taking the orders, to grilling the pita bread, to slicing the meat, to packing it all up and taking the cash, she was a one-woman act.
We placed an order for tabouli. No luck, they didn't have it. Hummus? Nope. With the only sides being fries, we jumped right to the main attraction, three chicken shawarma sandwiches.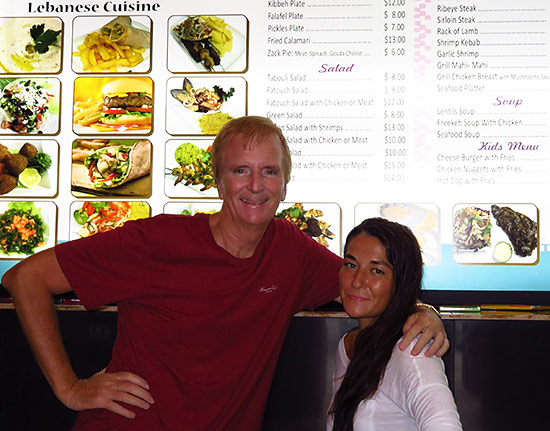 And so the wait began. We sat on the stools that line the walls and took in the scene. New customers continued to arrive. Long-waiting customers finally left, exasperated but excited to have their prizes in hand.
The Shawarma!
Getting antsy, sitting went to standing, which soon turned into pacing back and forth. We took a peek behind the counter. There was good and bad news.
The good? That classic spit!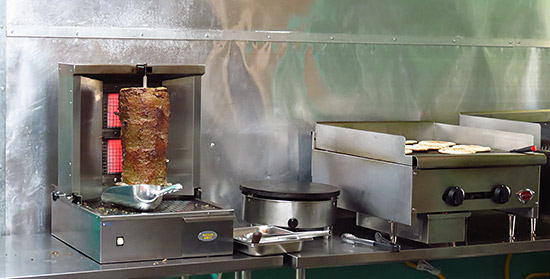 The bad? With three types of meat-based shawarma sandwiches on the menu (lamb, chicken and beef), one question came to mind. "How were they doing 3 different types with only one spit?" We realized that the other 2 must be pre-prepared, not "hot off the spit."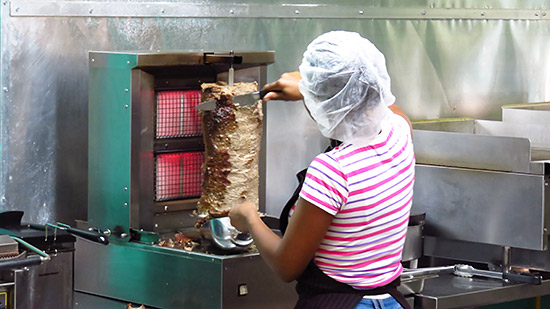 At long last (45 minutes), our sandwiches were bundled in wax paper. We were on our way home, gripping them tightly. Oddly, the car did not fill with the classic aroma.
Arriving at home, the moment of truth...
The Chicken Shawarma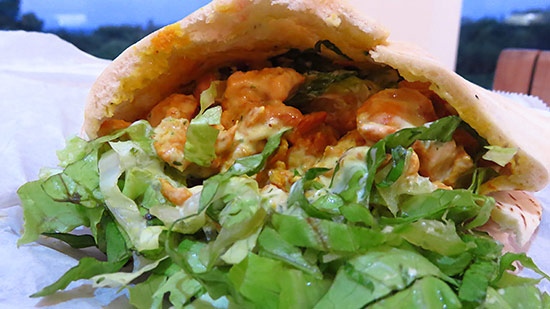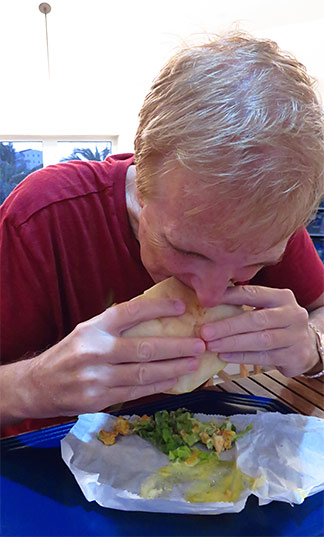 It certainly looked delicious... warm pita stuffed with lettuce, tomato and lots of chicken. We noticed that the chicken was in chunks, though. It did not appear to have been sliced off a spit. Hmmm.
Would this match our expectations?
"If this is just half as good as the Lebanese sandwiches in Montreal..." my Mom trailed off with that thought.
My Dad took the first bite, and...
"Not much taste. Maybe it will build."
We all dug in. Soon, though, there were confused faces around the table.
Coated heavily in a nondescript sauce, the flavor was lackluster and the under side of the pita turned to mush quickly.
While the vegetables were fresh, the pita was thicker and drier than we were used to, but it was the chicken and spice that were disappointing. Pre-prepared chicken, it was not shawarma that we knew and loved. And there was nothing particularly Lebanese about the spices.
We abandoned our sandwiches, dripping in that disappointing sauce. This was not the experience we had wanted so badly.
The Post-Shawarma Drip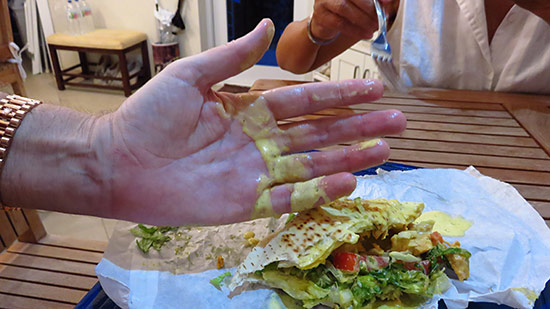 My Dad summed it up well...
"If you're looking for something filling and inexpensive, it's a fair choice, especially if you're hungry at 1AM."
Rounding Out the Verdict
After the clean up, I called a few of my friends who had quickly become Zack Shwarma regulars. Why did we feel so differently?
The positive opinions were for the meat and the "mix" (lamb, chicken and beef). We suspect that the "mix" is weighted toward what comes off the spit.
So here's our "hot tip for shawarma in Anguilla"...
Until they run 3 spits, find out which meat is on the spit and order it. The rest is not cooked on location.
I haven't given up on Zack Shwarma yet. We'll be back to try the meat on the skewer (with "no sauce") when the wait is reasonable. It turns out that our 45-minute wait was not unique to that night.
With more staff in the kitchen and at the counter, and with all meats coming hot off the spit, and hopefully with a truly Lebanese sauce, Zack Shwarma may yet become a favorite go-to. Update to come if and when that happens.
Please share your "Anguilla shawarma" experience in the comments below!
Directions, Hours & Contact
Directions: Zack Shwarma sits on the south side of the main road that runs parallel to Anguilla's landing strip. If you're coming from the west, drive as if you are heading to The Valley (but don't go all the way into The Valley!). Once you pass the set of lights that turn down to the Jeremiah Gumbs Highway and Little Harbour, it's only 30 seconds away on the right hand side of the road.
Hours: Open daily until 1am.