Combing Anguilla's Beaches for the Best
---
Anguilla Beach Lovers brings you the latest additions to one family's experiences of the "best of all things Anguillian."

If you like this e-zine <>, please do a friend and me a big favor and "pay it forward."

If a friend did forward this to you and if you like what you read, please subscribe by visiting...
---
Issue #063, January 21st 2012

The perks of going to university in New York City are many... People, restaurants, nightlife, culture. But the real highlight is a "winter break" that stretches from the middle of December until the end of January. That means 6 weeks out of the cold and into Anguilla!
Somehow, though, all that time flies by so fast. Next week we will be in NYC, gearing up for the new semester.
These have been six fun-filled weeks, with plenty of time spent with our family and "puppies," catching up with old friends and making new ones, beach days, discovering more "favorite" spots.
And that means lots of new webpages! More on that below. First, though, I'd like to tell you about a cool contest that has started...
---
Dad's Anguilla Photo Challenge
Dad is hosting a special challenge on Anguilla-Beaches.com's Facebook page. If you haven't already "liked" that page, please go there now and click the "Like" button.
He is posting a series of 10 photos. My Mom and Dad will take out the winner (and significant other) to dinner at 1 of their 4 favorite 5 Star restaurants!
How do you win? Two ways...
be first to correctly identify the photo
add your own interesting story about the particular location.
Highest combined total wins.
He has already presented 4 of the challenges, experimenting to find the right difficulty level. There are some sharp Anguilla-lovers out there who got his first two really quickly.
That, of course, gets my Dad's juices going. So he's upped the challenge level. But he always has some subtle clues to help folks get the answer. He says, "You just have to look hard for them." ;-)
There is still lots of time to win. Not only are there 6 challenges left, but adding stories about the location identified in each challenge also counts...
You can find the URLs of all 4 challenges at the most recent Photo Challenge by clicking here. This link takes you to the 4th challenge....
Scroll down to the comments section, where you'll find the correct answer ("Sherrick's Bay/Cove Castles), which "stumped the band" at first. Add your own story, if you have one.
Just above the comments section, you'll find links to the 3 previous photo challenges. You can add your own story to any or all of those, too!
And finally, stand by! Photo Challenge #5 goes up as soon as this issue of Anguilla Beach Lovers goes out to everyone! So everyone has the same chance.
So head over to Anguilla-Beaches.com Facebook, find Photo Challenge #5, and join in the challenge to find out who has bragging rights to be called...
"The Anguilla Expert"
The restaurant choices? A selection of 4 of my parents' favorite restaurants...
Summary
To win dinner at your choice of the above 4 restaurants, head over to Anguilla-Beaches.com's Facebook page as soon as you see this.
Take a shot at the newest Photo Challenge (#5), which should be up very shortly after you see this. And remember, there's more than one way to win... Add an interesting fact or true personal experience at any location featured in the previous challenges.
"Like" the page (if you have not already done so) so you don't miss the remaining challenges. Liking a page is supposed to put future posts from Anguilla Beaches' page onto your Facebook news feed, but I've read that the best way to be sure to receive posts from a Facebook page is to like and comment on some of the posts, too, which shows Facebook that you want more from that page.
When you see a photo challenge, pop over and play! You can still add stories to previous entries and there's lots to time to win... 6 new photo challenges still to go.
---
Before telling you about all the new pages that I've added, including some wonderful beach walking tours, here's a special offering from a sponsor of Anguilla-Beaches.com...
Carimar Beach Club's Winter Special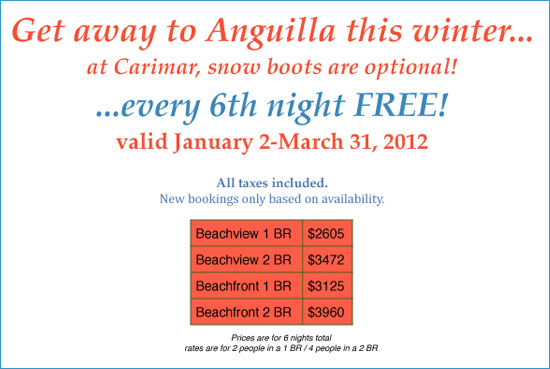 ---
What Else Is New Since I Last E-Mailed You?
#1) Blanchards Beach Shack
The Blanchards have another Anguilla restaurant success... Blanchards Beach Shack, the original barefoot beach bar they intended on creating decades ago. Serving tasty beach fare, this is the spot for a reasonably priced, idyllic beach day on Meads Bay.
#2) Petals Update
I have heard great things about Petals Boutique at Frangipani Beach Hotel on Meads Bay. I had the chance to check it out on this trip to Anguilla. Yuki and I were impressed! It is the top Anguilla-wear outfitter and souvenir shop. They carry many hard to find labels that suit Anguilla's tropical temperatures, and unique and travel-friendly souvenirs for friends at home. Mainly a store for women, I even found a unique gift for my Dad.
#3) da'Vida 2011-2012 NYE Party: A Night in Japan
This was our second year ringing in the New Year at da'Vida. With a perfectly prepared four-course meal, live entertainment and fireworks over Crocus Bay (captured on video), da'Vida did it again... It was a night to remember.
#4) Temenos Golf Course Update
Temenos Golf Course is officially out of receivership, and has been brought back to its former glory by CuisinArt Golf Resort & Spa. The course is back in pristine condition, complete with an authentic Italian club house restaurant (Italia), pro shop and PGA golf pros.
#5) Anguilla Beach Walks
Kristin has been continuing to write her famous and widely loved beach walks. This time she walks three popular and very different Anguilla beaches...
That is all for January.
Stay tuned in February for reports on Anguilla's most authentic Italian restaurant, Italia, and updates on Koal Keel and Hibernia, a well as a new look for Anguilla-Beaches.com!
Until next time,
Nori
Anguilla Beaches Home Page
---
New!

Comments Have your say about what you just read! Leave me a comment in the box below.