---
Combing Anguilla's Beaches for the Best
Anguilla Beach Lovers brings you a fresh dose of "Tranquility Wrapped in Blue" every month.
If you like this newsletter,, please do a friend a favor and "pay it forward."
If a friend did forward this to you and if you like what you read, please subscribe by visiting...
---
Issue #148, June 16, 2022
The beach calls... 🐚🤗💗🏝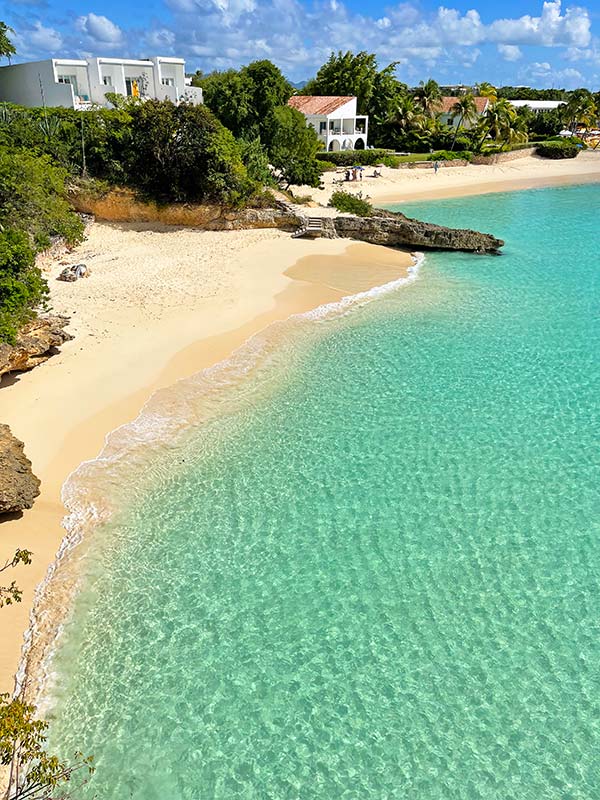 We hope you are having a bluuuetiful start to summer!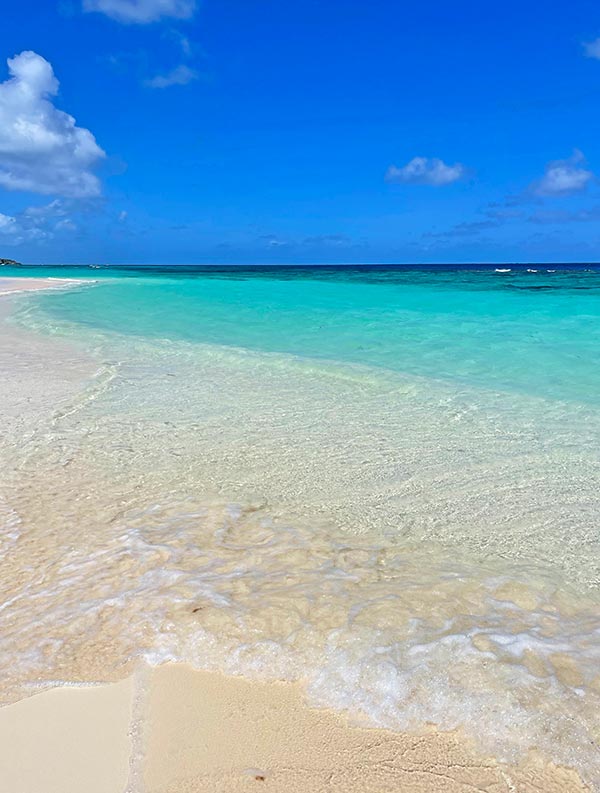 It shore has been gorgeous here in Anguilla.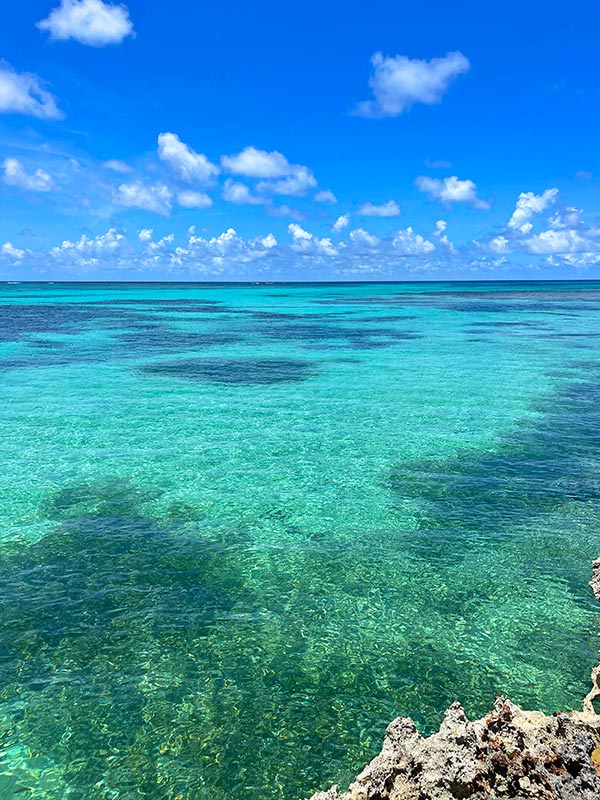 Those waters have been beckoning us in for lonnnng swims.
A zen-ful day on Shoal Bay West...
Or perhaps a seaside rest on Little Bay?
Or how about a view of Scrub Island's blues?...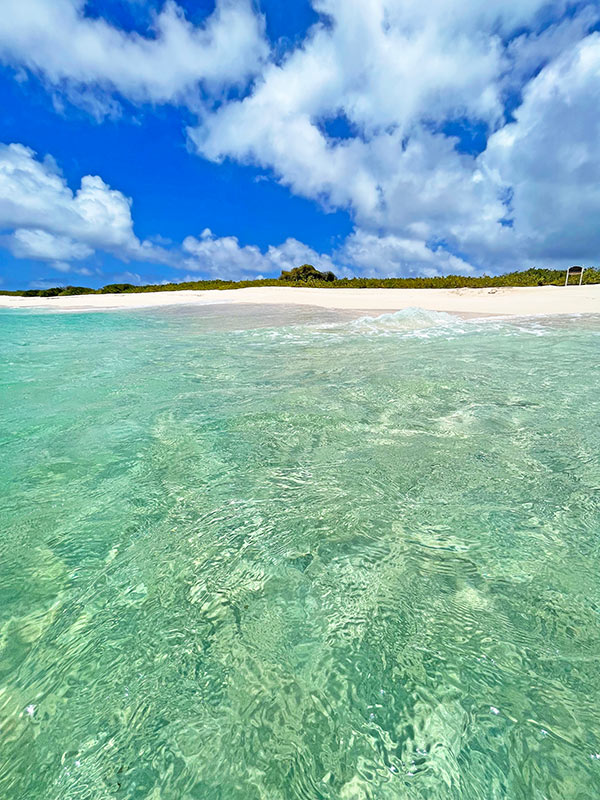 On second thought, why choose? 🤗💗🏝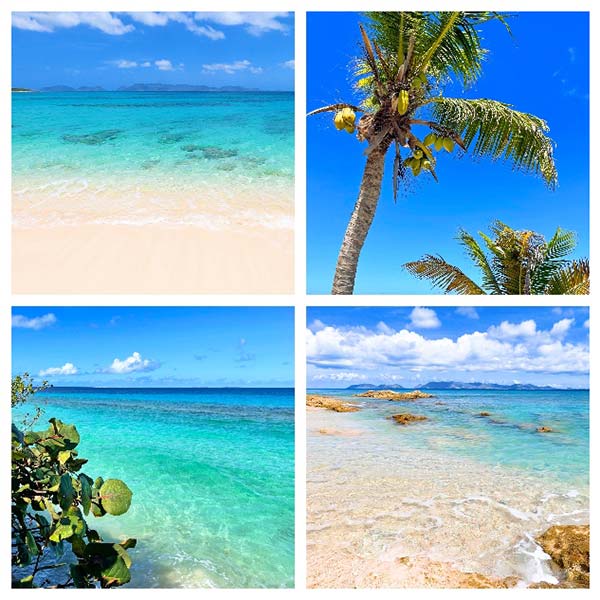 Zen out to all of Anguilla's blues with our brand new relaxation playlist on YouTube. This collection of relaxing beach videos features a number of Anguilla beach gems and big beach favorites.
Click here to stream Anguilla calm.
To never miss a dose of Anguilla calm, click here to subscribe to our sister YouTube channel, MyTranquilitee.
What else is new?
---
High Value Hotel: Arawak Beach Club
Set at the water's edge in scenic Island Harbour, Arawak Beach Club is one of Anguilla's most iconic hotels. Painted tropical colors that catch the eye, the hotel's cheerful atmosphere has always been one of our family's favorites.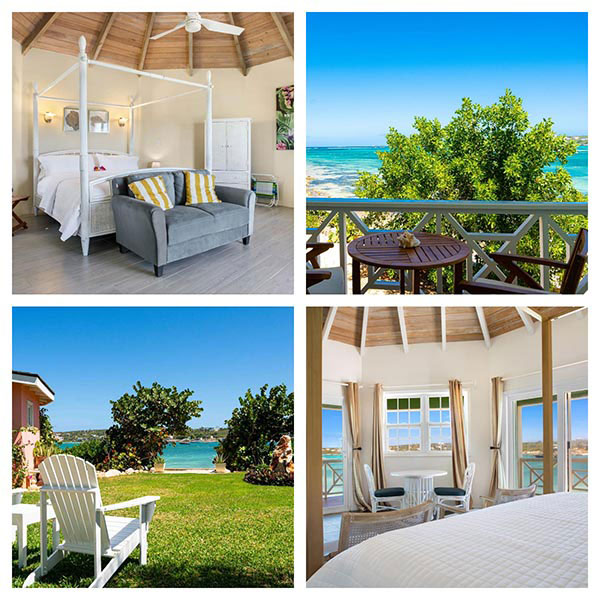 Photo: Arawak Beach Club
Arawak is known for its high value accommodations. Their rates are a steal! Starting at $150 and up per night depending on the time of year, you cannot get better bang for your buck.
The property is made up of two story wooden buildings with apartment-style units. All units have kitchenettes, making them an attractive option for long-term stays.
Let's take a look around.
First up on our Arawak hotel tour? The Honeymooner suite.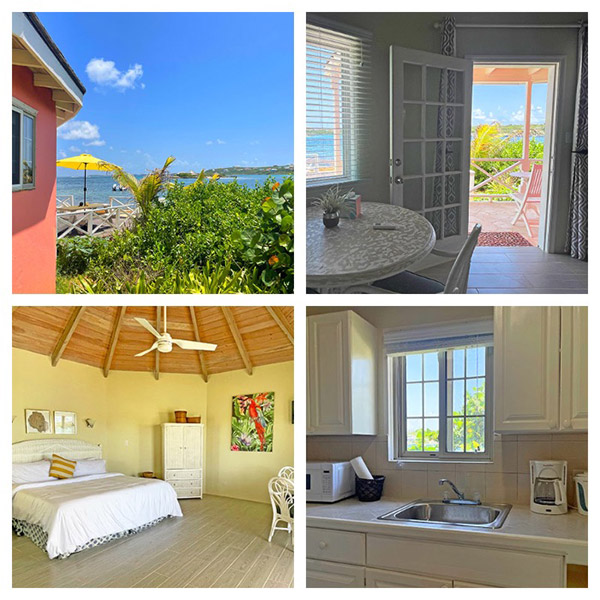 In the front door, and you are immediately impressed. Bright and big, this room is fresh and so inviting!
The Honeymooner features a luxurious California King bed, flatscreen TV, ensuite bathroom with shower, a full kitchen, breakfast nook and private outdoor patio.
Next, Sunshine Suite: The 2 Bedroom Unit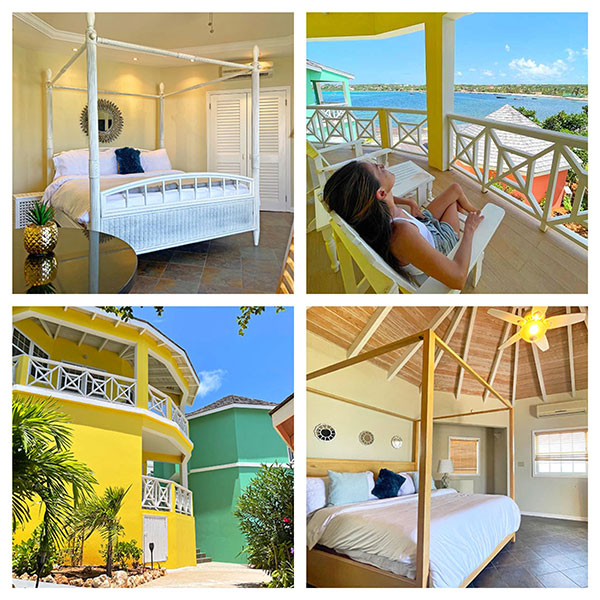 You will fall in love with the Sunshine Suite's huge wrap-around terrace. One of the most picturesque settings at Arawak Beach Club, its uninterrupted view of Island Harbour, the fishing boats and the swaying palm trees puts you at ease.
On "Cloud 9" in Unit 9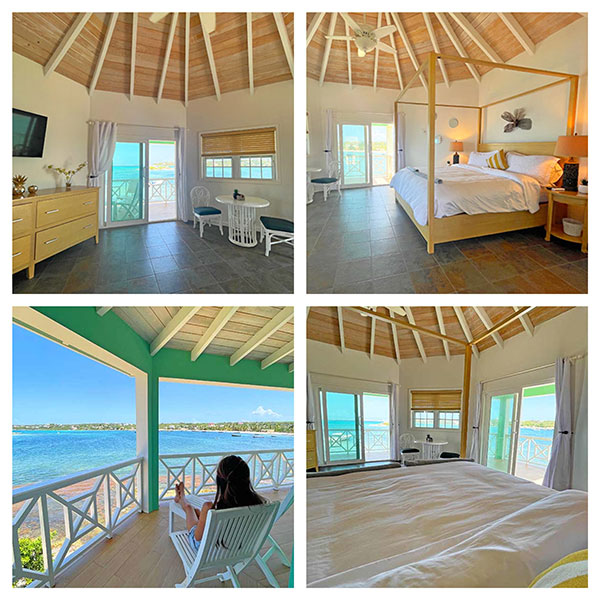 This room is a dream! A perch in the sky, you are surrounded by natural beauty. The suite's extra-spacious wrap around terrace boasts a 210° view of Island Harbour beauty. A gentle, cooling sea breeze always blows through this part of the island. With that tropical breeze and the sound of the waves rolling in, you are in heaven.
"Blue Units" 4 and 5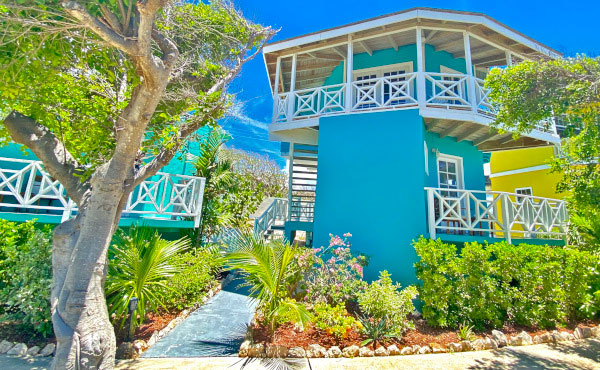 Set on the building's upper-level, Unit 5 boasts some of the most breathtaking vistas of Island Harbour's colorful port and Northern Atlantic waters. The room is outfitted with a kitchenette, en-suite bathroom, 36" flatscreen TV, dining area and private balcony.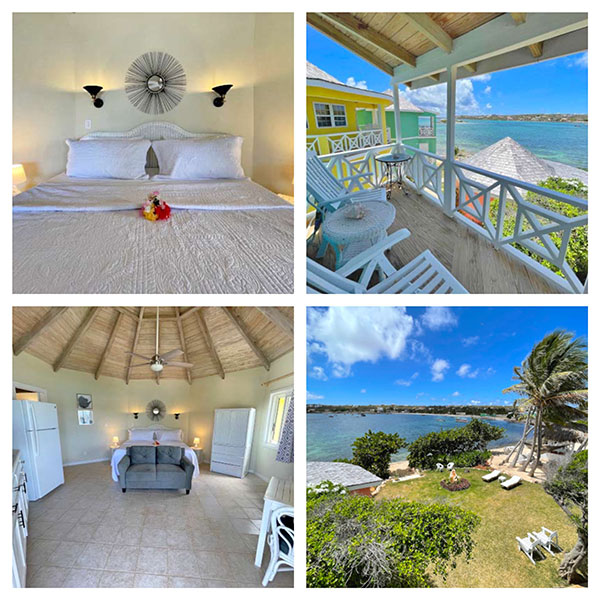 The king size bed is perfectly situated opposite the balcony. Laying down on this plush mattress you have direct views of the peaceful rolling waves just yards away.
Just downstairs, Unit 4 offers a pleasant patio with a garden view...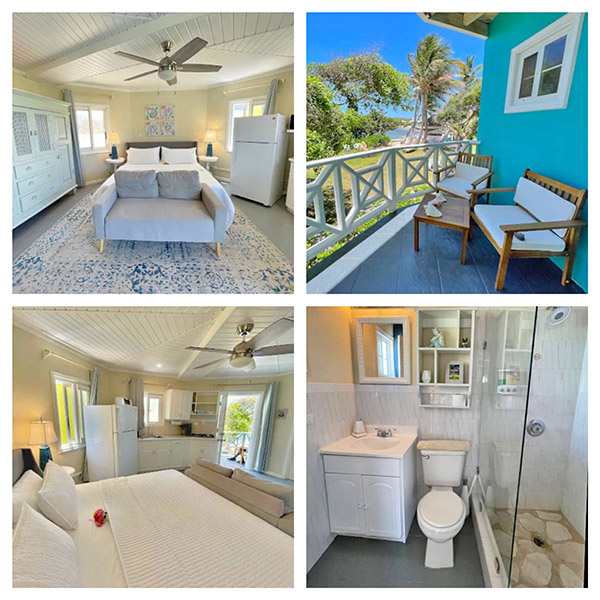 This chic beach bungalow features a fully equipped kitchenette, en-suite bathroom and views of the calm ocean front just a few steps outside.
Sea Views in Unit 2
Unit 2 sits among sweet, aromatic hibiscus. The building's green tones blend with the surrounding lush garden.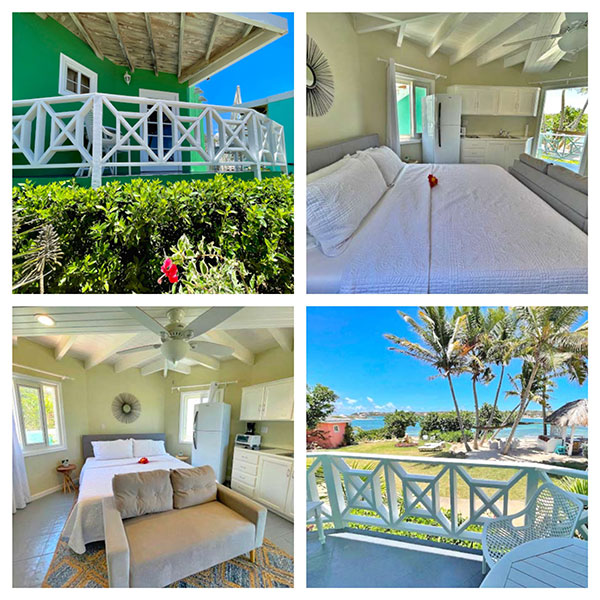 The view from the patio is a property best! A wide open panorama of the Arawak lawn and vantage point of Island Harbour awaits you.
For a more detailed view of all rooms, click here.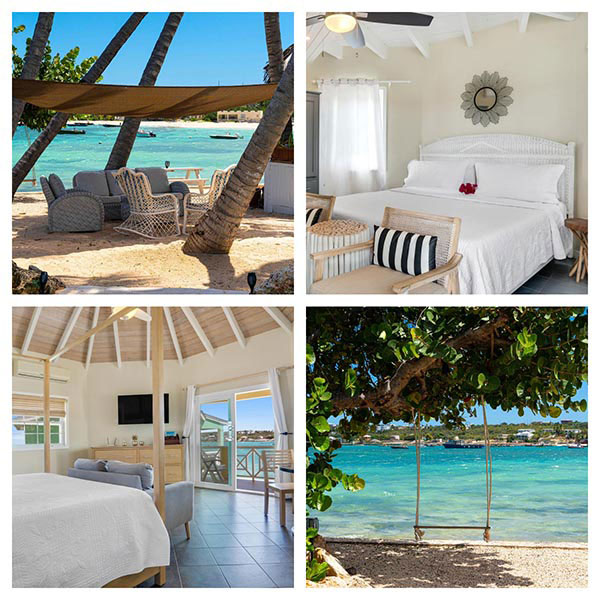 Photo: Arawak Beach Club
New owners, Judd & Mindie Burdon have restored the historic property and are pushing it levels higher. From top-to-bottom room renovations, adding a brand new bar, and with a host of excellent amenities...
Arawak is back and better than ever!
Tip: Off-season rates are now ON at Arawak Beach Club! Be sure to book well ahead. This hotel fills up fast.
To take advantage of Arawak Beach Club's off-season rates, click here to contact Arawak.
Arawak Beach Club is an Anguilla Card Partner. Save 10% at Arawak when you use your Anguilla Card.
---
Dining To The Ocean's Echo
There's a saying in Anguilla... "beach life is better here," and it's true!
No where is that saying perhaps more true than at beachfront restaurant, Ocean Echo on Meads Bay.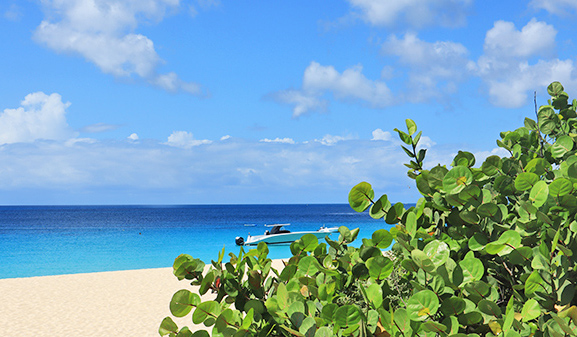 Ocean Echo is one of the best when it comes to Anguilla's beachfront dining scene. It is a "must do" if you love Anguilla blue and days at the beach.
The experience begins with Rumzies!...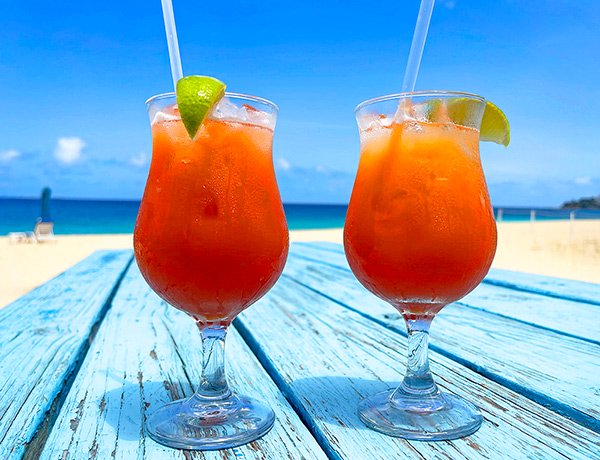 Anguilla's quintessential cocktail, Ocean Echo's version of Anguilla's rum punch (called the Rumzie) is the best our family has had yet.
For lunch, Ocean Echo serves up a host of tasty beach eats.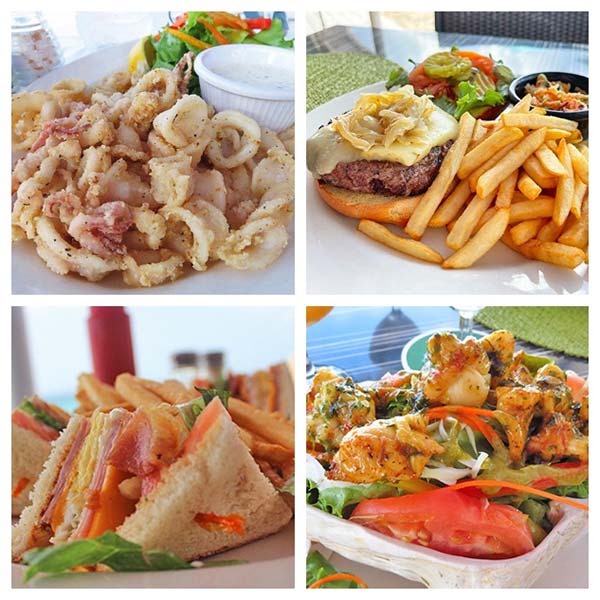 We always start with a plate of Calypso Wings...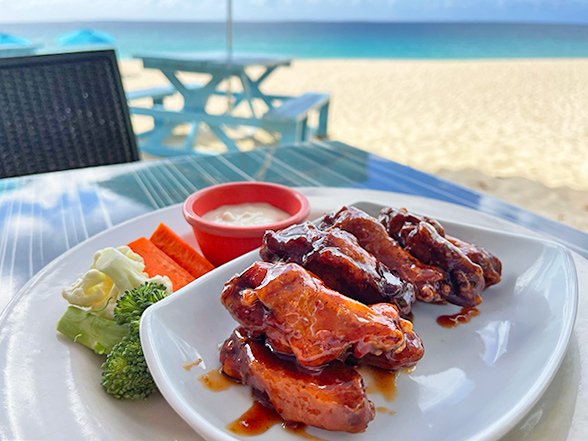 To say that these wings are delicious is an understatment. Crispy and covered in Ocean Echo's sweet chili sauce, they are served with a creamy blue cheese dip and crudités. We always have to order two rounds!
When it comes to main dishes, Yuki and Louise swear by the Rasta Pasta.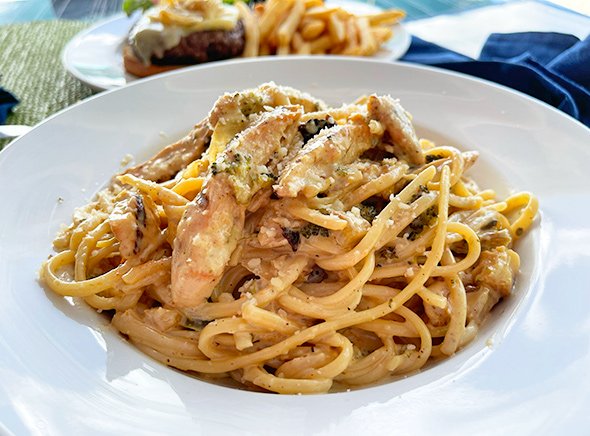 Prepared with your choice of olive oil or cream, the dish is loaded with fresh veggies. Each bite is fresh delight! Add chicken, shrimp or just stick with vegetables. Regardless of what you choose, it is filling and packed with flavor.
The Ocean Echo experience doesn't end there...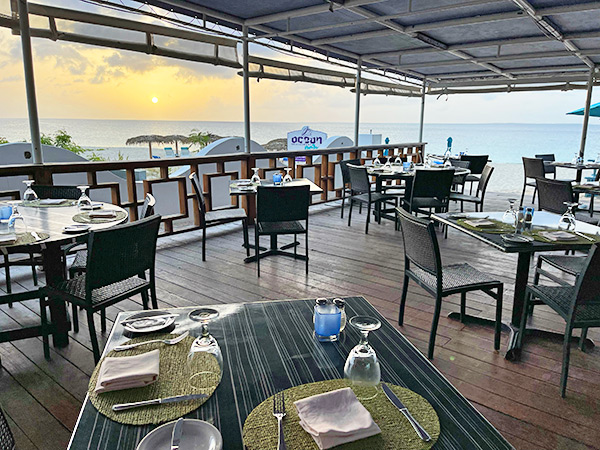 The atmosphere at Meads Bay completely transforms come sunset hour.
What is a busy, bustling hub for tourists by day, becomes a calm, empty and wide-reaching bay perfect for catching stunning, scarlet views of the Caribbean sunset.
In the same fashion, the atmosphere at Ocean Echo changes come night time. The lunch menu goes from tasty, fun and beachy, to a delectable menu of fine dining choices.
Aim to get to Ocean Echo in time to catch the sunset. As you watch the sun kiss the horizon, your attention turns to Ocean Echo's gourmet menu. Is it buttery crayfish or sumptuous lamb that is calling your name?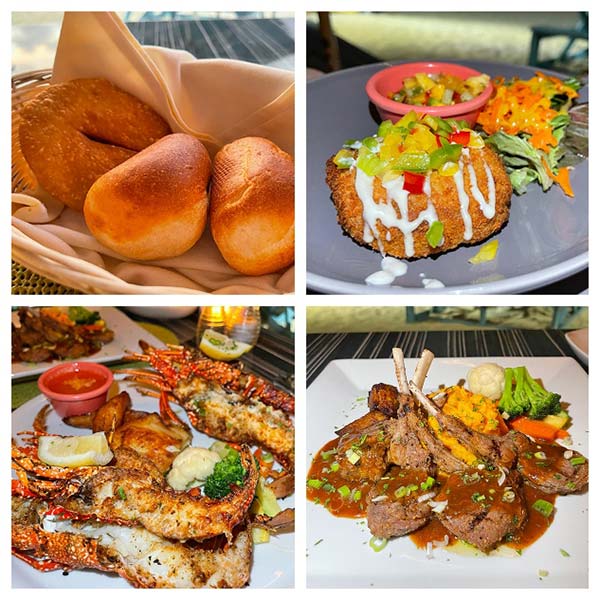 Click here for the full Ocean Echo experience.
Ocean Echo is an Anguilla Card Partner. Save 10% at Ocean Echo when you use your Anguilla Card.
---
A Look at Dinner at JULIANS - A Tropical French Bistro
Anguilla's first and only Relais & Châteaux, Quintessence Hotel is equal part elegant boutique hotel and refined high-end restaurant. Since its opening, its restaurant, JULIANS... A Tropical French Bistro, has steadily built a strong reputation for its cuisine.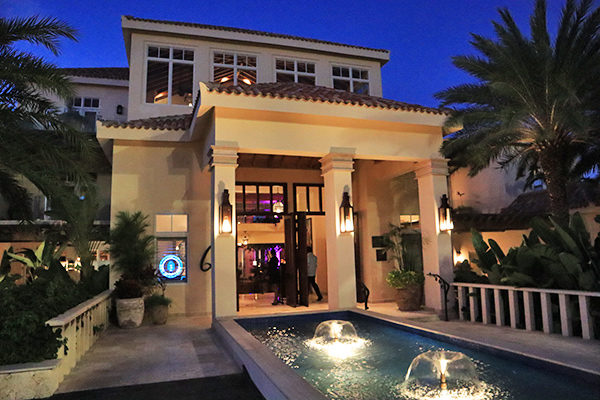 That reputation is credit to Chef Dominque Thevenet. He is one of Anguilla's most recognized chefs who quickly rose to fame when he began his career at Covecastles in the 90's. Today, he brings inspired dishes that blend Caribbean and French influences to JULIANS at Quintessence.
Quintessence sets an impressive scene come evening time. Outside, fountains flow, bubbling with lights. Inside, the eclectic lobby is adorned with hand-selected Brazilian and Haitian artwork. A pianist plays, casting an enchanting aura with a marked sense of sophistication.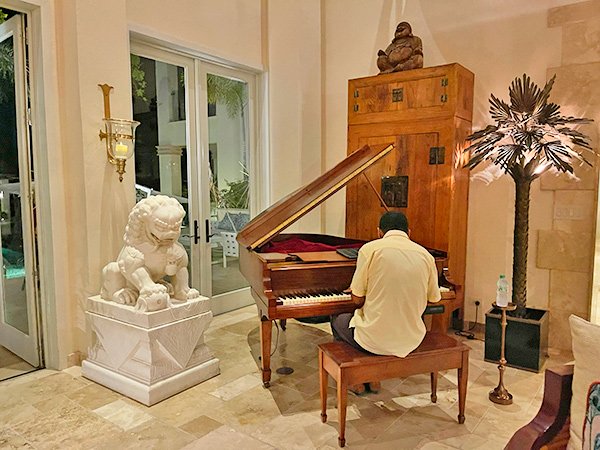 Upon your arrival, Quintessence's staff invites you to explore the property. We highly recommend arriving in time for a sunset drink. Walk the lush gardens with a cocktail in-hand to fully soak up "magic hour," Quintessence-style!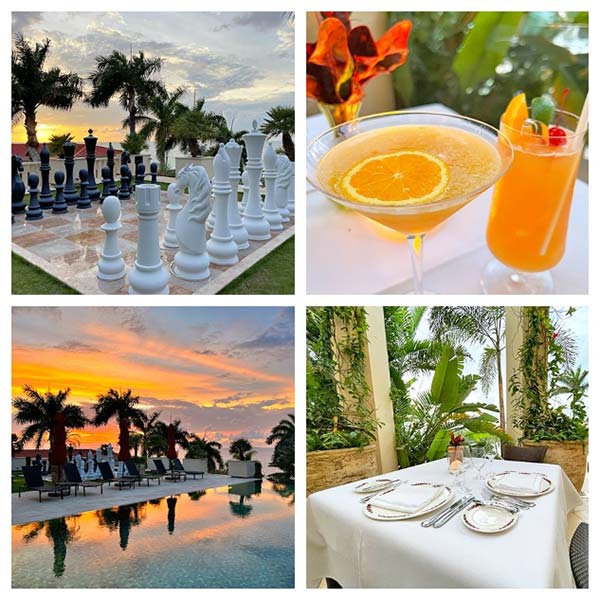 Now, what's for dinner?
Dinner begins with a basket of Johnny cake-style beignets. Light and crisp on the outside, warm and fluffy on the inside, they are a savory nod to the restaurant's Caribbean surroundings.
Chef's dinner menu opens with a selection of soups. Choices include a French onion soup, coconut lobster bisque with puff pastry and gazpacho.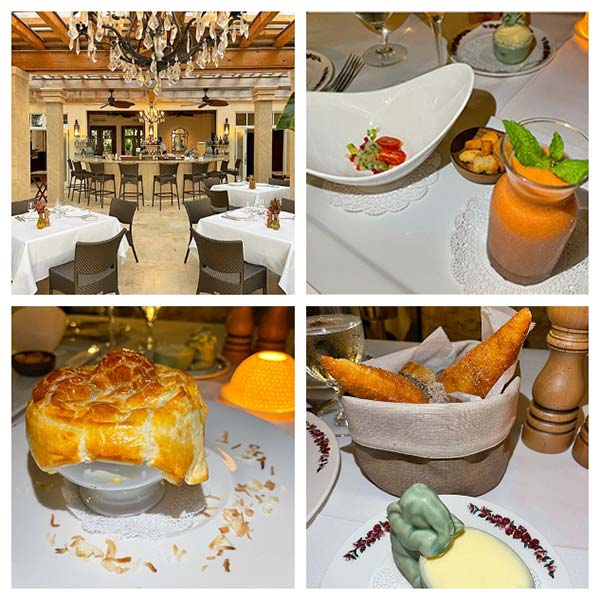 The lobster bisque is eye-catching! Light and creamy soup is seasoned with coconut, chunks of tender lobster and is topped with puff pastry. Who doesn't love crispy puff pastry in their bisque? A perfectly thought-out dish.
The menu then flows into Chef's salads and starters. Salads include a mixed salad, the island lobster salad and the warm goat cheese salad.
Chef Dominique's creativity is on full display when it comes to entrées. The menu includes a variety of fine meats such as French rack of lamb, tuna steak, the rich prosciutto-stuffed chicken breast and the pan seared 10-ounce rib eye steak ...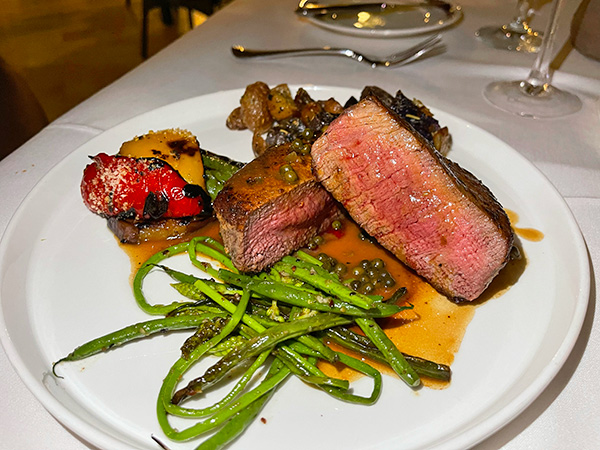 A thick center-cut of rib eye is cooked to absolute perfection, laced with a dark Saint James rum sauce. Each bite is heavenly. The beef simply melts in your mouth. Chef pairs his steak with roasted potatoes and grilled vegetables. This rib eye is a must try when dining at JULIANS!
Another enticing creation is Chef's creole catch of the day ...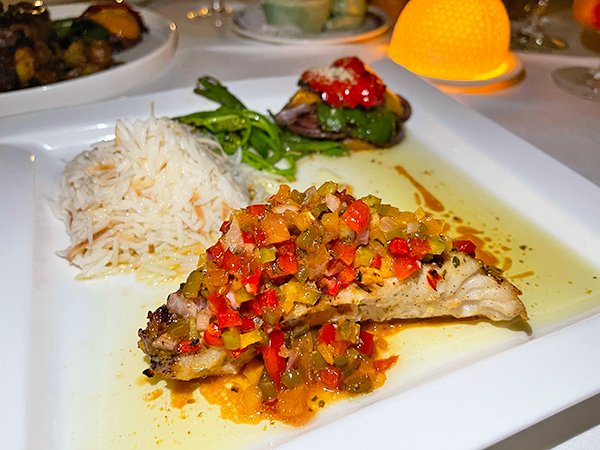 Dinner at JULIANS is never complete without dessert. Chef Dominique's desserts are imaginative. Their inspired names and descriptions call for ordering more than just one. For example, the "Java Lava"...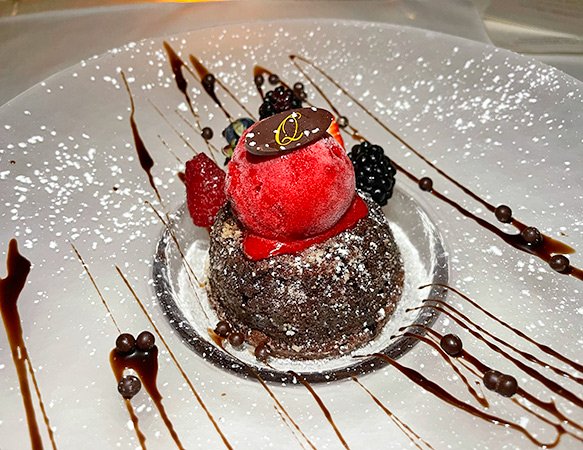 From the bread basket, to the amuse bouche, to soups, entrées and desserts, Chef Dominique has crafted a menu where each course builds in creativity and concept.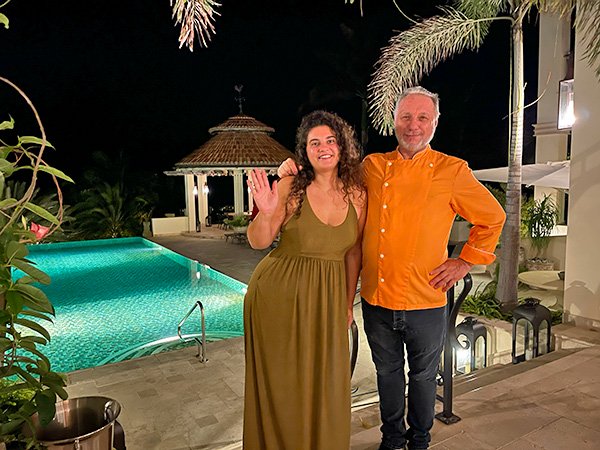 For a full read on JULIANS, click here.
JULIANS is an Anguilla Card Partner. Save 10% at JULIANS when you use your Anguilla Card.
---
Thank You, Anguilla Card Holder, Salena!
Thank you Anguilla Card Holder, Salena for your kind words about the Anguilla Card!
Thank you so much for offering the Anguilla Card again this year. I was able to use it at the following places and saved over $200!

Island Car Rental
Bar Soleil 
Ocean Echo
Barrel Stay
Sunshine Shack

I will definitely renew next year!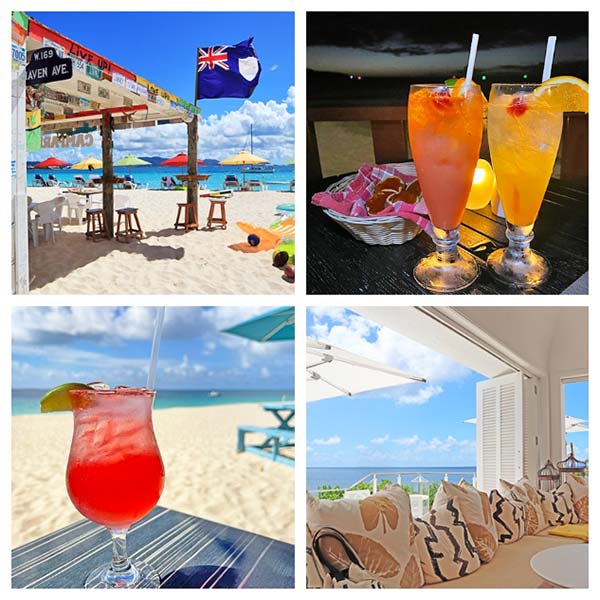 Your note makes our day, Salena! We are so delighted you found such great savings 🤗💗🏝
To get your Anguilla Card and save 10% on your trip, click here.
---
NEW YouTube Video: How To Get To Little Bay
One of Anguilla's best beaches, Little Bay is proof that good things come in small packages 🤗💗🏝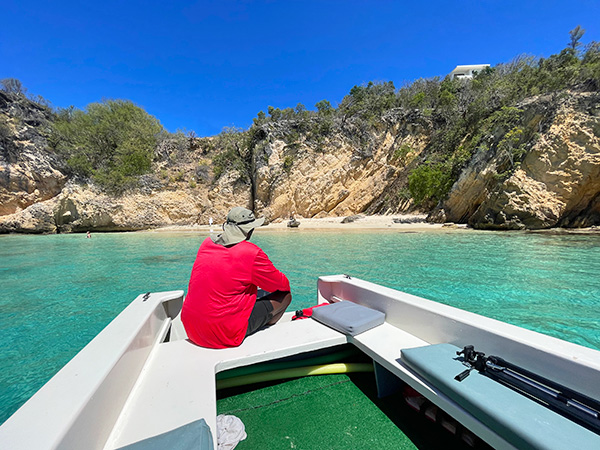 Little Bay is one of Anguilla's most unique and hardest to reach beaches. This tiny strip of sand is surrounded by majestic high cliffs that tower over some of the clearest waters in Anguilla. A destination for snorkeling, swimming and soaking up the sun, Little Bay is a must visit.
The only question is...
How do you get here?
Here are our top 4 ways to get to Little Bay.
---
What's Happening This Month in Anguilla
Visiting Anguilla in June?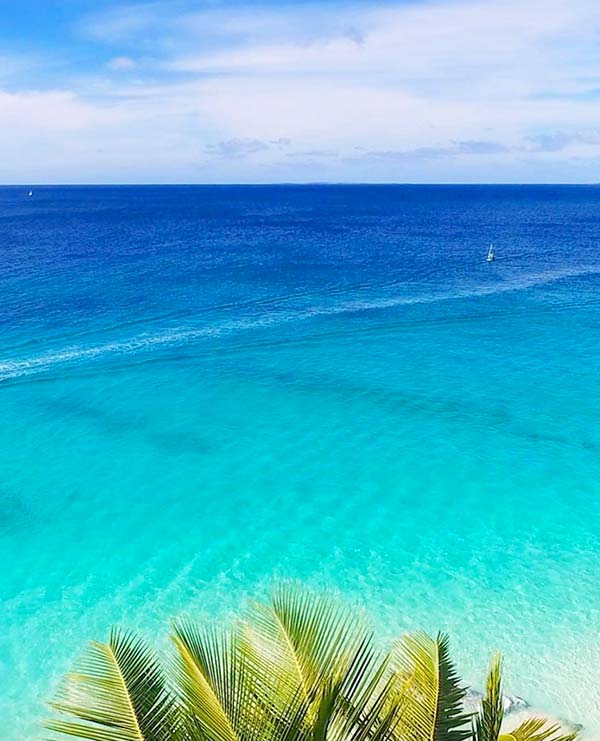 Click here for this month's list of events!
---
Breakfast at Bamboo on Meads Bay
Set over sparkling-white sands that give way to dazzling diamond-like seas, Four Seasons Anguilla's Bamboo Bar & Grill is a favorite for long, leisurely meals.
NEW this season, we are excited to announce that breakfast is now served at Bamboo!
Mornings on Meads at Four Seasons begin with smoothies, freshly squeezed juices, island herbal infusions and a variety of coffees.
Every sip of their juices and smoothies recharges your body. You can customize your beverage, too. Choose any fruit, root or vegetable and the kitchen will juice it. We love how Four Seasons caters to all dietary preferences and needs.
The breakfast menu opens with its "Wellness" section.
Egg white omelettes, the Bamboo power bowl, chia parfait, seasonal fruit plate, scrambled tofu, bayberry plantain porridge, Vinty's sweet potato hash and avocado toast...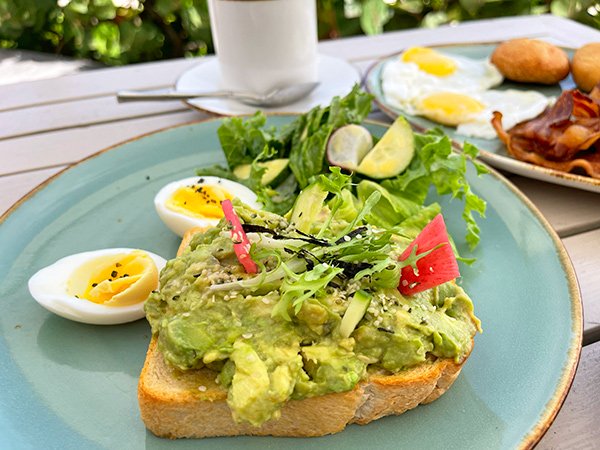 A thick slice of white bread is slightly toasted and topped with freshly mashed avocado. It is garnished with sliced radish, nori and a sprinkling of hemp seeds. A boiled egg and a side salad round out the dish's nutritional value.
The menu then flows into the "Local" selection. Here you find the lobster Benedict, island muffin, pull brisket Benedict and the "Bamboo Breakfast"...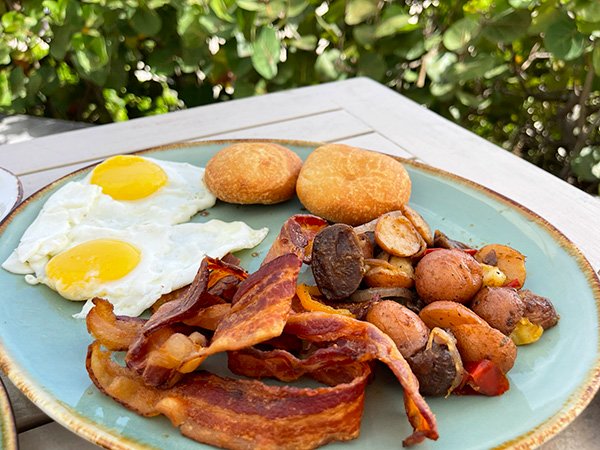 Two eggs are made in your desired style and served with the most delicious breakfast potatoes, Johnny cakes and your choice of meat. We always choose bacon :-)
For the full scoop on Bamboo's breakfast menu, click here.
---
Live on Meads Bay
Speaking of Meads Bay, can you think of a better way to start the day than walking the beach, breakfast treats at Bamboo and then diving into Meads Bay blue?
I know that would be my morning routine if Tranquility Beach was home!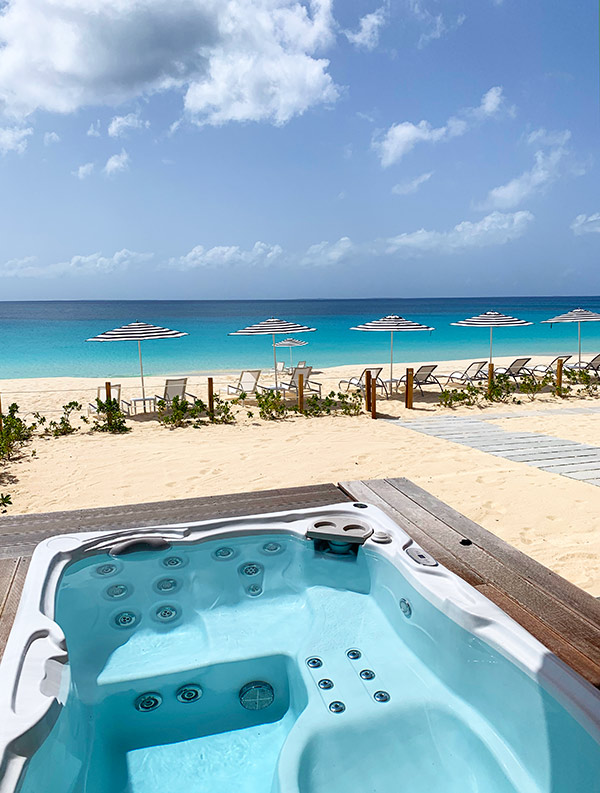 Designed by award-winning architect Ian "Sugar George" Edwards, Tranquility Beach is a modern dream.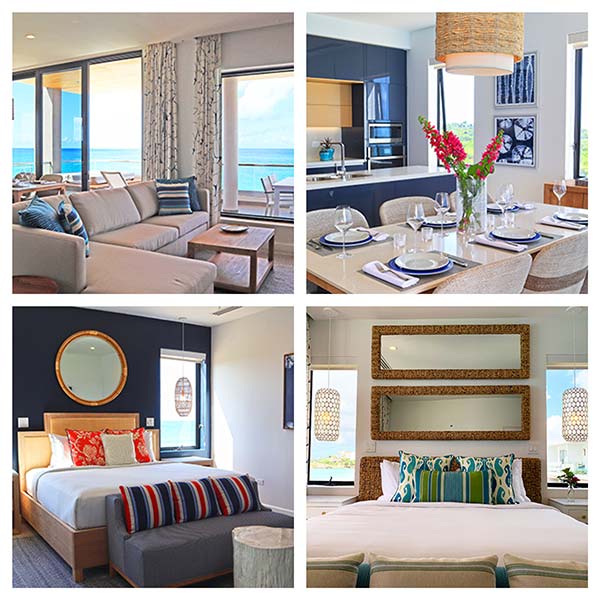 Set right in the middle of Meads Bay, with a comfortable layout, the most beautiful design elements, and turn-key units that boast all of the comforts of home...
Yep, Tranquility Beach ticks all of the boxes!
But don't take our word for it 😉
Click here for our interview with Tranquility Beach Anguilla owner, Yancy Bonner. It is all glowing reviews from Yancy and other fellow owners.
It is no surprise that these Anguilla condos have been selling fast!
For more on Tranquility Beach's condos, visit...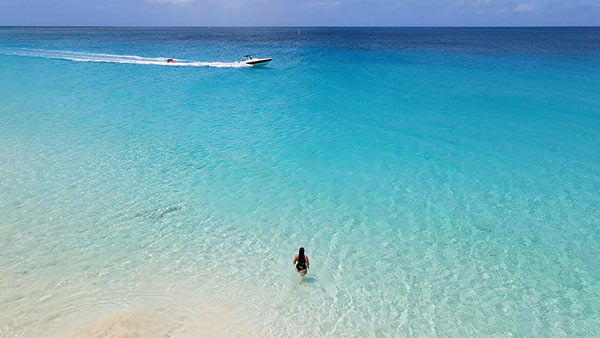 ---
Exploring Anguilla: The Western Tip
Anguilla is a teeny island covered with thirty-three breathtaking beaches. Each is unique in its own way, yet some are not as well known as others.
You've likely heard of Meads Bay, Barnes and Shoal Bay. But that's just scratching the surface. For those who like to venture off the beaten path, the island is rich with pockets of secret beaches.
One of our favorite spots for "secret" beaching? Anguilla's far west end.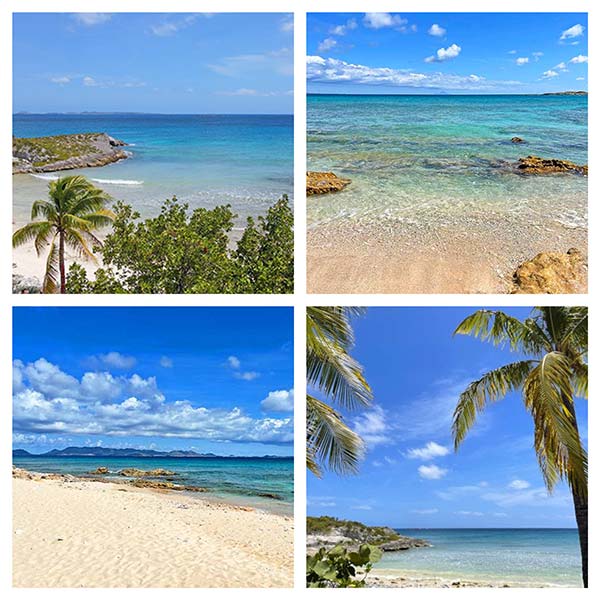 Click here for unique views of Anguilla's most westerly point.
---
Long Bay Beauty
Another rarely-visited beach beauty is Long Bay beach. True to its name, Long Bay is a long stretch of powdery-fine sand. Here, waters glisten in a cool gradient of blue, capturing every shade imaginable.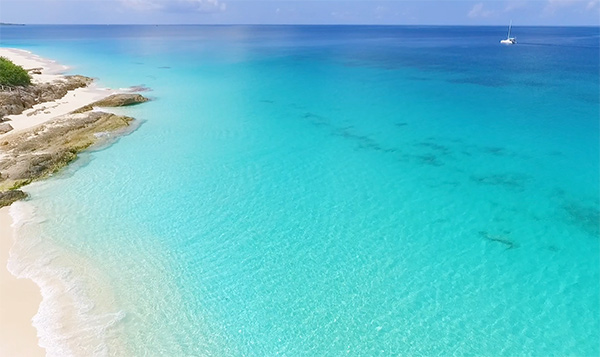 Unlike its popular neighbor Meads Bay, Long Bay has seen a lot less development. Home to only a few ultra-luxury Anguilla villas, it is a true tropical beach escape.
Quiet and serene, don't be surprised if you don't see anyone else on the beach.
Why?
No idea, but no complaints! Long Bay and its wide, open beach and mesmerizing, blue bay are the true definition of the super serene solitude typical of most Anguilla beaches.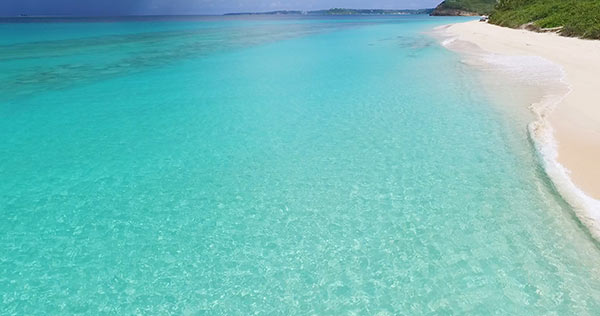 To its west, Long Bay is rich with hidden coves and tide pools. See more of the special western corner of Long Bay.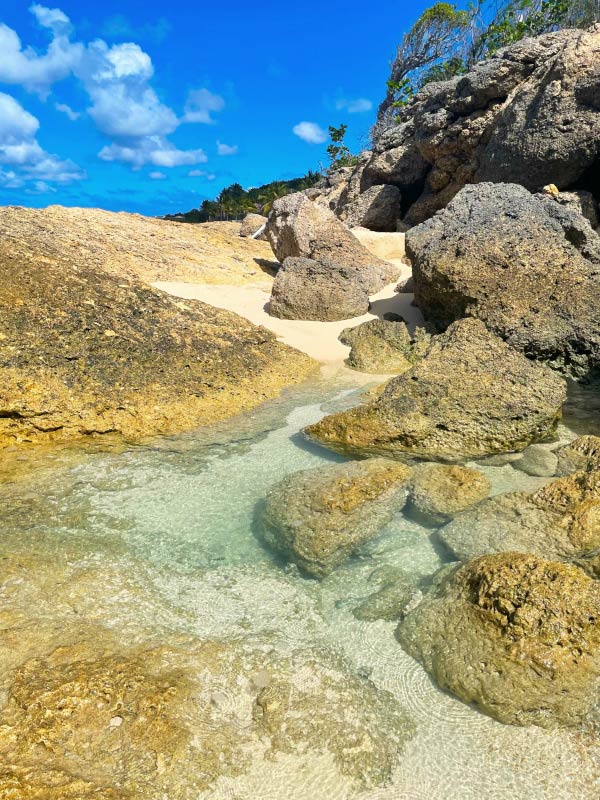 In perfect symmetry, Long Bay's eastern half is peaceful and calm, home to two of Anguilla's most luxurious private villas.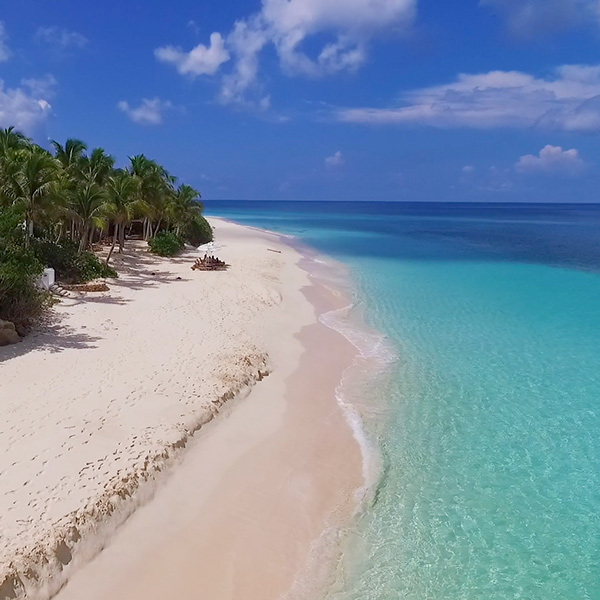 Long Bay Villas takes your breath away in three distinct ways: Sky Villa, Sea Villa and Sand Villa.
The estate's three stark-white villas tier down the lush hillside that slopes up from pristine and exclusive Long Bay beach.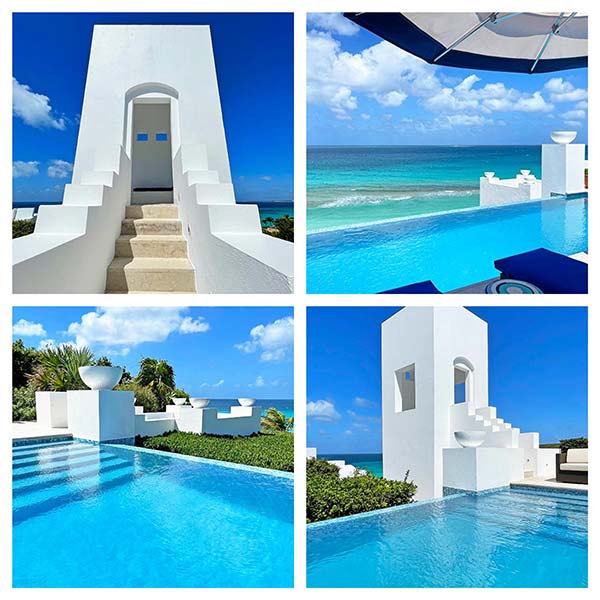 Next door to Long Bay Villas, sister property Santosha Villa Estate reigns as Anguilla's most grand villa.
A 37,000 square foot West Indian-style estate, Santosha is of a bygone era.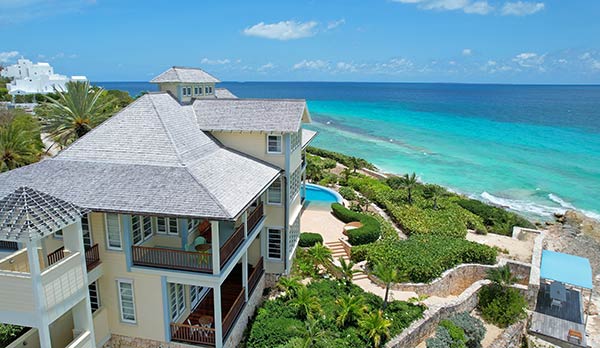 One of the Caribbean's most grand villas, its design is classic Caribbean, immaculately executed.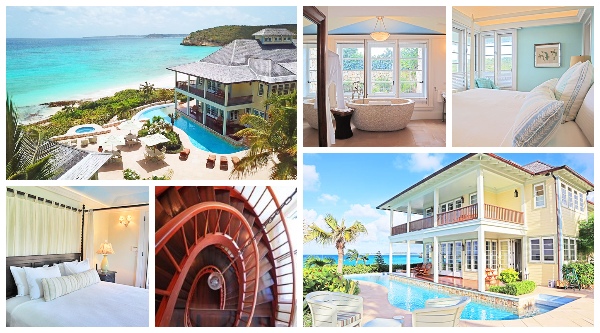 To see inside these one-of-a-kind villas, visit...
---
Sounds of Anguilla Calm
Love the sound of Anguilla's sea? For us, it is pure tranquility 🌊😌✨💙
We are bringing Anguilla's relaxing wave sounds to you weekly with our brand NEW podcast.
Click here to tune into episode one: The relaxing waves of Shoal Bay.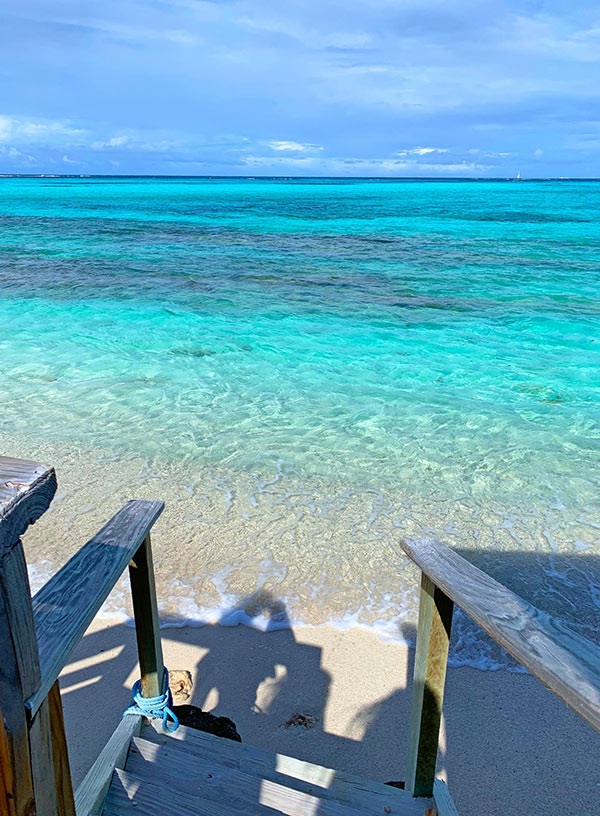 ---
A Summer Beach Escape
At Beach Escape Villa, tranquility is a shore thing.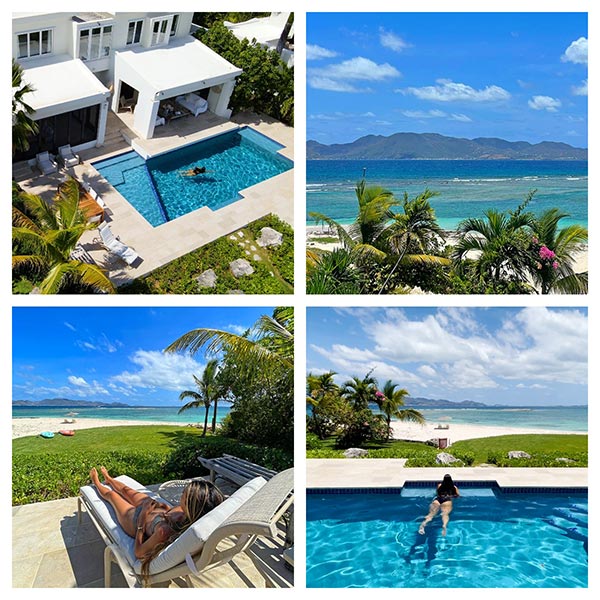 Our family fell in love with Beach Escape Villa many moons ago, based on its location alone. A villa with chic beach house charm, Beach Escape is true to its name.
Set on secluded Sandy Point beach, at Beach Escape you are directly on sandy beachfront.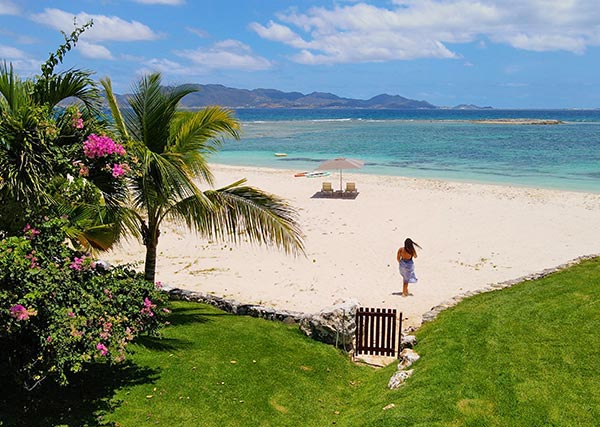 This stretch of sand affectionally called Sandy Point sits on the island's southern side, gazing out to breathtaking St. Martin.
It has long held a special spot in our family's hearts. Back in the day, my Dad and I would spend many afternoons sitting right on the beautiful "point of sand" that jets out towards St. Martin.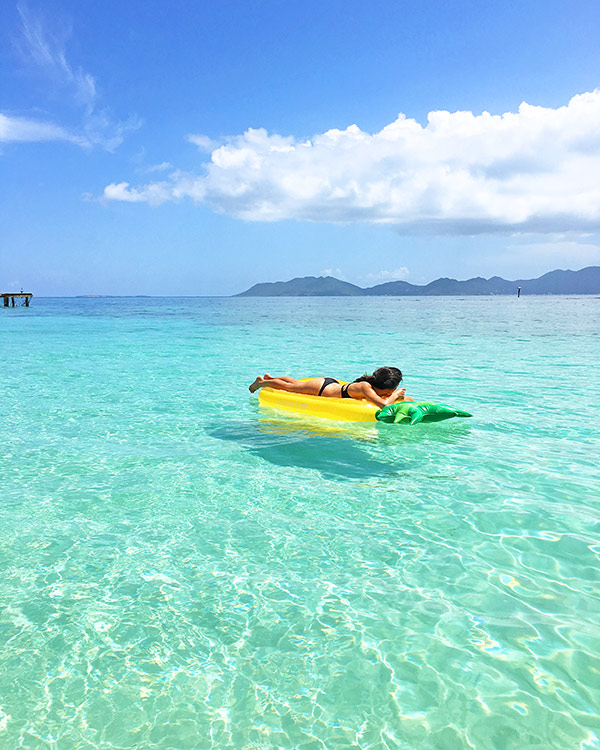 NEW Anguilla Beach Vlog: Click here to relax with us on Sandy Point beach.
Beach Escape takes full advantage of its setting with beach chairs, umbrellas, a grassy front lawn overlooking the Caribbean Sea and even beach service.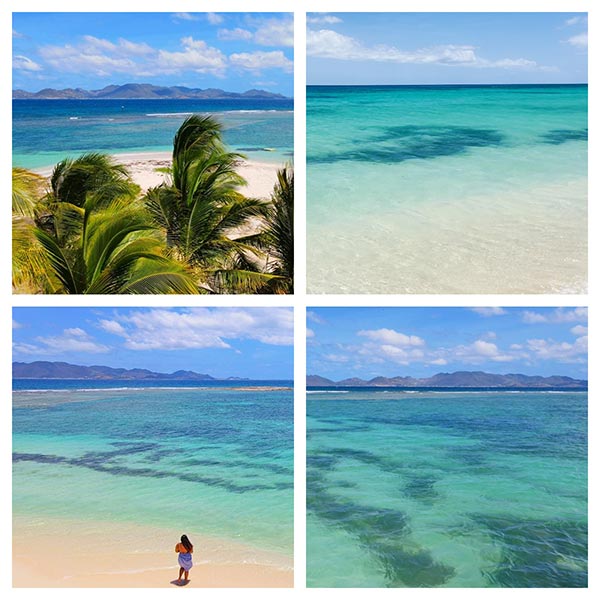 Beyond location, Beach Escape is one of the most comfortable, chic and user-friendly villas in Anguilla.
Five bedrooms, plush media room, modern kitchen with outdoor cooking options and indoor and outdoor dining and lounging spaces span the property's two villas.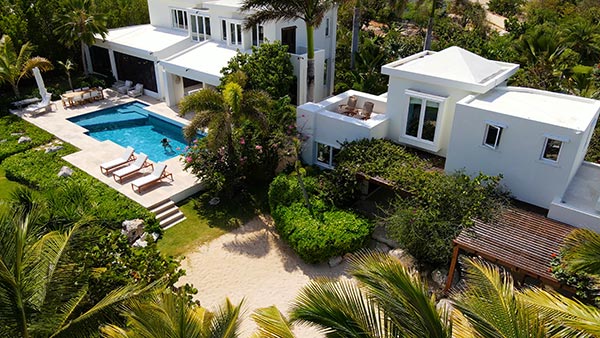 Two heavenly master suites are in the villa's main house, while two additional master suites and a twin room are in the guest house.
With direct beach access, grassy lawn, sandy front, Apple TV, SONOS, EVO grill, tropical landscaping, solarium-eque showers, luxurious outdoor couches, oversized screened-in patios, and plenty of areas to lounge..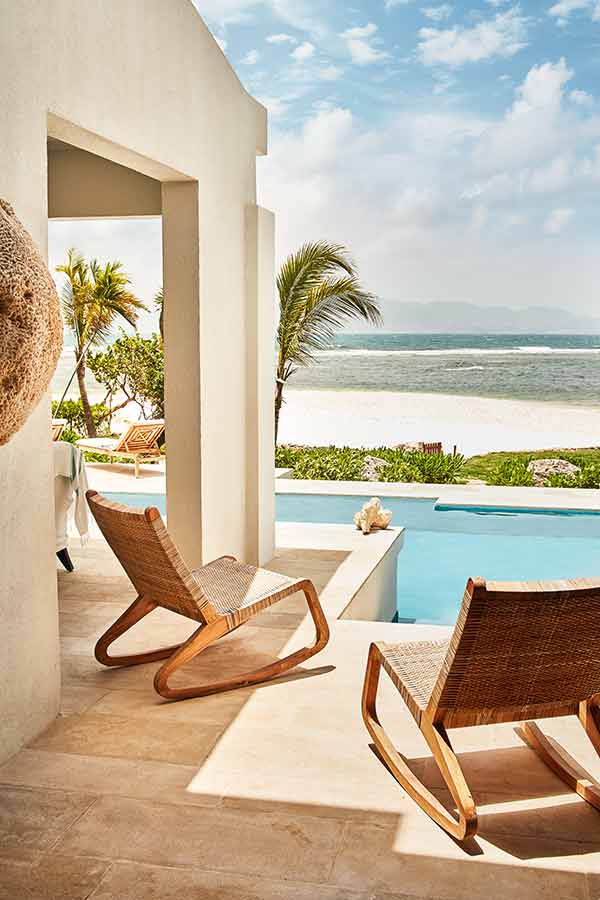 Beach Escape is an ideal choice for a summer beach escape!
Book Your Beach Escape
---
High Value Rental From Island Dream Properties
Our good friend, Jackie Pascher of Island Dream Properties has a beautiful high-value Meads Bay rental!
Welcome to: Jasmine Villa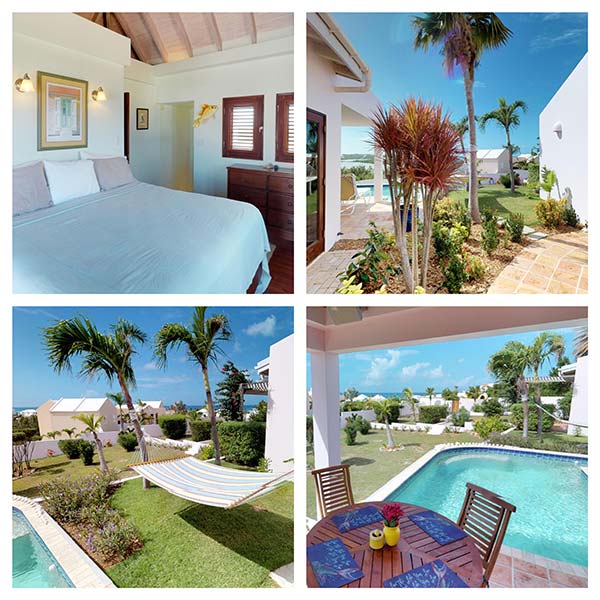 Across the street from Meads Bay, Jasmine Villa's setting can't be beat! Here, you are a stone's throw from Meads and its fabulous restaurants.
The two bedroom, two bathroom villa boasts spacious interiors with ocean views and comfortable outdoor lounging areas.
The main floor's living room opens to the pool deck, dining room, and kitchen. The kitchen is gourmet in every way, with a Nespresso machine and cooktop built into the Italian granite countertop.
Rates start at ~$413/night.
Step inside Jasmine Villa here.
---
Thinking of a Much Longer-Term Getaway?
Jackie has a fantastic new listing!
Turtle Dove Hill Villa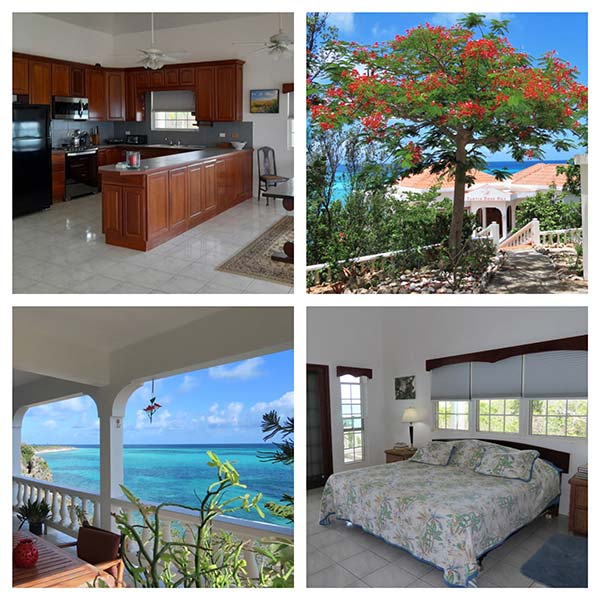 Perched on the cliff overlooking the turquoise water of Shoal Bay, Turtle Dove Hill Villa features 3 bedrooms, 3 baths and a whole lot of stunning views!
The villa has an open concept kitchen and living room with sliding doors that lead to a tiled gallery that runs the full length of the house.
On the lower level is a 1 bedroom apartment with living room and small kitchen. A small office is also located on the lower level.
The house is situated on a .5 acre parcel and there is an additional .5 acre parcel adjoining that is included in the price.
Turtle Dove Hill Villa is listed at $1,850,000. More here.
---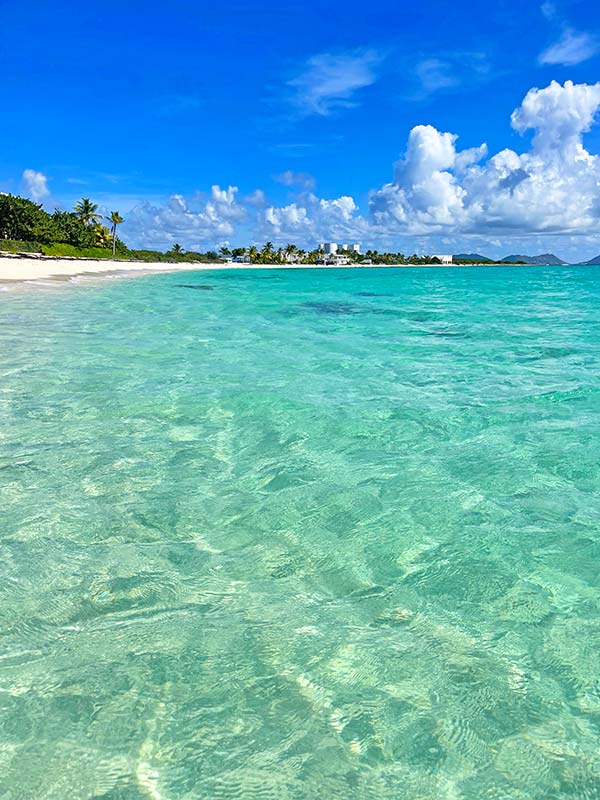 ---
Anguilla Peace, Calm & Sunflowers
Last but not least, we have been painting sunflowers around Anguilla in support of Ukraine.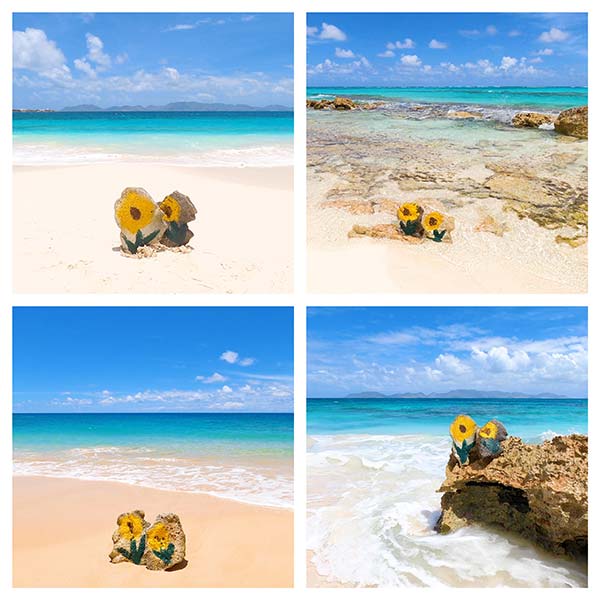 If you spot these sunflowers around the island, take a photo and tag us to spread the peace 💛✨🌻✨💙
If you would like to join in the movement and paint sunflowers at home, send us your photos. We would love to see them.
Here's to peace 💛💙💛💙💛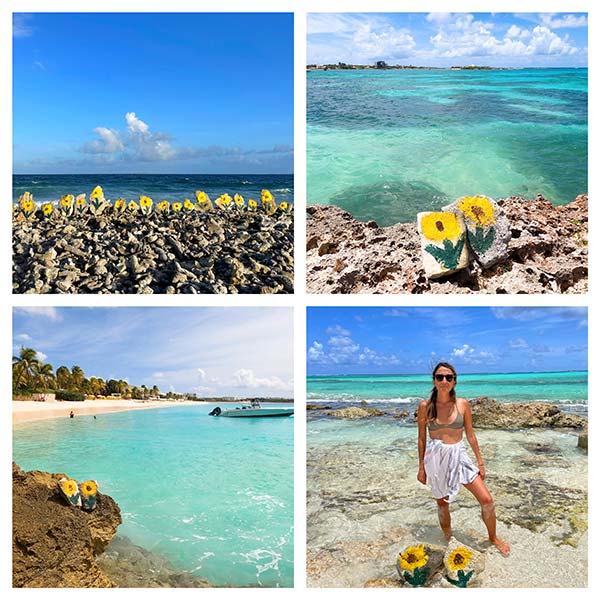 ---
That's all for now.
If you are planning a trip to Anguilla, get your Anguilla Card here!
We can't wait to SEA you on the beach 💗🏝
With lots of warming Anguilla sunshine,
Nori & Louise
---
Anguilla-Beaches.com
---