---
Combing Anguilla's Beaches for the Best
Anguilla Beach Lovers brings you a fresh dose of "Tranquility Wrapped in Blue" every month. And now you can wrap yourself in our Tranquilitee, the softest, most comfy tee you've ever worn.
If you like this newsletter,, please do a friend a favor and "pay it forward."
If a friend did forward this to you and if you like what you read, please subscribe by visiting...
---
Issue #135, December 14, 2020
I'm dreaming of a white sand Christmas... 😌💗🏝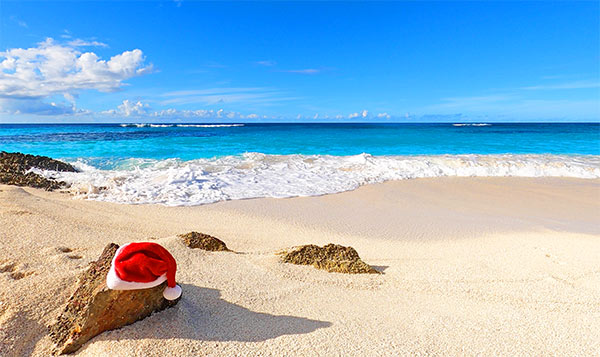 It shore is a relief to say that the New Year is just a few weeks away!
There has been lots of news down here in Tranquility Wrapped in Blue, but first?
Let's take a deep breath of Anguilla calm...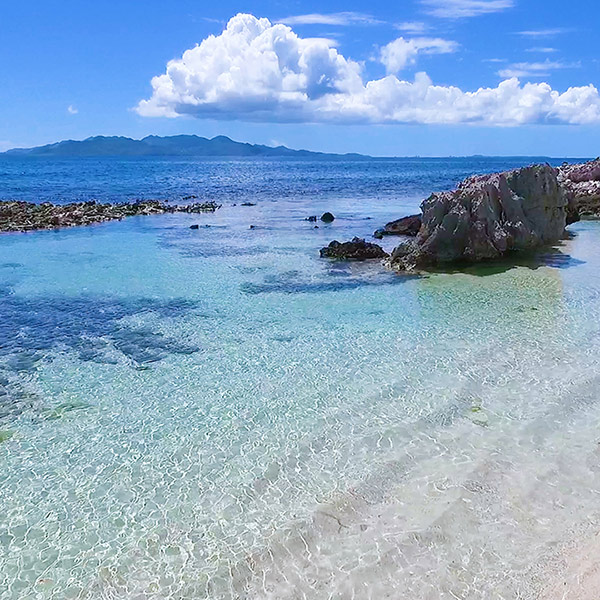 Nothing soothes like those pure azure hues!
Click here for 5 minutes of blue bliss.
---
With the holiday season upon us, it's not too late to...
Give The Gift of Anguilla Calm
Have an Anguilla lover in your family? Give them the most relaxing gift this holiday season 🐚💗🎄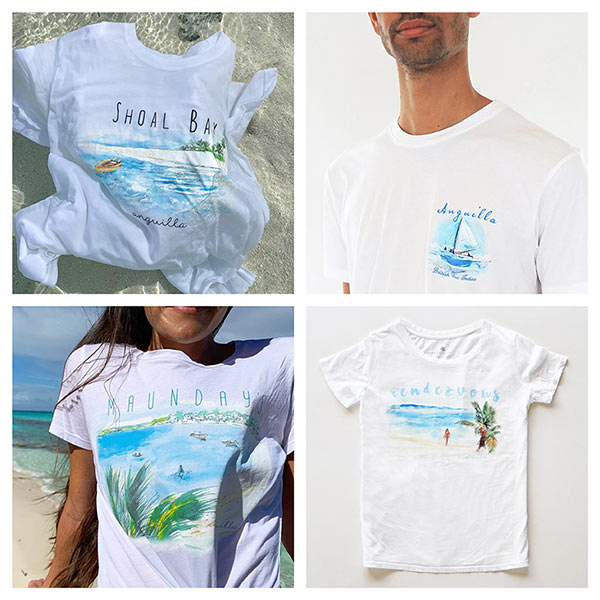 Our super-soft, 100% cotton tees come in 5 hand-painted watercolor scenes.
From Shoal Bay's iconic point...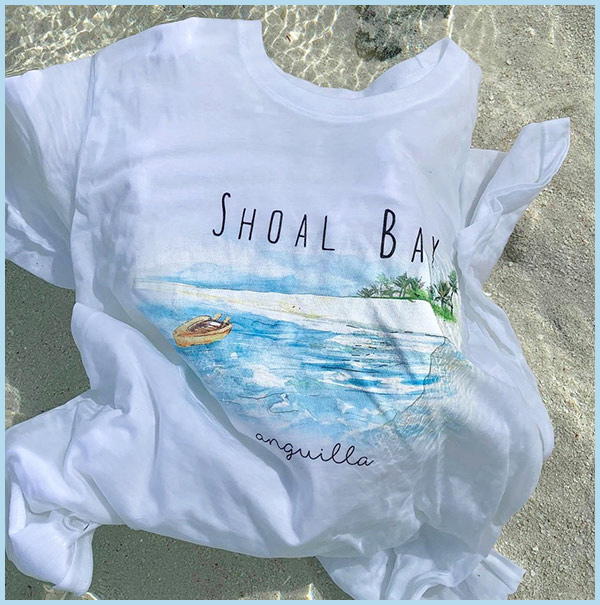 To the blues of Rendezvous...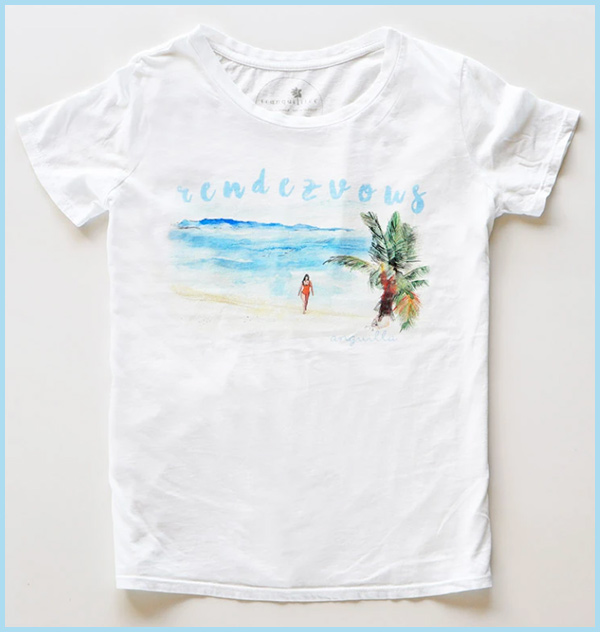 To Maunday's...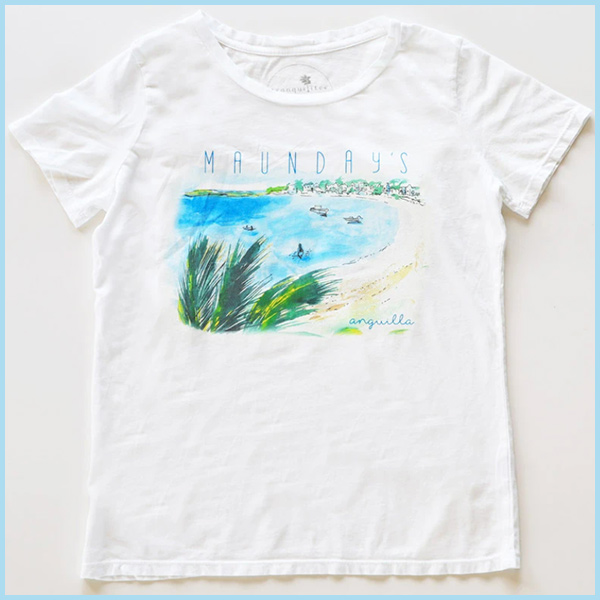 and Meads...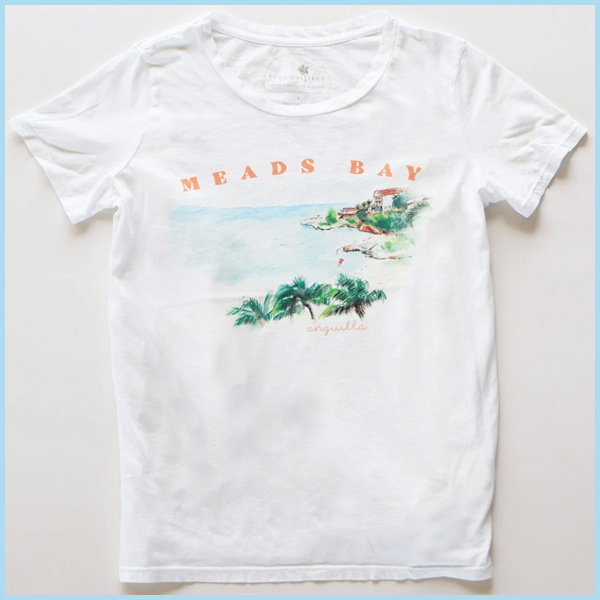 Here's to Tranquility Wrapped in Blue!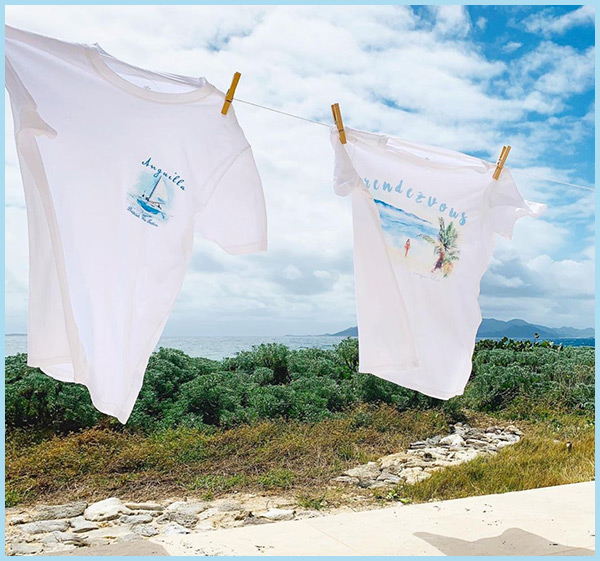 Click here to get your Tranquilitee for the Anguilla lover in your family!
To save 25% on our extra-soft and soothing Anguilla tees, enter the code...
FEELTHECALM
... at check out and save 25% on women's and men's tees.
Holiday Note: Order in the next 48 hours to guarantee delivery by Christmas!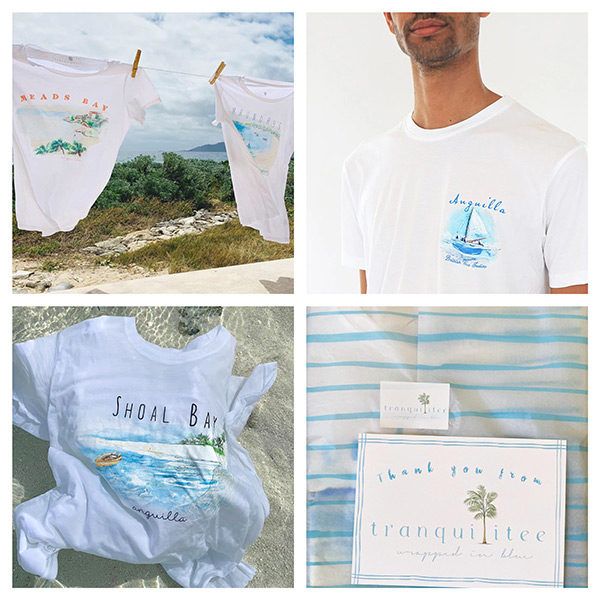 ---
Anguilla News
Anguilla has opened its borders and is currently accepting applications for travel!
Wondering what it is like to make the trip to Anguilla during COVID-19?
A huge thank you to Amie of L'Embellie Villa who documented her journey during COVID-19.
Click here for Amie's step-by-step experience.
For a full breakdown of Anguilla's travel requirements, click here.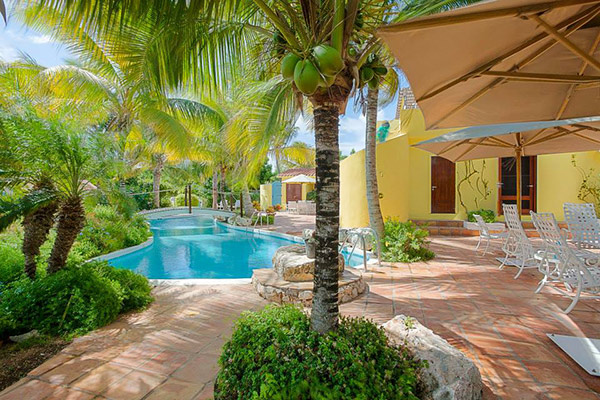 As Christmas week approaches, more and more hotels and restaurants have been re-opening.
Cap Juluca, CuisinArt and Four Seasons re-opened last month. Malliouhana and Zemi Beach House are slated to re-open in just a few days.
If you are planning a trip to Anguilla this winter, here is who is open...
(For full business details (hours, etc.), click here.)
---
Who's Open?
Tradewind Aviation: The regional leader in aviation, Tradewind is open for private charters to Anguilla! For details, click here.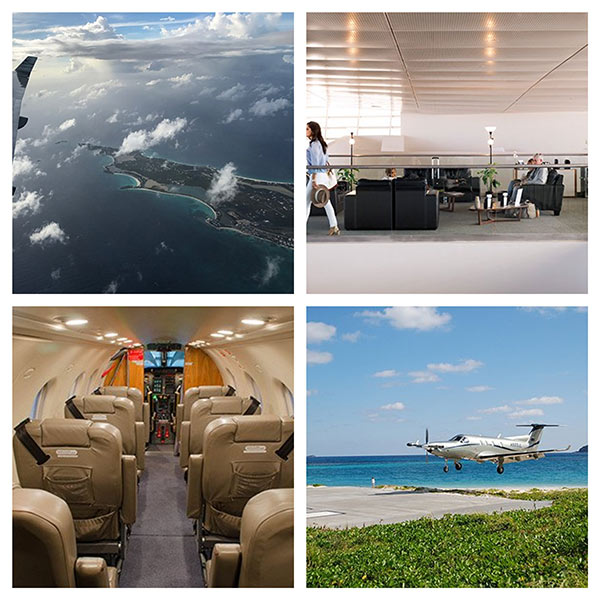 Roy's Bayside Grill: is serving up excellent lunch specials and dinners of steak and seafood dishes all week long (closed Monday). Breakfast on the weekends! Whether for breakfast, lunch or dinner, Roy's is always calling our names.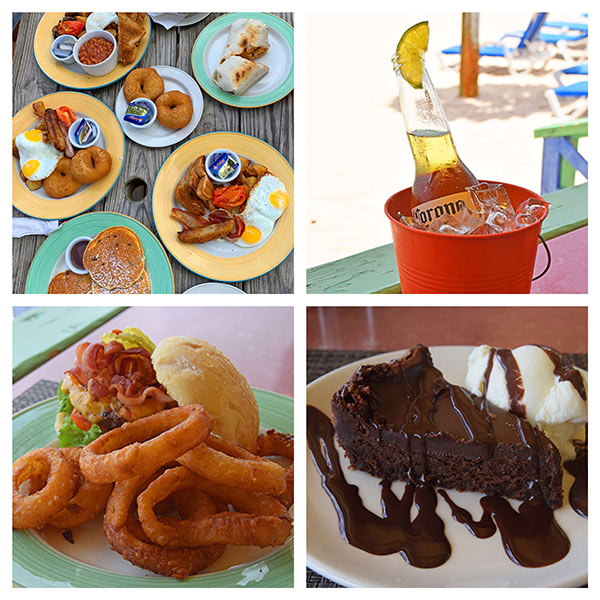 The Sunshine Shack: You can't beat Garvey's Sunshine Shack and his view of RendezBLUE. Combine that beach setting with mouthwatering BBQ and you have a recipe for a bluuuetiful beach day!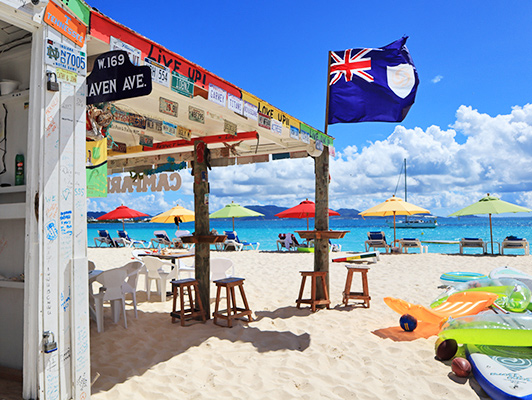 Tasty's: An institution, five-star dining in Anguilla is not complete without a visit to Chef Dale's loyally loved restaurant, Tasty's. Piping hot Johnny cakes, seafood salads, seafood pastas... Chef Dale's list of supremely tasty dishes goes on and on!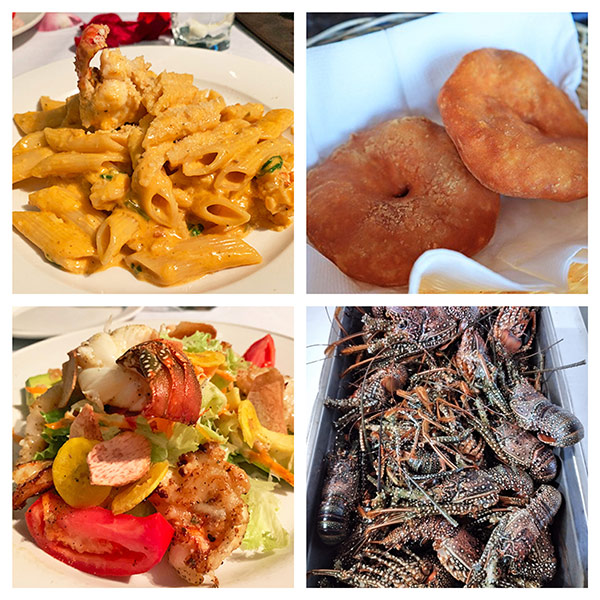 Elvis': The #1 Beach Bar in Anguilla, Elvis' on Sandy Ground is a favorite. Brett and Elvis keep the good vibes flowing with a killer rum punch and the best nachos in Anguilla!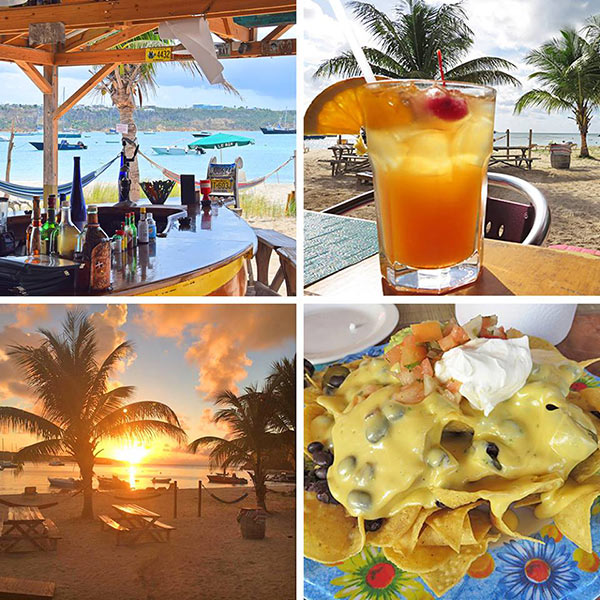 Nat's Palm Grove: The quintessential dining experience, Nat's ticks all the boxes. One of the most soothing beachside settings? Check! Potent rum punch? Check! Lobster, crayfish, johnny cakes, thick cut steak fries? Check, check, check, check!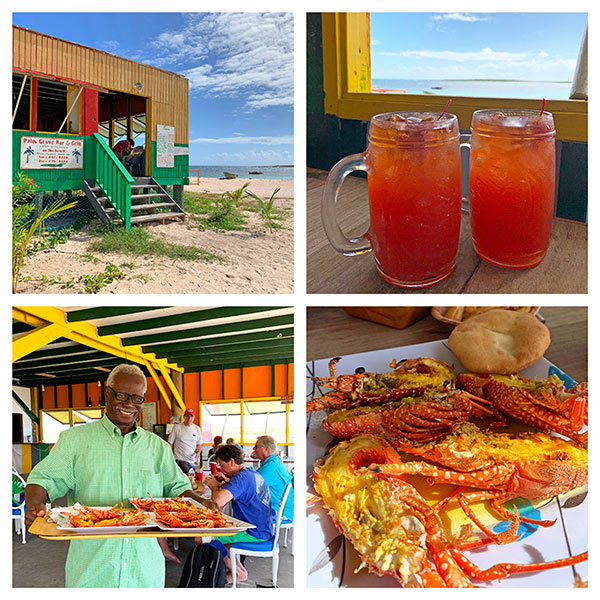 Tropical Sunset: One of the best restaurants on one of the best beaches in the world, Tropical Sunset delivers the most relaxing days on Shoal Bay. Extra-bonus? Their hammocks in the shade.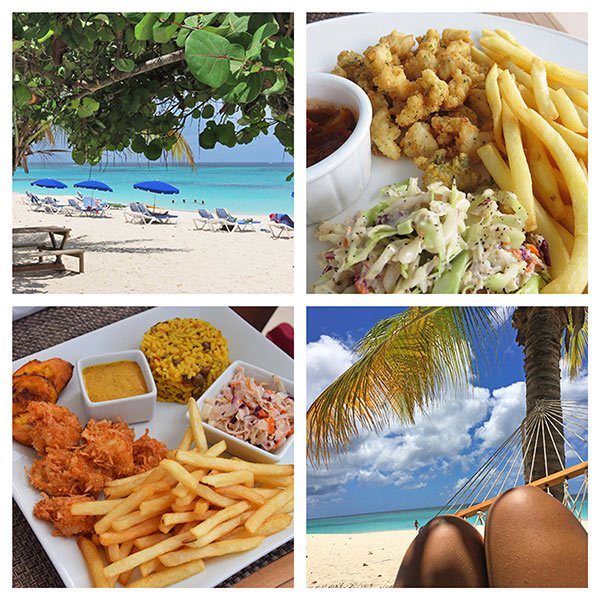 Lit Lounge: Get set for a night of fun under the stars! Right on the sands of Sandy Ground, Lit Lounge is one of Anguilla's nightlife hot spots.
Mark your calendar for Sat. Dec. 19: A full day of fun in the sun with an "A" class boat race, beach volleyball tournament, domino tournament, and live music into the night! Don't miss Deanna with Springer & The Overdrive Stringband, DJ Deany, DJ Soundz, DJ Sugar, DJ Tights and DJ Yoose. The fun starts at 12pm and goes to 3am.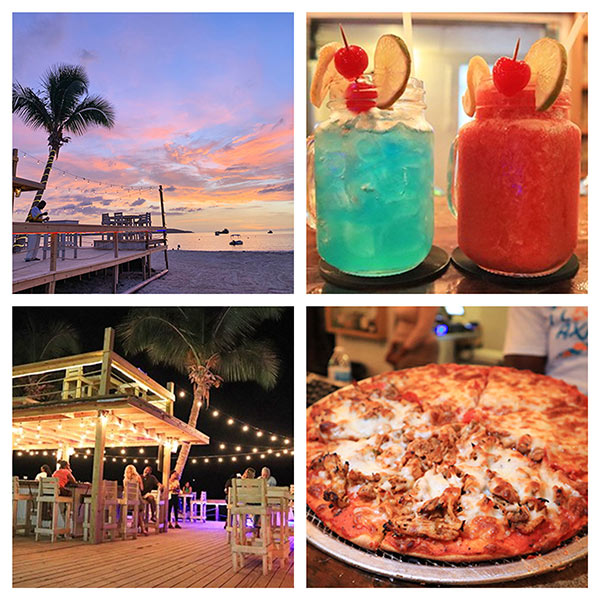 Olas: Making waves for its fabulous rum punches and fun taco beach eats, there are so many reasons to love Olas! One more reason? Its location right on Shoal Bay East :-)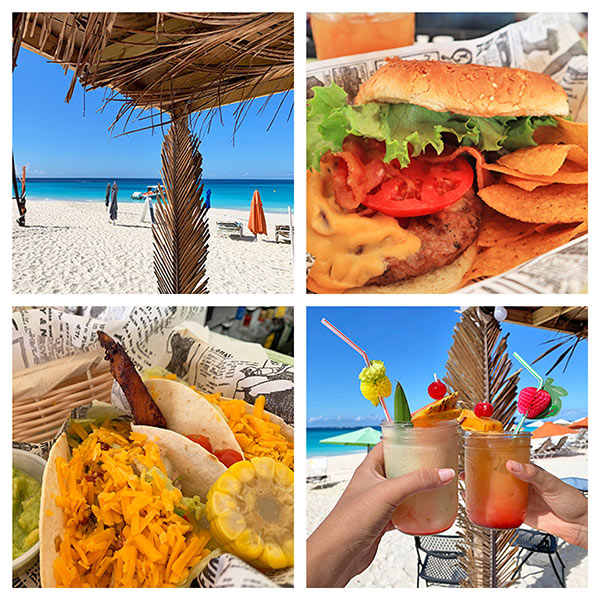 Sharky's: Owned and operated by the chef who created some of Blanchards most famous dishes, Lowell Hodge's SHARKY'S Restaurant is a "must-do" for fine Caribbean cuisine. Think: Sumptuous lobster cakes, lemon chicken, and jerk shrimp with creamy mashed potatoes.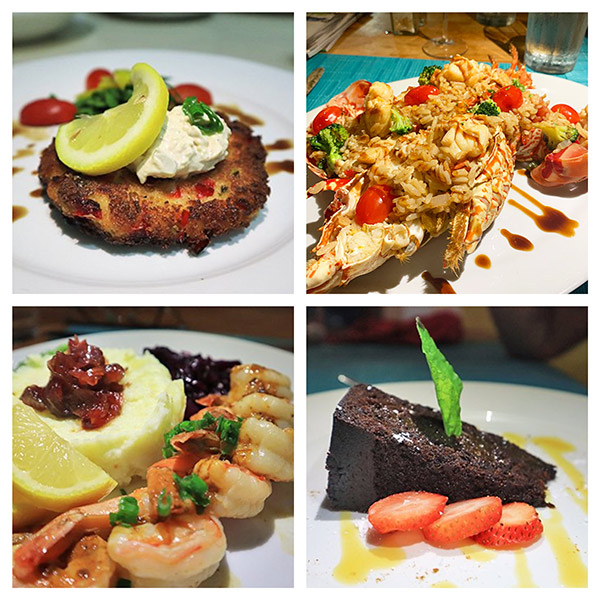 Leon's at Malliouhana: Right on the shores of Meads Bay, Leon's at Malliouhana is a top spot for a classy day at the beach. The gourmet menu features a host of outstanding eats – do not miss the jerk burger served IN a Johnny cake.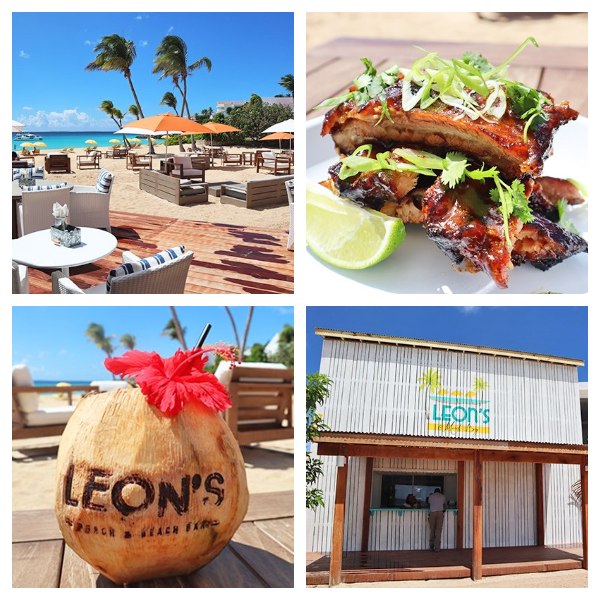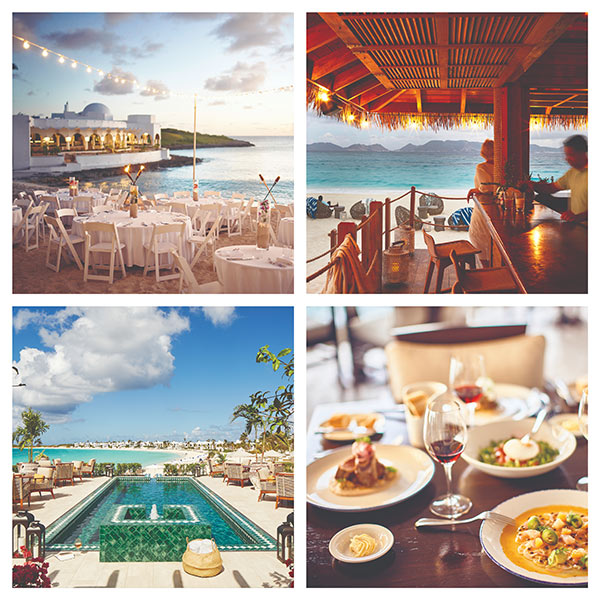 • Pimms: Arguably Anguilla's most romantic dinner setting, at Pimms you dine right at the sea's edge. The waves are a mere stone's throw away as you enjoy exquisite Anguilla-European fusion cuisine.
NOTE: Pimms is open to guests who are "in the bubble."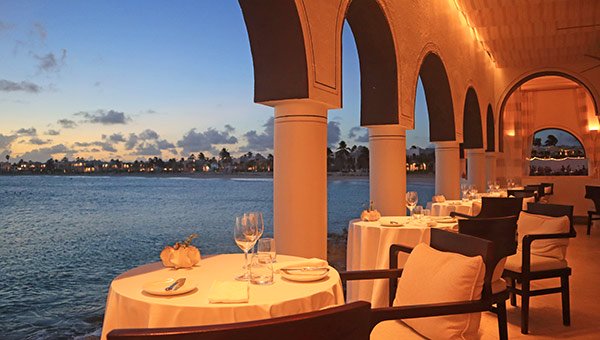 • Cip's By Cipriani: Right next door to Pimms is Cip's by Cipriani. Like Pimms, Cip's setting takes your breath away. A multi-tiered restaurant, its large bottom terrace is right at Maunday's water edge. The views are simply heavenly. What's on the menu? Classic Italian fare with an Anguilla twist.
NOTE: Cip's is open to guests who are "in the bubble."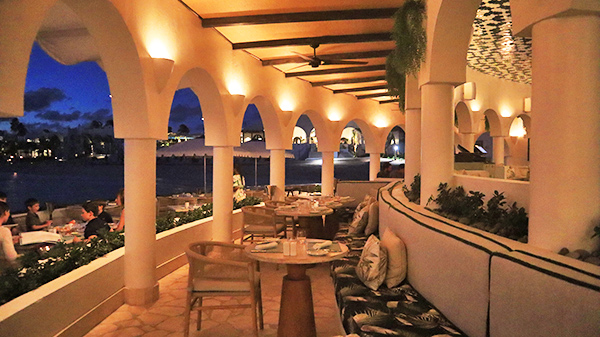 • Maunday's Club: An iconic spot and a favorite for sunsets, Maunday's Club is Anguilla's only Peruvian restaurant come sunset hour. Serving up some of the best tapas and with one of the most memorable champagne sunset traditions, Maunday's Club is better than ever.
NOTE: Maunday's Club will open to guests who are "in the bubble" this month.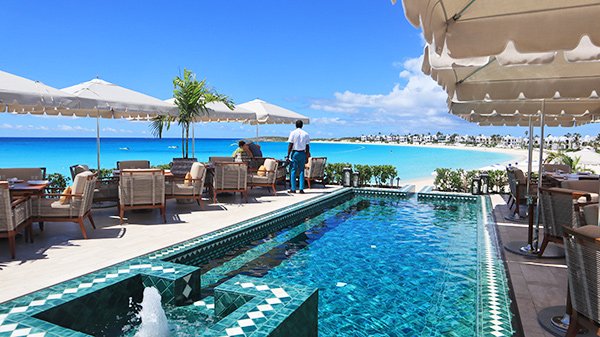 • Cap Shack: Set at the west end of Maunday's Bay, Cap Shack makes for an idyllic destination on a Maunday's Bay beach walk. The breezy spot boasts tremendous views of Maunday's Bay with luxurious loungers and dining areas. Come for a cocktail and a light bite after a walk on Maunday's picture-perfect shores.
NOTE: Cap Shack is open to guests who are "in the bubble" and guests who are outside of the bubble. For those dates, click here.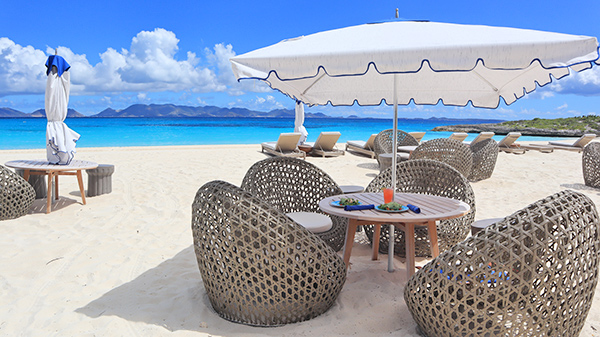 Scilly Cay: A one of a kind high-end dining experience, Scilly Cay is famous for its extra-tranquil setting. Set on its own private island off of Island Harbour, it is a paradise all its own. For lunch? Scilly Cay impresses again with some of the most fabulous lobster and crayfish in Anguilla!
NOTE: Scilly Cay is open to guests who are "in the bubble" and guests who are outside of the bubble. For those dates, click here.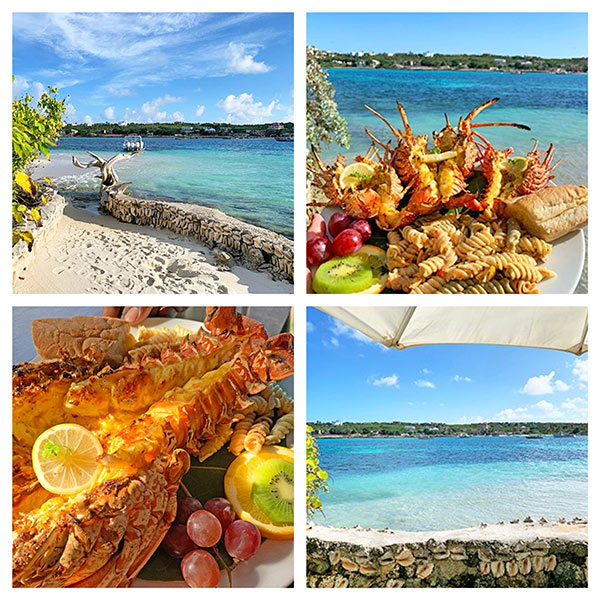 Julian's at Quintessence: Anguilla's first and only Relais & Châteaux, Quintessence Hotel and its five-star restaurant, JULIANS - A Tropical French Bistro set a high standard for fine dining. Perhaps one of the island's most posh and upscale restaurant, JULIANS marries sophisticated and classic elegance with creative and immaculately presented dishes.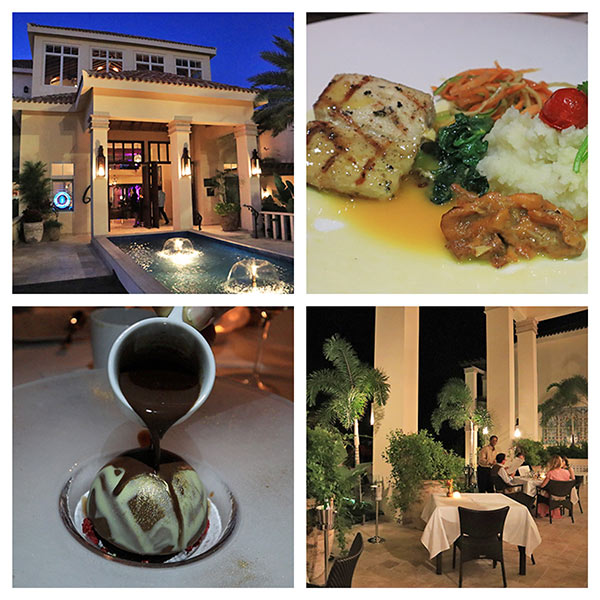 Island Bowls AXA: Island Bowls AXA brings fresh, tropical flavors right to your doorstep. This mobile company whips up fantastic non-dairy, all-natural fruity bowls of goodness with coconut milk, homemade granola and a variety of fruits and add-ons. So tasty and refreshing, call, WhatsApp or email for menu options and to schedule delivery.
NOTE: Island Bowls is open for delivery to guests both inside and outside of "the bubble."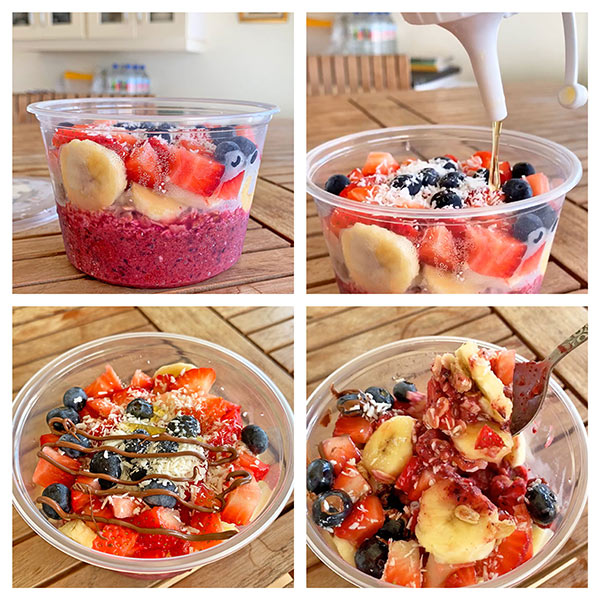 Waves: Set on the sands of Anguilla's pristine Meads Bay, wood-clad and painted blue and white, Waves blends right into the colors that define Meads Bay (its vibrant blue sea and bright-white sands). Its casual-chic ambience makes it the perfect choice for a relaxed bite on Meads!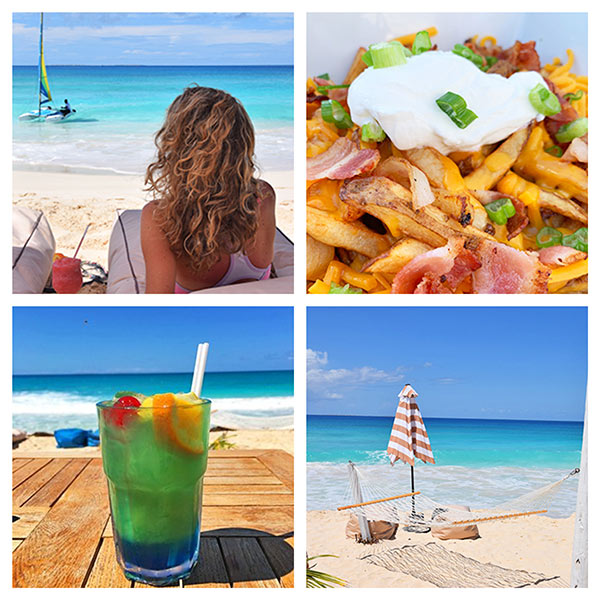 2Extreem Watersports: 2Extreem delivers the screams! For all things fun in the sun, 2Extreem Watersports offers a boat load of water tubes, waterskiing and even wakeboarding. Available at by-the-hour rates, it's a mustdo for thrill-seekers and families with kids!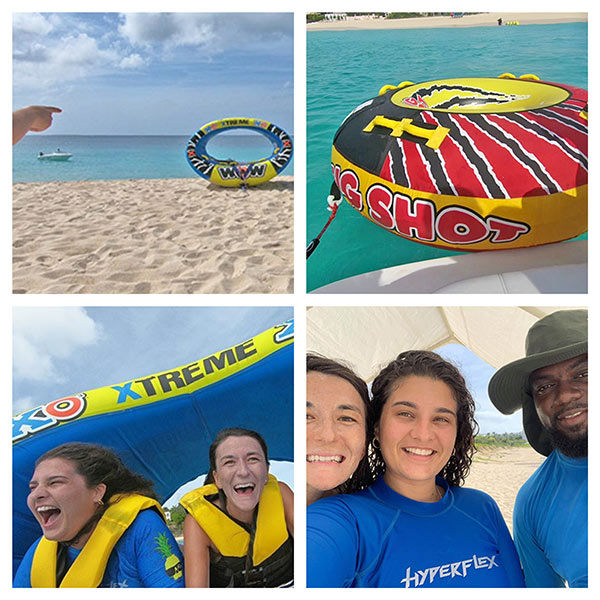 Nature Explorers Anguilla: Take a walk on the wild side and explore Anguilla's natural wildlife with owner/operator Jackie Cestero. Venture through Anguilla's wetlands as Jackie points out all of the island's native and migratory species. A wealth of knowledge, a day with Jackie is unforgettable!
NOTE: Nature Explorers Anguilla holds tours for "bubble guests" every Friday at Cap Juluca. Nature Explorers is also offering tours to "non-bubble" guests.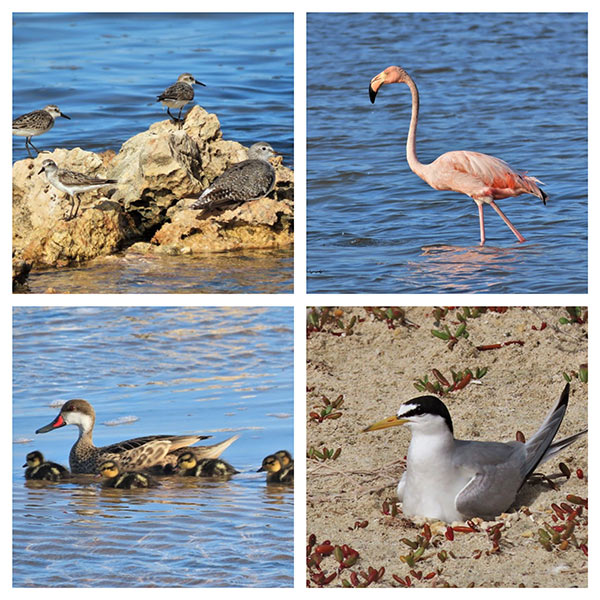 Tradition Sailing: An authentic and historic vessel true to its name, Tradition is a Caribbean sailing dream. Once a working ship, today, it is a picture-perfect Anguilla sailing charter offering everything from sunset sails, to evenings below heavenly Caribbean skies, to day trips to Prickly Pear and Little Bay. First-class hosts Captain Laurie Gumbs and Deborah Vos take care of your every need. They deliver an experience that is blissfully calm, totally indulgent and truly five-star.
NOTE: Private charters are available for both "bubble" and "non-bubble" guests.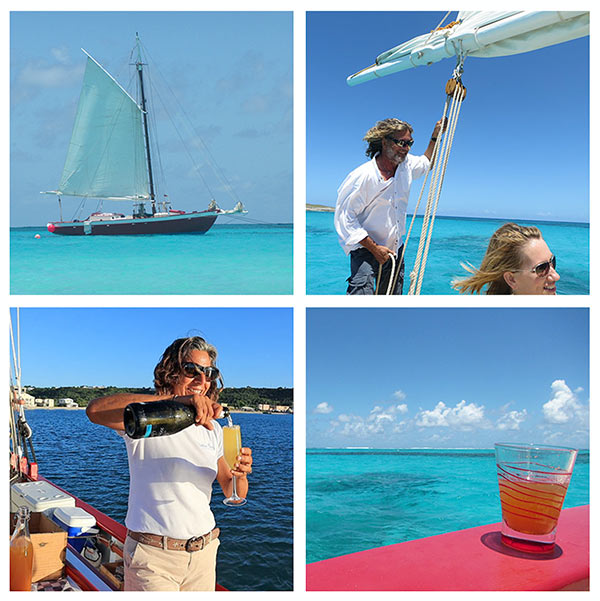 D&D Scooters and Car Rental: Ride around Anguilla in style with D&D Scooters! The ONLY spot where you can rent scooters on the island, there's nothing like venturing through Anguilla with the breeze blowing through your air. Owner, Desmond Mussington runs an excellent business and is the sweetest of guys. Happy exploring!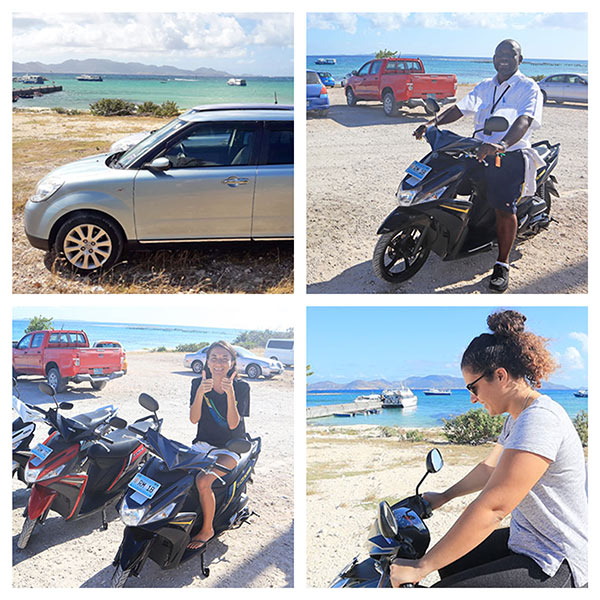 Anguilla Tennis Academy: With a top-class facility, the Anguilla Tennis Academy offers 6 beautifully maintained courts and friendly and experienced coaches who provide clinics, lessons, memberships and tennis camps.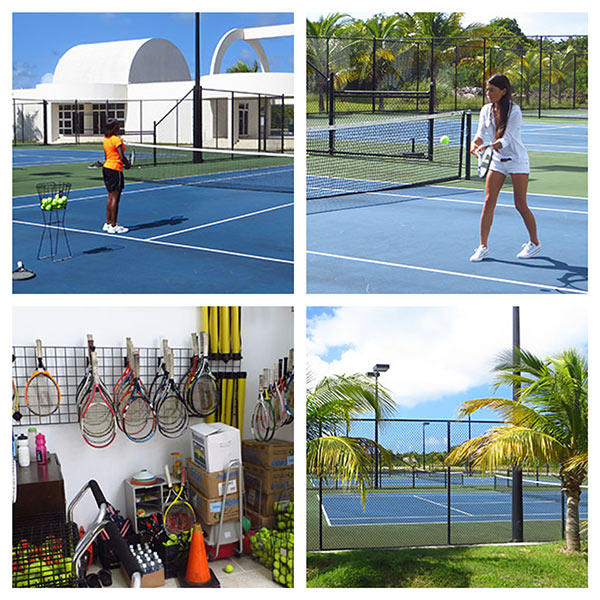 Kidz Kare Anguilla: All about keeping kids happy and safe, Kidz Kare offers babysitting services, nannies and mannies, and baby equipment rental of all kinds. Owned by Giselle and Merida, Kidz Kare is the go-to service on the island, used by the high-end villas on the island. The proof of their dedication is in their testimonials! For more, email Giselle at: kidzkareinfo@gmail.com
AnguillArts: Bringing painting parties to the beach, AnguillArts is one of the best ways to enjoy leisurely days in Anguilla. Settle into a seat by the sea, grab your beverage of choice and let Karen show you the way! AnguillArts makes for a fabulous way to spend a day at the beach and create your OWN Anguilla keepsake! Click here to book your paint party.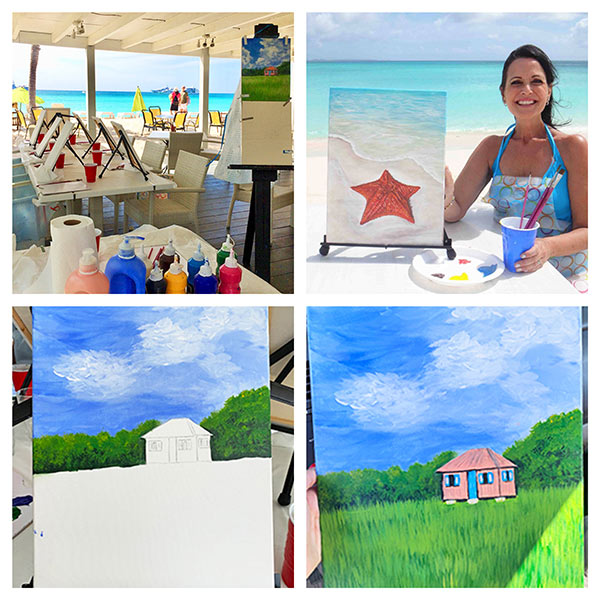 Grands Vins de France: offers the island's best selection of expertly-curated fine wines, champagnes and spirits. Open for delivery, in-villa stocking and in-person shopping.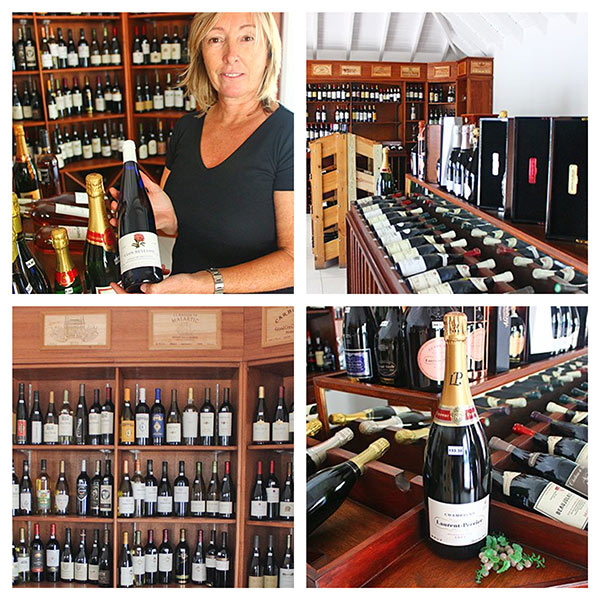 Devonish Art Gallery: Owned and operated by Mr. Courtney Devonish, Devonish Art Gallery celebrates art and artists of all kinds. Mr. Devonish's award-winning work is side by side with a variety of interesting and unique Anguillian and Caribbean pieces by artists from around the world, as well as his wife, Carrolle's beautiful beadwork.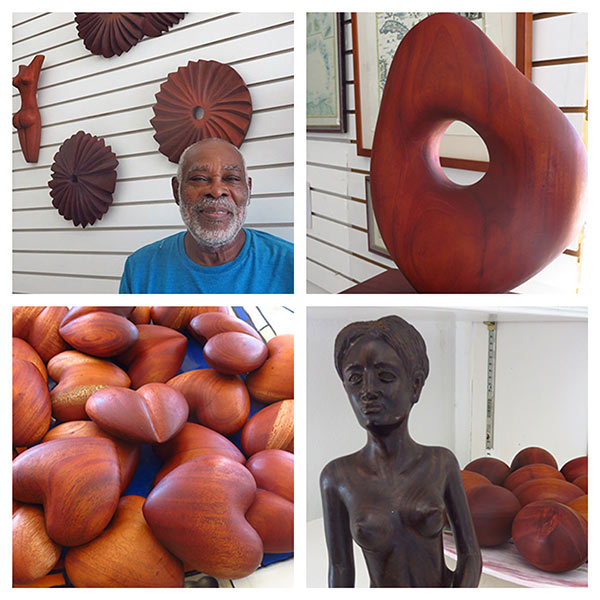 Lynne Bernbaum Art Gallery: One of Anguilla's most high-profile artists, Lynne Bernbaum's work is iconic. Her impressions of Anguilla have captivated the imaginations of many for years. Lynne's pieces adorn the walls of celebrity homes and high-end restaurants and villas around the island. From her market scenes, to her domino pieces, to personalized commissions of the Delicate Bar, Lynne's art is one of a kind.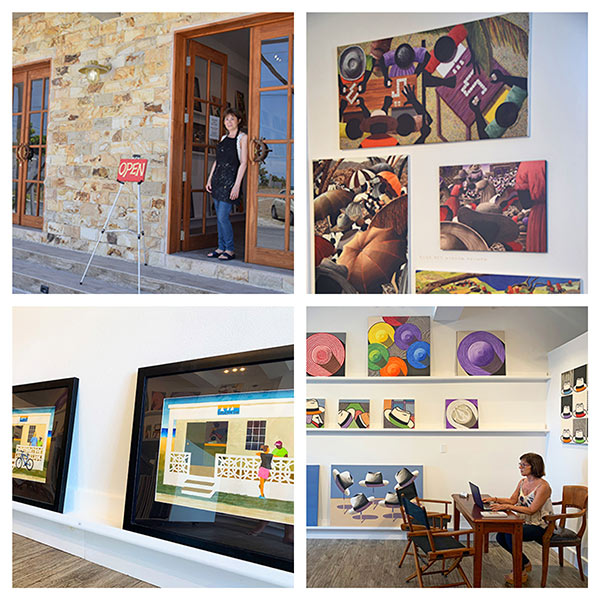 Limin' Boutique: Ken & Renee of Limin' Boutique have some of the sweetest Anguilla gifts and souvenirs. Anguilla totes and wine-bags made from Anguillian sail boat sails... bracelets, necklaces and ornaments made with sands from Anguilla... comfy Anguilla tees and long-sleeves... Ken & Renee never cease to amaze with their creations!
Note: Limin' is open for online orders only. For more on Limin', click here. To purchase, email: Liminboutiqueaxa@gmail.com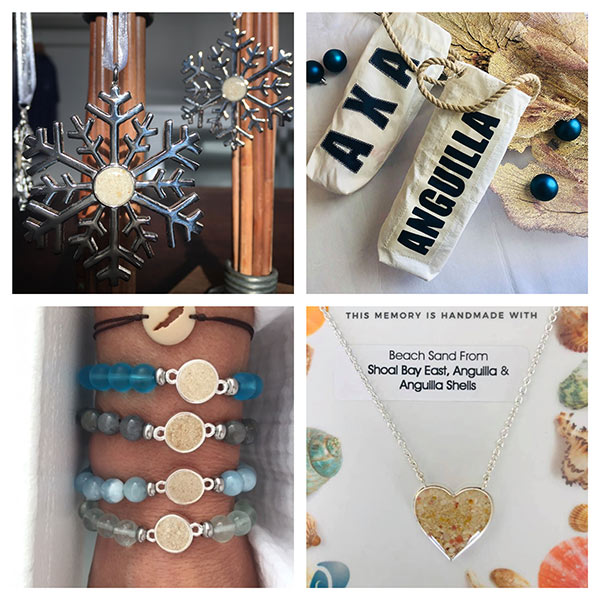 Petals Boutique: A one-stop shop for charming Anguilla souvenirs and chic beachwear, Petals Boutique answers every need! Pretty as a petal, this beautiful boutique features stylish wraps and dresses (perfect for Anguilla's warm weather), hand-crafted Anguilla pouches and tea towels, one-of-a-kind Anguilla tshirts, locally-made soaps and hard-to-find specialty souvenirs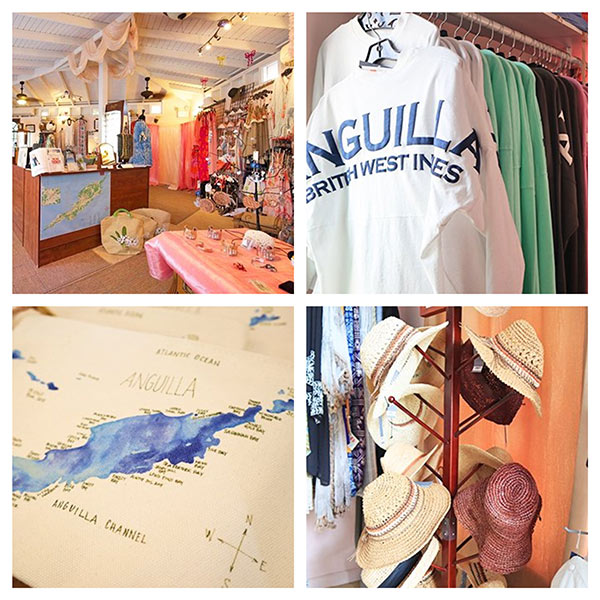 SeaSpray Boutique: Pam's charming boutique has the most special handmade Anguilla souvenirs and jewelry. Her hand-painted shot glasses and Christmas ornaments are a must-buy!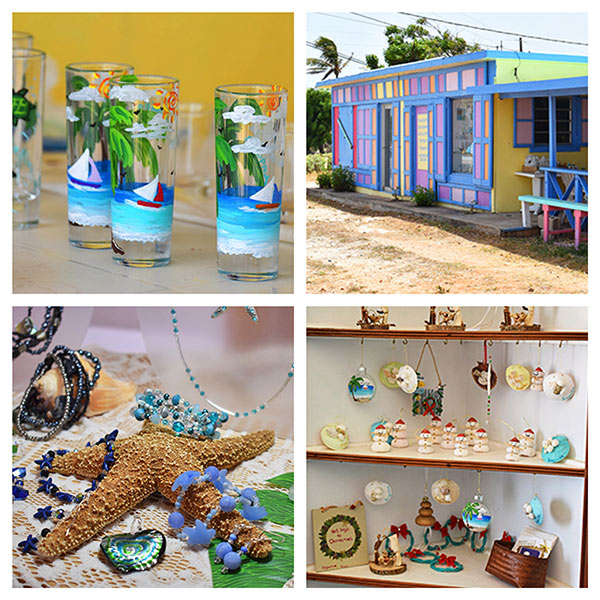 For the complete list of businesses currently open, click here.
---
Where to Stay: Ready & Approved For Winter Getaways
Tranquility Beach Anguilla
The perfect winter escape? Tranquility Beach Anguilla ticks all of the boxes and has been officially approved for stays this season!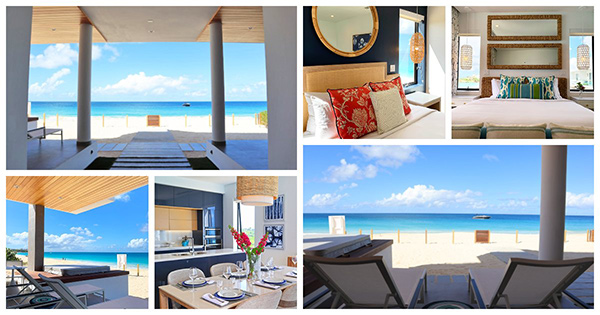 Tranquility Beach is the latest development by internationally recognized Property Developer and Architectural Designer, Ian "Sugar George" Edwards and a man with over 30 years in finance and real estate, Neil Freeman of Aries Capital.
The property is true to its name. Here, you are surrounded by the soothing sights and sounds of Anguilla's most coveted beach.
A mere stone's throw from some of the island's top restaurants, the property's location is unmatched.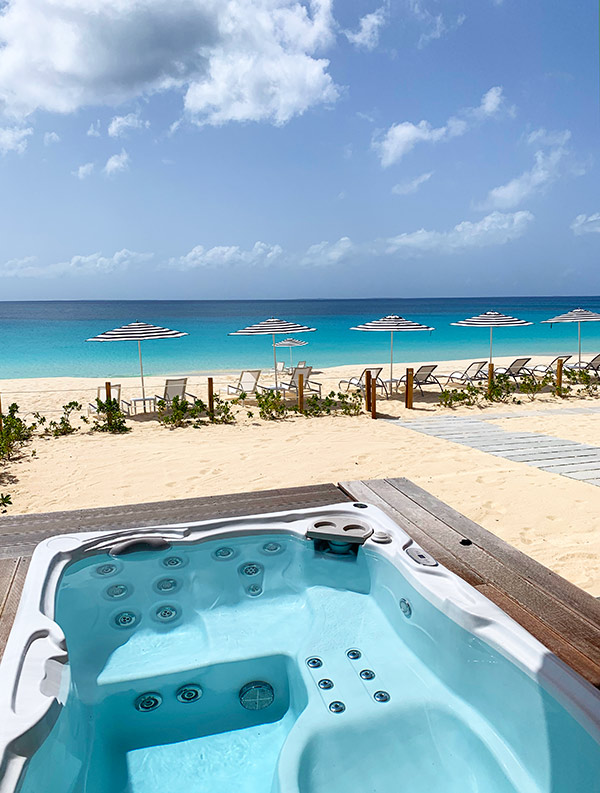 The setting goes hand in hand with superior design. Sugar George blends modern-cool with tropical-warmth.
For a total look inside Tranquility Beach Anguilla, and for a video of our stay at the luxurious property, click here.
Sugar George and Neil have truly outdone themselves!
Tranquility Beach's location, design and furnishings all combine to create a state of the art Meads Bay property.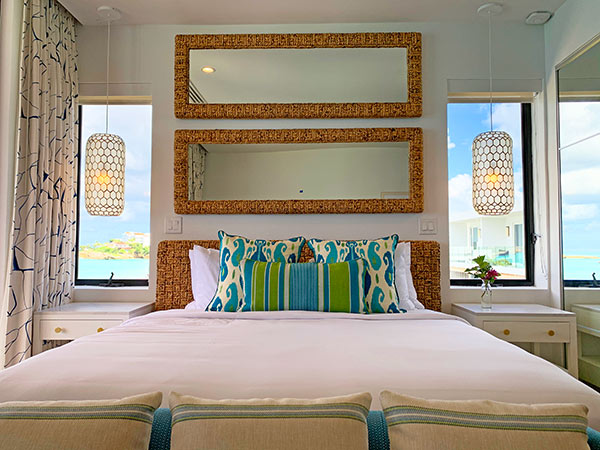 To book Tranquility Beach Anguilla, see below.
Book Tranquility Beach Anguilla
NOTE: Throughout the stay-in-place period, you have access to the hotel's sandy beach.
---
Beach Escape Villa
At Beach Escape Villa, tranquility is a shore thing.
Our family fell in love with Beach Escape Villa many moons ago, based on its location alone. A villa with chic beach house charm, Beach Escape is true to its name.
Set on secluded Sandy Point beach, at Beach Escape you are directly on sandy beachfront.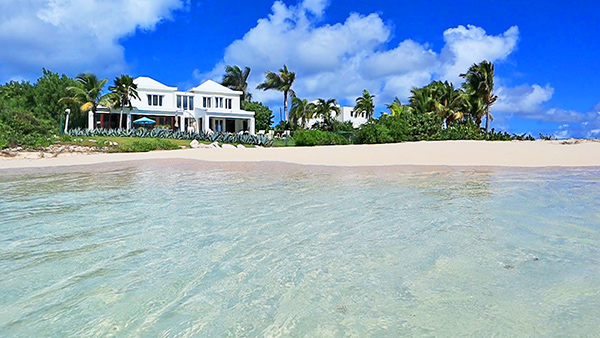 Beyond location, Beach Escape is one of the most comfortable and user-friendly villas in Anguilla.
Five bedrooms, plush media room, modern kitchen with outdoor cooking options and indoor and outdoor dining and lounging spaces span the villa's property. 
Two heavenly master suites are in the villa's main house, while two additional master suites and a twin room are in the guest house.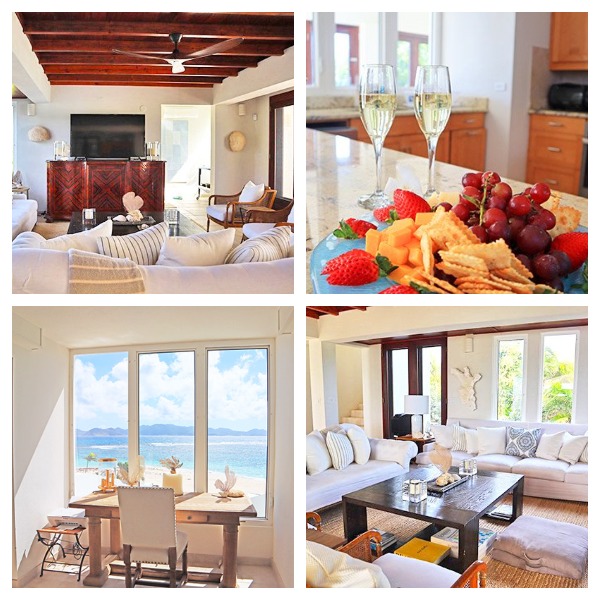 With direct beach access, grassy lawn, sandy front, Apple TV, SONOS, EVO grill, tropical landscaping, solarium-eque showers, oversized screened-in patios, luxurious outdoor couches…
Beach Escape is an ideal choice for a beach escape!
More on Beach Escape Villa
NOTE: One of the defining aspects to Beach Escape is its beachfront location. Throughout the stay-in-place period, you have access to the villa's sandy beach.
---
Long Bay Villas
Long Bay Villas is Anguilla's most elegant and iconic ultra-luxury villa! The property takes your breath away in three distinct ways: Sky Villa, Sea Villa and Sand Villa.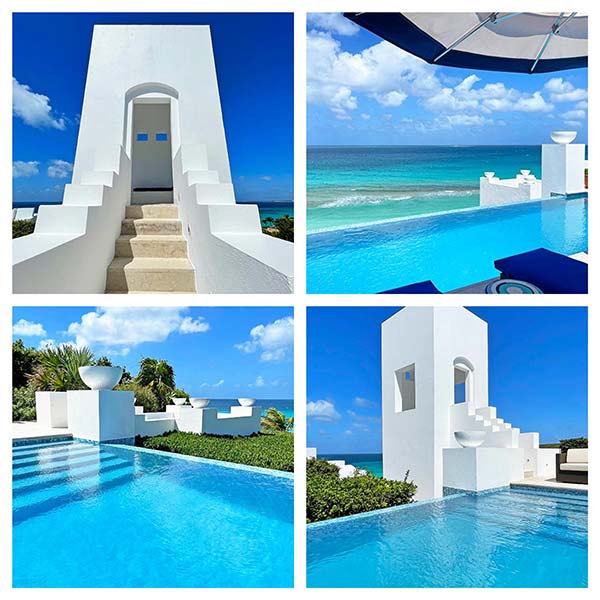 The estate's three stark-white villas tier down the lush hillside that slopes up from pristine and exclusive Long Bay beach. Each villa's unique setting emphasizes a different perspective of "Long Bay Blue."
Inside, the grand villas combine to boast 16 bedrooms with over 19,000 square feet of indoor/outdoor living space that can accommodate 33 guests.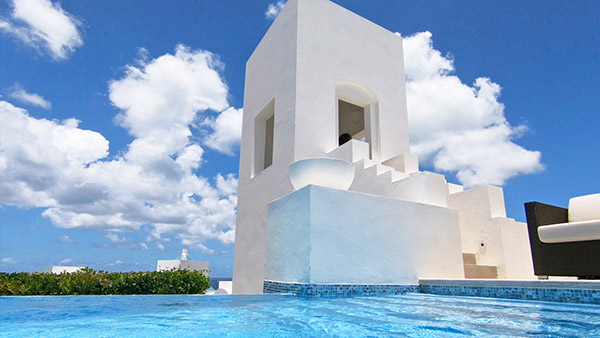 There is no spot more private or luxurious than Long Bay Villas!
Long Bay Villa is currently offering discounts off nightly rates for long-term stays.
More on Long Bay Villas
NOTE: Guests have direct beach access throughout the current stay-in-place period.
---
Santosha Villa Estate
Next door to Long Bay Villas lies the ultra-exclusive Santosha Villa Estate.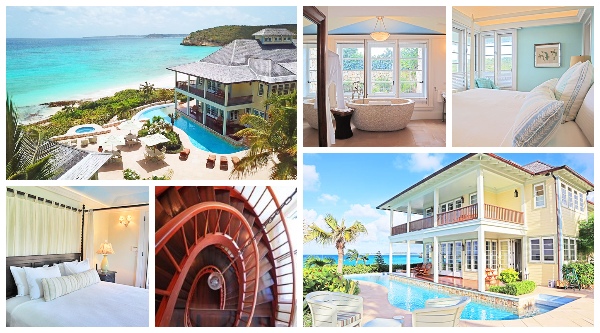 A 37,000 square foot West Indian-style estate, Santosha is of a bygone era. Its design is classic Caribbean, immaculately executed. A marked sense of relaxed sophistication washes over you as you walk through the nine bedroom property.
From regal crown moldings, to mahogany four poster beds, to antique sconces, louvre doors and double-paned windows, to the grand spiral staircase and wrap around verandas, each and every piece has been carefully designed. Each ornamental touch has been hand-selected for its specific place.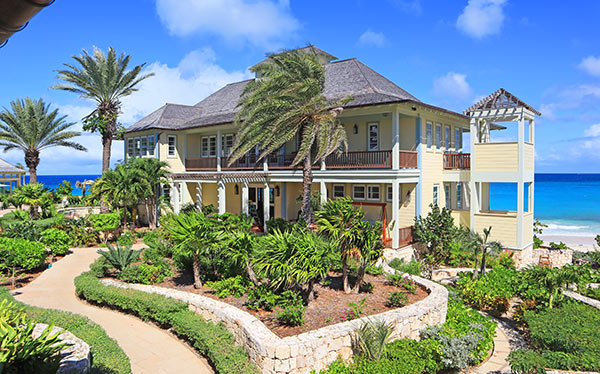 Sprawling across 4.5 lush acres and able to accommodate 23 guests, Santosha Villa Estate is Anguilla's most grand ultra-luxury villa.
Santosha Villa Estate is currently offering discounts off nightly rates for long-term stays.
More on Santosha Villa Estate
NOTE: Guests have direct beach access throughout the current stay-in-place period.
---
Long-Term Rentals From Jackie Pascher
Our good friend, Jackie Pascher at Island Dream Properties is holding staff training and getting her villas certified for occupancy according to Anguilla's new guidelines.
Jackie's collection of villa listings is unrivaled. She has a huge inventory of villas in all price categories! (For Jackie's villa rental listings, click here.)
Jackie also has villas available for long-term stays.
Peritwinkle Villa
One of the most popular Anguilla villa rentals, Peritwinkle's location in West End is unbeatable!
This two bedroom beach-style cottage features modern amenities, comfortable indoor and outdoor living spaces, a spacious kitchen, roof top deck and even a sparkling pool.
From location, to contemporary design, Peritwinkle shines and is a terrific deal for a long-term rental at $8,000/month.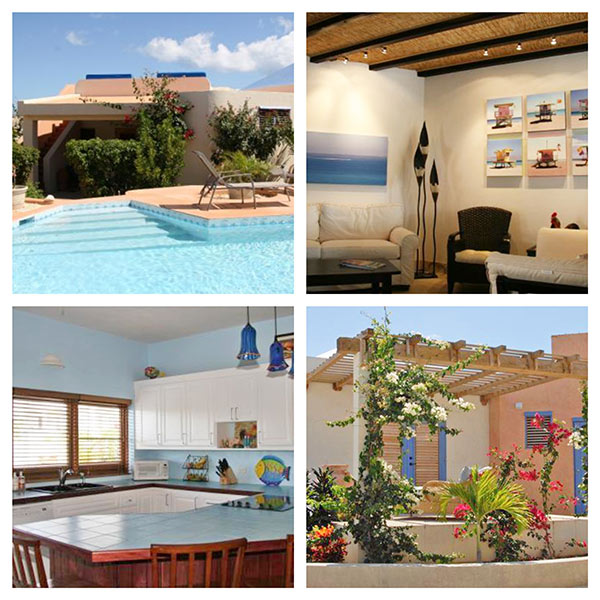 Sea Winds Villa
Set over looking the Caribbean Sea, Sea Winds is a tropical dream.
The three bedroom, three bathroom villa features a grand living space that opens to an expansive outdoor terrace. Complete with a large pool, modern kitchen and three luxurious and private suites, there is no better spot for an Anguilla retreat.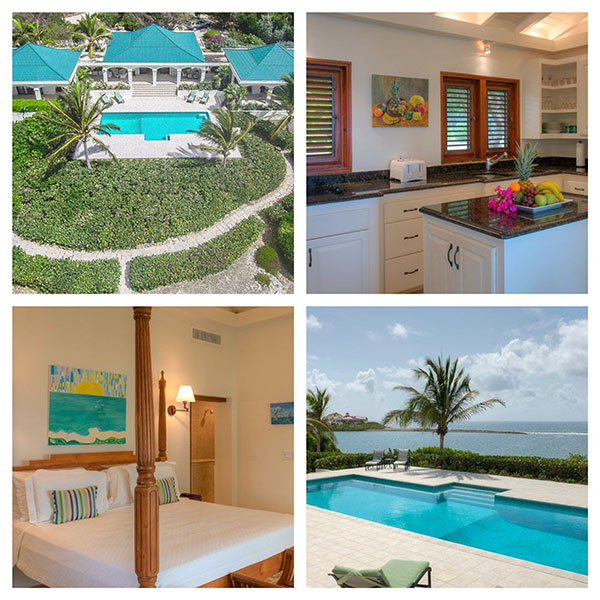 ---
More Approved Places To Stay
Anguilla Great House: Right on Rendezvous Bay's sandy shores, facing St. Martin, many choose Anguilla Great House for its combination of location and affordable price point. The hotel's units are modest and clean. No matter the location on the property, you're never far from the beach at Anguilla Great House. With a restaurant and pool on site, and dedicated service, Anguilla Great House has it all. For details and to book, click here.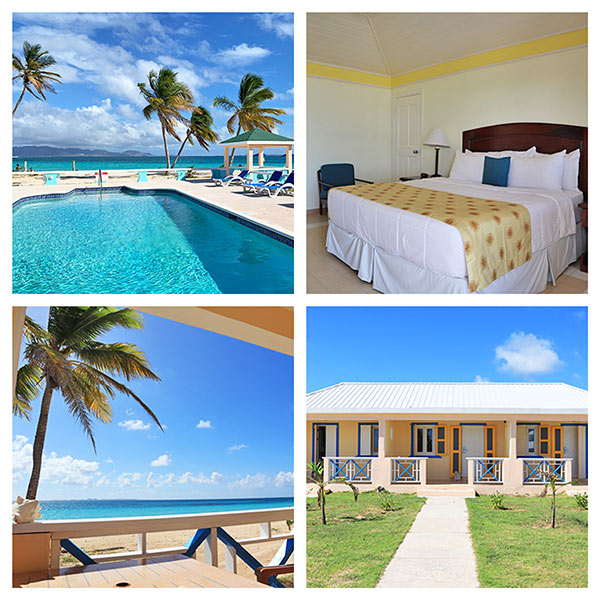 Nevaeh Villa: One of Anguilla's premier ultra-luxury villas, Nevaeh marries Balinese "zen" with Anguilla tranquility. It is an oasis of calm. Eight plush bedrooms with ensuite, oversized living and dining areas, impressive tropical pool (that tiers into a second pool) and multiple amenities (including home theater and golf simulator) all make Nevaeh a top choice for a relaxing escape. For details and to book, click here.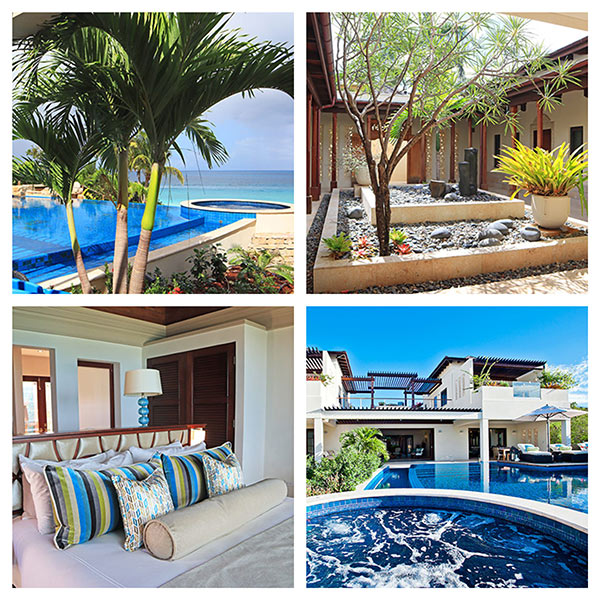 Ocean Terrace Condos: Set on the island's south shore overlooking St. Martin, St. Barths and the clear Caribbean Sea, Ocean Terrace Condos offers all of the comforts of home for reasonable rates. A terrific option for long-term stays (2 weeks+). For details and to book, click here.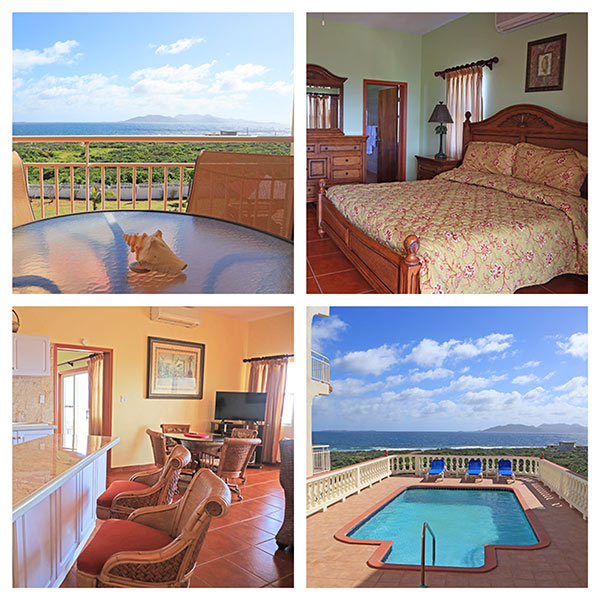 Sandcastle Villa: The Beach House: One of the most unique villas in Anguilla, Sandcastle Villa: The Beach House sits directly on the sands of Limestone Bay. If you are looking for a modern, chic, private villa on the beach, THIS is it! The villa opens into an oversized central living, kitchen, dining areas with expansive sliding windows on three sides. Three bedrooms are set behind the central room. The views simply take your breath away. For details and to book, click here.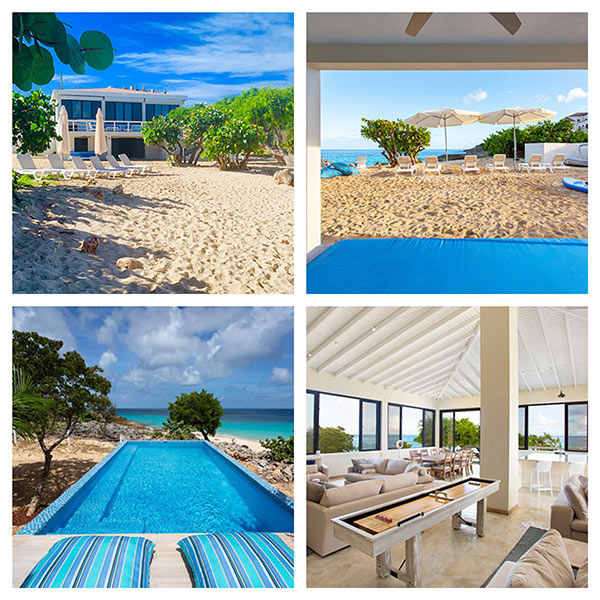 Sandcastle Villa: Sandcastle Villa is a castle on the sand... Limestone Bay's treasured sands to be exact. The beachfront villa boasts 10,000 square feet of outdoor and indoor living space. Inside, the kitchen, living and four bedroom suites are all oversized, spacious and bright, complete with the most luxurious finishings and touches. Outside, Sandcastle Villa impresses all over again with lavish outdoor living areas and peaceful "zen" escapes. This is the villa for grand villa living! For details & to book, click here.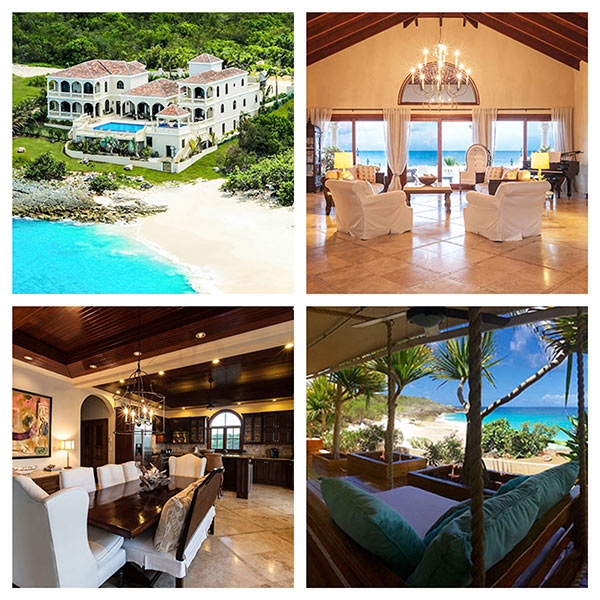 Spyglass Hill Villa: A four-bedroom luxury villa, Spyglass Hill Villa offers sweeping views of Sandy Ground below, a spacious deck complete with pool (overlooking those dramatic vistas!), a modern kitchen and warm-Caribbean design and touches. For details and to book, click here.
Tequila Sunrise Villa: Fun, sun and tequila!... Tequila Sunrise Villa is one of the most high-value villas on the island. With 3 master suite bedrooms, a spacious living/kitchen/dining area, an outdoor deck (with an infinity edge pool!), sweeping views of St. Martin and the Caribbean Sea, modern finishings, unlimited Patron Silver, a daily breakfast and turn down service, owners, Robin and Joel have thought of it all! For details and to book, click here.
Turtle's Nest: One of the most popular hotels in Anguilla, you don't have to look hard to see why! Turtle's Nest boasts one of THE best locations in all of Anguilla. This contemporary hotel is right on the shores of Meads Bay. Its spacious, bright units gaze right out to the beach's dazzling sea. Inside, the units are modern and equipped with every convenience of "home." With excellent service and even a pool, it hits every high note! For details and to book, click here.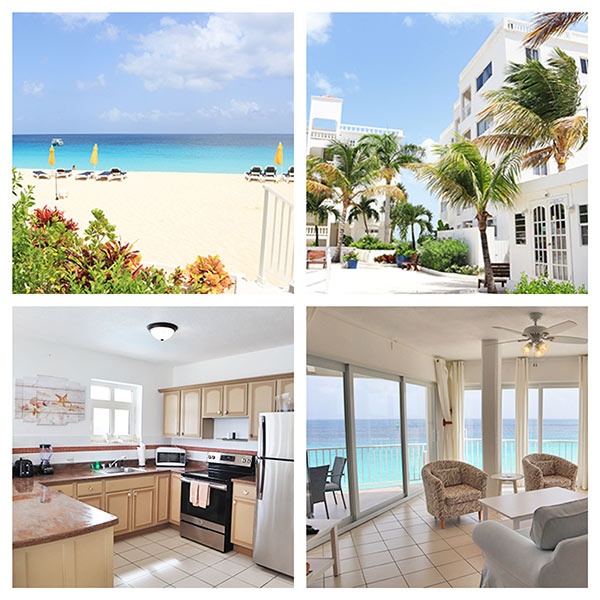 Twin Palms Villas: Twin Palms Villas has one of the most desirable locations in Anguilla… Meads Bay! Just a two minute stroll to the beach, Twin Palms also offers all of the comforts of home. Their comfortable villas blend Caribbean warmth with a Cape Cod-esque beach house feel and design. For details and to book, click here.
---
Thinking of a Much Longer-Term Stay?
Our friend Jackie Pascher has some excellent real estate deals!
Her latest listing?...
Triton House - $790,000
Triton House is an absolute gem and a steal of a deal for its location alone!
Right at the water's edge in the Sea Feather's neighborhood, you can't get closer to the ocean than this. The two bedroom home boasts a vivid view of Caribbean blue and St. Martin.
That's not all! Living is easy at Triton House. The villa is all one floor with three wrap around porches, three bedrooms and two bathrooms.
Click here to look inside Triton House.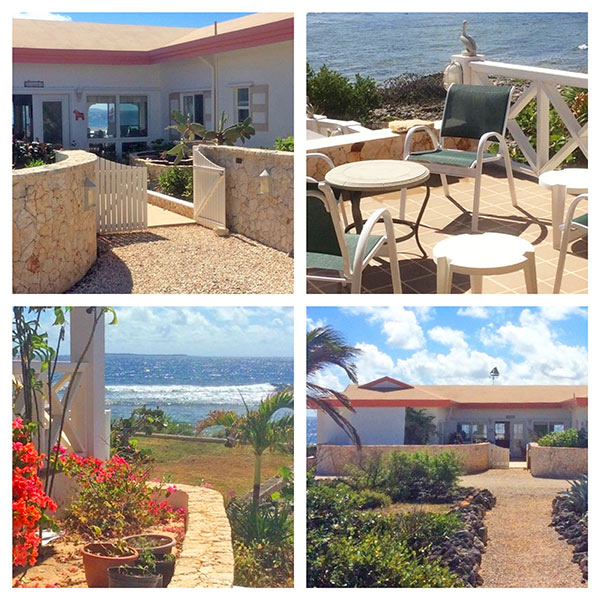 ---
Anguilla Card Update
Due to COVID-19, the Anguilla Card will be offered again in 2021. We will keep you posted as Anguilla fully re-opens.
Thank you so much for all of your support over the years. Here is to a calm and bright 2021 💖✨🏝
---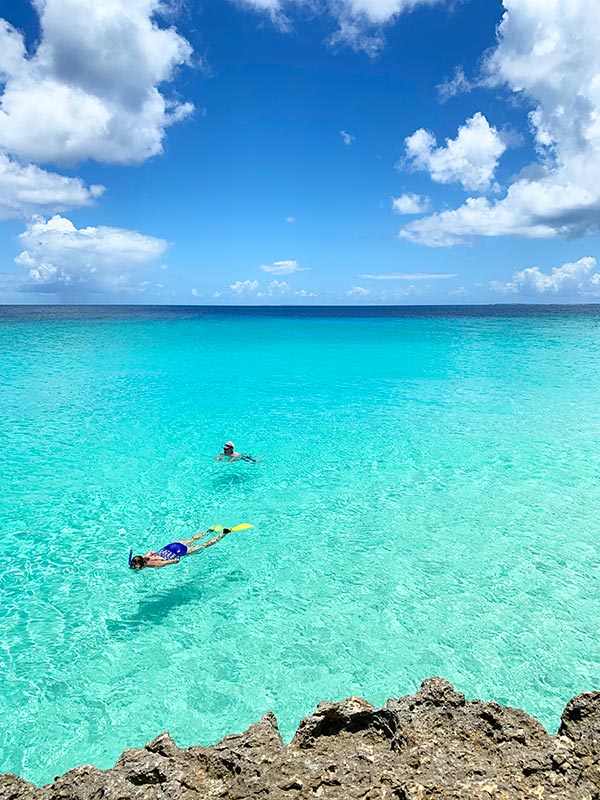 ---
That is all for 2020! We can't wait to SEA you in the New Year.
Until then, wishing you and your family a holiday season filled with peace & tranquility,
Nori & Louise
---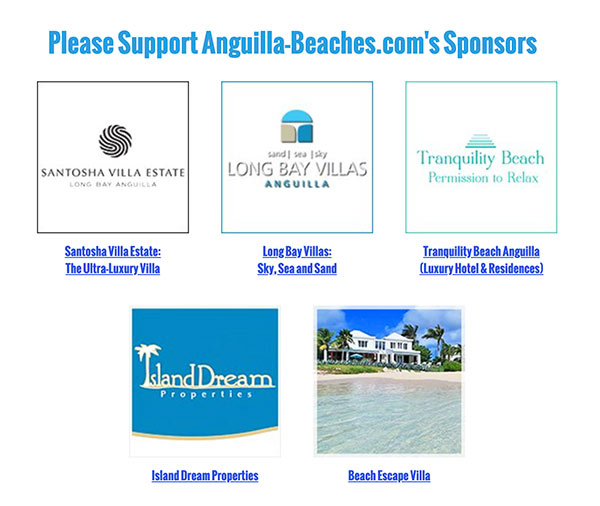 ---
Anguilla-Beaches.com