Traveling to Anguilla During COVID-19
By: Amie of L'Embellie Villa
For several years I have been heading to Anguilla once or twice a year. Easy as pie - hop a flight in Toronto, pop out in St. Martin 4.5 hours later, and sip a rum punch while I wait for my charter to pop me over to Anguilla. This year . . . Not so much. After having not one but two flights cancelled, I realized we were in a whole different ball game.
The Adventure
First up, I needed to apply to visit Anguilla on one of their new tourist passes. There were several to choose from, based on length of stay, reason for visit (business or escape), and number of people in your party.
I was traveling alone for business, and I wanted to stay longer than the quarantine, so I qualified for the single business entry at $400. The visa included two COVID tests (one upon arrival and one post-quarantine), security check ins at my chosen villa, and the assistance of what Anguilla calls their Visitor Concierge.
I submitted the first part of the application form, and in just a matter of hours heard back from Diane at the tourist office. She took me through the steps of the application:
I had to be able to produce a COVID test 3-5 days old upon entry
I had to have proof of health insurance that would include COVID-19 related treatment
When I arrived in Anguilla I would need to take a COVID test
After the test, I needed to be escorted to an approved accommodation for 10 days from a low-risk country (like Canada) and 14 if coming from a high risk country.
Once the quarantine was over, I would be able to frolic about the island mask-free. Imagine the world returning to normal in just 10 days! I was all in.
If only the flights were so easy! Due to fewer and fewer people travelling, I had two direct flights cancelled and ended up having to fly through the United States and stay overnight.
Fortunately, Diane also warned me that St. Martin now required a COVID test and an application as well, even for visitors just transiting through the airport.
I drove to Toronto and took a private COVID test at FH Health since my local options were running around 10 days for results. The test cost $159 and the results were guaranteed by midnight if you took your test before noon.
It could not have been a smoother transaction at FH Health. I was in and out in under 3 minutes and I didn't touch a single surface. The test was just weird, not uncomfortable in any way - they were clearly experts in administering them.
The Journey Begins
The results came through before midnight and I was away! I went to the eerily-empty Toronto Airport, where they were very strictly limiting the people entering to ticketed passengers (not entire extended families like we usually see in the airport.) After checking my bag I took a digital temperature test, then got into a well-spaced line up for COVID friendly security. There were limited stores and restaurants open but things were mostly normal but underpopulated.
I found a quiet spot and submitted my application to St. Martin with my newly-minted COVID results, sent the results on to Diane (who had all my other documents already) and then headed out.
I flew American Airlines who were very good about keeping contact low. There was limited service: business class received a beverage but Economy had to request beverages if they needed one.
Again, the low volume of flyers made the Miami airport a fast transaction - baggage came promptly and so did the Uber driver. At the hotel, I printed off the certificates I had gotten from St. Martin and Anguilla while in flight and settled in to wait.
In the Miami airport Wednesday morning I started to get in the big line up with the crowd but as soon as they heard I was going to the Caribbean I was ushered into a much shorter line. They checked all my paperwork for St Martin, then put me in the short luggage line and I was on my way. The airport was very lightly populated as it had been the day before - it was easy to find a table away from everyone to work at.
The flight itself felt very safe in spite of being totally full. Everyone was masked, disinfection happened frequently, and all the passengers seemed interested in being safe too. Nobody wanted to miss their chance to get to paradise!
Inside St. Maarten's Airport

At St Martin, they were no longer smushing as many people into the airport busses as possible: as soon as the bus was half full it pulled away to take the first round of passengers around to the immigration line, leaving about 2/3 of the plane to wait.
Once inside the terminal, I was again in the short line since I was in transit and not staying in St. Martin. They checked my Anguilla paperwork, and then sent me on to wait in the almost-empty airport while they got my luggage.
Three off us took the bus out to Anguilla Air where they planes were waiting on the tarmac. It was a fast 10-minute flight over and again everyone was masked.
The Arrival
Once we had landed, Public Health was on hand before I even entered the terminal, standing by with a digital thermometer. After clearing the temperature check, next up was the COVID swab, a few questions about how I was feeling, and then off to Customs.
Arriving in Anguilla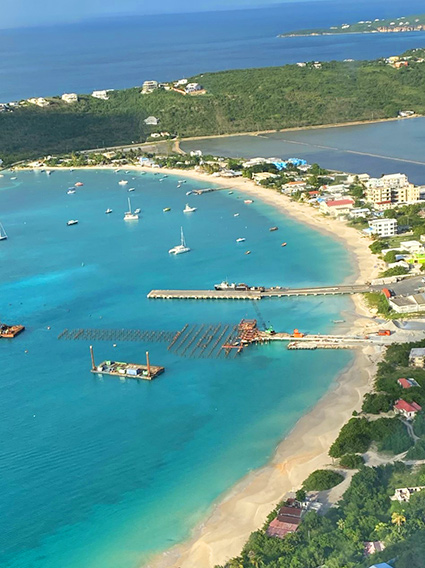 After Customs, it was out to wait for an approved taxi (at the time of writing there were four companies on island who were approved), and then a short ride to L'Embellie Villa, my Stay in Place accommodation.
It's one of the approved villas that Public Health had certified prior to my arrival. You can see the list of approved villas and hotels here.
The villa itself was fitted out with masks, gloves, sanitizing wipes and antibacterial soap.
Because of the quarantine, the property manager couldn't be on hand to orient me, but we did a virtual call and it was easy to settle in.
Since I was being quarantined, I had ordered my groceries ahead of time and they were all unpacked and put away. I was provided with a list of when the pool person and groundskeepers would be appearing, and advised to stay in the villa at those times to limit contact.
The private security guard, hired by the villa, checked in on my from across the parking area, and then waited while I locked up the villa for the night.
Day 2
The day began with a visit from the same private security guard L'Embellie hired to check on me. All villas are required to do this during the quarantine. The day continued with a call from Public Health, confirming my details, where I was staying, and when my quarantine would end.
Arriving at L'Embellie Villa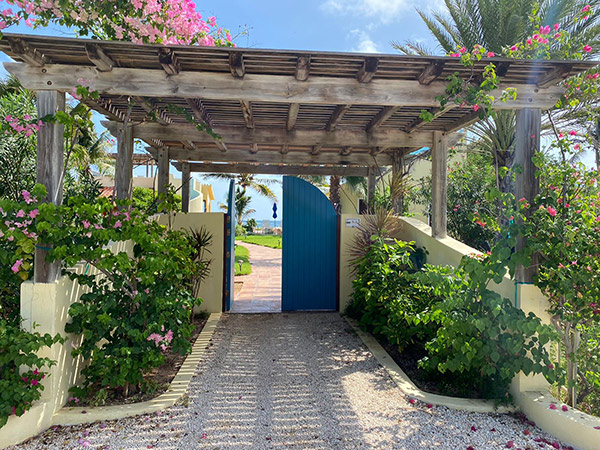 Next, a visit from Public Health officials, confirming my name and asking how I was feeling. I even got my picture taken to pass around to other officials so everyone would know I was the right person when they came to check on me.
Later in the day, the constabulary stopped by, with two police officers checking my details and making sure everything was comfortable at the villa.
Finally, at dusk, another check in from the private security guard, and all was well.
That was it for official guests - thankfully Brenda Fox, the property manager, had designated a drop spot by the garden cottage, and a few other visitors dropped by to help me get settled in at the property, with food and office supply delivery. Each time it was the same - the delivery person would arrive, drop the goods off, then give a cheerful 'honk honk' from the parking area to let me know they had been there. Contactless delivery is very much embraced on the island.
Day 3 and ongoing
By the third day of quarantine, a rhythm emerged that has continued throughout the quarantine. The private security guard checked in twice, Public Health checked in again (this time with a temperature check) and the police came morning and evening, but at all of them at deliberately random times.
I'm currently in Day 5 of my quarantine but I can't see much changing. The friendly check-ins that I thought would feel intrusive actually feel welcome. The warmth and friendliness Anguillians are known for come through even on the official visits, and everyone greets me with a warm smile and an honestly-interested-question about how things are going and if I find myself in need of anything.
For repeat visitors to Anguilla, many of those old standbys that you can't visit are coming to you. Grand Vins du France delivers for orders over 6 bottles, Geraud's Pastry has a full quarantine friendly menu he will drop off, I've had deliveries from The Pit Stop, and there is even a couple of delivery services doing everything from groceries to gifts to office supplies. It's not Amazon and Uber Eats but it is absolutely everything you need to stay more than comfortable.
Was it stressful getting all the details right coming down? It could have been, but Anguilla's visitor concierge was a great concept and they definitely hired the right person for the job: no question was too detailed for Diane and she provided very timely replies to each email.
Was it worth the stress? The first sight of Anguilla's turquois waters immediately erased all memories of hardship. The island breezes have been blowing warm and welcoming since I arrived and the secluded beach and plenty of checkins have made me feel more than safe.
For me, I'm following the advice of the Zac Brown Band and Jimmy Buffet:
"Gonna put the world away for a minute
Pretend I don't live in it
Sunshine gonna wash my blues away."
If anyone else is wondering if it is worth the time and effort, I would urge you to try. Anguilla feels like the safest haven left on earth.
Total Tranquility Wrapped in Blue