Sea Spray...
Pam's Sweet Boutique & Smoothie Spot
By: Louise Fayet
Keep your eyes peeled for Sea Spray Boutique as you pass the Sandy Ground round-a-bout! Painted pretty pastels, Pam's souvenir and smoothie shop is worth the stop.
Welcome to Sea Spray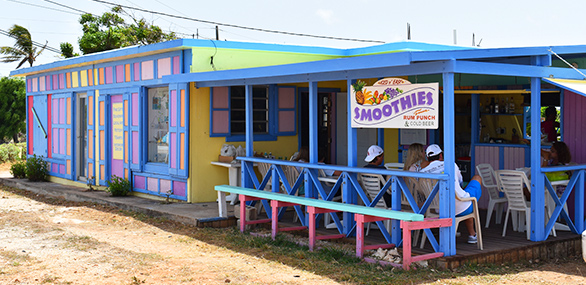 Meet Pam Miller
Meet Pam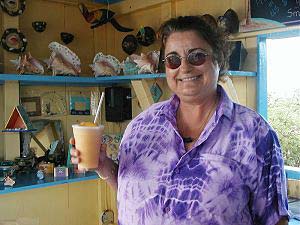 Originally from Wisconsin, Pam swapped snowy winters for warm Caribbean waters many years ago. She sailed the Caribbean for 9 years, working on board as a nurse.
After nearly a decade of stepping foot on every Caribbean island, Pam was ready to settle back down on land. Of all the different islands, Anguilla called to her the loudest. It soon became her home.
Settled in paradise, Pam decided to pursue her passion. She always had a flare for crafts and found herself inspired by Anguilla's charm.
Pam's Sweet Hand Painted Shot Glasses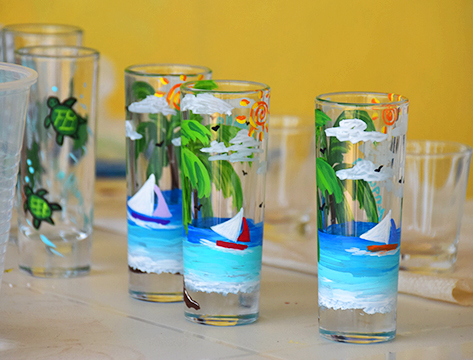 She began creating gel candles, Christmas ornaments and painted shot glasses, all adorned with sweet tropical touches. It wasn't long before everyone took notice of her sweet Anguillian souvenirs. Cap Juluca, Scilly Cay, and the former Bartlett's became big customers.
It was obvious. Beachy art was Pam's calling. She loved meeting new people and helping visitors. So, opening her own shop was the natural next step.
Step Inside Sea Spray
In 2008, fate struck. The boutique once known as Bartlett's was up for sale. Pam immediately took over the shop. Her aim? To create a space that reflected her happy and colorful personality. "I want people to be filled with joy the moment they walk in," she said one afternoon when we dropped in.
Pam has accomplished exactly that. Everywhere you look something colorful and cute catches your eye.
Inside Sea Spray

Sea Spray features beachy wall hangings, paintings, postcards, t-shirts and jewelry inspired by the sea.
Pretty Jewelry Display at Sea Spray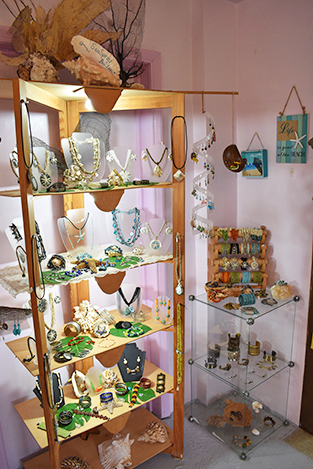 Pam's jewelry selection is one of the best. Whether you prefer a simple look...
Sea Glass Pendants & Blue-Beaded Bracelets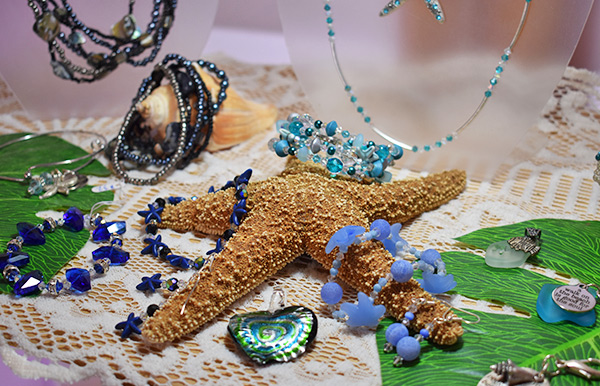 Or if your taste is more extravagant, Pam has something for everyone.
Pearl & Shell Jewelry Set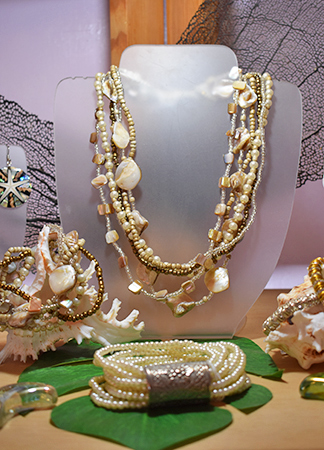 Pam makes her own jewelry with local shells and sea glass, too. It is the perfect gift for anyone who wants to carry a piece of Anguilla everywhere they go.
Pam's Necklaces & Bracelets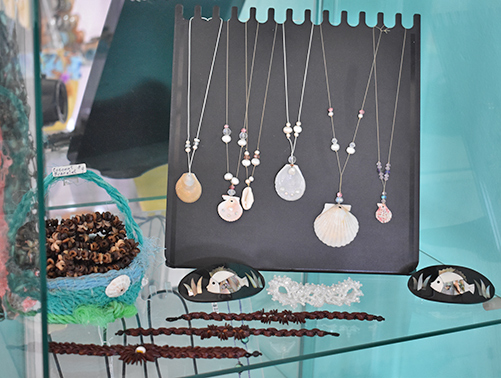 Perhaps most famous of all are Pam's spirited Christmas ornaments. Her hand painted tropical glass balls and sea urchin snowmen are two of the most popular items.
Christmas Ornaments by Pam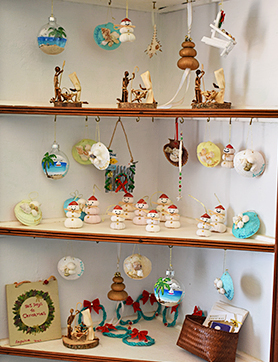 Sea Spray features other Anguilla artisans, including...
Locally Made Lotions & Candles by Caribbean Soaps & Sundries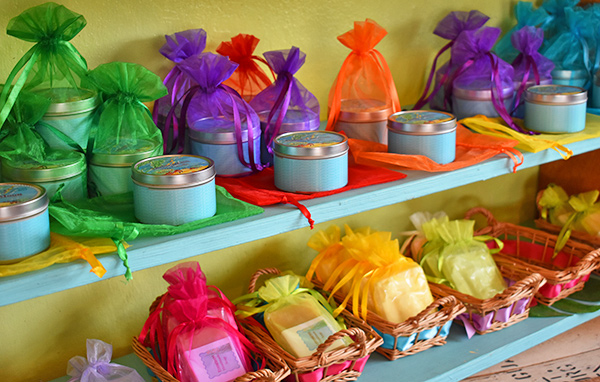 Anguilla's Jammin's Jams & Hot Sauces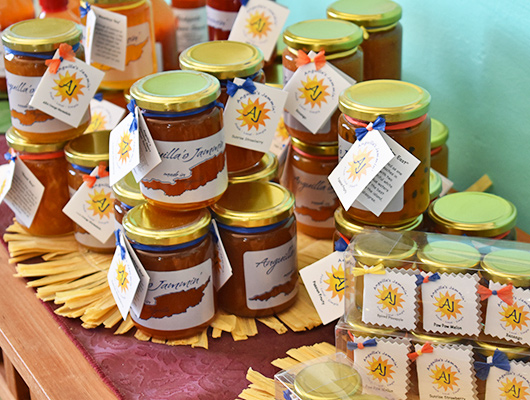 That's not all. Pam is a friend of AARF, too. To support our animal rescue foundation, ask Pam about the AARF shirts and hats on display.
Sea Spray is truly a one stop shop for everything Anguilla!
Smoothies To Stay or Go
Last by not least? Either on your way in, or on your way out, keep cool and grab one of Pam's signature smoothies.
Sea Spray Smoothies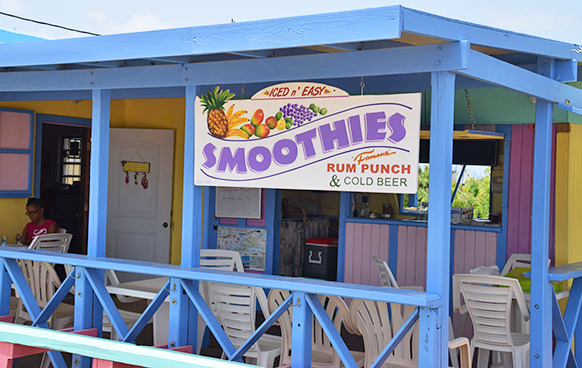 Pam's smoothie menu is fun and fruity, loaded with Caribbean flavor. Favorites include the Tropical Wave with banana, guava and peach, and my personal favorite, the Wildberry Beach.
Wildberry, Pineapple, Passionfruit Smoothie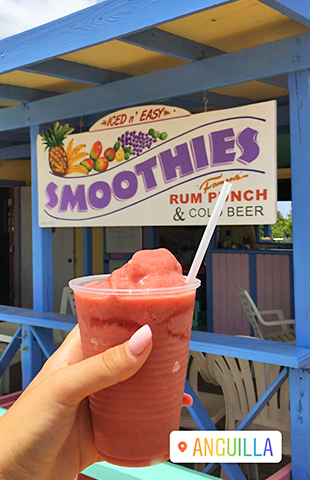 Pam also whips up a mean and potent rum punch. Have one to stay, or buy a bottle to take to the beach.
But for the full Sea Spray experience? Sip and stay and hang with Pam! She's a great conversationalist, and don't be surprised if you catch her in action, painting the next sweet souvenir at Sea Spray.
Directions, Hours & Contact
Sea spray sign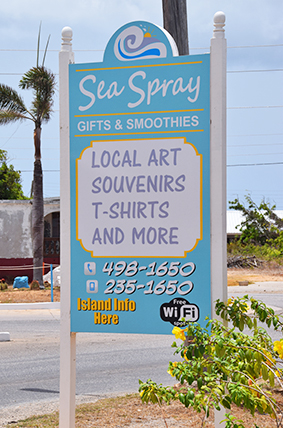 Directions: Keep your eyes peeled for her pastel painted sign near the Sandy Ground round-a-bout. If you are coming from West End, it is on the right side of the road.
Hours: Monday-Saturday 10am-5pm.
Tel.: 264-235-1650 or 264-498-1640