Anguilla Shopping and Smoothies
Update: Barlett's Boutique is now known as Sea Spray Boutique. More on Sea Spray Boutique here.
Bartlett's used to be near Irie Life, on the back road overlooking Sandy Ground. It featured sharp souvenirs, clothing, selected art pieces and more.
Only one problem... it always seemed to be closed. Disappointing, since it offered an interesting Anguilla shopping experience.
Recently, though, we noticed that they'd moved and improved!
And... they were open! Better still... they were open every time we passed by.
Whenever the words "Anguilla shopping" are involved, my Dad loses the vote 3-1! So we stopped for a look-see.
The New Store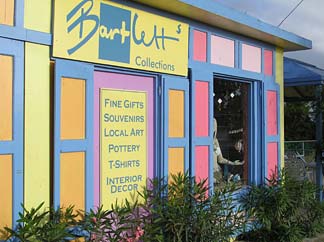 Lynn and Calvin Bartlett's new Anguilla shopping souvenir haven is situated in a classic old building by the Sandy Ground round-about. It has a brand new, fun and funky, Caribbean look.
The challenge was to match the promising exterior with equally fun Anguilla shopping inside! And...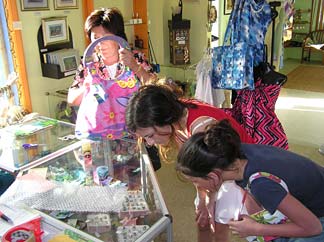 Sure enough!
Outstanding local artwork.
Jewelry of all sorts.
"Super souvenirs" (crafty ashtrays, shells, etc.).
Furniture, knick-knacks, and handy pieces for around the house are also found here.
There is so much unique and interesting merchandise to marvel at.
Naturally, a serious shopper could work up quite a thirst. Luckily, Lynn and Calvin thought this one through too.
Smoothies and Shopping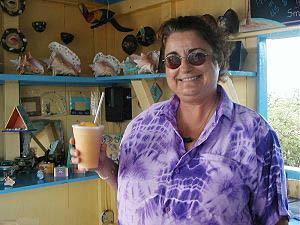 Pamela Miller (the lady who runs the smoothie-shack attached to Bartlett's) makes refreshingly good fruit smoothies and outstanding (I wouldn't know, but supposedly) mixed drinks too.
I'll let you know on another trip if the rum punches were up to scratch -- my Dad was too busy sucking back smoothies! (That's right, my Dad turned down a rum punch, for a fruit smoothy! They're just that good.)
So on your next trip to the island, watch for this unique "experience at the roundabout." They're the only place providing a refreshing Anguilla shopping/smoothie combo experience!

UPDATE: Great news! Pamela has taken on the entire shop that used to be Barlett's.
Now she owns and operates (located in the same spot at the Sandy Ground roundabout) what is now called, Sea Spray Gifts and Smoothies!
Sea Spray's Sign at the Sandy Ground Round-about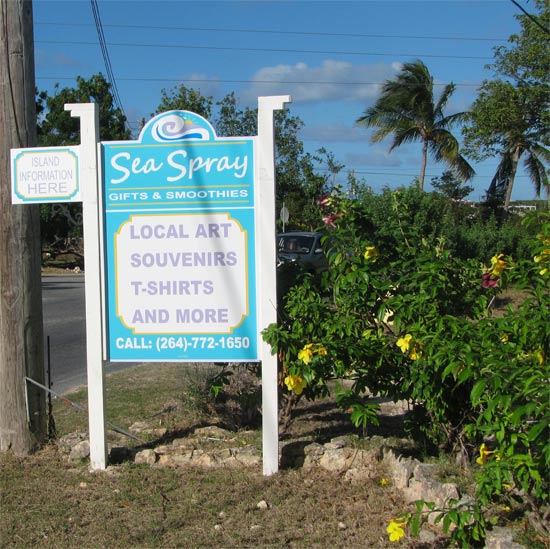 If you had been in to the Bartlett's store and visit now, you will notice Pamela's enhancements.
There are still very lovely gift options, beautiful sarongs, souvineer t-shirts (inlcuding those that support AARF, Anguilla's Animal Rescue Foundation). In addition you will find some great books and creative locally-themed decorative items.
The smoothie stand just outside the shop still produces delicious as ever, refreshing smoothies. On my last visit, they were priced at $6 (for a virgin) and worth every penny.