---
Combing Anguilla's Beaches for the Best
Anguilla Beach Lovers brings you the latest additions to one family's experiences of the "best of all things Anguillian."
If you like this e-zine,, please do a friend a favor and "pay it forward."
If a friend did forward this to you and if you like what you read, please subscribe by visiting...
---
Year 6 of The Anguilla Card is HERE!
We have been hard at work gearing up for Year 6 of the Anguilla Card! The 2020 Anguilla Card brings 19 NEW partners who offer terrific value. This year's Card also features the most relaxing Anguilla beach scene...
Let's Rendezvous 🤗✨
Before diving into "who's new" on the Anguilla Card this year, a huge thank you to all Card Holders for your support. You, along with our Site Sponsors, provide the budget that allows us to keep this newsletter and website going, and to keep bringing more Anguilla Blue to you on social media. It isn't cheap losing equipment to the sea, salt and sand 😉💗🏝
NEW to the 2020 Anguilla Card is...
Top-Rated Beachfront Hotel
Turtle's Nest Beach Resort on Meads Bay
Restaurants
Cafe Celeste at Malliouhana
Bar Soleil at Malliouhana
Leon's at Malliouhana
Pimms at Cap Juluca
Cip's by Cipriani at Cap Juluca
Maunday's Club at Cap Juluca
Cap Shack at Cap Juluca
Lit Lounge
Island Bowls AXA
Luxurious Beach BBQs
Lobster BBQ at CuisinArt
Beach BBQ at Cap Juluca
Affordable Rental & Ultra Luxury Villa
The Junior Suite in Blowing Point
Nevaeh Villa on Long Bay
Activities For Fun Under The Sun
Fitness by CuisinArt
D&D Scooter Rental
AnguillArts
2Extreem Watersports
Award-Winning Art Gallery
Lynne Bernbaum's Art Gallery
To purchase your Anguilla Card, click here.
Who is brand new to the Anguilla Card this year?...
---
Turtle's Nest Beach Resort
Welcome to the Anguilla hotel that ticks all of the boxes!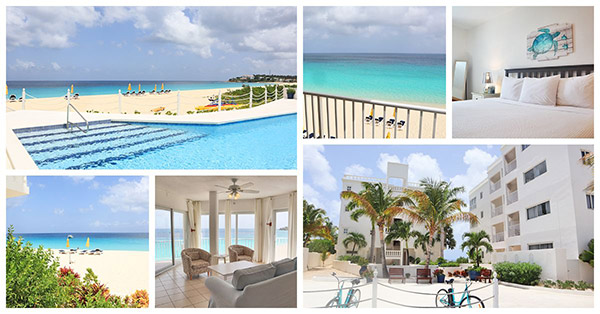 An Anguilla condo complex, Turtle's Nest's units boast all of the comforts of home, if home was right on beautiful Meads Bay. Rounding out its contemporary units and stellar location? A sparkling-clear pool and reasonable rates.
Yes, Turtle's Nest consistently brings home rave hotel reviews!
Right on Meads Bay, the setting is a dream. Meads Bay's sand gently angles toward pure, luscious turquoise water that stretches for as far as the eye can see. From Turtle's Nest, Leon's at Malliouhana, Blanchards, Blanchards Beach Shack and Jacala are a 10-15 minute walk to the east. Head west and the iconic Straw Hat Restaurant is right next door.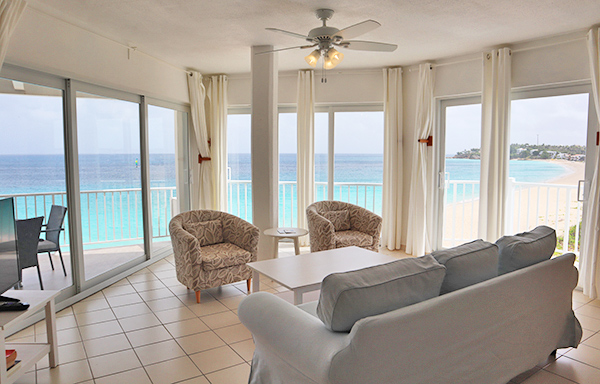 Did I mention the view from the rooms? It is one of Anguilla's top affordable hotels for good reason!
More on Turtle's Nest Beach Resort
To purchase your Anguilla Card, click here.
---
Cafe Celeste at Malliouhana
For decades, Malliouhana's restaurant set the pace for high-end cuisine in the Caribbean. The restaurant opened in 1984 under the two-starred Michelin chef, Michel Rostang. Chef Rostang brought an unprecedented level of French-Caribbean fusion to the region. If you wanted the best, you came to Malliouhana.
Today, that superior standard of cuisine has returned to Anguilla's Grand Dame, at the hotel's signature restaurant, Cafe Celeste.
Executive Chef Jusman So boasts an impressive resume. Prior to arriving in Anguilla, Chef Jusman took Southeast Asia by storm. Named "Best Rising Chef" in Singapore and having established one of the country's most popular restaurants, Sage, Chef Jusman is a famous name in the region.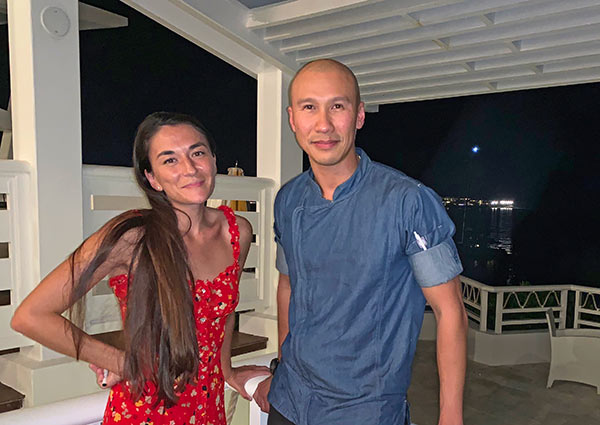 To best settle in for a night of Chef's exquisite cuisine? Begin with one of Malliouhana's signature cocktails.
Cafe Celeste's menu is tight. Inspired and thoroughly thought-through, Chef focuses on conceptualizing and executing sophisticated dishes to perfection.
Appetizers include smoked wahoo pâté, grilled octopus, local conch tiradito, lobster ceviche, along with salads of burrata and garden greens. When it comes to starters, the saltfish and mini Johnny cakes are highly recommended.
Chef packs his saltfish dish with loads of flavor! Saltfish is mixed with tomato ragu, confit peppers and thyme, and served with three crispy mini Johnny cakes.
Another beautiful dish is the blackened shrimp salad.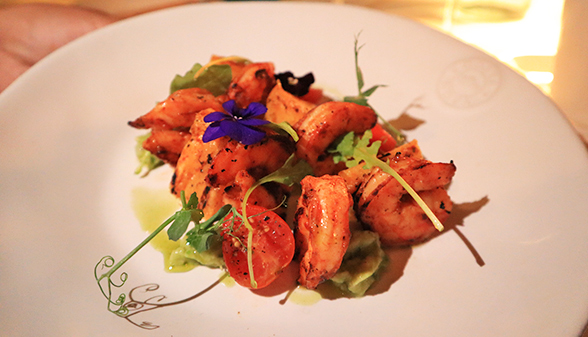 One of the prettiest dishes we have ever seen! Grilled shrimp is complemented by sweet grilled pineapple chunks, cherry tomatoes, pine nuts and arugula. The flavors work perfectly.
Next are a selection of entrées. Our "main" favorite?
These short ribs are heavenly. Cooked for 16 hours, the ribs are as tender as can be. With the touch of a fork the meat effortlessly falls apart. The stack of boneless ribs rest on mashed eddoes, a tropical oriental vegetable. To tie the dish together? Baby carrots and the tamarind jus.
Finally, dinner at Malliouhana is not complete without a sweet treat and a digestif.
The warm Valrhona chocolate tart is pure delight for any chocolate lover, and the Coconut-Banana Rock is an absolute must-have!
Luscious banana ice cream is encased with a rich, coconut-dusted chocolate shell. Garnished with passionfruit coulis and salty peanut nougatine, this dish is fun and yum.
More on Cafe Celeste
Click here to purchase your Anguilla Card.
---
Bar Soleil at Malliouhana
Malliouhana is known for its sensational sunsets! Perched high on dramatic cliff-top, the resort offers a breathtaking view across Meads Bay and to the horizon. This view is one of the many reasons why Malliouhana's bar is an iconic spot.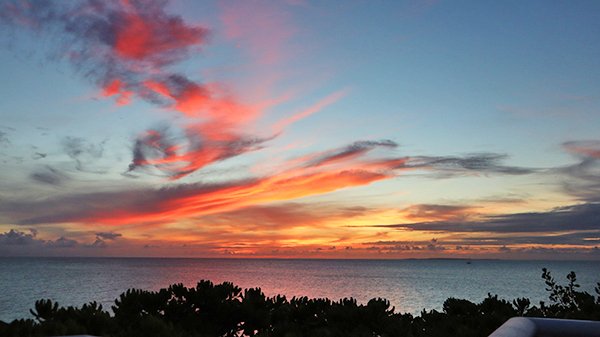 The second reason? Its fabulous cocktail menu!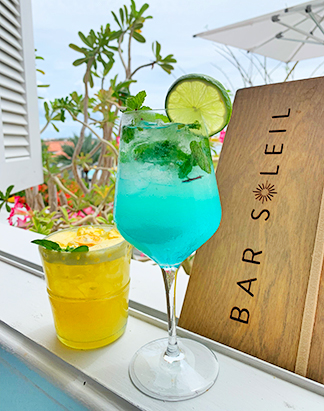 In addition to serving up creative cocktails, Bar Soleil serves lunch daily. The menu features a selection of dips including a Smoked Eggplant Dip, decadent burgers and zesty pita sandwiches of blackened shrimp and crispy fish. Come sunset? It is taco time...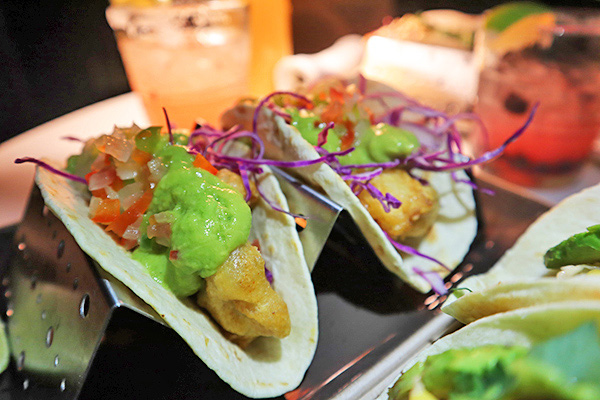 Whether unwinding on a scenic, chic lunch or indulging in those sunset views, a visit to Malliouhana's Bar Soleil is breathtaking.
More on Bar Soleil
---
Leon's Beach Bar at Malliouhana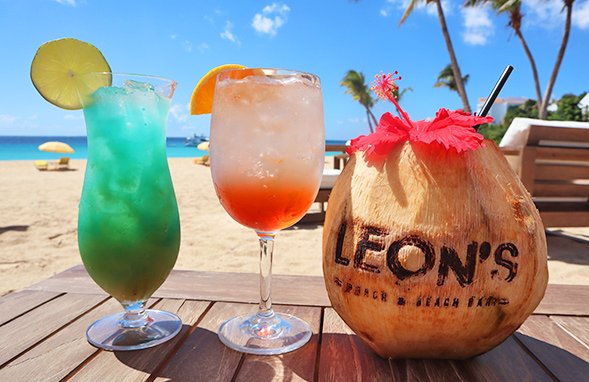 You may remember Malliouhana's old "Pirate Ship" restaurant where children would splash and play all day in the mini amusement park while parents enjoyed an elegant beachside lunch. The restaurant and water playground closed years ago to great dismay. We have missed it every day... that is, until now!
Finally, the beloved beach spot is BACK! Welcome to Leon's Beach Bar.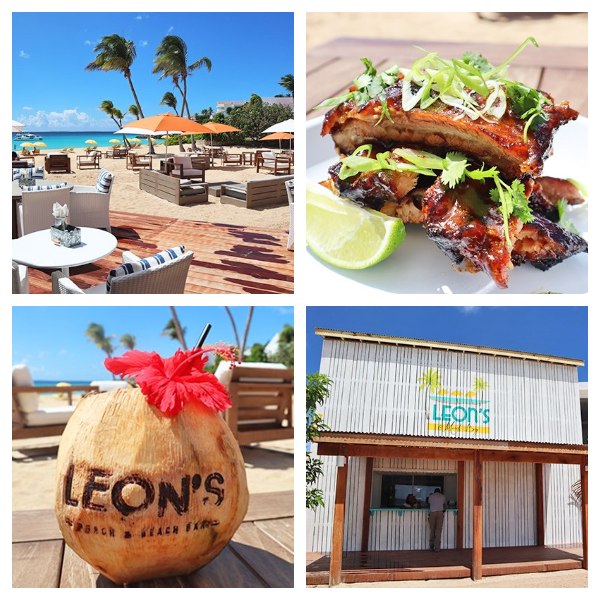 Right on Meads Bay, between Malliouhana's hotel and Carimar, Leon's has one of the best settings on the beach.
This chic beachfront spot is home to THE most photogenic cocktail on the island (photo above), and one of our NEW favorite burgers. The Johnny Cake Jerk Burger is nearly impossible to beat!
Malliouhana has done a stand-out job. The team has modernized this Anguilla favorite, pushing it to new heights. With a stellar location, reasonable prices and so many eye-catching cocktails and dishes, Leon's is sure to be one of the most popular beach restaurants in Anguilla - yet again.
More on Leon's
---
Pimms at Cap Juluca
On an island known for its atmospheric fine-dining, "What is the most romantic Anguilla restaurant?" is a difficult question to answer. Any list, however, would be incomplete without Belmond Cap Juluca's Pimms.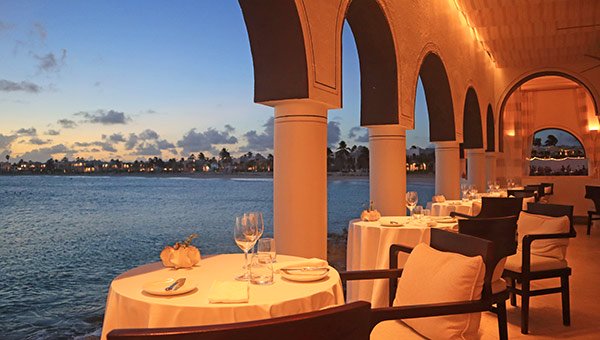 Pimms sits on an exclusive peninsula that extends from the resort's beach, Maunday's Bay. Protruding into the Caribbean Sea, it boasts a vivid view of some of Anguilla's clearest, most turquoise waters. Come nightfall, Pimms' atmosphere is in full "breathtaking" effect.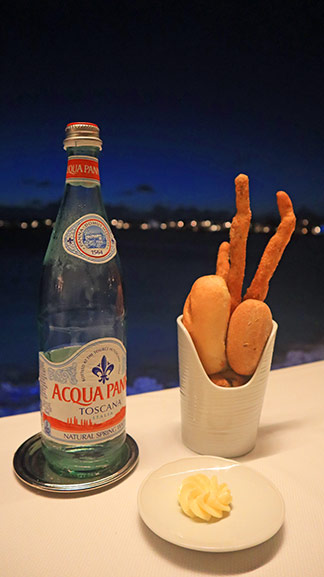 The menu features contemporary creations such as lobster bisque with ink and chive, duck with foie gras and rotating nightly specials (the lobster in seaweed butter sauce is pictured below!).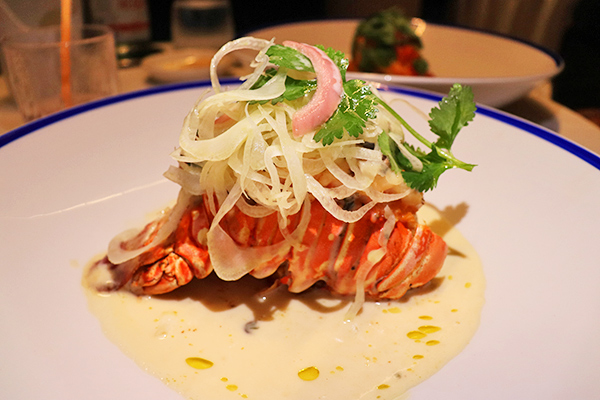 Pimms answers the call for world-class dining with a most intimate oceanfront setting.
More on Pimms
To purchase your Anguilla Card, click here.
---
Cip's by Cipriani at Cap Juluca
Cip's by Cipriani is Cap Juluca's nod to the Belmond's Italian sister property, Belmond Hotel Cipriani. At Cip's the ocean surrounds you, Italian eats delight, and elegance and charm are in every detail.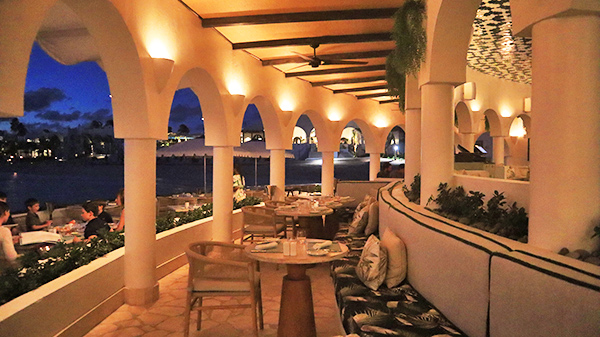 The menu features Italian "antipasti" of beef carpaccio and octopus salad, elegant pasta mains of aubergine gnocchi and linguine with Busara sauce and "second piatti" of veal, snapper and items from the grill.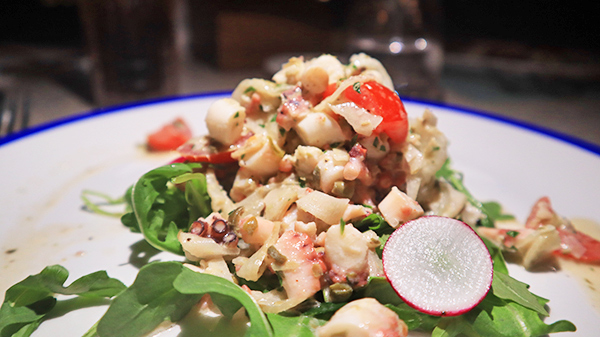 Dinner is not complete without an Italian classic, tiramisu!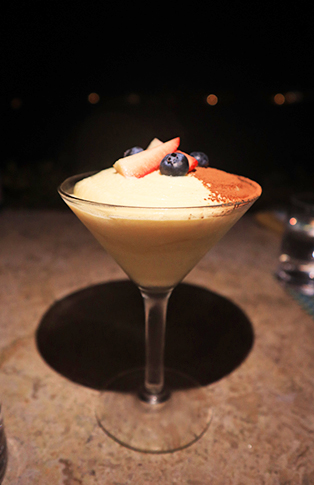 More on Cip's
---
Maunday's Club at Cap Juluca
Maunday's Club has forever been a favorite for its elegance and its blue views. As the sun illuminates the beach's powdery-fine sands, Maunday's Bay's blue water sparkles in the distance. Delightful cocktails and tasty bites are served to your plush seat by the sea. It is a recipe for perfection.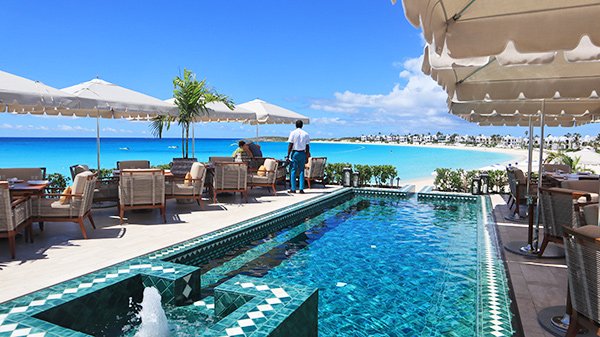 Step inside Maunday's Club and you are whisked into an old fashioned dream.
Belmond excels in blending vintage charm with modern luxury. Maunday's Club's bar is a definitive example. Dressed in deep greens, with a black marble bar and strips and touches of gold throughout, it is both romantic and sophisticated.
The theme continues outside with the most enchanting addition to the entire Belmond property, Maunday's Club's emerald pool. An idyllic setting for refreshing cocktails!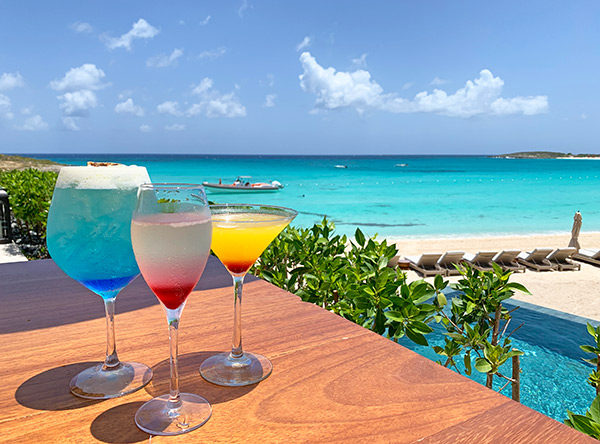 What's on the menu? Chef Cesar Landeo brings authentic Peruvian flavors to Maunday's Bay. The Crispy Shrimp With Andean Cereals is a must-have!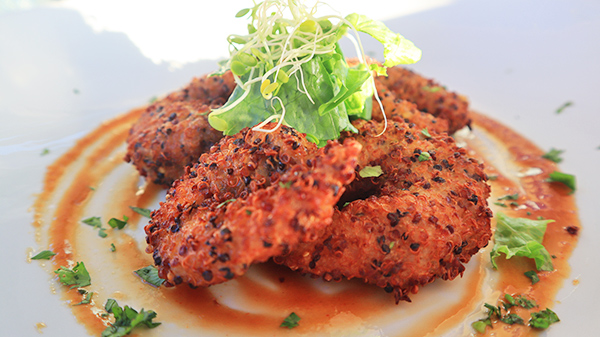 More on Maunday's Club
---
Cap Shack at Cap Juluca
Set on the western edge of the beach, Cap Shack is the only restaurant directly on Maunday's Bay beach. Private and peaceful, Cap Shack is your barefoot, toes-in-the-sand experience on Maunday's.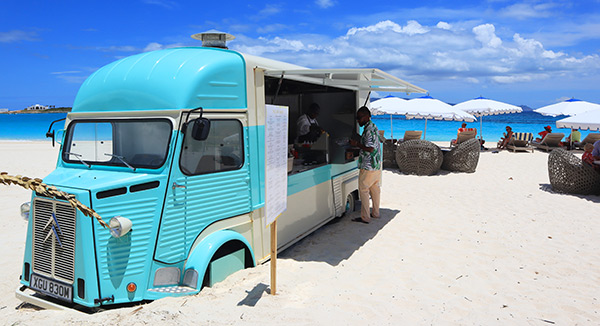 Extra-fresh beach eats are prepared right before your eyes in this stylish cream and pastel-blue vintage van. Your stomach rumbles as the aroma of grilled Mahi Mahi Banh Mi wafts through the air. Take a peek inside the open van to see the chefs whipping up vibrant eats.
Tasty eats, cool cocktails and plush loungers right on the beach? The Cap Shack is a wonderful way to enjoy this gem of a beach, Maunday's Bay.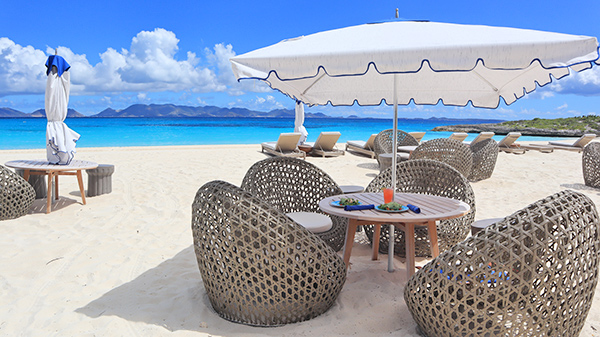 More on Cap Shack
Click here to purchase your Anguilla Card.
---
Lit Lounge
Rounding out the Sandy Ground nightlife scene is the NEW Lit Lounge!...
Set on the Eastern side of Sandy Ground (where the sailing school was), Lit Lounge is picture-perfect! Palm trees sway overhead and string lights twinkle above in the night sky.
First things first? Make your way to the beautifully lit bar for a tasty Lit Lounge original cocktail!
We started off with a Blue Moon and a Strawberry Daiquiri. Bartender Ambrose (you may recognize him from Tasty's!) sure knows how to make a smooth Strawberry Daiquiri. As for the Blue Moon? Sweet and strong! A tequila based cocktail with Blue Curaçao, it sure is beautiful. But buyer beware: this punch is potent!
When hunger calls, Lit Lounge's kitchen is open all night long. The bar menu offers grilled crayfish, BBQ chicken and ribs, Johnny cakes, fries and, perfect for late night nibbling, Johnny cake sliders...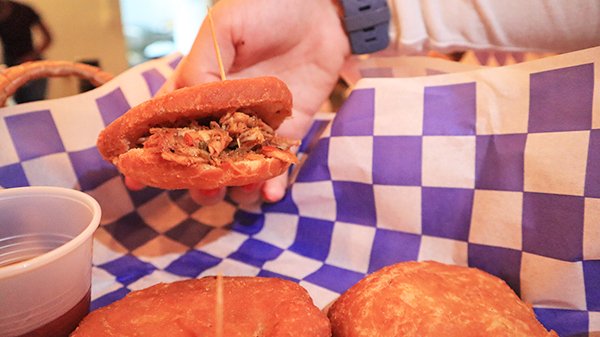 A hot spot, do not miss Lit Lounge on Thursday nights!
Get the full scoop on Lit Lounge, here...
---
Island Bowls AXA
Fabulously fresh and healthy, this is Island Bowls AXA!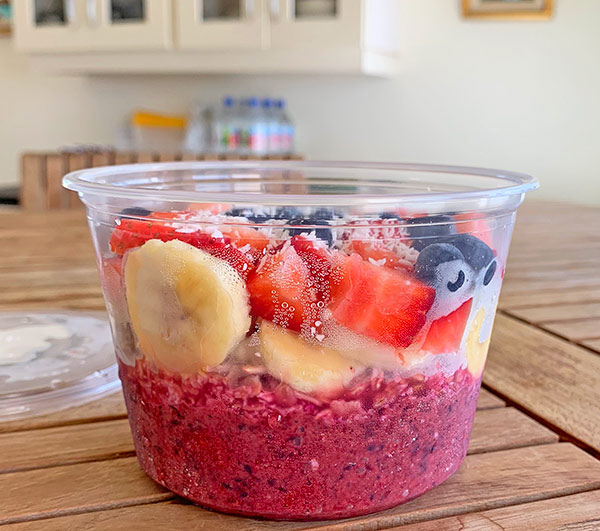 These all-natural, dairy-free bowls have been taking the island by storm! Naturally sweet, they are loaded with very berry goodness.
Four types of Island Bowls are available, with the signature "Island Bowl" being a top pick. First, berries are blended with mango, coconut milk and pineapple juice. Then, they are topped with homemade granola, strawberries, banana, blueberries and shredded coconut.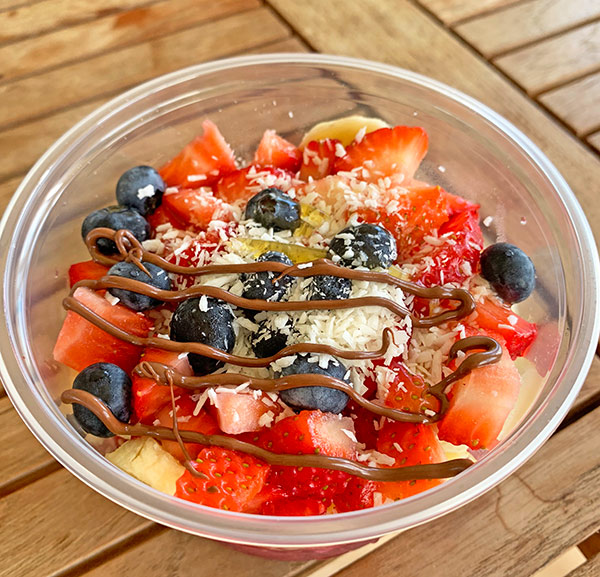 All bowls come with a drizzle of honey, agave or Nutella! The result? A fresh explosion of fruity flavors. Almost like an ice cream, these bowls are rich in tropical essence.
More on Island Bowls
---
Lobster BBQ at CuisinArt
When it comes to excellent Caribbean eats, CuisinArt Golf Resort & Spa serves up gourmet plates at their Lobster BBQ!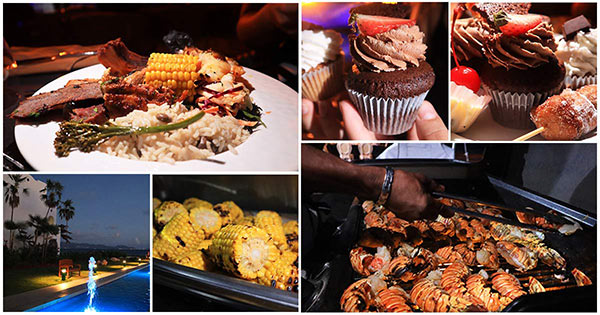 Held every Tuesday night, it has long been hailed as one of Anguilla's "must do's." The value is unbeatable. $75 buys unlimited BBQ lobster with a plethora of gourmet mains and side dishes. All served in an elegant beachfront atmosphere, it is as far as you can get from typical "all you can eat" resort buffets.
What's on the menu?
Sumptuous steak
HUGE ribs
BBQ chicken
Vibrant and fresh salads
Pasta, pasta and more pasta
And the main event...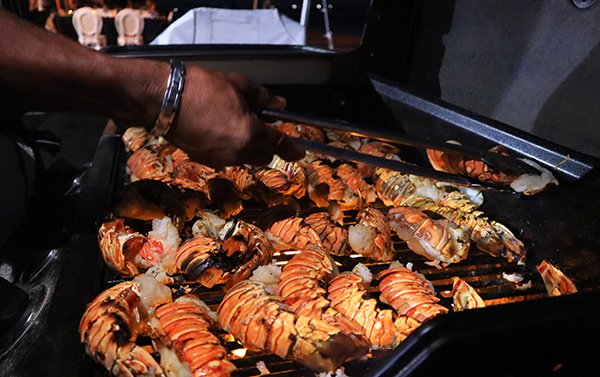 The "yum's" don't end there! CuisinArt impresses with a plethora of exquisite desserts that bring out your inner child.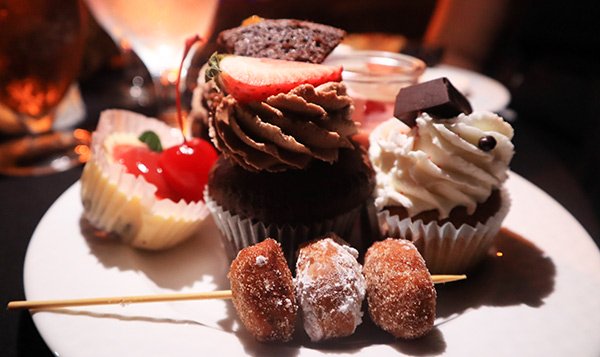 On an island where one lobster dish at a BBQ or high-end restaurant can run $65, Lobster BBQ is high value. The extraordinary quality of food, excellent and attentive table service and flow of the entire evening is a sheer delight.
More on Lobster BBQ
To purchase your Anguilla Card, click here.
---
Beach BBQ at Cap Juluca
As the sun sets and the sky fades to pink, Maunday's Bay comes alive every Thursday at Belmond Cap Juluca's Beach BBQ.
The aroma of sizzling crayfish and fried Johnny cakes fill the air, setting the scene for a gourmet feast to come! The menu includes a refined selection of healthy and creative side dishes including German-style coleslaw, ratatouille, roast potatoes and a number of salads. For mains? Cap Juluca impresses with items such as swordfish, whole roast pig, roast beef and crayfish. (Menu changes weekly.)
Finally, Belmond dedicates an entire table to please your sweet tooth!
With live music, it is a five-star scene!
More on Beach BBQ at Cap Juluca
---
The Junior Suite
Affordable Anguilla rentals for solo travelers and couples? The Junior Suite answers with a spacious, bright and modern studio apartment!
If you know Junie of Junie Car Rental, you know he runs a tight ship! The Junior Suite is owned and operated by the same family who runs the five-star car rental.
At The Junior Suite you are surrounded by Junie's blossoming garden. Papaya trees are lush and plentiful, palm fronds rustle as you walk up the stairs to the studio apartment. At the top of the stairs, your terrace view awaits.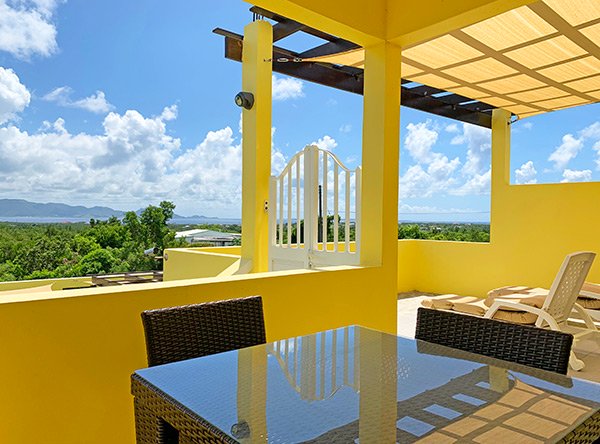 The terrace opens into the studio rental's central living area.
The bright, lofty room is clean and modern. In the middle lies a king size bed. A large walk-in closet is set just behind the bed. To the left is a flatscreen TV with desk area. The right side of the room leads into the oversized, sparkling bathroom!

See more inside The Junior Suite, here...
---
Nevaeh Villa
One does not have to look hard to see that Nevaeh Villa is a blissful slice of heavenly paradise...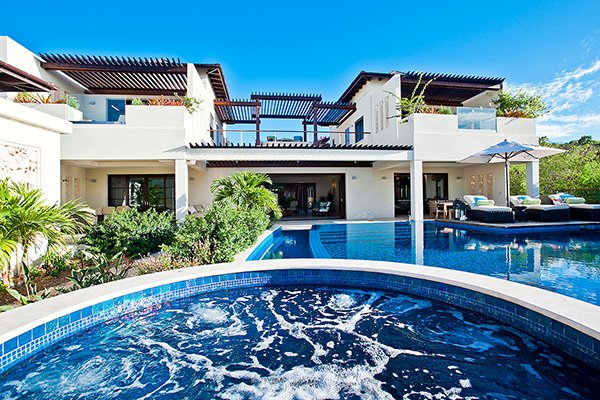 This nine bedroom ultra-luxury beachfront villa exudes a Balinese-inspired, zen-like ambiance on one of Anguilla's most secluded beaches, Long Bay.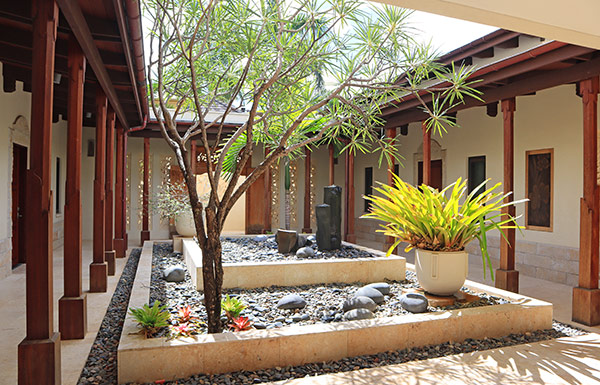 Nevaeh Villa tiers down the hill that surrounds Long Bay. The property is made up of three areas. The upper pavilion offers sweeping views of Long Bay blue, a chic and private cabana sits just below the upper pavilion and the main house sits right on the beach's smooth, sandy shores.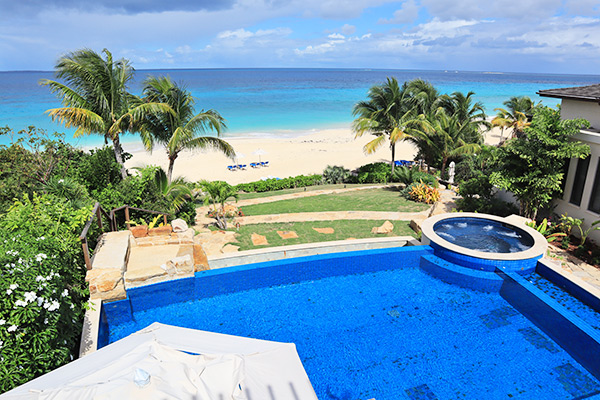 One of Anguilla's most exclusive ultra-luxury villas, peek inside here...
---
Fitness by CuisinArt
Leading the way in all-things-wellness, CuisinArt Golf Resort & Spa kicks "getting active" into a whole other gear! Fitness by CuisinArt offers a plethora of ways to stay in shape with their weekly fitness classes. They make getting active fun. What's on tap at CuisinArt this season?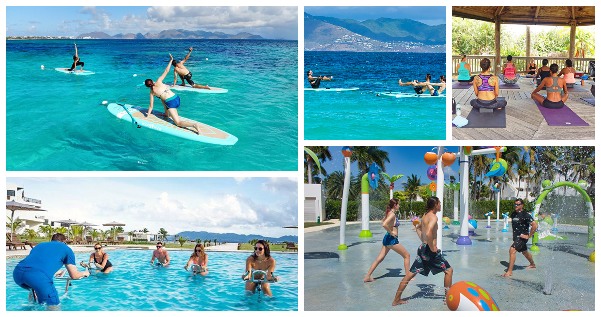 SUP Yoga With Rendezvous Bay as your back drop, is there a more beautiful workout setting? Over the bay's shimmering turquoise waters, yoga instructor Sammi Green leads the way!
Yoga & Meditation Surrounded by lush, blossoming gardens, traditional yoga and meditation is also available weekly in CuisinArt's gardens.
Boot Camp Blitz There is nothing like staying cool while working out! Held at CuisinArt's Splash Pad, Peter Vasilis leads an intense boot camp with push ups, lunges and everything in between.
Aqua Cycling and Kickboxing For a fully-hydrated work out session, check out CuisinArt's aqua cycling and kickboxing classes. Held weekly in The Reef's sparkling pool, it's the coolest way to stay in shape.
If group classes aren't your thing? CuisinArt offers memberships to its world-class fitness center.
CuisinArt's fitness center includes state of the art spin bikes, cardio machines and weights. Memberships includes to access to a number of amenities at The Spa by CuisinArt, including...
Eucalyptus Steam Room
Healing Waters Pool
Relaxation Lounge
20% off all Fitness Classes (listed above)
Full details on Fitness by CuisinArt here...
Click here to purchase your Anguilla Card.
---
D&D Scooter Rental
Grab your sense of adventure and get ready to hit the road! Scooter rentals have reached the shores of Anguilla.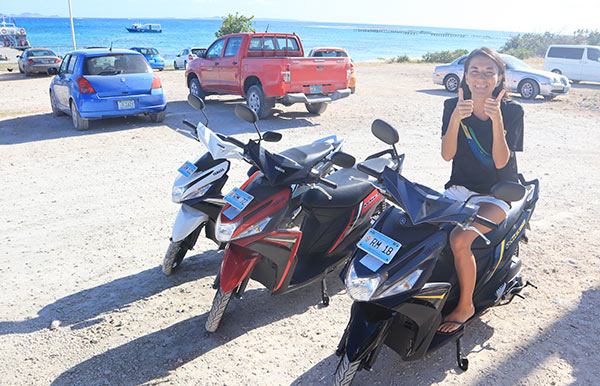 With one of the sunniest climates in the world, scooters make for a perfect mode of transportation in Anguilla. Now available on-island with speedy and stylish models, it is all thanks to one man, Mr. Desmond Mussington.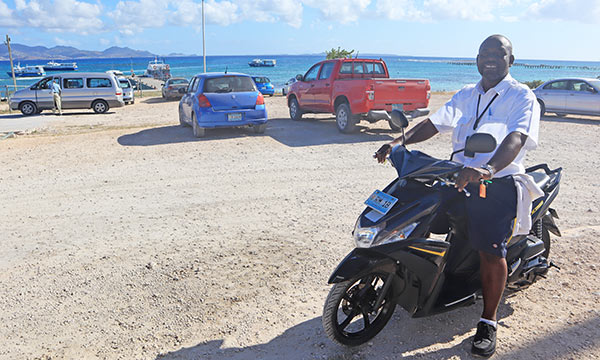 His operation, D&D is conveniently located in Blowing Point, right where the ferry reaches Anguilla's shores. Keep your eyes peeled for the blue-and-white colorful building down by the water. D&D is set right next to Andy's.
D&D carries a number of quality car rentals and scooters. These scooter rentals are exceptionally eye-catching. Yamaha models, Desmond's scooters carry speed! They come in sleek black, fire engine red and ice-cold white. In addition to the Yamaha's, Desmond has chic and stylish mopeds coming soon.
More on D&D Scooters
---
2Extreem Watersports
Buckle up for a wild ride! 2Extreem Watersports brings a boat load of tubes and watersports to Anguilla's waters. Available to rent by-the-half-hour, 2Extreem makes for a fun and affordable way to get your blood pumping under the sun.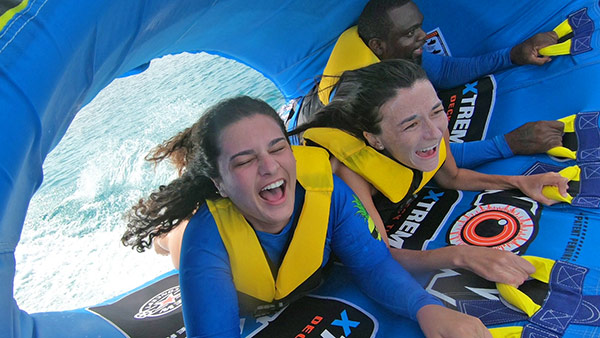 What's on 2Extreem's water activity list? Tubes of all kinds, waterskiing, wakeboarding and even underwater scooters for swimming, snorkeling and diving.
Big lovers of tubing, 2Extreem's selection is the most EXTREME in Anguilla. Click here for the video look at EXTREME tubing with 2Extreem!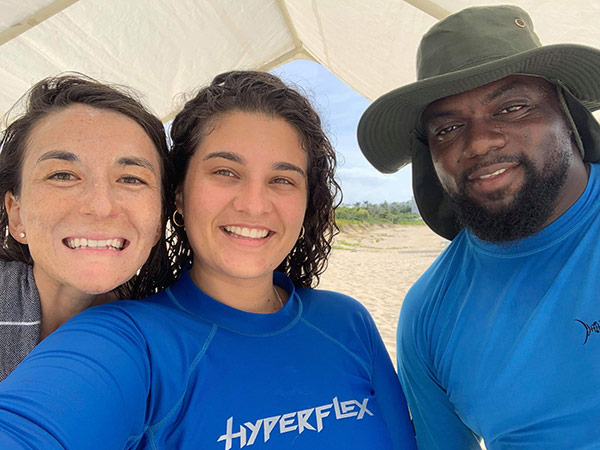 2Extreem is owned and operated by a familiar face, our dear friend, Kumakie Parris. Together with his family, they run an all-star operation. Fun, professional and always putting safety first, you are in great hands with the Parris family!
More on 2Extreem Watersports
---
AnguillArts
Bringing painting parties to the beach, AnguillArts is one of the best ways to enjoy leisurely days in Anguilla. Settle into a seat by the sea, grab your beverage of choice and let Karen show you the way to create your OWN Anguilla keepsake!
AnguillaArts' next paint parties on the beach?
Dec. 10 at Anguilla Great House
Dec. 18 at Ocean Echo
If you will be on-island, click here to sign up!
Prefer to arrange a private paint party? Click here.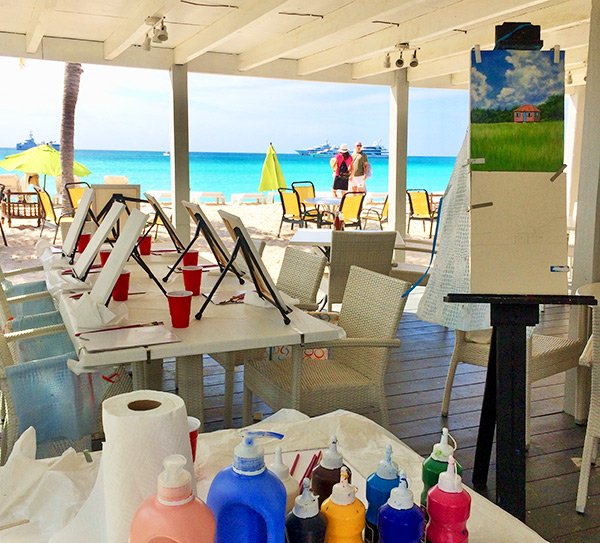 More on AnguillArts
---
Lynne Bernbaum's Art Gallery
One of Anguilla's most high-profile artists, Lynne Bernbaum's work is iconic. Her impressions of Anguilla have captivated the imaginations of many for years. It is no surprise that Lynne's pieces adorn the walls of celebrity homes and high-end restaurants and villas around the island.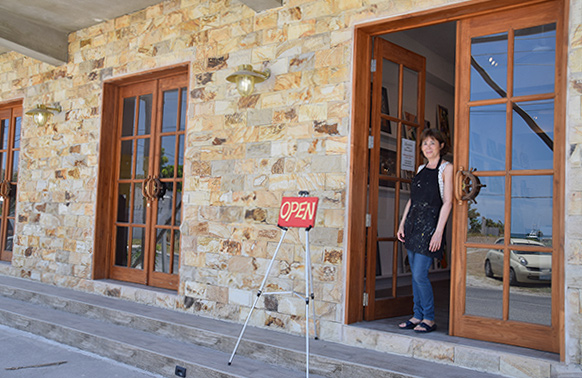 A charming, sweet lady from Texas, Lynne fell in love with Anguilla during her travels to the Caribbean in the '80's. She moved to Anguilla a few years later in 1995, and has been living her dream ever since.
My mom adores Lynne's artwork, how she pictures Anguilla and how she captures the spirit of Anguilla so beautifully. Ms. Bernbaum has a unique, award-winning style, with absolutely fascinating images of Anguilla.
We have fallen in love with her hat series and her classic market place scenes...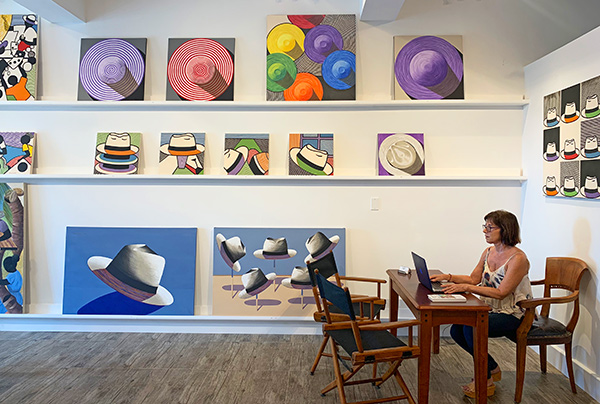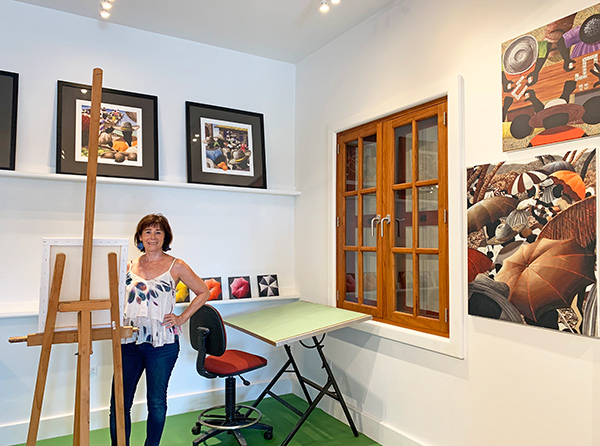 NEW this season? Lynne commissions paintings of the Delicate Bar. A sweet, neighborhood bar right across from her gallery, Lynne has been inspired by the different bar "moments." Whether it is joggers stopping in for a refreshing drink, or a cyclist taking a break with a cool beverage...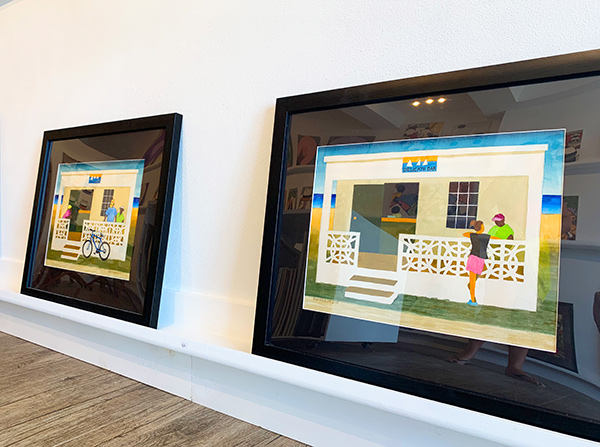 Lynne can personalize your Delicate Bar "scene" however your heart desires. With pets, friends, having a chat with the bar owner, jogging past the bar or taking it easy with a drink - Lynne will work with you to develop your Delicate Bar painting. A touching series!
More on Lynne Bernbaum
To purchase your Anguilla Card, click here.
---
That's all for now!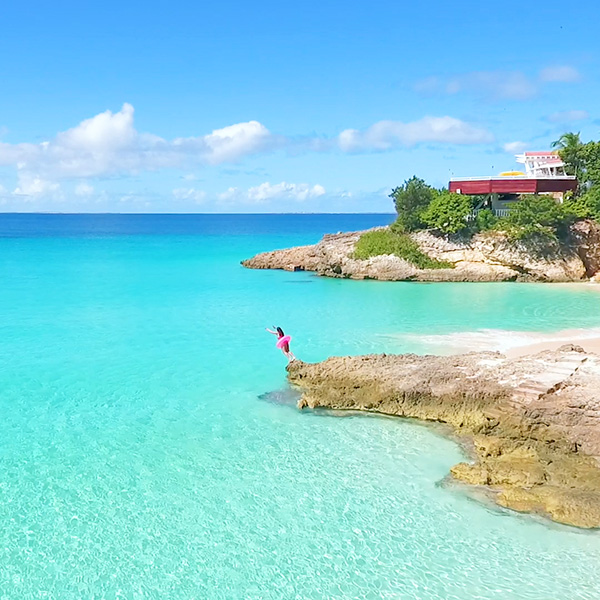 Thank you so much to all Card Holders and Sponsors for all of your support. We wouldn't be able to do it without you 💗🏝
Here's wishing you many happy savings & happy travels to Anguilla this winter!
To purchase the Anguilla Card and save 10% on your trip to Anguilla, click here.
Talk to you soon with more Anguilla news & blue,
Nori
Do you have your Anguilla Card yet? Save 10% at 70+ Partners!
---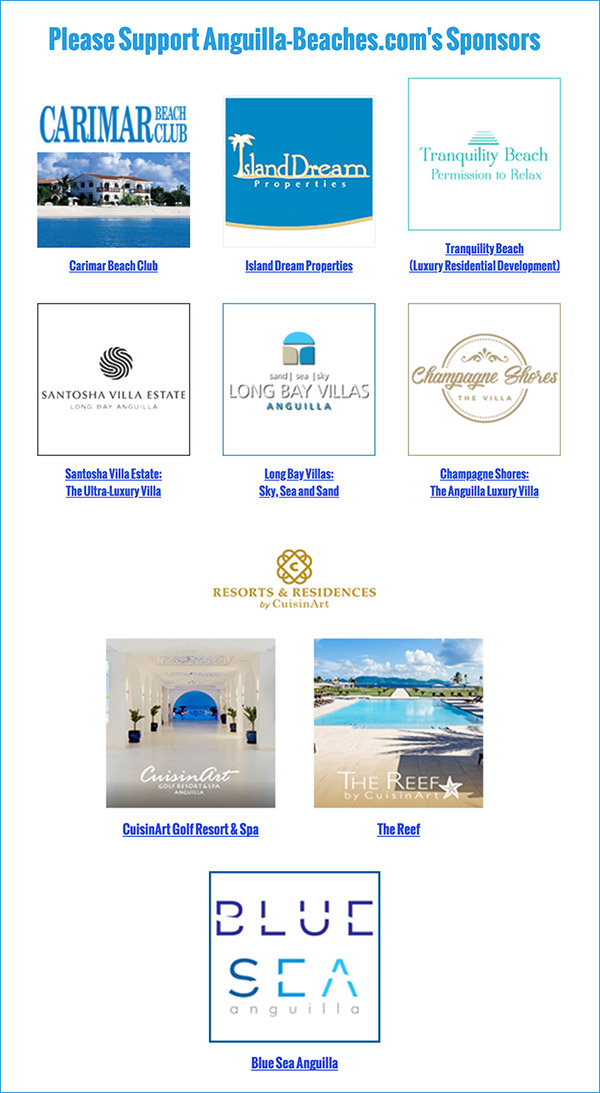 ---
Anguilla-Beaches.com