Combing Anguilla's Beaches for the Best
Anguilla Beach Lovers brings you the latest additions to one family's experiences of the "best of all things Anguillian."

If you like this e-zine,, please do a friend and me a big favor and "pay it forward."

If a friend did forward this to you and if you like what you read, please subscribe by visiting...
---
Announcing The 2015 Anguilla Card
On December 2nd, 2013, we launched the Anguilla Card with 22 Partners. One year later, over 60 Participating Partners provide more ways and places than ever to eat/play/relax/sleep.
Card Holders have proudly discovered that an Anguilla vacation can actually be inexpensive! And our Partners (ranging from the highest-end brands to the popular "Off The Beaten Path") have received thousands of new customers.
Ready for an even better year? I'm delighted to announce "The 2015 Anguilla Card"...
https://www.anguilla-beaches.com/anguilla-card.html
Let's get to it!
---
Summary
This is a long email with tons of great news. Here is a brief overview of everything below so you can scroll to the areas that interest you most.
I. New Anguilla Card Partners We have been busy adding new ways for you to save money, with a wide variety of new Partners. Arawak Beach Inn, Sunset Beach House, Villa Black Pearl, Anguilla Sea Salt & Mini Putt, Surf AXA, Lime Keel Eco-Tours, Megasavers, Nails-R-Hair and Fruity Web have all joined our Anguilla Card family!
II. Current Partner News Current Partners have been hard at work upgrading their offerings. There's tons of interesting Partner news below. Carimar and Valley Bistro leave the Card for 2015.
III. "Me & My Anguilla Card Selfie" Contest I highly recommend scrolling down to this section. It should be a really fun contest with the prize being a $250-value dinner at your choice of Le Bistro or Tokyo Bay at CuisinArt Golf Resort & Spa. We will also be holding other contests throughout the year.
IV. Limited Edition Anguilla Beaches Keychain To celebrate the 2015 Anguilla Card re-launch, we have brought back a limited supply of Anguilla Beaches' classic, pewter keychains!
V. Ultimate AXA Don't miss point #5 either. We are launching this brand new, free app with the re-launch of the Anguilla Card.
VI. How To Order & Renew
To renew, visit...
https://www.anguilla-beaches.com/anguilla-card.html#BUY
I will prepare your 2014-2015 Anguilla Card, making it valid one year from your 2013-2014 expiry date, using your photo on file.
To order, visit...
https://www.anguilla-beaches.com/anguilla-card.html#BUY
... and then follow the instructions in your post-order confirmation email.
The 2015 design features idyllic Little Bay...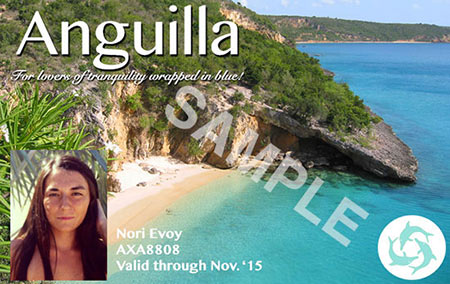 ---
I. New 2015 Partners
Hotels & Villas
Arawak Beach Inn
Set in the picture-perfect fishing village of Island Harbour, Arawak Beach Inn has been one of our favorite spots on the island since our very first days in Anguilla.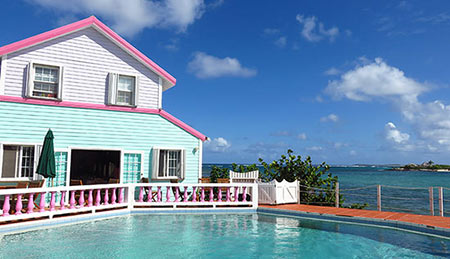 Perhaps it was Maria's warm and friendly demeanor, maybe it was her sweet rum punch, or the hotel's views of Scilly Cay. My feeling? All of the above!
Today, Arawak Beach Inn has the same colorful charm as it always has. Maria and her daughter, Natalie, make you feel right at home. We met up with them both recently to take a look at their newly renovated rooms, too.
Studio-style, each renovated room is complete with a mini-kitchen, living area and outdoor terrace. Nicely refurbished, with a bright and airy feel, Arawak Beach Inn offers high-value and cozy accommodations.
Its location is unique out on the island's east end, surrounded by natural beauty and more untouched by development than other parts of the island. Here in "the heart of Anguilla," terrific laidback beach bars, the best croissants on the island, and interesting hikes and drives are just a short ways away.
Sunset Beach House
Overlooking the sea, a two minute walk to Blackgarden Bay, Sunset Beach House is a contemporary four bedroom villa that has been built for total luxurious comfort.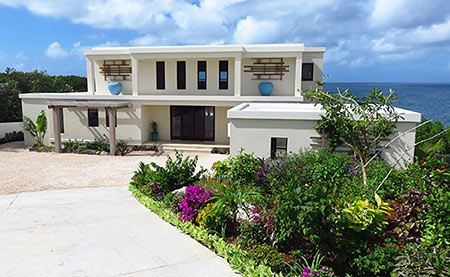 This villa boasts four large, spacious bedrooms. Two are located on the villa's top floor, one is on the main floor (complete with ultra-large bathroom and closet space) and one is on the villa's lower level, tucked away from it all. Here, you can be together with friends and family while still enjoying your privacy.
Beyond the bedrooms, there is a spacious kitchen (with herb garden and pasta maker!), living space and outdoor deck, which features a jacuzzi and heated pool as well as an outdoor plasma screen TV.
A family stay at Sunset Beach House indeed means utter relaxation and memorable moments enjoyed together!
Villa Black Pearl
Set on the quiet (far western) side of Shoal Bay East, Villa Black Pearl offers the best of both worlds...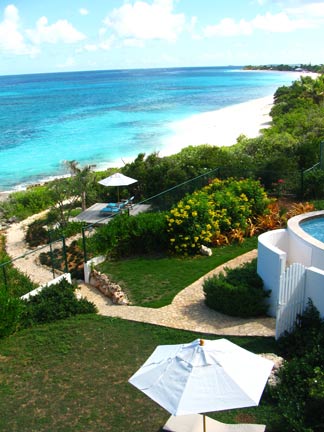 Direct beach access and beach views!
Waking up to Shoal Bay East everyday, strolling on its soft, powdery sands... it just doesn't get better than that.
Villa Black Pearl's large pool overlooks it all, too. The villa itself features plenty of outdoor living space in addition to comfortable interior living space. It is complete with a kitchen and four contemporary-style bedrooms.
Their manager, Lisa Webster takes care of every need. With a warm, friendly, no-stress spirit, Lisa is professional and always happy to help with any request.
From start to finish, Villa Black Pearl offers it all. A top pick if you love the beach!
Note: Zemi Beach is currently doing construction a few doors down from Villa Black Pearl. Not constant, the noise can be heard from this villa at times.
Things To Do
Anguilla Sea Salt & Anchor Mini Putt
A brand NEW business, Anguilla Sea Salt & Mini Putt is a family owned and operated business.
First, Anguilla Sea Salt has brought salt production back to Anguilla. Sourced, mined and created in Island Harbour, their sea salt (made from ocean salt, not pond salt like back in the day) is a 100% Anguillian product.
Fit for cooking, we sprinkle a little bit of Anguilla salt over every meal!
Second, they also offer mini putt. Professionally architected and designed, it is immaculate. We were truly blown away by the landscaping. Waterfalls, bridges, rock formations, the final hole even takes you through a room highlighting Anguilla's cultural heritage.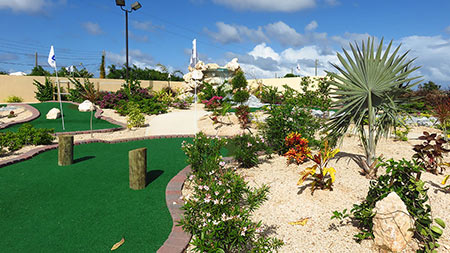 Tricky, there are no easy wins at Anchor Mini Putt. Let the mini putt challenges begin!
More on Anguilla Sea Salt & Anchor Mini Putt.
Off The Beaten Path
Surf AXA
Surfing? In Anguilla? Yes, it is possible!
See? :-)
And thanks to Akio & Ravi Lloyd, two Anguillians who spent their younger years growing up in Southern California, they are pioneering the sport on the island.
Offering guided tours and board rentals, Akio and Ravi are the go-to surfers to turn to when in search of surf in Anguilla. With a solid knowledge of swells and the island's spots, they always know which spot is breaking when, depending on the day's conditions.
Boardless in Anguilla? Seeking a secret spot? Get in touch with them to rent a board and to get the daily swell report. Or, set up a tour. Tours can be specified to your interest and skill level.
Lime Keel Eco Tours
The man who first found Big Spring, John Lloyd's knowledge of Anguilla is vast, deep and impressive.
He is a self-taught archaeologist and provides land tours and fishing tours of the island.
Want to explore Anguilla on-foot? John will show you undiscovered, scenic areas. During the tour, he explains the background and story behind each plant, animal or stone you pass. What is it? What was it used for back in the day? What is it used for today? John has all of the answers. Tours can be customized to your area of interest.
If it is fishing you prefer, John offers two types of tours. Sport fishing for tarpon in shore and/or line fishing off of the island's rocky shorelines for snapper and blue runners, John shows you how it's done Anguillian-style. Once you have your catch of the day he will even show you how to clean your fish and cook it, too.
Full review to come. To contact, email his son Ravi at ravilloyd@gmail.com or call 264-584-3210
Megasavers
A one of a kind business on the island, Megasavers is a go-to for just about anything you seek.
Beach umbrellas and coolers, pool noodles and floats, sand toys for the kids, alcohol for the adults, cooking products, cleaning products, a large variety of household equipment... Megasavers has it all and offers it all at discount prices if you are a member. Non-members pay a 12% mark-up on all listed prices.
With shipments arriving regularly, the selection is vast and well-varied.
To get the discount price, you need to be a member. Or, use your Anguilla Card to get the exclusive Anguilla Card Membership. It saves you 10% on all beach items...
Boogie boards
Snorkeling equipment
Pool noodles
Floats for the sea
Beach toys
Coolers
Beach umbrellas
No Megasavers membership needed, you save 10% on the listed price and you save the 12% mark-up fee. A 22% savings!
Already have the Megasavers membership? You still save 10% on the shelf price.
Drop in to take a look at their stock and say "Hi" to the warm, friendly owner, Statchel.
More on Megasavers & the Anguilla Card Holder Memerbship here.
Nails-R-Hair
Braids, weaves, intricate nail designs, they do it with style at Nails-R-Hair.
Owned by the lovely Lisa Webster, you are in good hands with her expert team. Friendly, inviting and eager to understand your vision and make it come to life, getting your hair and nails done at Nails-R-Hair is always a memorable, fun experience.
They offer a variety of services and specialize in unique designs. A whole head of cornrows? Pink, jeweled press-ons?
They do it all, and in a clean, comfortable salon.
Fruity Web
A favorite for fresh produce shopping, Fruity Web is known and loved for its wide variety of fresh fruits and vegetables, smoothies and natural juices. Any fruit you see available for purchase, they will whip it into a smoothie for you to drink on the go or enjoy in their colorful eatery.
Eat fresh and live healthy should be their motto!
They now also offer veggie burgers, pastas and salads, all prepared in the most health-conscious way. No additives, fresh ingredients only.
Tasty and good for you, you don't have to be a vegetarian to enjoy their tofu and veggie burgers. A non-tofu eater, after a bite of Fruity Web's tofu burger, they are making me consider a life with a little more tofu in it! ;-)
---
II. Current 2014-2015 Partners
Restaurants
Laidback and beachy by day, elegant and high-end come the evening, da'Vida offers a range of dining experiences. I'm happy to say that their main dining room has re-opened with tapas from 5-9:30pm and dinner from 6-9:30pm and live music of jazz on Wednesdays 7:30-9:30pm, Omalie 360 Thursdays 7:30-9:30pm and Cyprus Roots on 7:30-9:30pm.
They have also announced their highly anticipated New Year's Eve event... A Night in Laos! With live music and tasty Asian-inspired creations on the menu, it's sure to be a night to remember.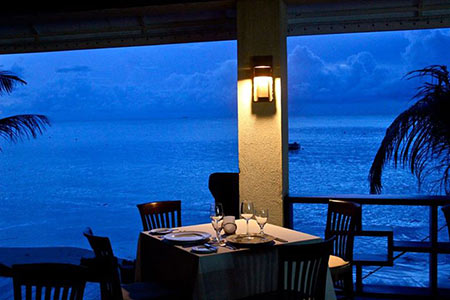 Restaurants at CuisinArt Golf Resort & Spa
Le Bistro at Santorini - Undeniably high-end, with an expertly prepared menu, French meets Caribbean here at Le Bistro.
Tokyo Bay - Anguilla's only Japanese restaurant. It's ultra sleek and modern!
Café Med - Set pool-side with views of St. Martin in the distance, the vibe is casual yet chic. The menu? Gourmet lunch fare with a focus on fresh vegetables that are grown on site in CuisinArt's own hydroponic farm.
The Shack - Right on Rendezvous Bay, The Shack is a go-to spot for chilled cocktails and tasty bites.
Clubhouse Grill / Italia - An elegant clubhouse restaurant by day, and an authentic Italian restaurant by night.
From fresh pastries, to sandwiches and breakfast specials, to fine French cheeses, Geraud's French patisserie has it all!
Casual and laidback, with a focus on British comfort food, we always feel right at home at Roy's on Sandy ground beach. Freshly painted and touched up, with a new pavillion on the beach, they are looking better than ever :-)
Set at the sea's edge, Mango's Seaside Grill is one of the most romantic spots on the island. They are best known for their peaceful, elegant setting and their ultra fresh seafood.
The quintessential dining experience, complete with lobster, crayfish, johnny cakes, thick cut steak fries and a sandy, beach shack setting.
With front-row seas to Meads Bay (and the big waves that come in during the winter months), Ocean Echo is a favorite for the view alone. Food-wise, there is plenty of variety.
Owner and Chef, Ken Lin has brought authentic Asian flavors to Anguilla. Think dumplings, spring rolls, udon, chow mein, General Tso's chicken, sweet and sour pork and green tea ice cream. With his NEW spot, Cha Cha San, this is Pan Asian-dining heaven! Ken has released his brand new menu for this season. You can see it by clicking here. Lunch begins this Thursday, too!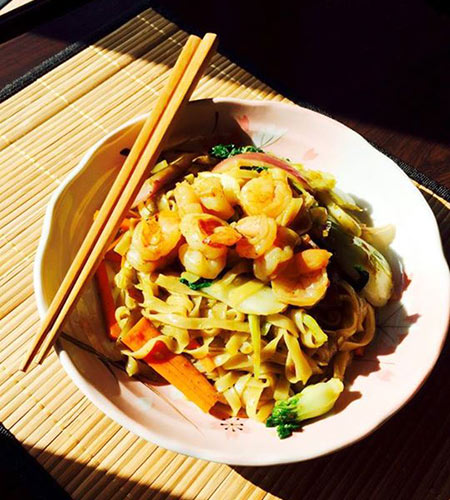 With an expertly-trained chef, Elite serves five-star Italian food in an elegant beach side setting in the charming fishing village, Island Harbour.
Overlooking Island Harbour from "on the rocks," this laidback, breazy spot is known and loved for its ultra-fresh crayfish, knockout rum punch, unforgettable sunsets and owner, Timmy. One of the coolest guys we know, say to "Hi" to him for us when you pop in!
Hotels & Villas
Always be extraordinary. This must be Paradise Cove's mantra. The staff is excellent, the service is personal and warm, and the hotel itself is set in a lush garden (complete with pool). Save 20% with your Anguilla Card on all NEW bookings (booked direct) for arrivals before December 17th!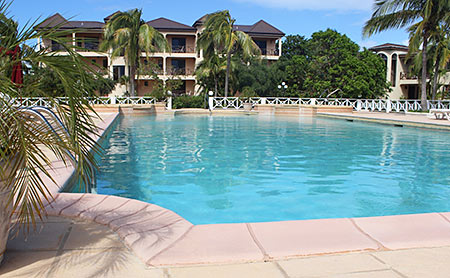 Set on Back Street overlooking scenic Sandy Ground, La Vue offers modern rooms (complete with kitchens) with terrific views at a reasonable price point. You also save 10% when dining at their mouthwatering restaurant Flavours, open for both breakfast and dinner!
Resting at the edge of Rendezvous Bay, Anguilla Great House is loved for its beachside location at an affordable rate. Units are clean and modest. Book their rooms at the far sides of the property to wake up and walk onto sand. Click here for a drone video of Anguilla Great House.
Anacaona blends a modern feel with a warm, charming Anguillian-inspired atmosphere, and is just a walk away from the iconic Meads Bay. The rooms are comfortable and come with everything needed, the service is highly attentive.
They are currently holding a Pay Six and Stay Steven Nights Special (cannot be combined with any other offer, including the Anguilla Card discount). Travel Window: January 4th to February 6th & March 7th to 28th, 2015.
Lastly, don't forget to visit their Mayoumba evenings on Thursdays!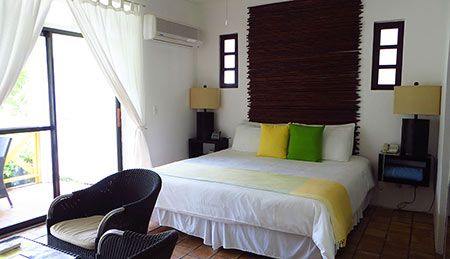 Affordable AND luxurious, complete with modern amenities and furnishings, this 1 bedroom villa is truly a home-away-from-home. Availability still remains for the season, including: Now – December 28, 2014, January 4 – 10, 2015, January 17, February 10, 2015, February 17 onwards.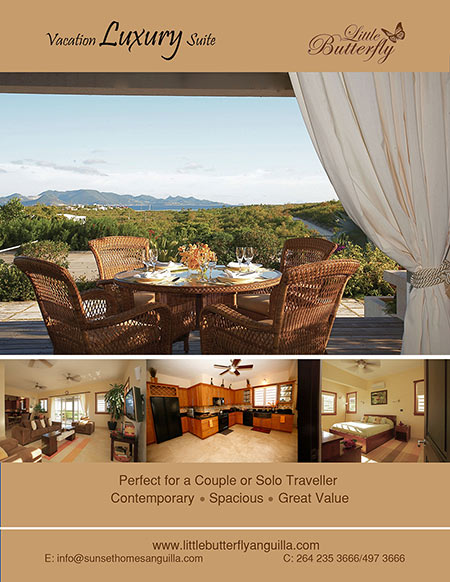 Overlooking Shoal Bay East, Tortue Villa's view is one of the best (keep your eye open for sea turtles!). It is complete with a pool, a tanning deck down by the water, and a spacious living/dining area.
With sweeping views of Sandy Ground, Topaz Villa is a favorite for its scenery and contemporary interior design, complete with a full kitchen and infinity edge pool that drops off into blue!
Fun, sun and tequila!... Tequila Sunrise Villa is one of the most high-value villas on the island. With 3 master suite bedrooms, a spacious living/kitchen/dining area, an outdoor deck (with an infinity edge pool!), sweeping views of St. Martin and the Caribbean Sea, modern finishings, unlimited Patron Silver, a daily breakfast and turn down service, owners Robin & Joel Globus have thought of everything... Now included in your stay? A free gym membership at the locally-loved Styler's Gym while during your vacation!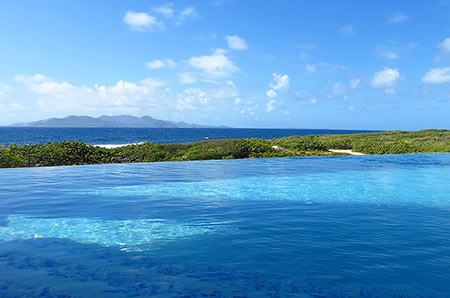 A four-bedroom luxury villa, Spyglass Hill Villa offers sweeping views of Sandy Ground below, a spacious deck complete with pool (overlooking those dramatic vistas!), a modern kitchen and warm-Caribbean design and touches.
Ultimacy Villa
To the far east of Anguilla, nestled atop the cliffs that extend from Shoal Bay East to Island Harbour, Ultimacy Villa, with its vast space (3+ kitchens and 3 storeys) is perfect for conferences and families traveling together.
Ultra-luxurious, Bird of Paradise is an exotic dream! Set overlooking Sandy Hill Bay, Bird of Paradise boasts access down to the beach (a short stroll) and stunning vistas of the Caribbean Sea, St. Martin and even St. Barths on a clear day. Balinese-inspired, the villa offers lagoon-style pools, plenty of outdoor and indoor (4 private suites) living space and personal service.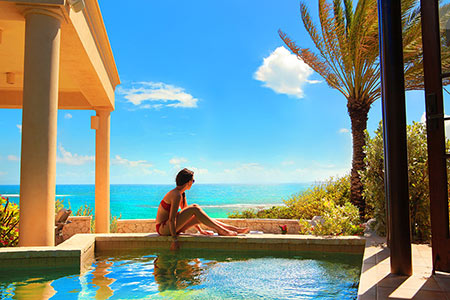 The definition of ultra luxury, Sheriva has spared no expense in its designs, furnishings and amenities. With sweeping views of St. Martin and the Caribbean Sea and staff that is ready to please, it's one of the finest "villa hotels" on the island.
Transport & Tours
Professional and dependable, Calypso Charters provides a smooth ride between SXM and AXA. The best in the business! NOTE: The Anguilla Card discount also applies to Calypso's other offerings, including their weekly St. Barths trip!
Reliable, affordable and flexible, Island Car Rental has top of the line vehicles and delivers them with warm and personal service, making sure all your needs are taken care of before you even step foot on Anguilla.
Premier Taxi & Tour Services
From taxi services to in-depth tours of the island rich with information, owner Accelyn Connor offers professional and knowledgeable service.
Tradewind Aviation
Offering flights between San Juan and Anguilla, Tradewind is first-class in everyway, with plush planes and snacks, beer and wine served on board!
Professional, reliable, certified under British regulation with safety as their #1 priority, Trans Anguilla Airways is a leading airline in Anguilla. They offer private charters to a number of Caribbean islands and a weekly, scheduled flight to St. Barths. (NOTE: 10% discount applies to private charters, 5% discount is applied to the weekly St. Barths trip.)
Things To Do
Owned and operated by IKO-certified kitesurfing instructor Judd Burdon, a true waterman and our good friend, Anguilla Watersports is a world-class water activity school. They offer kitesurfing lessons and rentals and stand up paddleboarding tours and rentals. For rentals, they will drop off the equipment and come pick it up, too!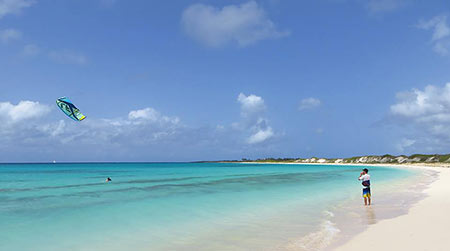 Explore Anguilla's natural wildlife with owner/operator Jackie Cestero, a knowledgeable and passionate bird expert. Her regular tour spans 3 hours and covers all locales frequented by Anguilla's resident and migratory species (130!). Off-island cay tours can be arranged upon request. Contact Jackie to find out more about her NEW tours starting this season.
Premier Mountain Bike Adventure & Tours
Get OFF the beaten path and get ON a mountain bike with Premier Mountain Bike Adventure & Tours! They offer both individual rentals and insightful guided tours (including tours of beaches, secret spots and historical sites).
With a top-class facility, the Anguilla Tennis Academy offers 6 beautifully maintained courts and friendly and experienced coaches who provide clinics, lessons, memberships and tennis camps.
Ready for adventure? Explore Anguilla's down-under with Shoal Bay Scuba, or head out on a boat excursion, or do some deep sea fishing. Shoal Bay Scuba offers everything related to the sea! Be sure to ask owner Matthew about their brand new tours including Dog Island. They released these new tours in celebration of their 10th Anniversary. Happy 10 Years, Shoal Bay Scuba!
A not-for-profit organization, the Anguilla Youth Sailing Club rents a variety of sailing boats (420s, Lasers, Hobie Cats) down on Sandy Ground beach and offers lessons for adults and children, as well as a summer camp for kids.
A little piece of paradise set offshore of Sandy Ground, enjoy delicious drinks and eats on a small island virtually all your own!
Sea Pro
A water sports and sea activity haven, with everything including kayaking stand up paddle boarding, sailing, water skiing, tubing, banana boat, guided sea tours on individual mini-motor boats and beach chaises and umbrellas, and a beach bar, for post-activity relaxation.
Get up close and personal with Anguilla's coastal shoreline in one of Freedom Rental's mini motor boats OR roam rugged landscapes in one of their ATVs or brand new UTVs!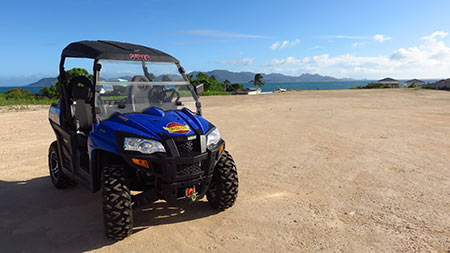 One of the most luxurious destinations in the Caribbean, Viceroy's Spa offers nothing less than excellence. The experience? "Zen," personal, private and so luxurious.
THE gym for those who either want to get in serious shape or want to keep their physique while on vacation in Anguilla.
Family-friendly, this locally owned ice cream parlour is a fun spot to spend a few hours in the afternoon, especially if you have young kids. All of the ice cream is homemade.
Kidz Kare
All about keeping kids happy and safe, Kidz Kare offers babysitting services, nannies and mannies, and baby equipment rental of all kinds.
Les Grands Vins de France
Offering a large selection of expert-curated high quality wines and champagnes imported from France, manager Nathalie will help you select just the right bottle for the occasion!
Shops & Galleries
So fresh, Limin' Boutique's feel is reminiscent of a charming shop up in Nantucket or the North East, filled with unique jewelry, stylish beach-wear and Anguillian souvenirs
A charming boutique offering handmade Anguilla souvenirs and jewelry, SeaSpray always has something special.
ZaZAA Boutique
Carrying a variety of Caribbean clothing (with brands based out of St. Martin and Anguilla), jewelry and Anguilla-made crafts, ZaZAA has it all, including the brand new Samson collection, a popular resortwear brand based out of St. Maarten. For the best savings, up to 50% off? Visit their outlet in Lower South Hill!
Known world wide, Cheddie's driftwood carvings are sought after by locals and tourists alike. After marveling at his sculptures downstairs, head upstairs to his gift shop for unique souvenirs.
Off The Beaten Path
Mikey is the man behind Gumbsy's Bar. They serve your classic chicken and ribs. What's really special? Mikey cooks fresh snapper (in foil, on the grill, with vegetables like pumpkin), queen crab (cooked in its shell), and lobster and crayfish (grilled to perfection over charcoal). An expert fisherman and excellent chef, give him a call to see what he has available.

Owned and operated by the talented and friendly Irad and Papi, Hungry's is a popular food van that serves up tasty soups, salads, pastas and crispy quesadillas (loaded with your choice of lobster, shrimp, etc.).

Set on the island's south shore overlooking St. Martin, St. Barths and the clear Caribbean Sea, Ocean Terrace Condos offers all of the comforts of home for reasonable rates. A terrific option for long-term stays (2 weeks+). Congratulations to Ocean Terrace Condos, too, on their recently completed Ocean Gem Property. Details to come.

Pasta salad! Potato salad! Patties of all kinds! Wraps and sandwiches, fresh baked cakes and pies, even full meals of tasty curries, soups and sides... Fat Cat is a go-to for gourmet cuisine at reasonable prices. Deli-style, drop in to pick up food for a picnic at the beach or a cozy night in.
---
III. Me & My Anguilla Selfie... An Exclusive Anguilla Card Holder Contest
Last year, we held "Where Is Your Anguilla Card", the very first, exclusive Anguilla Card Holder contest. You submitted photos of your Anguilla Card everywhere, from inside stables, to the back of trucks, alongside beautiful Anguilla murals, all the way to a flying magic carpet.
A huge success we have decided to do it again - except this year, the value of the dinner (your choice of Tokyo Bay or Le Bistro at CuisinArt) is $250!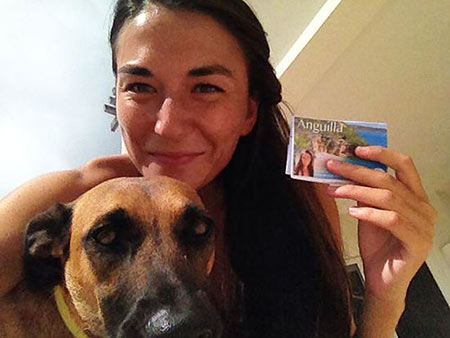 This year's concept? Snap a selfie with your Anguilla Card wherever you choose, with whoever and whatever else you wish. Let creativity know no bounds!
The prize?... A $250-Value Dinner For 2 At CuisinArt's Le Bistro at Santorini or Tokyo Bay
As you may already know, CuisinArt Golf Resort & Spa's restaurants are setting new fine-dining standards island-wide. Now, with Executive Chef Jasper Schneider and Food & Beverage Manager Jonas Treffers, the level of cuisine is undeniably gourmet, the service exceptional.
I am excited to announce that this year we have teamed up with CuisinArt to let you choose your prize. Will it be Le Bistro at Santorini or Tokyo Bay?... The choice is yours!
Le Bistro at Santorini
The focus at Le Bistro (for short) is fine French dining with a Caribbean flair. A restaurant that Chef Jasper holds dear to his heart, each creation is made with the utmost attention to detail, designed with true love and passion. What's on the menu? Tuna tartare, oysters on the half shell, an open-face foie gras sandwich, pork belly, spiny lobster, each with a Chef Jasper creative twist!
Tokyo Bay
Chef Jasper works with his "Chef de Cuisine," Yuki Sugimoto at CuisinArt's Tokyo Bay. Both having worked at Sushi Samba (Chef Jasper opened the one in Coral Gables), their experience in preparing modern Japanese dishes speaks for itself. What's for dinner? Crispy rice, duck duck dumplings, fresh sashimi and sushi, all with a modern and utterly unique touch.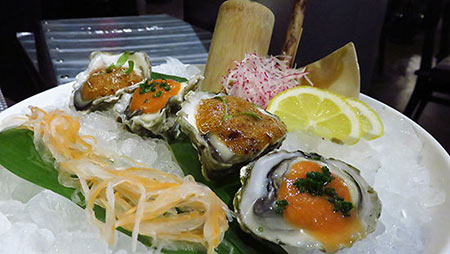 How To Enter
Once your selfie is all set, post your submission to our Facebook page here.
Not on Facebook? No problem. Send me your selfie and I will post to Facebook for you.
Submission Deadline: Dec. 22, 2014 at 11:59PM EST
For full contest details, click here.
---
IV. Anguilla Beaches Pewter Keychain Giveaway For Card Holders
To celebrate the 2015 Anguilla Card re-launch, we are re-releasing a limited edition of our sold-out collectible from 2004, the Anguilla Beaches keychain.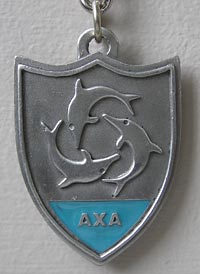 Each of the first 100 orders receives this classic, 100%-pewter keychain with the 2015 Card.
---
V. Ultimate AXA
Finally, the big project we have been hard at work on over the past year, a brand new, free app...
Ultimate AXA!
Ultimate AXA keeps you connected to Anguilla while you are on-island (or not), even when you are not connected to Wi-Fi. GPS tracking leads you everywhere...
Find and navigate your way to any restaurant (100+ are featured inside the app, complete with hours and phone numbers).
Locate the closest ATM or gas station when you are out and about, bouncing along the backroads.
Find your way back to your villa or hotel after a day out of exploring.
Discover scenic drives, hikes and special sights.
Know and visit local events that are happening while you are on-island.
... and if you are an Anguilla Card Holder, a special tab within the app helps you locate and navigate to all Participating Partners!
With WiFi connection, whether at home or away...
Keep in touch with what's new on the Anguilla Beaches blog & Facebook page
Stay up to date with Anguilla news
Access helpful outside links.
Veteran "Anguilla-phile" or first-time visistor, anyone can use the app to plan each day on Anguilla, navigate the island better than ever thought possible, keep up to date with Anguilla in a wide variety of ways (when the vacation is over).
To download, and for full instructions how to use this app, read more on Ultimate AXA here.
---
VI. How To Order & Renew
To renew, visit...
https://www.anguilla-beaches.com/anguilla-card.html#BUY
I will prepare your 2014-2015 Anguilla Card, making it valid one year from your 2013-2014 expiry date, using your photo on file.
To order, visit...
https://www.anguilla-beaches.com/anguilla-card.html#BUY
... and then follow the instructions in your post-order confirmation email.
Lastly, the 2015 design features idyllic Little Bay...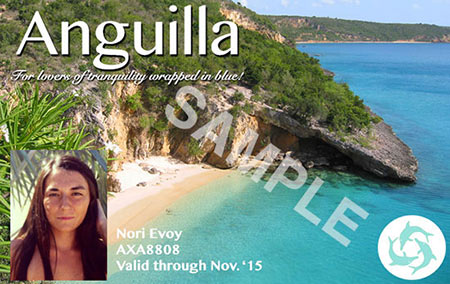 That's all for now! Stay tuned for much more to come in the New Year :-)
Here's wishing you many happy savings and warm returns to Anguilla in 2015!
Nori
---