Freedom Rentals Anguilla...
Up Close & Personal With Anguilla's Coast Line
Surrounded by mile upon mile of clear, blue water, it's no wonder why Anguilla is known as "Tranquility Wrapped in Blue." One of our favorite ways to spend an afternoon in Anguilla is to be on those azure seas.
With Owner, James and Our Guide For The Day, Mark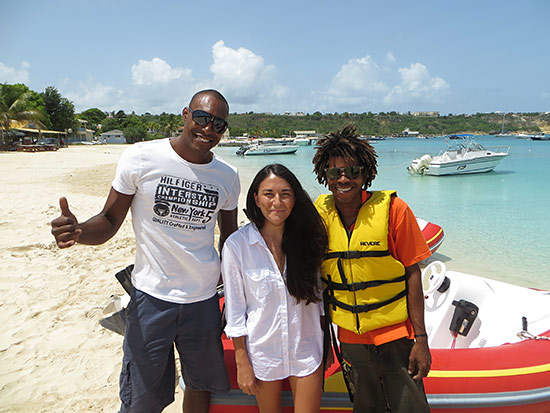 When we found out that Freedom Rentals Anguilla was renting both ATVs and Tiger Rider miniature motor boats, my Dad and I got curious. Seeking some quality time together while my Mom was visiting my sister in NYC, we called up the owner, James and set out for a day in their mini motor boats. We wanted to get up close and personal with the sea!

James and Mark met us mid-morning down on Sandy Ground, three motor boats in tow.
One for our guide for the day (Mark Connor), one for me and one for my Dad. Each person gets their own mini motor boat. My Dad looked excited at the prospect of controlling the power :-)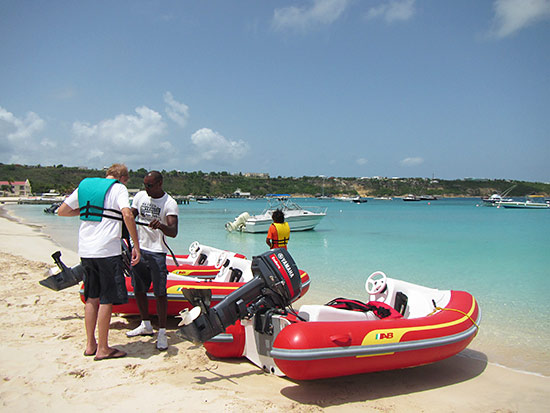 Safety first, of course. James suited my Dad up and made sure we were equipped with water and sun block. A short course on how to operate the simple boats followed.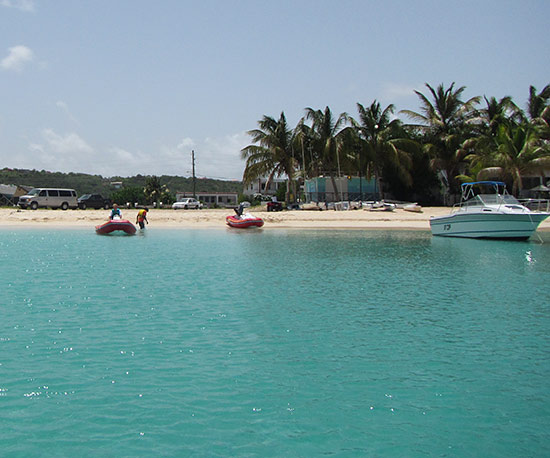 Very intuitive, we were on our way in just a few moments. James waved to us from the beach, Mark leading the way. Fun-loving and easy-going, Mark makes a terrific guide.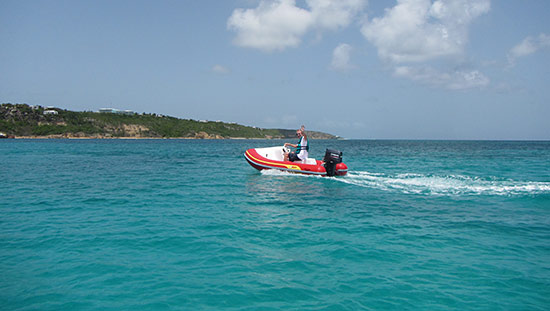 Off we went...
Sandy Ground
To stretch our "sea legs," Mark started us off in Sandy Ground's safe, calm harbor. We cruised passed the busier area filled with boats, and headed to the empty part of the bay just to the south of the large wharf. We opened the boats up. It doesn't take long to get the hang of them.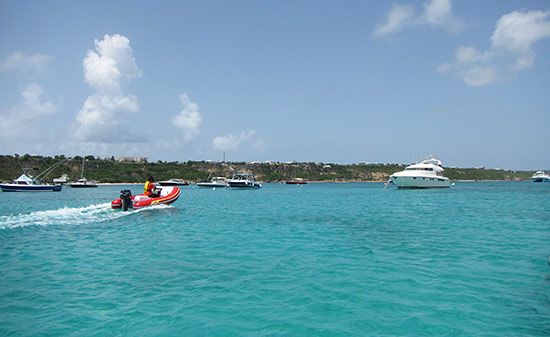 Traveling in such a tiny vehicle really lets you get up close to the shoreline. We took a look at the old Mariner's Resort...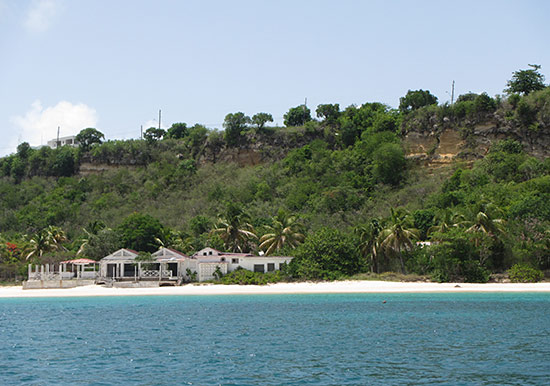 And approached those iconic shipwrecks...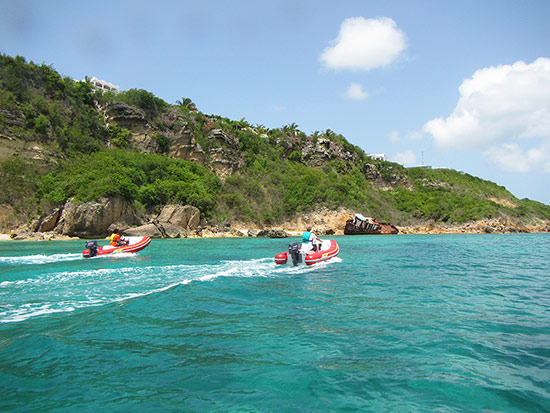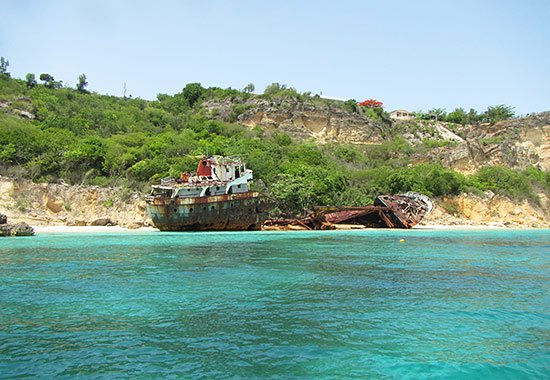 I marvel at seeing Anguilla from the ocean. That day we had ideal conditions, with glassy-calm seas and a couple of light clouds overhead. The sea was stunning. And, the view from Freedom Rental's Tiger Rider boat could not be beat.
In these small boats, you're just a couple of inches from Anguilla's water. Sitting atop clear turquoise, gazing at familiar sites from a different angle, visually, it's beautiful. I turned to my Dad and smiled, "this is why we live here!"
"Where to now, Mark?"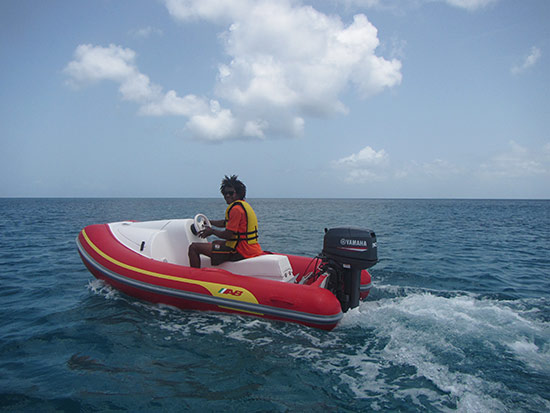 Mark had planned a packed day. First, we would head out west, passing Long Bay, Meads Bay and Barnes Bay, going all the way to the island's western tip. Then, we would turn around and head all the way back to Katouche Bay, with Little Bay as our end destination.
Ready? Let's go!
Long Bay, Meads Bay & Barnes Bay
Skipping along the sea on Freedom Rental's boats is liberating! Now I know why they called their company "freedom" rentals ;-)
Spotting Sandy Island

Want to go fast and speed passed the coastline, feeling the wind whipping through your hair? Prefer to take it slow and tuck up close to the shore to see the sights? The choice is yours!
We did a mix of both.
After leaving Sandy Ground, Long Bay quickly approached to our left, with lush green hills and craggy cliffs welcoming us as we neared.
My Dad and Mark sped ahead. A little more timid to put my foot on the gas, I lagged behind, taking in the view.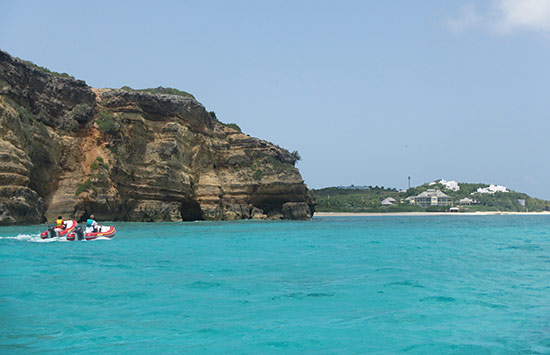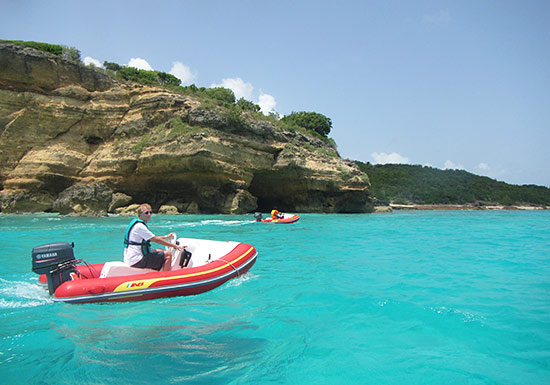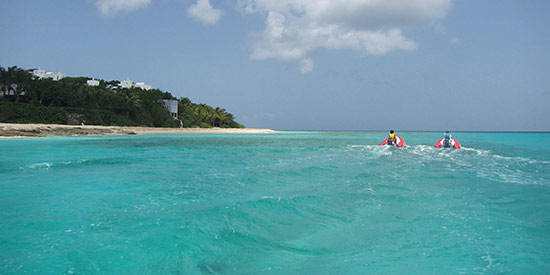 We passed Oliver's restaurant jutting out to the sea and the ultra-luxurious, stark-white Temenos villas. That white sand beach beckoned, but we pressed on to Meads Bay, enjoying the feeling of bouncing along the sea.
It wasn't long before we passed another picture-perfect little beach, Turtle Cove in front of Malliouhana. With swaying palm trees and a spit of golden sand sparkling in the distance, I would swear it was a mirage.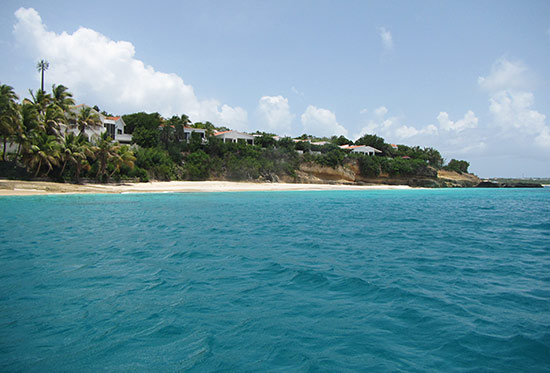 We circled in close around Malliouhana, coming into shore near Carimar. It felt pretty exclusive to be out at sea alone, no other boats, nothing in your way, watching everything on shore from the sea.
With a whole stretch of bay ahead, my Dad came in close to me. "OK, Nori, it's time to put your foot down!" He pushed me to rev the engine. He wanted to race. I had no choice!
With 8 horse power engines, they don't go extremely fast, but I always have a hard time trusting myself with anything that has an engine. I applied pressure with my foot, slowly accelerating, holding the wheel steady. After a little taste of more speed? I was addicted! I looked over at my Dad, smiling, laughing.
We raced all the way to Viceroy, taking in the size of the impressive resort. It felt like a scene straight out of Hawaii 5.0, shot in high def. Once around Viceroy, I sped up to Barnes Bay, turning the boat fast, enjoying this new-found feeling.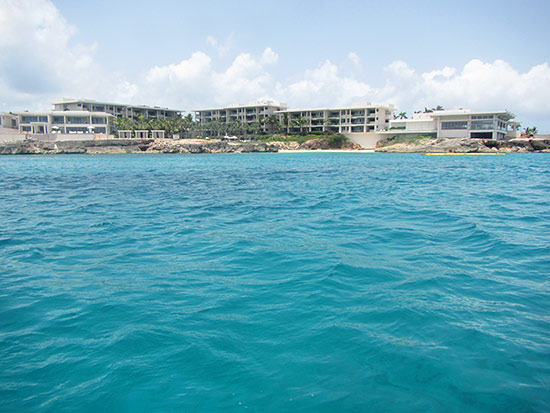 My Dad and Mark, on the other hand, took advantage of the calm day and approached the cliffs under Viceroy's promontory. What did they see while they were calmly bobbing underneath the over-hang? A 4' iguana! Mark knew exactly where to find him.
More of Viceroy (Barnes Bay)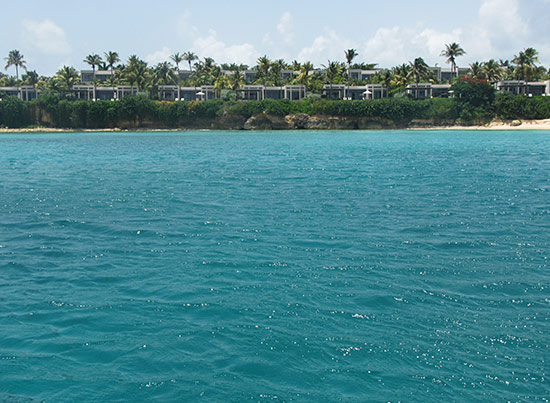 After marveling a little longer at Viceroy and the exquisite villas that line Barnes Bay, we sped ahead to West End. Mark had an especially unique secret spot to share!
Mark Looking Ahead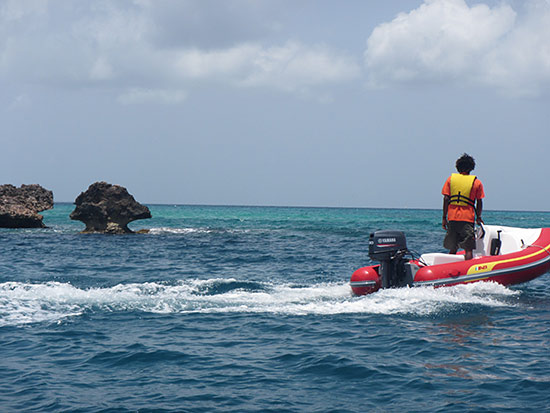 West End
The water became quite calm after we passed West End Bay. Still water met steep cliff. There's something humbling about the presence of those cliffs, towering high above.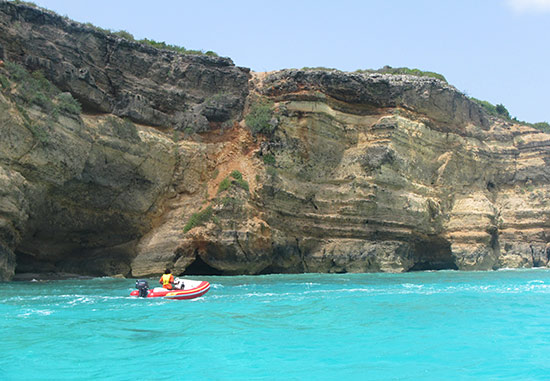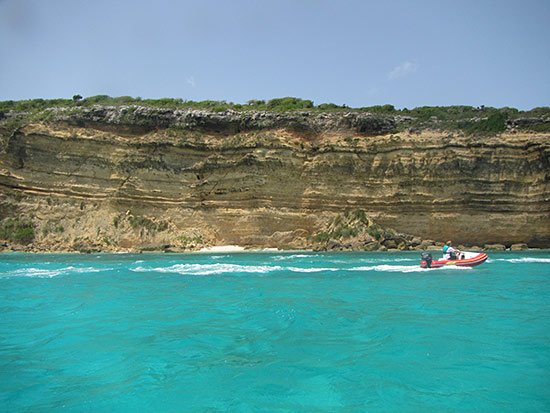 One thing I never fail to notice while venturing around Anguilla on the ocean are all of the little secret beaches. Those that aren't on the map, those that you can't reach via road. There are so many dotting the shoreline, just flawless...
Mark turned his boat to the left and called us over...
"THE" Arch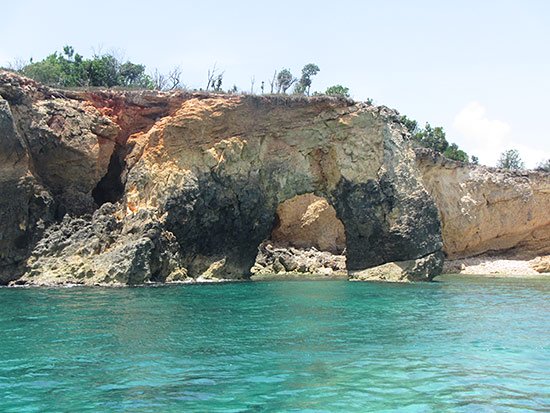 All of these years cruising around Anguilla's coast, even along the northwestern shore, and I had never noticed this neat rock formation. Almost like a European ruin, the rocks here have hollowed out, forming a perfect arch over shallow water.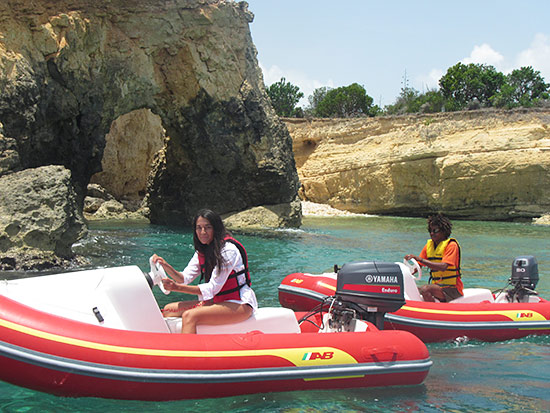 We pulled in tight, Mark keeping a steady eye on the boats, giving us direction to not come in too close. After trying to convince Mark to let us drive through the arch (to no success ;-) ), we were on our way. Soon, we would be diving into the oh-so-inviting sea.
We set off east...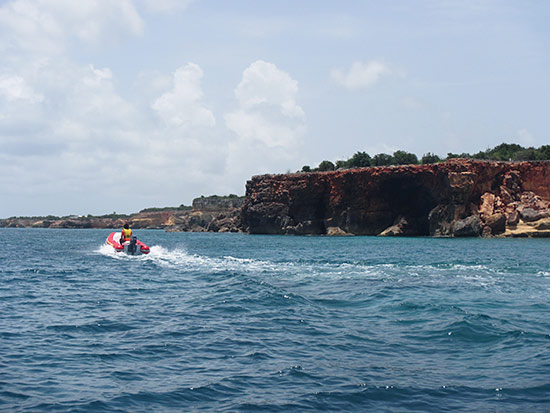 Katouche Bay and Little Bay
The drive to Little Bay was my favorite part of the trip. A long, long stretch, covering nearly half of Anguilla's northern shore, we drove those boats as fast they would allow. No interruptions, no stops, the speed was exhilarating!
Katouche Bay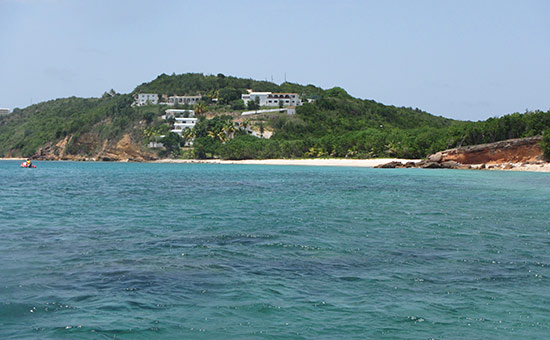 As we got closer, Mark took a second to pause at Katouche Bay, pointing out the rain forest and highlighting the mysterious Iguana Cave that rests deep within.
Once you've reached Katouche Bay, you know Little Bay is not far!
Arriving at Little Bay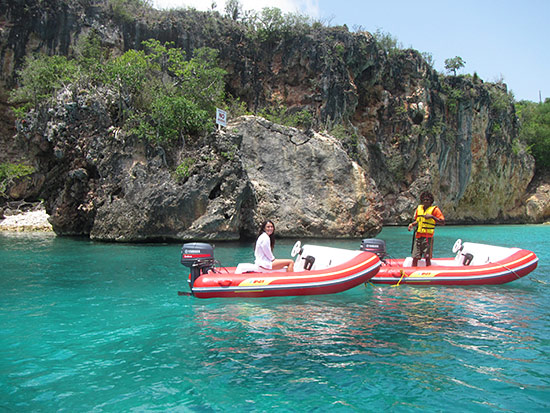 Mark helped us moor our boats, tying them to the buoy that rests near the large 20' rock in the bay that many people climb and dive off. Not interested in testing any fear of heights that day, we were more in the mood for a leisurely swim and snorkel. We hopped off the boats, masks in hands.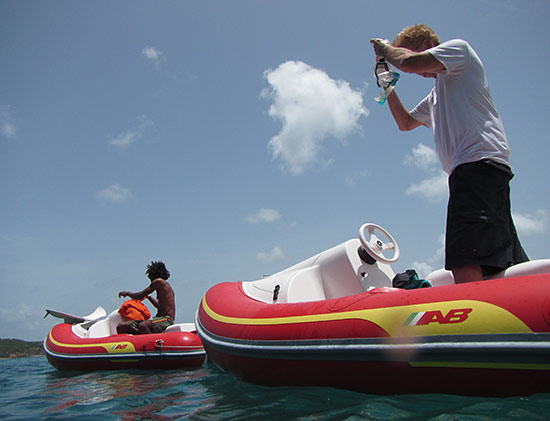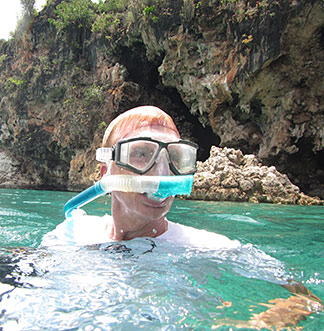 My Dad and Mark explored the smaller, shallower coves closer to the rocky shoreline.
They spotted several large, colorful fish.
My Dad was as happy as happy can be!
From bopping along the crystal clear seas, to floating on Little Bay's calm waters, to spotting Iguanas and Caribbean sea life, he looked completely enthused and totally at ease.
The photo below says it all.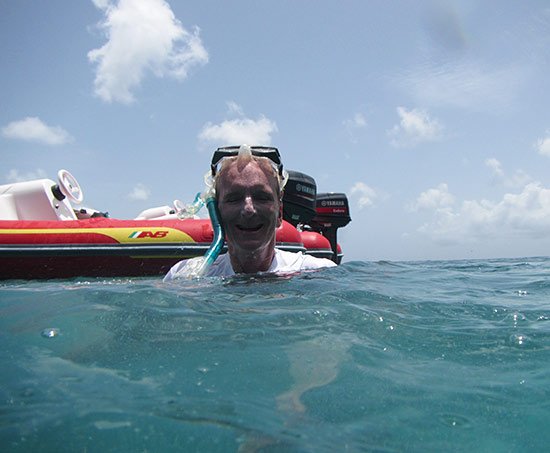 As always, soon it came time to say good-bye to idyllic Little Bay. We bid it "adieu" knowing that we would never forget this day, this adventure.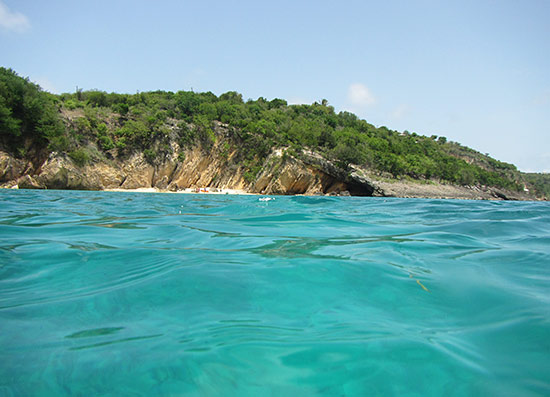 It was an afternoon to remember, a perfect blend of sightseeing and exploration, sport and fun, and peace and relaxation!
Contact Freedom Rentals Anguilla
Tel.: 264-498-2830 or 264-581-2830
Email: freedomrentalsaxa@gmail.com