Anguilla Restaurant On Wheels
Dining A Go-Go!
Update 2018: Hungry's truck is not open, but you can still get that same great taste at their eat-in restaurant in the mall just next door to the Old Stone Factory (beside where Hungry's truck was). Click here for the menu.
Hungry's At A Glance
Pastas, soups, quesadillas, Hungry's does them all exceptionally well, for cheap and quickly, too! It is one of our spots for take-out. Irad and Papi, the owners, are two kind souls, too. It's always a pleasure chit-chatting with them as we wait for our favorite shrimp pasta and shrimp quesadillas.
More on Hungry's, below...
The colorful food van that dishes up food with speed and flavor! You know it when you see it... it's Hungry's!
Hanging With Irad at Hungry's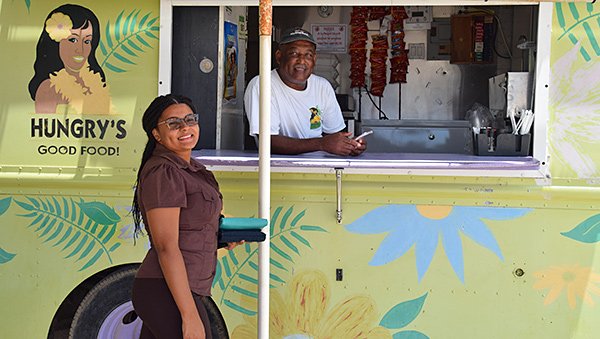 Love At First Bite
We first discovered Hungry's many years ago on "just another warm, sunny, I-could-live-here-for-the-rest-of-my-life," day in Anguilla. Mid-day... we were hot and hungry... and loving it.
And looking for a tasty Anguilla restaurant!
We were driving through Anguilla's capital, the Valley -- don't blink or you'll miss it. Suddenly, at the side of the road near the Post Office and the Land and Surveys office, we spotted...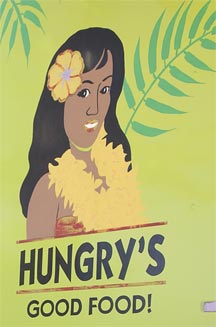 Hungry's Good Food?
Well, it certainly sounded promising!
We definitely were hungry, and we desired good food.
We usually notice things just as we're about to pass them and this was no exception. Our car screeched to a halt, did a slight u-turn, and we climbed out ready for a tasty lunch.
But wait, this was no ordinary Anguilla restaurant. This was actually a food truck.
And to our greater surprise, we saw our pals Irad and Papi standing behind the counter of Hungry's.
The kings of divine Anguilla dining had just opened up a new concept! We knew we were in for a treat!
Hungry's...
Meals on Wheels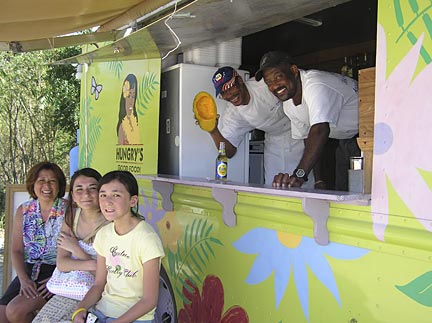 We swapped stories and caught up on all the news as we took a gander at the menu...
There was so much to chose from!
But Papi made it easy. "Stick with the quesadillas for lunch," he advised.
Who would know better than the stupendous, former Cap Juluca sous-chef himself?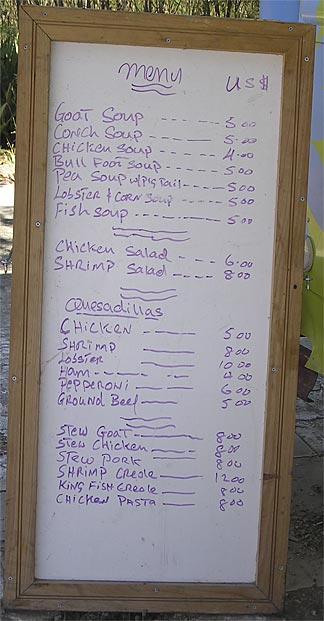 So we ordered two lobster (my parents) and two chicken (Yuki and me) quesadillas. My parents loved the lobster, saying they would both be back for another tomorrow. As for me?
Delicious!!!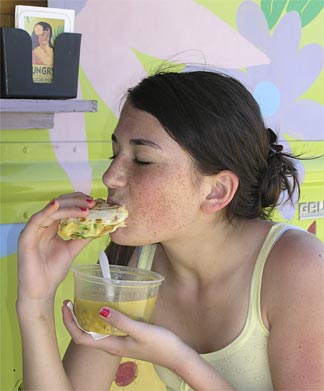 The perfect blend of warm cheese, fresh vegetables, and chicken, enveloped in a lightly toasted tortilla. My tastebuds were exploding!
This was the only Anguilla restaurant that we ate at three times during in one trip. We normally like to try different places. Yuki and I both agreed that the quesadillas are Irad and Papi's forte, but my Mom and Dad also fell in love with the "supper meals".
According to them the "real Anguilla dining" of seafood and goat dishes was unbeatable, especially the shrimp creole. "It's out of this world," my Mom claimed. "And the price is a steal," added my Dad. These dishes came with scalloped potatoes, mixed vegetables and rice and peas.
Excellent on all accounts!
Still Hungry For Hungry's!
By: Louise Fayet
Since that first visit, Hungry's has stood the test of time.
What began as a food truck serving simple soups, quesadillas, select salads and special meals has grown into a full blown menu with something for everyone. All types of salads and pastas are now available, including salmon, roast beef and lobster pastas. (A few menu items have been removed, like the shrimp creole.)
The oh-so-creamy pastas are especially hard to resist. Cassie's (and Nori's sister Yuki's) pick? A chicken pasta and I always go with a Hungry's classic, the vegetable quesadilla. Orders placed, it's always so fun to chat with the every friendly Irad. Armed with a smile and a quick joke, he is such a kind man.
Menu at Hungry's Good Food van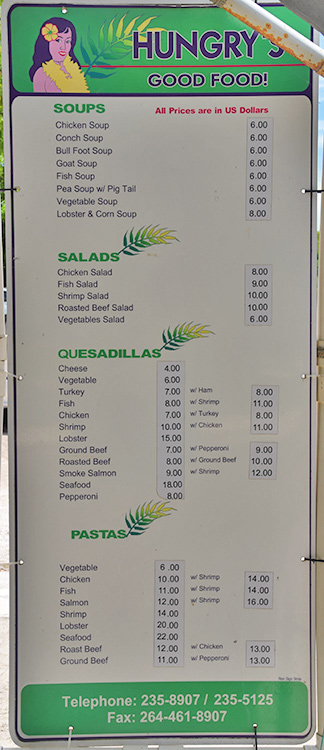 Chef Papi's piping hot food took less than 10 minutes to reach to us! Hungry's is one of those few places that ticks all three boxes: it's a go-to for fast, good and cheap eats.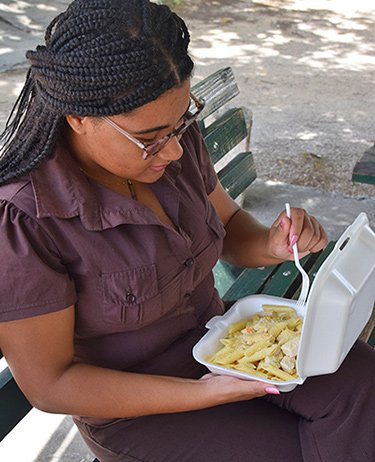 Opening the warm containers while you sit on the benches adjacent to the vibrant van, every moment is steeped in anticipation of that first bite of pasta delight!
Cassie enjoying her creamy chicken and vegetable pasta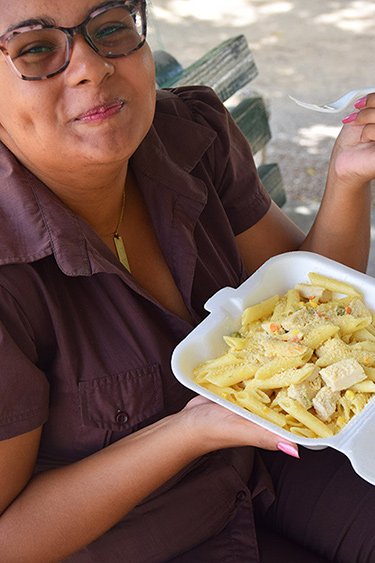 As for the quesadillas? Excellent, as always.
Warm cheesy and vegetable quesadilla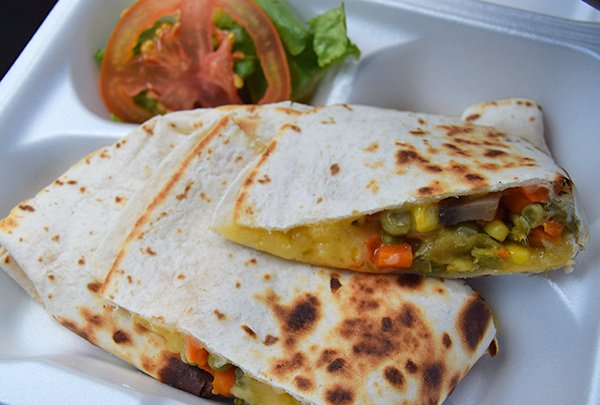 Do try this Anguilla restaurant on wheels. You can't miss the flashy van as you drive through the Valley. And you'll always spot a few Anguillians around the truck... a sure sign of a hit!
Directions, Hours & Contact
Directions: Hungry's is located right next to Vallely Bistro, opposite St. Gerard's church as you approach The Valley from the airport.
Hungry's
Good for quick pastas, quesadillas and soups.
Hours: Weekdays and Saturday, all day starting at lunch. Open late 'til 10pm.
Tel: 264-235-8907