Fine Anguilla Dining...
Right To Your Door... Or Beach
Irad Gumbs and Alfonzo "Papi" Hodge have built a better mousetrap. Cap Juluca-level Anguilla dining is the "better cheese"... and the key is they bring it all right to your villa, cook it, serve it, clean up, smile one last time, and say good night.
Alfonzo (he prefers to be called "Papi") has steadily advanced in the "fine Anguilla dining" cuisine ranks... his credentials include sous-chef at Cap Juluca and head chef at La Sirena. Irad is the culinary entrepreneur who has managed or owned several Anguilla restaurants.
My #1 Tip -- Chat with both of them. They have a thousand hilarious tales about restaurant life... from the side of the swinging doors that you never see.
Alfonzo and Irad!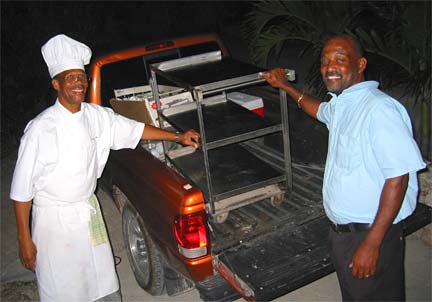 It all began on our March 2004 trip. The vacation itself had started strangely, with unusual complications upon arrival.
Once we'd settled into the Tortue Villa, however, my Dad said we'd be throwing a party to reunite with our Anguilla friends.
"A party?" I thought... "A party with my parents hosting it? Are you kidding me?" I thought that I had really stepped into the twilight zone.
My parents are not social butterflies, and definitely not ones to handle a huge party on their own. They're very busy business people -- when they relax, it's with Yuki and me, or a small number of close friends.
They'd never throw a big party. No time. They spend their business lives planning and organizing. The last thing they'd want is a big party.
Little did I know -- they didn't plan on planning. Our good friend, Claire Devener, publisher of Anguilla Life Magazine, is a source of great tips. And she had another for us.
Irad and Alfonzo.
All they need is 24 hours notice. So my parents met and chatted with them. Irad and Alfonzo are two of the nicest gentlemen you'll ever meet. Alfonzo has the most infectious laugh (and provides the cooking skills). Irad charms you with super stories and takes total control of putting it together. You just tell him, where, when, what... and how many.
My parents called all their friends, found a date that worked for everyone and we were on... with our very own Anguillian bar-b-que... genuine Anguillian dining, right in our villa, with all our friends.
Wow!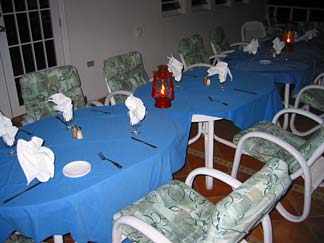 On the day of the party, they showed up early, with tons of food (chosen with my parents), utensils, china (no paper plates here!).
Everything.
And they did it all. They wouldn't let my Mom lift a finger (don't worry -- no danger of my Dad lifting one, anyway!).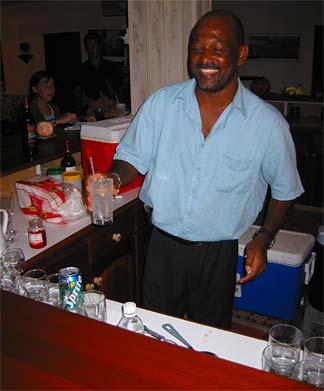 My Mom looked guiltily happy. Irad and Papi bustled about...
unpacking the truck...
setting the table...
preparing the BBQ equipment...
laying out the bar -- yes, they also bring all the beverages your liver could ever stand...
and soft drinks for "the rest of us."
The food? That was prepared fresh, as the guests arrived!
First Up... Appetizers!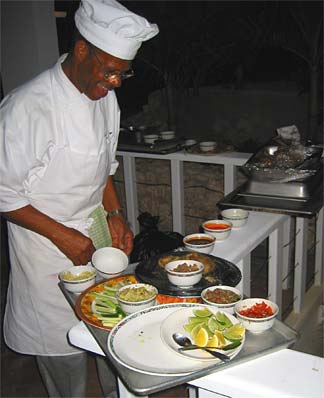 Alfonzo sliced and diced, cooked and laid out an endless parade of appetizers, each more delicious than the next.
Irad was everywhere (we think he's twins!) as he served these "Papi Specials" to our happy group of guests.
Hmmm... I just notice that Papi rhymes with happy. And the guests were certainly VERY happy with their tastebuds' experiences.
Unfortunately, my Dad and I were a touch late. We had been interviewed on The Anthony Show (the TV talk show on the Anguilla channel). But we arrived with plenty of time to catch up.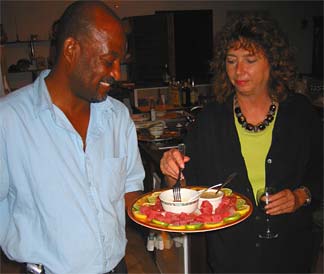 We love sushi, so what a treat to see Irad circulate with a plate of raw tuna. Here's our favorite real estate agent in the whole world, trying this delicacy.
We're not talking cheese-on-cracker appetizers, as you can see (although if you want that, "I&P" (Irad and Papi) will make you anything you like.
How could they possibly outdo the appetizers, I wondered?
No need to wonder.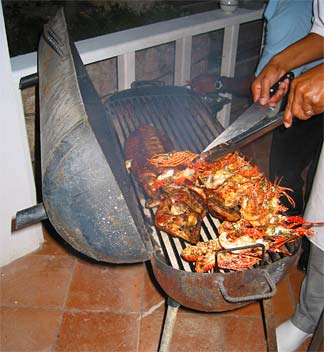 Alfonzo fired up the grill and worked his magic.
My parents had selected crayfish, ribs and snapper for the adults. Chicken for the younger kids.
I&P will make whatever you like, though... corn soup (a very special Anguilla dining experience), conch fritters, fish cakes, johnnycakes -- there's nothing Alfonzo can't do... to perfection.
Accompanying dishes included rice and peas, cassava, and mixed vegetables (again from a wide selection, such as christophene, papaya, plantains, breadfruit, dashin, and tanya).
Garlic bread, too!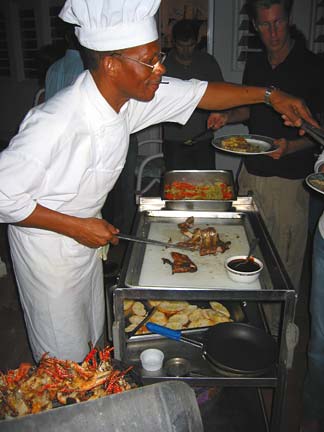 The crayfish and grilled snappers were huge favorites, and of course everyone loved the Anguillian BBQ ribs.
My history teacher told us how the Romans used to eat all night, then go out and put their fingers down their throat to... uh... well, you know.
That way, they could start all over again.
Now I understood what he was talking about!
I ate until I thought I'd burst.
And so did everyone else, judging by the happy groans.
Creamy Potato Salad
and Done-to-Perfection Crayfish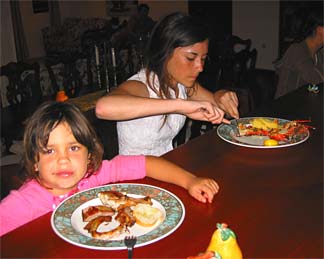 Rice, Peas, and a Special "I&P" Veggie Dish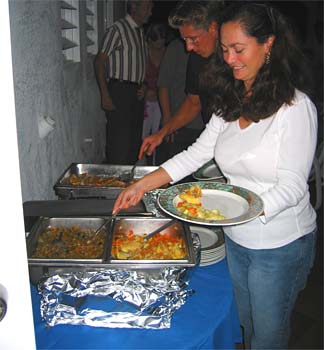 "The Best Chicken and Ribs,"
My Sister Says!

There's Nothing Like A Great Meal
In The Comfort Of Your Anguilla Villa
And In The Company Of Good Friends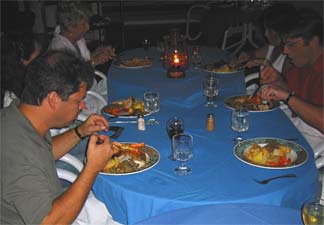 Imagine calling "Cap Juluca" and saying, "Hello, can you send your staff over and fix a feast for 15 at my villa?" Not likely, unless your last name is DeNiro.
But that's what we did. Every morsel was the finest in Anguilla dining. But I can't wind this down yet. The best (my perennial favorite) was yet to come!
Dessert.
Vanilla ice cream, fresh cut mango and other fruit, all into a wafer cup. After two or three of those...
There was also banana cream pie, pumpkin pie and sour sop mousse to choose from.
Plus a choice of green tea, lime tea, fresh basil tea, and mint tea.
What a meal. I could hear my parents and their friends. The conversation started getting quieter... almost sleepy. The evening was now coming to a happy, sleepy end. Good friends started saying their good-nights.
I don't think Mom could have lifted a finger... even if she wanted to. (Knowing her, she probably did.) But I&P?
They sprung into action! Truly indefatigable (my Dad gave me that word!).
They washed up...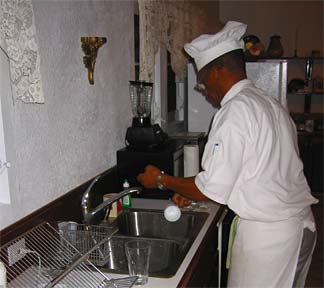 packed it all away...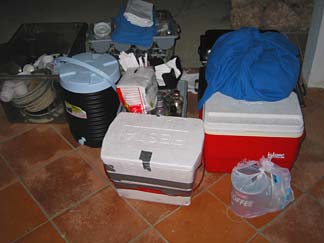 tucked it onto the truck...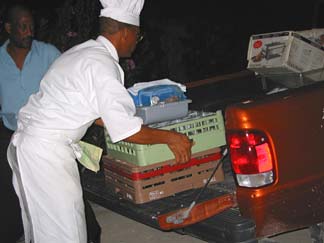 And then the strangest thing happened. We all chatted outside for a solid 45 minutes. It started with the night's events, truly a "happening"... a huge success. My parents were so happy to have a night for people they consider special in their lives.
But it quickly spread into the "I&P Show" -- they told one funny story after another. Insider stories, not just about Anguillian restaurants, but about Anguilla itself.
It was almost as if no one wanted to say good-bye. No, it was exactly that, actually. But all good things must indeed come to an end.
We all said our good-byes and thank-yous.
And then they were off into the night!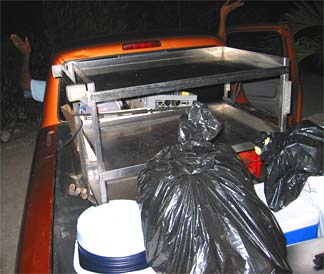 They took it all away with them (except for a few select leftovers we picked out!). The villa? It was like it never happened.
My parents, not party-givers, were happy as pelicans with gullets full of fish! Fine Anguilla dining, the best that Cap Juluca itself could offer, had come straight to our villa. Maybe next time, we'll do a torchlight on-the-beach dinner!
To contact Irad & Papi about bringing this amazing duo and superb food to your villa or even right on your beach...