Owner's Story Behind
Bird of Paradise Anguilla Villa
From the exotic furniture and fixtures, to the lagoon pools, to the St. Martin vistas, to the Balinese-inspired construction, Bird of Paradise is one of the most unique luxury villas in Anguilla.
In the first of a new series where Anguilla Villa owners tell their stories, Melody Dill, the owner of Bird of Paradise villa, tells her family's story, which dates back to 1981. Here is how they found and fell in love with Anguilla and then constructed their unique Balinese-inspired villa.

It's hard to believe that it has been 30 years since we first visited Anguilla.
In our quest to find the perfect beach and the perfect island we traveled all over the world. Our search stopped in 1981.
Jon and I worked for an arm of the U.S. State Department, which took us from the shores of West Africa to Indonesia.
Beach in front of Bird of Paradise at Sandy Hill Bay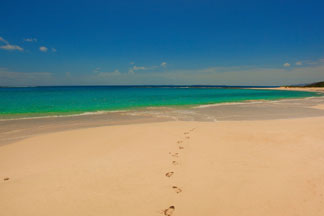 Whenever possible we'd take a weekend and check out the local beaches. For vacations, we'd usually stay closer to home and head to the Caribbean where we have visited most of the islands.
In 1981, it was our friends' turn to pick the vacation spot that year.
Stan and Sharon were veterinarians in New York. One of their clients had come into their office and told them about the beautiful beaches on the island of Anguilla, so off we went...
Falling in Love With Anguilla & Our First Investment
I had been on a business trip so I caught up to my husband, Jon, and our friends a day later. I got off the little plane on Anguilla and in the taxi looked at the scrub trees, brown grasses and herds of goats.
My hard-earned vacation was going to be spent here? Where was the lush, tropical scenery?
Those are my very first memories of Anguilla.
Then I discovered the beaches and those beautiful turquoise waters. In those days we had them totally to ourselves (still true today, but I do mean totally).
There was no Viceroy or Frangipani. There was no Cap Juluca or Cuisinart.
But, there was a woman sitting on a beach chair on Meads Bay selling the concept of
Carimar Beach Club
. A condo at Carimar was Jon's and my first investment on Anguilla.
We lovingly spent our young adult years vacationing at Carimar and then, our son, J.B., was born.
Anguilla Has So Much To Offer...
J.B. finds a fossilized conch shell.
We're told it's 40,000 years old.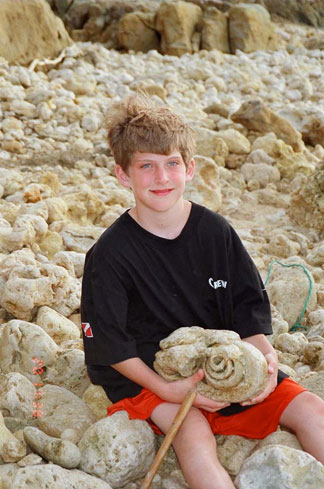 Soon, we'd take JB out of school and stretch spring break to three weeks. The teachers always said he brought back to school an education that they could not teach in the classroom.
Anguilla offers much more than just beautiful beaches.
We'd come back to Carimar after a day of adventure with a bucket full of 40,000 year-old fossils.
It was also great fun to search for Arawak artifacts and shards of pottery. The jig saw puzzle at night was to piece together the shards to see if we could assemble an ancient pot.
In first grade, JB was studying bats, so with the help of a friend we followed a path into the center of the island to some hidden caves, the home of a great population of these mammals.
We made a video mocking the TV adventure travel shows with J.B. as the host.
This seemed to make up for missed classes.
There was no end to the adventures...
Ras J shows J.B. how to play drums..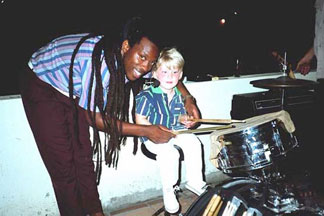 From steel drum lessons, into the depths of a cavern on another trip to see Arawak petroglyphs, to a boat ride to Scrub Island and Dead Man's Cove to explore the last beach between Anguilla and Africa....
We never tired of our discoveries and adventures.
And so we decided to build a home here, a residence large enough to house and entertain family and friends
Our Search For Anguilla Land Begins
We searched for more than a year to find what for us is the ideal location on Anguilla.
Jon wanted to look out at night and see the lights of St. Maarten.
We had been visiting Anguilla for 20 years and had seen the devastation caused by hurricanes like Luis, which had the highest sustained winds of any hurricane recorded.
We saw how the seas could undermine a building and take it out to sea. We knew we wanted to be at the beach, but not immediately on the beach.
It took a year, but we found our ideal location at Sandy Hill Bay.
We're perched on the side of a hill overlooking a perfect crescent beach, only a 3-minute walk down a path.
On a clear day we can see five countries, so we have panoramic views during the day and twinkling lights at night.
Panoramic views from the Bird of Paradise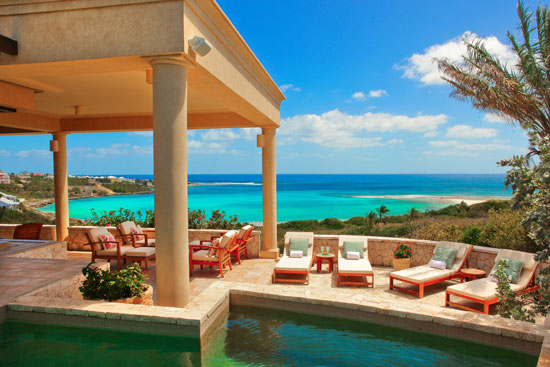 This special perch made us think of the rare bird that lives in the mountains of Papua New Guinea, the Bird of Paradise.
Our goal was to have indoor/outdoor living.
Wilson Associates designed the living room so all doors swing open for 180 degree views.
There are our interior and exterior living areas.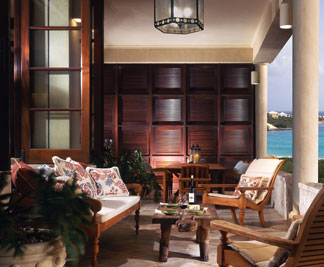 What was going to be the design of the Bird of Paradise?
We were inspired by our travels and Balinese architecture and saw an example of what we loved at Fregate Island resort in the Seychelles.
It was a long shot, but I called the resort and asked who designed the property.
It was an award-winning resort design firm in Dallas, Wilson Associates.
Through one set of heavy wooden gates,
down a driveway and arrive at the entrance
to the interior compound of the Bird of Paradise.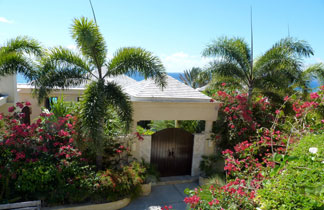 There was no way we could afford them, but it turned out that the designer of Fregate had spent years living in Singapore and South Africa designing resorts.
He was keen on taking a break and designing a home.
We agreed on a design cost.
There's no doubt that in the end Wilson Associates lost money on our project, but we also ended up spending twice as much as we had expected!
The Challenging Part
Designing a home on a desert island that has no potable water, hurricanes, and frequent electrical interruptions requires thinking about issues that are not common in Milwaukee, Wisconsin, e.g. roofs that collect water for a cistern, water treatment plant, generator and hurricane protection.
View from the living room to the interior compound.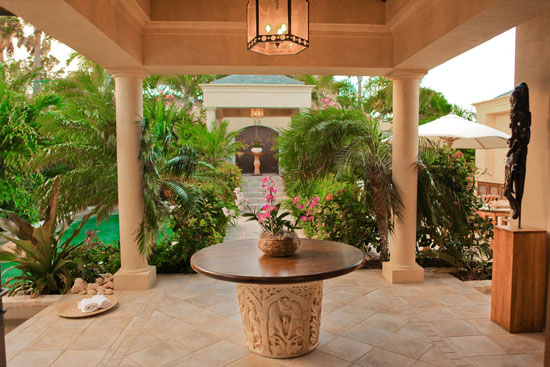 Since Luis had winds of 260 miles per hour and the Florida code for hurricane shutters only requires 110 mph, we had those custom-designed.
For hurricane protection, you want your doors to swing out, not in as they do in the U.S. so all of those were custom-built for us to butt up against a 3" lip on the floor. The list of details goes on and on.
I carried around a 3" binder with notes taken over the years from conversations with all those who had preceded us with building on Anguilla.
We did our best to learn from others' mistakes.
One of four master suites. This one has its own plunge pool.
Among the bathrooms are whirlpool baths, inside/outside shower,
dressing tables and more.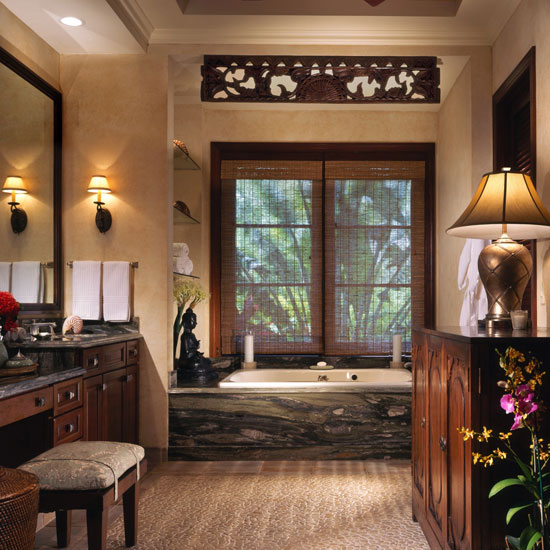 One suite has an office attached, which can be made into
a 5th bedroom or TV room for children.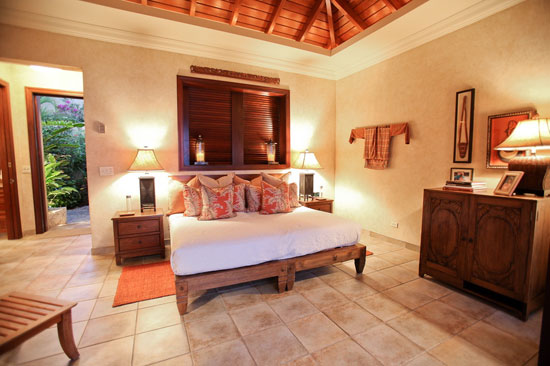 Balinese art

It was a two-year building process that included many trips to Anguilla and around the world to source everything needed to build a home.
It would have been one year but our builders gave money to a wood merchant who never delivered the timber for our roof. He was very clever and sent tracking numbers and names of ships that were on their way to Anguilla.
In the end, we had to buy the wood ourselves to get the project moving.
We ended up with a design that includes four buildings all interconnected with stone walls to create an interior compound with lush landscape and two lagoon-style pools.
In the years beforehand, when we rented villas with friends, it seemed that Jon and I always ended up with the short straw and got the small bedroom with a garden view at the back of the house.
We made sure that we had four master suites, each with its own veranda and an equal view of the Caribbean where no one gets the dreaded "garden view."
Now the fun part: decorating!
Carved panel from Borneo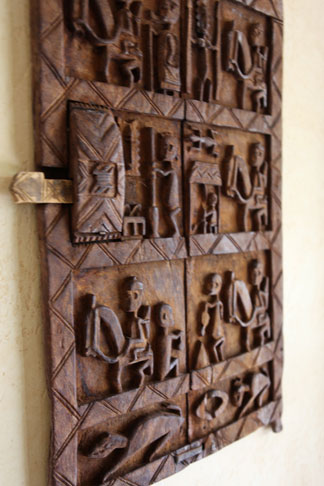 The best part of the project was the decorating!
Again, I was fortunate to have lots of help from the resort design firm, Wilson Associates, and Haven Interiors in Wisconsin.
Jon and I spent a week in Bali, Indonesia, shopping for antiques and designing furniture and glass hurricane candleholders, and we even had all the tableware custom-made.
Back in Wisconsin, our basement had been collecting artifacts from our travels. We had been collecting for almost a decade.
The art at the Bird of Paradise is primarily Oceanic, coming from Papua New Guinea, the Solomons and Borneo, but we also have some unique pieces from Ethiopia and elsewhere in Africa.
It was wonderful to finally have a place to showcase them.
The end result of our efforts is a very comfortable home, designed to take advantage of all that Anguilla has to offer, and we never tire of staying at the "Bird."
But, when we are not able to be on Anguilla, it's great to be able to share our home with others and ensure full-time work for our staff.
Sharing our "Bird"
So, the next step was to market the Bird of Paradise.
We were lucky because Robb Report, a luxury magazine, put us on the cover of Vacation Homes with an extensive article. After a couple of years of rentals, we were, again, fortunate to have wonderful repeat guests who voted the Bird of Paradise as one of the top 20 villas in the world at Islands magazine.
Conde Nast just toured Anguilla and the Bird of Paradise will be on their prestigious villa list in 2012.
This publicity and word of mouth are better than any paid advertising!
The Bird of Paradise includes several
hidden hideaways including this Indonesian daybed.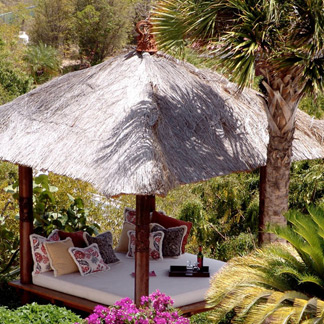 A hill-top deck hosts a dominoes
table for Anguilla's favorite pastime.

Executive Chef Zoe Hodge
Bird of Paradise has the option of all-inclusive pricing
which includes the cost of chef, service, and food.

As one of our guests wrote, as much as they enjoyed the Bird of Paradise, a key component of an enjoyable stay is the staff, and we're blessed to have a great team that works exclusively for the Bird of Paradise, which is highly unusual on Anguilla.
We wanted to provide our staff with full-time jobs, which meant we needed the villa to be busy, which is why we have priced the Bird considerably below market value.
An American teacher who lives on Anguilla
overseees the Bird of Paradise Kids' Club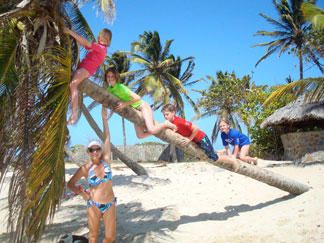 For our rental guests we hope they enjoy the spaciousness and comforts of home ownership.
We also offer all the services of a resort...
Blvgari amenities, Italian linens, executive chef, Kids' Club and in-villa spa treatments.
At the end of the day, this is more than just a commercial rental villa. Our goal was never to make money, just to break even. This is our home...
Melody, Jon, and J.B. Dill in One of Two Pools
at the Bird of Paradise Anguilla Villa

More on Bird of Paradise
Official Website: Click here
Tel.: (414) 791-9461
Email: AnguillaBird@yahoo.co