Anguilla Villas:
Bird of Paradise
Perched high in the hills over looking Sandy Hill Bay, you'll find Anguilla's newest super-luxurious villa.
The Bird of Paradise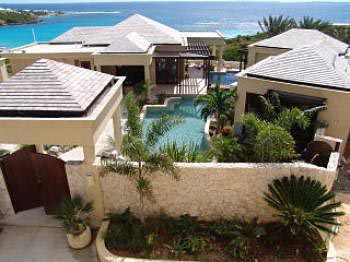 Custom built furniture from Bali, artwork from Ethiopia, wireless internet in all the bedrooms... just this small sample from a long list of amenities, is enough to get me trembling with excitement. And the HDTV clinches it for me!
But most people wouldn't rent a villa simply based on the fact that is has HDTV. Luckily, amenities aside, everything else about the Bird of Paradise is pretty convincing.

Picture Taken From
"Bob Green's Anguilla News" Site
This sensational villa, is very exciting!
There has been a ton of chatter on the island about it. It has been blowing people away.
Everyone was asking me (?!) about it during our 2006 visit.
Is it any surprise?...
The same people who designed the very famous Atlantis resort in the Bahamas and the Four Seasons in Hawaii, made a stylish mark on Anguilla by constructing a mansion, the Bird of Paradise.
The villa has four bedrooms, and two swimming pools (his and hers?).

Picture Taken From
"Bob Green's Anguilla News" Site
These two lagoon-like "lakes" snake through the enormous villa, giving a very exotic feel.
What helps make this mansion the impressive palace it is, as my Dad always says about any great project, is the details.
"The Devil is in the details, Nori."
All of the furnishings were found by the villa's owners on their many travels around the globe. No corners were cut, not even rounded!
And... as if hand-picked knick-knacks from every corner of the world weren't enough, there's Frette Linens, Voss Waters, Bvlgari amenities and Kona coffee!
Walking around this Caribbean mansion, in a Frette bathrobe while sucking on some Voss, would make me question my identity.
Am I royalty?!