A Relaxing Day in Paradise
by Pamela
(Stamford, CT)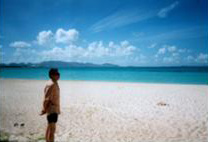 My husband on the beach
I hate to even imagine what cruel twist of fate would allow me to know that I would never again be able to visit Anguilla. Unfortunately tomorrows are not promised, and that being said, this is how I would spend my last day.

My husband and I sleep with the curtains open, so the first morning sun wakes us and we don't miss a minute of our day. We go for breakfast someplace open-aired so we can see, feel, and hear the ocean. We linger over coffee and a delicious breakfast enjoying each other and the incredibly beautiful and peaceful setting.

After breakfast we take a long walk on the beach. There are very few people and it almost feels like we are on our own private island. The one or two people we pass smile and extend a friendly good morning. The sand is soft and the sun is warm. The walk is relaxed and the view is breathtaking.

We take a lesiurely dip in the ocean before heading up to our room. We freshen up a bit and grab our books. Next we head out for a shady spot to rest in hammocks or on lounge chairs to do some reading. After we have read, and possibly dozed off, it's time for a lite lunch.

We decide to go to Shoal Bay East, where there are always some people out and about. We enjoy a delectable lunch while people watching, and as always appreciating the spectacular environment. Once again we go back to the hotel for a swim in the pool and a rum drink.

We laze by the pool and discuss where to go for dinner. Back to the room for some private time and to shower and dress for dinner. We decide on a restaurant at Meads Bay and go early to watch the sunset. We are an hour earlier than our reservation. We get glasses of wine from the bar and sit on the beach to enjoy nature's show. We kiss as we watch the beauty unfold.

Now it's time for dinner. The restaurant doesn't rush and we are not in a rush either. Life is lived at an easy, carefree pace in Anguilla. Dinner is a culinary feast and every morsel is perfection.

We decide it is time for some music and dancing. Luckily there is some live music tonight and we drive to the venue. There are mostly locals and a few tourists. Everyone is receptive and kind. We have a drink, do a lot of dancing, and chat with several people. After having worked up quite a sweat and having a blast it's time to call it a night.

When we arrive back at the hotel we decide to sit by the pool and look out at the ocean bathed in moonlight. We sit quietly holding one another and just taking it all in for one last time. Wow, it is one of those simply beautiful and beautifully simple moments! Back in the room we relish private time together before falling into a deep and peaceful sleep.

I did not mention specific restaurants because there are so many divine and scrumptious places to dine. It is not a specific spot that makes me love Anguilla. It is the natural beauty, the friendliness of the people, and the sweet and slow life.

Every beach is stunning, I have never had a bad meal, and I have never had anyone ask me for anything. I would simply want to savor every precious moment of my last day on what I consider to be heaven on earth!

If you enjoyed this Anguilla travel story... Click here to "Like" and comment on it at its Facebook announcement.

Note: Facebook does not allow you to interact with any Facebook page until you "Like" it. So, if you have not already done so, please click the "Like" button in the top left corner of this webpage, or at the Anguilla-Beaches Facebook page.
Join in and write your own page! It's easy to do. How? Simply click here to return to Your Anguilla Travel Story.