Anguilla: Bored to Tears (of Joy)
by Tracey
(New York City)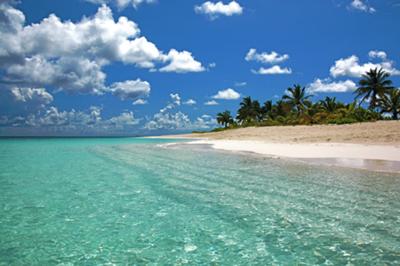 So . . . Anguilla. Trying to explain to someone why we love this scrubby little chunk of limestone is sort of like trying to convince someone that it might be really fun to sit around and watch paint dry. On paper, it doesn't exactly sound like a barrel of laughs:

No nightclubs.

No casinos.

No jet-skis.

No quaint villages to explore or lush mountains to gaze at.

No duty-free shopping.

But what Anguilla does have are the makings of a perfect day in paradise: Stunning beaches of powdery white sand and clear, turquoise water that somehow manage to remain gloriously uncrowded. The Caribbean's best restaurants, ranging from humble beach shacks in the sand to five-star temples of haute cuisine with wine cellars to match. Casual, laid-back beach bars where the lilting strains of reggae compete with sound of the waves and the bartender makes rum punch the right way – strong! – with a grating of fresh nutmeg on top.

And the kindest, most welcoming folks you'll encounter anywhere, whose happiness to see you is rivaled only by their pride that you've chosen their island to spend your last perfect day.

Of course, the perfect day starts with food, and the perfect food is a cheeseburger. But not just any cheeseburger: I'm talking about the incredibly delicious feat of awesomeness that is the Ferryboat Inn cheeseburger.

Ferryboat's burger is incredibly juicy, sloppy even, and yet somehow all of the juice stays inside the burger, not dripping all over your plate. It is huge and charred on the outside and marinated in something so delicious that it must be illegal. The soft, pillowy bun is slathered with some orange stuff - Thousand Island dressing? a ketchup and mayo mix? – that I fear would disgust me if I knew its true identity, so I never ask (and please don't tell me if you know).

Ferryboat's burger puts all the other players in the "best burger" wars – In-N-Out, Shake Shack, Corner Bistro, Five Guys, you name it – to utter shame. It costs $10, but it could cost $100 and still be worth every penny. It needs absolutely nothing. Ketchup, mustard, lettuce, tomatoes – all are just distractions from its marvelous meaty goodness. It is, quite simply, perfection on a plate.

I once asked Marjorie, Ferryboat's charming English owner, what her secret was to making the burgers so delicious. Was she adding special spices to the ground meat mix, or marinating the burgers in something unusual? Oh no, dear, she assured me. We just use top-quality beef, that's all.

Which I think is British for, Sod off, you bloody prat, if you think I'm telling you how I make the world's best hamburger. Cheerio!

Obviously I can't be seen in a bikini for a few hours after this – the day may be perfect, but my burger belly isn't! – so it's time for some shopping.

And so my husband Angel takes the "back way" over to Irie Life, dodging stray dogs and wayward goats and trying to keep his eyes on the road as we sneak peeks at the sweeping views of Sandy Ground while we bump along. A red, yellow, and green tribute to all things reggae, Irie Life is chock-full of Bob Marley gear, Anguilla hats and t-shirts, and the coveted "AXA" oval stickers. On the other side, St. Barth tanning products, smelling deliciously of sunshine and coconuts, compete for attention with a rainbow of breezy cover-ups in Easter-egg hues, trimmed with iridescent sequins and beads. Yes, that sucking sound you hear is my wallet being drained of all its money.

Because a perfect day on Anguilla would never end, that means we have time to hit all of our favorite beaches:

Cove Bay, with one of Smokey's potent rum punches sweating in my hand, the smell of fried shrimp and boiled lobster in the air, a steel-drum band playing in the background, and pure white sand and calm blue water as far as the eye can see.

Little Bay, where we float silently on the surface and watch the synchronized ballet of thousands of tiny fish move beneath us as one.

Meads Bay, where the graceful stingrays abide by our tacit agreement, which is that I won't eat them if they don't eat me.

Maunday's Bay, where I become convinced that the Arawaks must have had as many words for "blue" as the Eskimos have for ice.

Rendezvous Bay, because you never forget your first love, or the first time you laid eyes on the place that would change your heart forever.

The perfect day has to end with the perfect meal, and for us, that's at Oliver's.

After receiving a warm "welcome back" from Miss B. and ordering an icy bottle of Sancerre, we toss the menus aside and commence grinning like loons. That's because we're both having the Seafood Compote, a dish known to make grown men (okay, Angel) cry. Imagine the best lobster bisque you've ever had, made extra-creamy with the addition of coconut milk, studded with huge pieces of fish, shrimp, scallops, and lobster, all sitting on a spinach-polenta cake to soak up all that creamy broth . . . and surely you can understand how this dish ended up on my list of the Top Five Things I'd Order If I Ever End Up on Death Row.

Finally, sadly, it's time to leave - but not before one last swim at Shoal Bay. Being on time for your flight is so overrated.

As our plane takes off and the island becomes smaller and smaller in the distance, I start thinking about how much this little rock in the middle of the ocean has meant to me over the years, how it has changed my perceptions of beauty, tranquility, and happiness.

Anguilla, when we first met twelve years ago, I fell instantly in love with you. You were drop-dead gorgeous, yet unassuming and charming. You were simple yet luxurious; friendly but private. You were sleepy and slow-moving, but with an energy all your own, and you smelled like nowhere else in the world. You were, in a word, perfection, and I desperately hoped that you would never change.

When I am in your presence, a transformation takes place. Gone is the grown-up with a job, a mortgage, and countless responsibilities. Gone, too, is the woman who wears boots eight months out of the year and owns more winter coats than she has space for in her tiny New York City apartment; the woman who dreads the endless weeks of grey skies and rain.

In her place is a happy young girl who fearlessly jumps off boats into crystal-clear water, whose hair is a salty tangle about her suntanned shoulders, who kicks the flip-flops off her browned feet and buries them in soft, sugar-white sand. I am changed because of you.

Over the past 12 years you have provided me with more happy memories than anyone probably deserves in a lifetime: Bumping along a rocky, unpaved road, nothing but our headlights and a handful of stars in the ink-black sky to guide the way . . . only to stumble upon tiny, candlelit Straw Hat restaurant, balanced on stilts above crystal-clear water, serving 5-star cuisine by the sweetest folks on the island.

Making our way down a shady path at La Sirena, passing a tiny, sparkling, secret pool as we go. Pushing aside giant sea grape leaves at the path's end to reveal a wide expanse of sugar-white sand, vivid blue water, a few wooden umbrellas . . . and not another living soul.

Having tiny, gorgeous Little Bay all to ourselves for an afternoon; our boat driver, Calvin, the only person in the world who knows where to find us. Drawing in my breath and shaking my head in amazement at the overwhelming beauty of Shoal Bay, each and every time I see it. Picking up hitchhikers: maids in their white aprons, shy schoolchildren in their pressed uniforms. Breathing in your inimitable scent.

Indeed, you are so beautiful that I suppose it was inevitable that others, too, would eventually fall under your spell. You've been discovered, and over the years you have been changed by all the attention, by the press and praise. Road signs dot your landscape, eliminating the singular pleasure of getting lost on one of your formerly bumpy roads.

New hotels and villas squeeze onto your beaches, even as many of us fear that you are becoming too crowded. Diamond stores and duty-free shops – will they edge out our local favorites? Everyone wants a piece of you now, and it's hard to blame them.

And yet . . .

And yet, glimmers of the island I first fell in love with still remain. Sand so powdery that I find it still clinging to my calves even after I've taken a shower. A huge smile and a warm "Welcome back!" at your shops and restaurants – more than two years after our last visit. Wading into one of your pristine bays and looking down to see a handful of curious little fish circling my feet. Water so clear that a snorkeling mask is merely optional.

The obvious pride on the faces of your gracious citizens when we respond that, No, it's not our first time on the island.

And it won't be our last.

If you enjoyed this Anguilla travel story... Click here to "Like" and comment on it at its Facebook announcement.

Note: Facebook does not allow you to interact with any Facebook page until you "Like" it. So, if you have not already done so, please click the "Like" button in the top left corner of this webpage, or at the Anguilla-Beaches Facebook page.