Anguilla Is The Perfect Place To Do Nothing,
and Then To Relax!
by Victoria Scalise
(Greensburg, PA USA)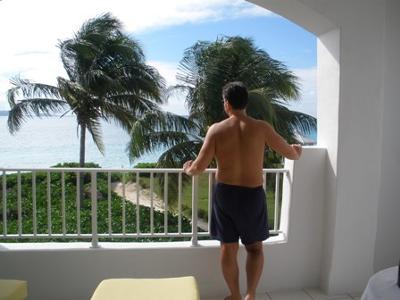 Start of a Perfect Day at Cuisinart
My husband and I longed for an island escape last winter for our 20th wedding anniversary and we found it on Anguilla. We stayed at two different resorts: One night at Ku on Shoal Bay and four more at CuisinArt on Rendezvous Bay.

Shoal Bay is the perfect place to soak in the sun, take a stroll to Gwens for barbeque, and then relax back on the sand with a cold Carib from Elodias (no chair needed). My husband's t-shirt from Ku sums up a day on Shoal Bay perfectly: It is best to do nothing and then to relax!

We then drove to the West Side of the island to stay a few nights at Cuisinart, which is heaven. The scent of the fragrant flowering trees along that path contrasted by the white washed stucco of the hotel we found intoxicating. The spa and fitness center was visited each morning and upon returning to our beach front suite, breakfast was served on our private terrace.

After feasting on fresh fruit, pastry and Greek yogurt, the beach beckoned. A winding path down from our suite to the beach led us to our pair of lounge chairs and umbrella.

A friendly attendant brought us towels and cold water. The water was calm and sooo clear, and we decided to swim out to the floating platform and take in the view of St. Maarten.

We eventually got hungry and jumped in our rental for the short drive to Smokey's for more delicious barbeque and a chat with the owner, a local Anguillian whose father started the restaurant.

After lunch, it was back to beach to digest and nap. A post beach cocktail at the beach bar was the perfect end to a flawless day. Later on, dinner at Mango's was a fabulous end to our dream day on Anguilla; and nothing tops off a grilled Anguillan lobster better than a pineapple infused rum from the lobby bar at Cuisinart.

We often dream of these perfect days we spent on that anniversary trip and of going back again someday after we pay for college tuition!

My husband and I also had the good fortune to meet both of you lovely ladies at Veya one night; I recognized Nori from this blog as I have been happily receiving your newletter since we started planning our trip to Anguilla in 2009. We enjoyed our chat with you both and also enjoy all your updates in a vicarious way! You are lucky ladies to be able to enjoy the island as you do.

Great idea with the contest and may the best entry win! I would be lying if I didn't say I hope we do! :-)

If you enjoyed this Anguilla travel story... Click here to "Like" and comment on it at its Facebook announcement.

Note: Facebook does not allow you to interact with any Facebook page until you "Like" it. So, if you have not already done so, please click the "Like" button in the top left corner of this webpage, or at the Anguilla-Beaches Facebook page.
Join in and write your own page! It's easy to do. How? Simply click here to return to Your Anguilla Travel Story.