Anguilla - Our Piece of Paradise
by Jennifer
(Roanoke, VA)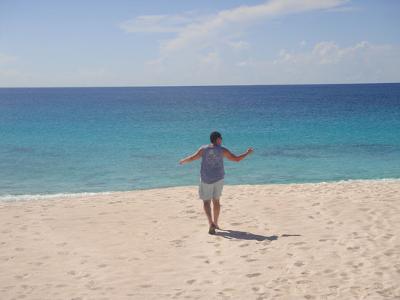 Our journey to paradise began one early August morning from our small airport in Roanoke, VA. After 6 hours of traveling we had finally reached our destination and the experience of a lifetime would begin!

The moment we stepped onto the beautiful island all of our stress melted away. No cell phones ringing, emails to return or deadlines to meet. It was just us and this AMAZING new place we had found, called Anguilla.

Once settled, we sat in awe by the infinity pool, sipping our island drink looking across to beautiful St. Maarten. With huge smiles on our faces we looked at each other with the pleasant thought of 8 days here???? Life is Good!

Day one: To our surprise we wake up at 6:30 am without the help of an alarm clock. Just the sound of the ocean crashing onto the secluded beach below, called Lovers Cove, an apropos name. Unknown to us at the time we would be planning our wedding on that very beach the following year. Breakfast is served while we sit in silence taking in the beautiful landscape all around us.

The early afternoons consisted of relaxing by the infinity pool contemplating the many exploration choices for the day. With zero plan in place we head out in our rental car to stumble upon whatever was meant for us that day.

Needless to say we found so many great places and met so many fabulous people we couldn't possibly convey how at home we felt everywhere we went! Some of our favorite memories come from dancing to the incredible Reggae music at Gwen's, enjoy great food and drinks at Tropical Sunset, Tasty's and Straw Hat just to mention a few. And let's not forget our walks on the many BEAUTIFUL beaches, which seemed to be all ours!

I mean seriously we were the only ones there. We still joke about it today and ask if this is were the Corona Commercials are filmed.

After an amazing first day exploring we make our way back to the Villa, Tequila Sunrise. As we pull up to the house we witness our first sunset in Anguilla. Another peaceful moment is given to us as we watch the colors in the sky changing from minute to minute like an artist painting a picture. Relaxed and full from a superb lobster dinner cooked on the grill we take a dip in the infinity pool. With a breathtaking view of the stars we watch the show unfold.

Shooting stars and cosmic activity of such magnitude continue long into the night, we decide to sleep outside and take in this amazing experience.

The remaining days were filled with clear days and private beaches, friendly residents who greet us at every turn. We were amazed at how one day could top the next but in this paradise it happened. As our last day approaches we are sad but also grateful to have found such an Amazing place to visit. We take a walk down to our secluded beach and make a promise to return soon.

We loved everyday in Anguilla! So much so we will be returning this November to share our new favorite vacation spot with our close family and friends. What a perfect place to say I Do.

Until 11-11-11 we are Day Dreaming and counting the days until we are back enjoying our "Piece of Paradise".

Jennifer & Lorne - Roanoke, VA

If you enjoyed this Anguilla travel story... Click here to "Like" and comment on it at its Facebook announcement.

Note: Facebook does not allow you to interact with any Facebook page until you "Like" it. So, if you have not already done so, please click the "Like" button in the top left corner of this webpage, or at the Anguilla-Beaches Facebook page.