Anguilla Villa Review - Bayberry/Chinaberry
by Anonymous
(Montreal, Canada)
The Bayberry/Chinaberry Anguilla villas are wonderful. We were there for 10 days. They are very isolated in Cul de Sac. Very quiet except for some cricket that kept on going as long as it was dark. First few nights I had a hard time falling asleep because of the crickets, but I got used to the sounds of nature.

The owner of this place has great taste in furnishings. The towels were monogrammed, and so soft and fluffy. The maid came by once a day to clean, replace all towels, do the bed, wash the dishes... It was great!!!

We will surely be back.

Nori's Reply: Thank you so much for your review of this Anguilla villa. I have heard that Bayberry and Chinaberry are quaint homes in Cul de Sac, near Rendezvous Bay and one of our favorite restaurants, Ferry Boat Inn.

Thank you so much again for your tip!

I was curious about Bayberry and Chinaberry, so I did a little research and found some more information about these Anguilla villas, and photos too!...

A Little More Information on Bayberry/Chinaberry

Chinaberry and Bayberry are similar in decor and style. Both villas feature many amenities including house keeping, television and outdoor living space. There is no air conditioning in either of the villas, but the beach is just a short walk away.



Bayberry Anguilla Villa Interior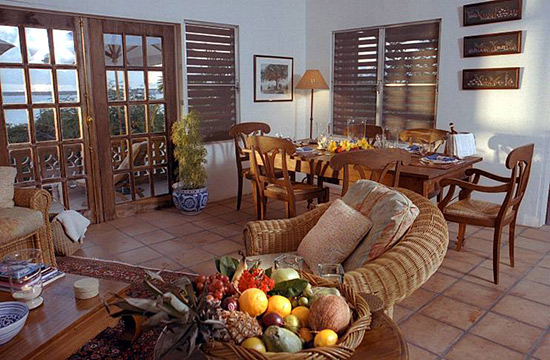 Photo From: BeachBum.ai

Chinaberry is a little bit smaller than Bayberry, being a one bedroom villa. Bayberry has two bedrooms. If you are traveling as a larger group though, you can always combine these two villas and rent the entire property.

Chinaberry Anguilla Villa Interior


Photo From: BeachBum.ai

These villas range in rates from $295-425/night.
Many have positive things to say about these two villas, including the owner's care and responsiveness if you need anything, the kitchens (perfect for staying in and cooking meals at home), and the villas' close proximity to Blowing Point terminal where the ferries come in from St. Martin/St. Maarten.