Doing Nothing With The One I Love Is Priceless!
by Claudia Ryan
(South Brunswick, NJ)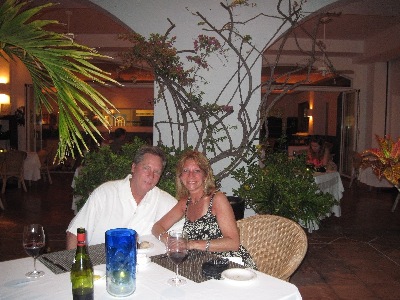 Our last night in Anguilla at Santorini
Each and every day in Anguilla was precious to my husband Bob and myself. We chose Anguilla for our 25th wedding anniversary trip. With 2 kids in college, one in HS and having a grandparent live with us we have a very busy and expensive life...

Our usual table overlooking the beautiful turquoise ocean awaited us for our gourmet breakfast at the CuisinArt every morning, filled with fresh fruit, homemade pastries and other delicious menu items. After a stroll on the beach to walk off the calories, the attendants would set our chairs with 2 towels and provide us with ice cold water bottles.

Within an hour it was usually hot enough to float on the raft and enjoy the crystal blue ocean, so clear you could see all of the beautiful sea life below you.

All of this action made us work up an appetite! Time for lunch! Some days we decided to stay put and other days we ventured out. This was an adventure itself, driving on the left side of the road was a challenge!

One of our most favorable afternoons was shopping at the local stores and eating at Ken's BBQ. In addition, the fish we saw while snorkeling at Shoal bay were breathtaking!

Back on the beach, the afternoon was a great time for a nap! Each night we tried a new restaurant and took a drive through some local neighborhoods to get a feel of the island life. Every meal we had was amazing and every person we met was genuine.

Anguilla life can certainly become addicting and I would love to be able to visit again.

The locals in Anguilla are the friendliest people I have ever met. We were always welcomed with a smile, which as we all know can be contagious.

All of this combined has made our experience a memorable one. I don't know if this experience could be duplicated but we are certainly willing to try!

If you enjoyed this Anguilla travel story... Click here to "Like" and comment on it at its Facebook announcement.

Note: Facebook does not allow you to interact with any Facebook page until you "Like" it. So, if you have not already done so, please click the "Like" button in the top left corner of this webpage, or at the Anguilla-Beaches Facebook page.
Join in and write your own page! It's easy to do. How? Simply click here to return to Your Anguilla Travel Story.