Everyday is a Dream Day in Anguilla!
by Seth Schulman
(New Jersey, USA)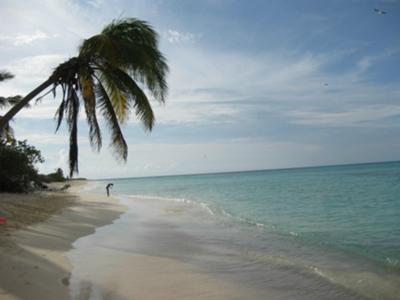 Best Beaches in the world!
Anguilla is the quintessential island for all purpose fun, sun, and relaxation. Pretty much every day in Anguilla is a dream day from my experiences on the island. The people are so friendly, the food is sure to please any palate, the music is fabulous, and of course the beaches are second to none in the world.

My dream day would start with breakfast at Le Bon Pain in Island Harbor for pastries and fresh bread. Then I would meet up with the infamous Nature Boy and head out for a few hours of sport fishing and then snorkeling, preferably in Little Bay.

I would usually have him drop me off at Gwen's Reggae Grill on Shoal Bay east for lunch, the best rum punch on the island, and a little relaxing on the beach; but due to a fire recently I would have to head to Smokey's on The Cove instead. Definitely not a downgrade since the beach and the food is just as good and Clyde is a really great host.

After lunch and a little sun bathing beach time I would then head to Crocus Bay for happy hour at Da Vida. They have the best little snack plates and usually very few crowds. After happy hour, it's time to get ready for the rest of the outstanding night to come.

First stop is dinner, which is without a doubt the most difficult choice of the day because there are so many great restaurants to choose from. Since Meads Bay has some really outstanding sunsets I would have to choose Jacala for dinner. Jacques and Alain are awesome and cook up some insane dishes with the freshest ingredients, not to mention Meads Bay isn't to shabby itself.

And finally comes the grand finale of the day, which happens to be a no brainer in my opinion. It's off to Sandy ground for some serious music, Thursday being the best of course because the Pumphouse is always packed with locals and the musical brothers. Of course I don't just set up camp at the Pumphouse, I would have to bounce back and fourth between there and my all time favorite hang out, Elvis's beach bar!

Elvis is probably one of biggest character's I know and Brett is always making sure the crowd is happy. Just have to be careful not to do too many MamaJuana shots. I think that's what they're called, but I can't be sure for some reason, that's the point though.

Now just when you thought the night was over, there's one last stop for the night before heading home. Anguilla has some of the best road side BBQ in the world! After sampling just about all of them in my many visits, it just happens that conveniently located in Sandy ground is Sammie's BBQ. The ribs are absolutely amazing, especially at 2am.

Now I'm sure that most people couldn't keep up with a day like this, but the reality is that you shouldn't be there for only one day anyways.

Personally I would say that every day I've spent on Anguilla is a dream day and I could come up with probably 7 full days such as this one that would be completely different and unique and just as good if you asked me too.

That is the beauty of Anguilla.

Now all that's left to do is figure out how to make the dream a reality again!

Cheers!

If you enjoyed this Anguilla travel story... Click here to "Like" and comment on it at its Facebook announcement.

Note: Facebook does not allow you to interact with any Facebook page until you "Like" it. So, if you have not already done so, please click the "Like" button in the top left corner of this webpage, or at the Anguilla-Beaches Facebook page.