Knee Deep - A Tale of Simple Pleasures and No Worries in Anguilla
by Chris Long
(Rossville, Georgia, U.S.A.)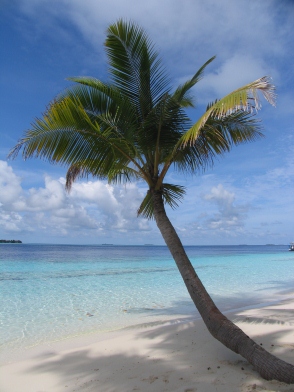 This palm tree needs a couple of friends! I think my wife and I can fit the bill!
In this fictitious Anguilla dream of mine, I wake up to my last day ever in the awesome, Caribbean island paradise of Anguilla...

I roll my, well rested self gently over and cannot help but smile at the beauty sleeping peacefully beside me in our cozy, temporary nest in the perfect Island hotel. Words fail to describe the tranquility in her expression as I gaze longingly at the love of my life, Dana.

I ponder, as we lay there, "Has it really been 18 years since we said I do? Is it possible that our eldest son is already 17? The kids are growing so fast."

Then, as my thoughts refocus on her, I think, "Wow, she doesn't look a second older to me, with her soft, youthful looking skin and her gorgeous smile. How did I marry the most beautiful woman in the world? Or more importantly, how have I kept her so long and how can I keep her for the rest of my days?"

"Ahhh, you idiot!", I realize, "Get your behind out of bed and get ready! This is our last day on Anguilla and the perfect last day here is certain to add a little more spice to this awesomely blissful relationship!"

I quietly get up without waking her, wanting her to have plenty of rest for our perfect day, as I shower and get myself together.

Just as I finish my manly primping, there's a knock at the door. "Yes! Perfect timing! That's got to be the hotel staff!", I think...glad that I had thought to put that special request in to have breakfast delivered to the room, so that we can enjoy breakfast in bed together!

As I bring our gourmet treat to the bedside, she grins wide as she wakes to the scrumptious surprise I have set before her.

"Wow Romeo!", she exclaims, as she gently scoots up toward the driftwood headboard. "Somebody is very thoughtful today!"

"Yeah, I'm good like that.", I say jokingly as I sit beside her to enjoy our romantic little moment.

"What are we going to do today Babe? You know its the last one.", she proclaims.

"You just wait and see Babe. You just wait and see."...

After we finished our perfect little breakfast and she was ready to go, I chauffeured us over to Seaside Stables at Cove Bay where we met up with Tonia Richardson, the owner of the horses we were about to ride down the island, and Julio, who was kind enough to help Dana onto her horse for our island tour.

I ended up atop a beautiful painted horse named, Vegas, while Dana was helped aboard a trusty animal named, Biscuit. "Cool!", I exclaim as we find out her horse's name. "What?", Dana asks, with a look of, "Duh, dummy!" on her face...

"Just that two things this southern boy loves have come together just now.", I explain as her look turns playfully curious.

"My beautiful babe and a biscuit! Mmmm, mmm!", I quipped, just before the air bursts into belly laughter.

We moved out at a gentle pace down toward the beach as we chatted with each other and with our guide, Julio as he glanced back at us often to make sure we were both okay and enjoying ourselves.

What was really cool is that the day had started to warm up so when we arrived at the beach, the horses went straight for the water after Julio asked us if we minded getting wet and pretty much gave the horses permission to go.

Wow! What a memory! Just me and my gorgeous, high-school sweetheart and I atop beautiful horses on perhaps, the most magical island in the Caribbean, Anguilla!

After some awesome photo opps as we cooled off in the surf with the horses, and after riding the entire length of the beach at Cove Bay, we headed back to the stables, thanked Julio and Tonia for their time and hospitality, and shoved off to our next stop for the day...

"I'm kind of hungry.", Dana says as a grin fills my face. "That's good.", I said, "Because we are on our way to eat a nice island lunch."

"Where?", she asks. "I could tell you, but...", "It's a surprise!", she finishes my sentence.

A few minutes later, we arrived at The Ferryboat Inn, a cool little restaurant and inn nestled comfortably right smack on top of Blowing Point beach with an awesome view of the beach, the turquoise water, and the island of St. Martin!

During our stay, we had already eaten at some awesomely scrumptious restaurants, like Cote Mer, Ripples, Straw Hat, and the list goes on, but not here.

"What made you choose this place Babe?", Dana asks quizzically.

"Because, I've heard that this is one of the best places on the island to have a...Wait for it...Wait for it...A cheeseburger in paradise!", I actually sang out loudly at the end in honor of one of our favorite Jimmy Buffett hits.

"Bahahahahahaha!", she laughs with me as I go on in the womanly echo from the song, "Paradi------se!".

By this time the waitress had come over, laughing at my silly, but in perfect tuned tribute to the king of my American island music memory.

We were not disappointed as we enjoyed our perfectly cooked burgers on the beach as we talked about the day so far and she quizzed me about things to come.

After our meal, we took a short stroll on the beach and through the knee deep areas of the calm surf, holding hands and embracing the moment. This was a great way to let our meal settle and further cement our island memories...

Afterward, we drove over to Shoal Bay to meet Junior and climb aboard his famous glass bottomed boat for a look below the waves on the reefs that make up this gorgeous haven on earth!

On the way out to the reef, we saw all kinds of tropical fish, a few large sea turtles, and even a handful of reef sharks...yikes!

The experience below the waterline was nothing short of breath taking! We swam among the stunning coral, loads of fish of every size and color, and even some ominous rays, which we kept a respectful distance from, but oh the underwater photos we got!

After our scenic ride back to shore, drying off in the wind and once again admiring the beauty through the transparent hull below us, we were both well worn, physically, but sooooo peaceful within, but also...very hungry. Our cheeseburgers had worn out by then, so we headed for our final dinner before our final sunset on this much needed trip to Anguilla...

For our final, gourmet dinner, we cruised over to the beautiful beach of Crocus Bay and arrived at our dining spot.

What many hail as the best restaurant on Anguilla, comparing it even to the best of the best in such places as St. Barts, well-known for luxury dining, da'Vida is a charming, lofty, open-aired building with an environment that is plush and inviting, but not at all stuffy.

After the friendly staff confirmed our reservation, we were seated with a view of the bay like no other, as we ordered our drinks and decided what to have.

As our day began to wind down, we talked, laughed, and shared while enjoying Thai Fish Cake for a start, then entres of Tamarind glazed grouper and garlic crusted lamb loin, and finally, warm apple tart for dessert.

After saying goodbye to our newfound friends at da'Vida, we slowly cruised back to our cozy, condo style room at the Carimar Beach Club.

Now we didn't stay in the room as soon as we got back. We decided to cap our day off with a final, night-time stroll down the beach as we held hands and basked in the moment, neither of us wanting the day to end, but both of us knowing in the back of our minds that tomorrow meant time to head home, back to the grind.

"Hey!", I said. "What Baby?", she asked in that soft, sweet way that only the woman you love can. "Let's pull up a chair right here on the beach and let just chill for a while.", I said as though I were the most brilliant man in the world.

Then, something happened that, to her, made me, at that moment, the most romantic man in the world...

Just as we sat down, a few staff members quietly came down and set up a couple of tiki-torches just close enough for us to have a little light, but not close enough to bother. Then a small stereo on a tiny little table began to play a premixed blend of our favorite love songs and peaceful island music that I had selected just for this occasion.

Then I said to my beloved wife of 18 years, "On second thought, before we get too comfortable sitting...May I have the honor of this dance?"

And...we...danced....

The End

If you enjoyed this Anguilla travel story... Click here to "Like" and comment on it at its Facebook announcement.

Note: Facebook does not allow you to interact with any Facebook page until you "Like" it. So, if you have not already done so, please click the "Like" button in the top left corner of this webpage, or at the Anguilla-Beaches Facebook page.