Last Perfect Day - Ever
by Susan Brace
(Stamford, CT, US)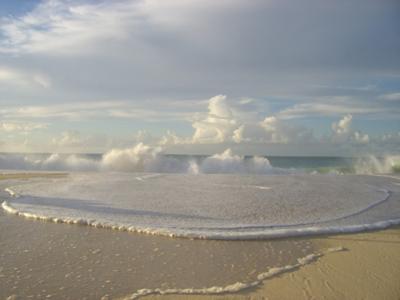 Sea Meets Sky, Meads Bay
For once I'm up before the rooster. Should I wake him? I feel like yelling; not at my nemesis, but at the situation. This is my last day in Anguilla EVER. No, I'm not facing a lifetime of incarceration, it's a life sentence of a different sort.

It's 6:00AM and I'm having breakfast at Last Flight Restaurant in the Airport. This is where it all began. 15 years ago I stepped onto the tarmac and a feeling of home came over me, I was addicted before my feet even touched the sand. The feeling has never left me and I often wonder if I lived here in a previous life.

With breakfast complete, I'm off to say goodbye to one of Anguilla's most beautiful beaches, Rendezvous Bay. St. Maarten, a backdrop painting of mountains welcomes me onto the coconut littered sand.

This is my tranquil beach, perfect for a quiet day of reading or a vacation from vacation. It's early & the beach is quiet, a couple is getting in an early morning run and I follow them towards Cuisinart. If it were later in the morning I'd have a Pina Colada. CuisinArt knows how to blend them perfectly and in that respect the resort's name is so fitting.

The site of the Dune lifts my spirits, I think of Bankie, & how the Dune has morphed & changed over the years. It's the definition of Funky, a tree house without the tree, a bit Swiss Family Robinson with alcoholic drinks. With a Jimmy Buffet song playing in my head I continue to Anguilla's Stonehenge. I leave behind a monument of stones shaped into a heart, for all the moments I've loved here. Sculpture complete, my journey resumes.

I reach Shoal Bay West. Blue Waters was my home here for many stays when I was married. That was a different Anguilla, but I can't leave without acknowledging this beach and those times. I say goodbye to Blue Waters, arrivederci to Trattoria Tramonto restaurant and one final glance at CoveCastles, its architecture defying any storm that may threaten it.

On the road again, I pass the abandoned little pink house and wonder if it was ever someone's home!

I decide to detour to Cap Juluca. I spent my 40th birthday here, I remember how beautiful it looked at night with its Moorish architecture & twinkling lights; dining at Pimms with the sound of waves and clinking of crystal, walking the perfect crescent beach back to my room; in one word, Romantic. I circle around the resort's driveway, admiring the palm trees & envious of everyone staying there.

My next destination is dear to my heart: Meads Bay. I love Meads Bay for the big waves. The sand is different here, it's tan, unlike the white sand found elsewhere on Anguilla. I stop at Turtles Nest and visit my other home. For years I've split my stay between a rental house & Turtles Nest. One satisfies my budget, the other my wave addiction. On the balcony my first tear falls. I've always felt small gazing at this view, its just water as far as the eye can see. The pounding of the surf thunders, waves crest & roll, it's thrilling!

I feel the force of nature in a position safe above it all. I look down and two young boys are playing in the surf. What I find intimidating, they enjoy without care or fear. Though I could sit and watch the waves all day, Meads Bay was meant for walking. I pass Frangipani, pretty, pink and Mediterranean. Straw Hat is finishing breakfast and a part of me wants to eat there, but time does not allow an early lunch.

The heat of the day is making itself known & my muscles are getting an unaccustomed work out. I cut my walk short. One final glance at Malliouhana Hotel, draws up memories of sunset drinks by the pool; what a lovely setting to watch the sun retreat. I bend down and let the tan sand slip thru my fingers, it's hard to say goodbye, it's emotional, and it's hot. I realize I'm in need of a beer vitamin, Sandy Ground is calling me.

Driving east, past Tasty's, I think of the many restaurants on Anguilla and how I've tried them all. Buggying down the hill I'm treated to the sprawling view of Sandy Ground. How convenient to have most of the island's nightspots within walking distance of each other.

I pass Ripples, my favorite bar. I've never laughed so hard as I have there, it's where I learned to throw darts without injuring anyone, I've even hit the board a few times. Late night dinners, mingling with expats, tourists & locals - it's my Cheers!

Johnno's comes into view along with thoughts of Sunday jazz, grilled fish, bottles of wine with friends, acoustical music from a blue guitar, and of course a little reggae. After a few speed bumps, the Pump House, and a house full of memories along with it. Live music, dancing into the wee hours of the night. I might have lived here in a previous life, but I was never Anguillian, my hips don't sway.

I park at Elvis' and make my way to the boat bar. Elvis places my Heineken within reach, he's wearing his Rasta scarf. I wonder how many he has & if he's really cold or just making a fashion statement. I look out at the harbor, Chocolate must be on a snorkel trip. I think of the times I was on the boat with Captain Rollins and how his smile was brighter than any of the fish below. This is paradise at its best, the perfect happy hour spot if happy hour began at noon. I can't believe I'm saying goodbye to Sandy Ground but this last day is not about crying in my beer; I'm reliving memories. With my beer finished, I give Elvis one final kiss goodbye & continue on.

I pass the deserted rum factory. I miss the rum factory, but thank God the rum still flows from other sources. I remember to yield at the roundabout (sorry, person I scared the time I forgot).

Making my way thru the Valley towards Crocus Bay I think back to the first time my ex husband and I went looking for Roy's Restaurant, the steep hill was intimidating & we almost turned back. I still don't like the hill but down I go. DaVida now occupies the spot where Roy's once stood and, like a butterfly, resembles nothing of the former. Such a lovely restaurant, it has to be one of the prettiest on Anguilla.

Cooled by the restaurant's ceiling fans; I gaze upon my hunting grounds. All sorts of take-homes were plucked from these sands, including my beloved sea glass. I look for Calvin & his boat, but they must be ferrying guests to or from Little Bay. I wonder when I'll see a picture of Little Bay in one of my travel magazines; it's an Aguillian treasure meant to entice.

On to my final destination, Shoal Bay. Doesn't everyone end up at Shoal Bay sooner or later?

I'm famished; this will be my last meal, last swim, and my last kiss from the Anguilla sun. I drive faster, I'm in a hurry. I'm waiting for the moment, I know it's up ahead and I wonder what I will find, blue or gray; then it appears over the crest of the hill the view which takes my breath away.

Shoal Bay in a thousand hues of turquoise welcomes me, but only for a moment, then the road turns and the view disappears. I've pulled over at this spot before attempting to capture it on film, but pictures can't do it justice. A few minutes later I arrive. Uncle Ernie's draws the eye with its colorful facade, but I enter Madeariman.

I order a beer & my lunch. For years I've been tempted by the escargots in garlic sauce, but fear of three day garlic breath has stopped me from indulging. Today I go for it (and if the passengers on the plane hate me, well I really don't care).

Shoal Bay, I spend most of my days here, I've stayed on this beach, danced here, had the best Thanksgiving in my life here, and I'm grateful to be here now. After finishing my garlic & snails, I head into the water; it's refreshing and rejuvenating.

I face the shore & snap pictures in my head. Ku Hotel, Shoal Bay Villas, umbrellas with Ray De Man written on them, people swimming, sunning and enjoying life on the unbelievable white sand. After my swim I walk to Serenity and end up on a beach chair staring at the water & the houses that line the cliff.

The beauty of Anguilla makes me feel I'm the luckiest person alive and I count and reflect upon all the blessings that have come my way. It's been easy up till this point, paying homage to my fondest moments but the hardest part of the day is upon me. I have to rise up out of this chair and leave FOREVER.

I don't know how to do this, someone's going to have to drag me out of here kicking & screaming, then I have a big girl moment and realize it's better to have loved & known, than think Anguilla is Antigua. So I gather my belongings, take another look between the tears forming in my eyes, and slowly turn my back and walk away.

Back at my rental house the breeze is blowing, it blows all the time here. This is one of the things I will miss the most, the breeze and the sound of the palms and grapetree leaves reacting to it.

I'm going to miss everything and everyone. Maybe not the rooster, definitely the goats, my friends for sure and above all the people. The proud to be Anguillians are even more beautiful than their beaches.

The bags are tossed into the car, it will be a mad dash to the Ferry, and I won't have time for one last rum punch at the Ferry Boat Inn, but its been a perfect day... up 'till now.

If you enjoyed this Anguilla travel story... Click here to "Like" and comment on it at its Facebook announcement.

Note: Facebook does not allow you to interact with any Facebook page until you "Like" it. So, if you have not already done so, please click the "Like" button in the top left corner of this webpage, or at the Anguilla-Beaches Facebook page.