Love Cuba
by Norman
(Akron, Ohio, USA)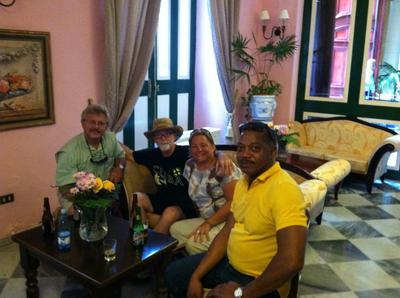 Dale, me, Sally, and our Cuba tour guide.
We traveled to Cuba in November 2012. It was an amazing journey into a culture that had been forbidden to US citizens since the Castro revolution.

Now that it is opening up to Americas, I thought I would share our experience. I imagine that things are going to change quickly once America and Cuba normalize relations.

We were fortunate to travel under a special section of the State Department - a cultural exchange program. Non-Americans, of course, can already visit Cuba without such special arrangements. And soon, Americans will be alllowed to visit, too!

Finally landing in Havana Jose Marti International Airport was thrilling for us. We found the citizens to be very amiable and contrary to reports, we were not followed around by anyone.

We spent 9 wonderful days in Cuba, both touring the island and discovering Havana, especially Old Havana. The countryside is wonderful, with many beautiful beaches, while the city is intriguing - almost caught in a time warp.

One of our group had lived there with his father for 2 years pre-revolution. He was a great travel companion and this was his first visit back since he was 7 years old.

All in all, when Cuba opens to American visitors (and to the rest of the world already), I highly recommend this fascinating country.