My Anguilla Friends!
by Beth Smith
(Sandusky, Ohio USA)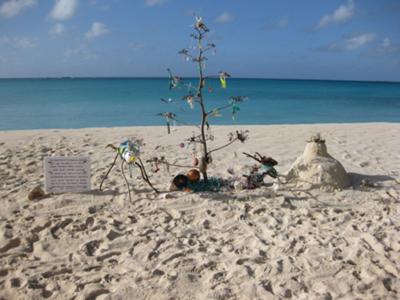 Our Anguilla Christmas Tree!
Where do I start? The memories of all my Anguilla friends! We were all total strangers until we met in Anguilla, but the island is so magical with its charm we all came back year after year to share in that same charm.

What started as a simple way to celebrate the holiday with a group of strangers became a tradition over the years! Each year we would go out and chop down our Christmas tree, set it up just right in the sand and everyone participated in the decorating of the tree.

Of course we had rules - all decorations had to be made of items you found in Anguilla. The decorating took shape over a period of days and on final day, we would hold our Christmas pageant, complete with Christmas carols and a chosen grand marshal! The winner of the ornament contest would be announced the following year in order to ensure that everyone returned to our Anguilla!

We came from all walks of life, but all shared a common bond - Anguilla. Each of knew how to enjoy life to its fullest and brought something special to the group.

There was a senator from Vermont and her delightful husband who took us all on exploration trips around the island - he would blaze trails through the Anguilla underbrush to take us to his favorite deserted beach, show us the bluest water ever, share spouting blow holes, hikes on the bubble gum rocks and trips to the sand dollar fossil rocks.

Other friends were a couple of fun ladies from Idaho -a realtor and a lumberjack (yes, a lady lumberjack!), a retired couple who had a special talent for finding the best sea shells and making the best rum punches, called Kaseri's.

There was a travel agent from Florida and her husband that worked at a TV station - he would fish everyday from the beach, but we never once got a fish dinner from his fishing! A retired couple that always listened to books on tapes and had been coming to Anguilla for years. Another lady and her husband from the States could tell us the best places to eat - they had been coming to Anguilla for years, too!

And there was me - an accountant from Ohio who loved to escape the cold Ohio winter, even if only for a little while! Life changes and even through a divorce, I managed to bring different people to Anguilla with me each year. How could you not share such charm!

After my "wasbund", I shared it with my sister and then a very dear friend from Ohio, also. It didn't matter who I brought each year - the gang adopted them. And each year, we all participated in the same tradition - our Christmas pageant!

Once again, life has changed and my dear friend is no longer here to share Anguilla with, but I do know that there is an "Anguilla" in one of his "corners of heaven".

Through life's changes, I was unable to share the pageant with my Anguilla friends for the past two years. So needless to say, my perfect last day in Anguilla would be to share that Christmas pageant once again with my Anguilla friends!

Oh, the magical charm!

If you enjoyed this Anguilla travel story... Click here to "Like" and comment on it at its Facebook announcement.

Note: Facebook does not allow you to interact with any Facebook page until you "Like" it. So, if you have not already done so, please click the "Like" button in the top left corner of this webpage, or at the Anguilla-Beaches Facebook page.