Once Upon A Time.....
by Eric Delahaye
(Pottstown, Pensylvania, USA)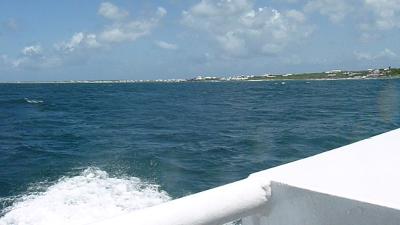 Once upon a time, there was a family of five.... Mom, Dad, Big Brother, Num Num and Banabou :).... All five were enjoying their first time in the Caribbean!!

Waking up early and stroll on the beach of Orient Bay, taking a swim on the reef and feed the pirate fish, going out for breakfast at La Croissanterie, trying a new beach on the island, exploring a new place, eating local, playing in the waves, napping, going to the house pool and then shower before going out for dinner in those incredible places all around the island of Saint Martin.

But then, one late evening, Mom said "Why don't we go to spend the day in Anguilla tomorrow... for a change :)!!" To the joy of everyone's ears....

So, that night, after dinner, we all scramble around the computer screen and magazines to decide how we were to spend the day. We first brought a map of the island and realized that this island was very different from any others...

It was flat! And only a few feet above water. Very interesting to realize that it was a very old reef or maybe a broken piece from another larger island. We searched but couldn't find answers to our questions... Oh well :) let's move on and get ourselves ready.

We finally decided to take the ferry from Marigot early in the morning and let the local Taxi make our day. Well, sleep was hard to come that night.... a few minutes after falling asleep the alarm went on !!! Six AM... already :) ouch !!! Time to get ready, make breakfast, make the bags, get the passports and fit everyone in the car and here we go.

I have to say that, for me, it started, when I first shake the hand of the ferry attendant... Large smile on his face, talkative and friendly. Not always a picture we have come across, too often, during our past few days.

The attendant spend quite some time with us, answering our questions, advising us on things to do and locations to visit. We ending up having one of his cousins (and I truly believe that everyone is a cousin of a cousin of an uncle in Anguilla ;-)...) to taxi us around the island. The fair was attractive and reasonable and... like his cousin... large smile, friendly and interested in us and who we were.

......Here, I am going to make a little personal comment.... To my opinion, there is two way to make a living...

The first is to do what you do and get paid for it and forget about what happened. The second one is to enjoy what you doing, genuinely be friendly and get rewarded for your work and time as well as always remember whom you came across and who they were.... This is what it felt like in Anguilla... or at least that is how they acted and how we perceived it.... so thank you very much for your appreciation......

So, here we are, driving around the island and showing us some of the most beautiful beaches we've ever came across in our life. From east to west we must have spent 2 to 3 hours driving around, stopping, visiting, taking pictures and enjoying our time with an AWESOME man. Sharing stories and history.

We even stopped at the local school to pick up his daughter. Just another normal day in this crazy world we are living in. We finally ended up in Shoal Bay and set ourselves up for the rest of the day in a quiet, comfortable place. A bar restaurant by our side (with a french chef). Took the kids snorkeling off shore to the closest reef... and let the day go by with no worries but the fact of enjoying life and my family to the fullest....

But as usual time caught up with us and, with a little sadness, we headed back to Saint Martin... Saying good bye to a beautiful, peaceful and friendly place to which we can't wait to come back and share a great time with.

The kids and us are looking forward to come back and, this time, spend our time in Anguilla as our home base...

We can't wait wait to see how it is at night and just enjoy each other in another world than Pennsylvania :)
If you enjoyed this Anguilla travel story... Click here to "Like" and comment on it at its Facebook announcement.

Note: Facebook does not allow you to interact with any Facebook page until you "Like" it. So, if you have not already done so, please click the "Like" button in the top left corner of this webpage, or at the Anguilla-Beaches Facebook page.