Paradise Lost
by Guy
(Jersey Shore)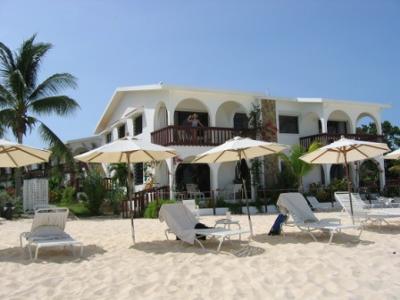 Carimar
What's that sound? A soft, rhythmic whooshing gently prods me awake. Where am I? It comes to me; the sea that tenderly lulled me to sleep is calling me to a new day. I'm at Carimar Beach Club, room 603-1, my favorite.

The room fills with diffuse light. Meads Bay does not receive the harsh morning light; rather, it is blessed with exquisite sunsets. My eyes adjust. I'm still a little groggy from last night's drinking.

Lying still, waiting for my head to clear, I recall yesterday's events, and my stomach churns.

My wife, Adara, and I had been enjoying champagne cocktails at Viceroy's magnificent open-air Sunset Lounge, snuggled on a comfy couch by the infinity pool, amidst the splendor of warm exotic woods and silver-gray travertine stone. We were trying to figure out where to put all the pillows, a happy problem, when the bad news arrived. We had been summoned to return at the end of the following day. Today.

Our spirits began to lift during dinner at the Straw Hat, precisely when the grilled lobster arrived at our table. By meal's end, we were almost cured of the ill effects from the bad news, but not quite. Complete recovery occurred later that evening enjoying reggae and rum punches with Bankie Banx at the Dune Preserve.

I realize I'm alone in bed. That makes sense. Adara is up early. She wants to get an early start. Today, time is our enemy.

My wobbly legs take me into the living room. I see Adara sitting on the deck. I approach. She is watching the staff set up beach chairs and umbrellas. From our second floor vantage point, we can observe the entire bay.

"Whatcha doin'?" I ask.

"Planning our day," she replies. "Trying to figure what I would like for breakfast, almond croissants with café au lait at Le Bon Pain, or a morning glory muffin at the Veya café."

"We've already had three croissants this week. I vote for the muffin."

We arrive early at Veya's café as the morning glory muffins are just coming out of the oven. We buy one, but it's too hot to eat. We have to wait about 15 minutes.

"We should have gotten something else," I blurt out. "Time's a-wastin'."

"Honey, relax. Sit back. Look at the flowers. You know you're not going to mind the wait once you put that muffin in your mouth."

She is right. I finally put a piece of muffin in my mouth and it is more delicious than I remember. My taste buds register every nuance of flavor: coconut, apple, raisins, pineapple, pecans, and some flavors that defy recognition. My senses are heightened, more alive than ever before. Why? Is it because I can feel time slipping away? I am convinced that time's passing increases in direct proportion to the pleasure one is having.

"I wish I were that guy who stopped the sun," I say. "You know, what's his name? Jacob?"

"You mean Joshua," Adara answers. "He stopped it for a whole day."

"Yeah, that's the one. Wouldn't that be great? Only, I wouldn't start it again. At least not for many, many days."

We travel to da'Vida's Bayside Grill & Bar on Crocus Bay and spend the morning kayaking and snorkeling. At noon, we heartily consume tasty grilled shrimp atop expertly seasoned salad. We kick back some rum punches, lie in the sun, talk about where to eat dinner, and fall asleep. I am upset that time was wasted in slumber. Adara says it was good that we restored our energy. We'll be fresh for dinner, able to appreciate each moment to the fullest.

We reach Cote Mer, on the beach in Island Harbour, excited and anticipating the meal we're about to enjoy. We are not disappointed. The cocktails and appetizers are inspired. Food foreplay, as only the French can do. Then, the climax: baked filet of dorado for me, duck Margret for Adara, prepared by the hands of an award winning French chef.

As we linger over dessert (a glass of ginger rum, and pineapple Carpaccio coated with vanilla and served with lemon jelly and raspberry sorbet) the sun's position in the sky reminds me our day is coming to a close.

I reach for her hand and our faces draw close together. I can see in her eyes she knows what I'm about to say. I whisper, "Love, it's time to go. There's a boat waiting on the beach, not far from here. It's been arranged. The keys are under the seat cushion."

We depart, too sad to speak, and approach the boat at a languid pace. It's a small craft with a forward cabin below deck. We go below, instinctively, and face each other. We embrace, and kiss.

"These bodies are so gorgeous," she says. "Let's use them one last time."

I am drowning in her blue eyes. We make love.

"How much time do we have left?" she asks.

I look at the sun. "Not much. You know the drill. We have to be out of sight of land, just over the horizon, as the sun sets. I guess it's about seven miles."

I cast off. We arrive on time. The interdimensional wormhole appears at the appointed time and place. We depart in a flash, what humans call the "green flash."

En route to my home planet, I am grateful to have been a travel writer for the largest syndicated media outlet in our solar system. This was my last assignment before retirement. I chose to return to Anguilla because it is my favorite place in the whole galaxy. I know I can never afford to come again on a retiree's pension. I have no regrets. My last day on Anguilla will reside in my memory forever.

If you enjoyed this Anguilla travel story... Click here to "Like" and comment on it at its Facebook announcement.

Note: Facebook does not allow you to interact with any Facebook page until you "Like" it. So, if you have not already done so, please click the "Like" button in the top left corner of this webpage, or at the Anguilla-Beaches Facebook page.