Refuge, Hope and Peace at Last, A Song of Joy
by Roz
(La Canada, CA)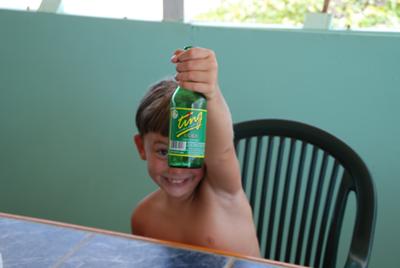 Ting and a Boy
To leave Anguilla is to leave evening sea breezes that dried too oft shed tears. It is saying farewell to a refuge whose sun restored light to three boy's eyes; it is walking away from gentle Caribbean water, which bathed away the pain of aching hearts; and where, at last, my boys and I escaped the inescapable.

Where does a mother take three grief-pierced children? Where will enough sun shine to brighten shadowed days of sorrow and lonely nights? Where will she find a safe place, a safe harbor, a refuge for her family as the anniversary of loss approaches? Where will she herself learn to walk alone? Does such a place even exist? Yes, oh, yes it does, and because it does, it is a place that becomes almost impossible to leave once discovered.

Reader, this is not an adjective-laden essay of pastel sunsets, rum-punch, shell-gathering strolls along the seaside, nor one of balcony breakfasts and dancing, though all were part of our passage back to joy.

This is the story of a journey to hope, paradise and reluctant return to reality, but at last, healed and restored. Stay with me, Reader, as this story will wind back to our final kiss and wave on the day before we leave.

Many people come to Anguilla to celebrate weddings, as well as anniversaries. Our family came to escape the memory of one. Odd how the unconscious mind works; among its many subtleties it can anticipate a date defined by pain, a moment that has marked heart and soul, a day where colors drift slightly outside the lines.

The year after my husband died, the father of seven, I noticed a change in two of our youngest three boys'. Around a month before the anniversary of his death, they began to become more pensive and withdrawn. The youngest of the three, six months when his father died, was exempt. The next year came, another, and yet another as these changes repeated beginning in June and peaking in mid-July, the anniversary of our sorrow.

I would watch the light fade in my boys' eyes during these weeks. I had studied grief literature as though it were the Bible and came to better understand what we were living. There is little to do about this pain except wait, wait, and wait some more until enough days pass that its jagged edges are smoothed and no longer shred each day.

One fantasy-filled day it came to me that if I could find an escape for us, then just perhaps we might well change the course of what had become a seemingly inevitable slide back into sorrow. Now, here at last, some humor enters the story: I had a subscription to People magazine in those days. One morning I remembered a picture of "Brad and Jen," her faced marked with unhappiness although they embraced in the surf on the beach of some unknown island.

Why in the world I thought of that picture I have no clue, but I Googled, "Brad Jen divorce Caribbean hotel". No kidding. In a nanosecond up came a few hundred thousand links.

Anguilla--Cap Juluca, Meads Bay, Rendezvous Bay, Villas... The villa idea sounded great, some weren't even $75,000 a week, helicopter-padded palaces. Some were actually affordable. I emailed a few owners until I realized I would have to do the cooking, and that a villa was a pretty isolated.

Mandatory standards of excellence for us included safety for a single woman and her children, an exceptionally child-friendly hotel, an area not over-populated with sun-burned Anglo-Americans, but rather one with the children, voices and families of a foreign country.

Did that exist on Anguilla? Not in the upscale, uber-cool and fancy West End; but Anguilla is an island, hence, I thought, it must have a fishing village, just the kind of place for us. We'd have to head in the opposite direction up to the East End, to "Island Harbour;" a place where one's budget could stretch for weeks into the hurricane season, rather than just a few luxe days during high season at haute hotels.

There I found the 17 room Arawak, with geckos and anoles waiting for capture along the walkway to the cafe and low tide tide pools calling out to my children beyond the seawall. Here was our new far-away home. It had a cafe offering island famous pizza and Sunday night English dinners where the boys could grab one of those small boxes of Cheerios off the counter, sneak a bottle of Ting soda for breakfast—"Hey," they would say, "It's citrus, isn't it?"

Furthermore, it had an honor bar, which certainly blessed more than one of my evenings there, and where the children kept a tab of seemingly endless and forbidden sodas. But above all, it was a place I knew they'd be safe...

The Arawak was affordable for a long stay, a savings that spelled dinners for me at world class restaurants, Hibernia, Cote Mer, Mango's, Oliver's, and my beautiful Veya.

Just a few kilometers east we found a solitary beach at the end of a bumpy dirt road, Junk's Hole, and the Palm Grove. There we met more Anguillians than tourists.

A short way west is a cluster of seaside cafes that offered everything from hamburgers to oysters on the half shell: Uncle Ernie's, Tropical Sunset and Sea Sand at Ku. French bakery Au Bon Pain, two minutes from the inn became my quiet breakfast table sheltered under the Flamboyant Tree, where I would ask island folks, "You OK?" and they'd tell me the truth, rather than our North American ubiquitous "Fine, just fine."

What else did Island Harbour give us? Junior, in his Glass Bottom Boat, who reached out to the boys, became an uncle, a big brother. A few times a week he would take them out with him in the mornings, suit them up in life jackets, bring them back late afternoon having more than once encouraged bravery in the six year old.

He'd call me as they hove into the harbor and I'd stand on my balcony watching them walk along the shoreline, holding sandals and snorkels in one hand as they picked up shells with the other. Across the bay from the Arawak rests Scilly Cay. More than once we once swam over there and snorkeled around its rocky shore.

So, that bittersweet last day? What would, or could, make it a dream day? Could any fantasy-filled day be better than with which we have already been blessed. For us, our dream day is one during which we retrace steps to our special places.

We leave always in August and our farewells begin the day before we wave good bye, and in the pattern that we've woven over the years, the boys sleep in, I sit in the shade at Au Bon Pain with my espresso, quiche, and a book. I bring the boys back scrambled egg and ham sandwiches on French bread still warm from the oven. We sit on the patio listening to the coconut palm leaves clack together in the wind and wait for the August rain clouds to blow away.

Later, the boys gather up boogie boards, towels and sunscreen. In the cafe, I fill a small ice chest with Ting, whatever fruit we have left, and pack our rental jeep.

Junk's Hole has a wide, sweeping coastline and on the far east end the surf is perfect for boogie boards. The oldest will swim, or walk out to the rock formation and sit looking somewhere I can't see. The middle-child hunts one last time for insect life in the scrub, while the youngest, who's never met a stranger, will join any group of children who might be there.

We move on to the next farewell, E's Oven, for lunch, and, well, heck, a pina colada for me. Hey, it's cocktail hour somewhere in the world by then.

After that, we head further west toward Malliouhana's Meads Bay and its hidey-hole cove where we'll eat our fruit snacks.

We take turns floating in our mesh-lined inflatable, collapsible floats. These quite wonderful sea-going vessels, "Spring Floats," are perfect for my solitary trips to Crocus Bay, where I anchor one end with a rock tied to the float. It has a drink pocket, where, if one is really, really careful, a nice rum punch from daVida will fit.

Eventually, I'll pull the children behind me and move on to Irie Life for souvenir t-shirts, where I always overspend. All of my children, including the older ones back home in California, have too many of these shirts, but can a rockin' 18 year old ever have too many silk-screened Bob Marley's?

Heading back toward The Village, we stop at Hungry's, and this is the day I always splurge on the lobster quesadilla. And, speaking of lobster, our last full day is always on Tuesday, which means I eat my final dinner at CuisinArt's Lobster Buffet.

For us, over the years, Anguilla has become more than an elegant desert island punctuated by Captain's Bay's windswept sand on the east, Abadam Hole, and the blazing white shoreline of Rendezvous Bay, or the $20 umbrella and chair set-ups at Cap Juluca.

It's more than the bliss of dinners at Veya, rum-punch rocking out at Gwen's, the eponymous sunset at Ray's, or the sweet-smoke filled Dune, with Sir Banks holding court in the shadows, or the up and down overpriced food at a famous, to remain anonymous, restaurant.

Anguilla is, and always will be a part of our past, but more important, a part of our future. And although tomorrow is promised to no man, we know that it is impossible to ever say there will be a Last Day there.

Is the way we wind through those final hours ideal? How could it not be? With gratitude, we retrace our steps to favorite places that brought us peace, gave us refuge, and returned lost smiles.

If you enjoyed this Anguilla travel story... Click here to "Like" and comment on it at its Facebook announcement.

Note: Facebook does not allow you to interact with any Facebook page until you "Like" it. So, if you have not already done so, please click the "Like" button in the top left corner of this webpage, or at the Anguilla-Beaches Facebook page.