Rudolph and the "Ol' Wife" in Anguilla
by Eric
(La Grange, Illinois, USA)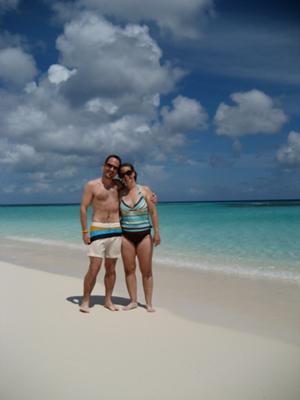 10th Anniversary Shoal Bay Anguilla 2008
Visiting Anguilla with my parents in the 1980s (Malliouhana was just being built!), I developed some wonderful childhood memories...

Flying over from St. Maarten in a 7-seat Cessna flown by Maurice Connor. Shifting where we sat to better equilibrate weight...

Staying in Maurice's Easy Corner Cottages. Chasing goats into the shed with the groundkeeper, and racing our collection of "soldier crabs".

But, the best memory was fishing with a local named Rudolph who taught me (as a young Illinoisan) how to walk safely on the volcanic rock at Captain's Bay so that he could take me fishing at his favorite spot.

After busting up a fresh pair of flip-flops, and spending a fun few hours with him, I did indeed catch an "Ol' Wife" Queen Triggerfish.

His helpfulness did not stop there. As an aspiring chef, he recommended we take the fish to Lucy's Restaurant to have Lucy clean and cook us all up a proper Anguillan feast.

Wow!... was that meal great fun, with some of the loveliest folks we've ever met.

Rudolph aspired to make it to "the States" and cook at the finest restaurants in New York City. I wished him well and still dream of the day he returns to Anguilla to open up his own first-class restaurant.

Fast forward almost 20 years to 1998 when my wife and I honeymooned at Cap Juluca. My first trip back (and my wife Becky's first trip overall) to Anguilla. Although Anguilla had changed in many ways, the friendliness and pride in Anguilla that the locals demonstrated ensured that Anguilla would figure into our future travel plans much more frequently.

For our 10th Anniversary in 2008 we treated ourselves to a more D-I-Y trip to Anguilla. With Ku as our "home base" we were better able to experience daily baguette runs to Le Bon Pain, impromptu lunches at Hungry's, and delicious and fun Friday nights "downtown" for BBQ and music.

The beaches, the snorkeling, the sunsets with a Ti Punch, and the abundance of stars had not changed one iota over the passage of time.

After that trip, we were able to convince my parents and sister to accompany us (now with our 2 children) back to Anguilla last year for a Family Vacation.

We were able to secure a villa that accommodated us all, rented 2 cars, and shared all of our old experiences and created new ones.

Now, my children (Samantha 8, and Nathaniel 5) can enjoy this paradise the same way that I have for almost 30 years!

We all can't wait to get back to Anguilla.

Only 37 days away as I write this, with almost 2 feet of snow on the ground in suburban Chicago, while listening to the internet stream of KLASS FM 92.9 from Anguilla!

Nori's Comments: Read Mom's charming story of the same trip (without the Honeymoon, ha ha).