The Impossible Task:
Dream Day in Anguilla
by Michael Greenfield
(Saint Charles, IL USA)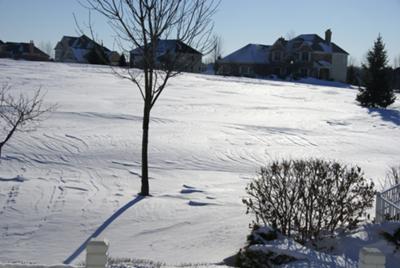 Wintery Wonderland of Saint Charles IL
There are not enough hours in a "day" to enjoy all the great events, activities, restaurants, and beaches that Anguilla has to offer. It is an impossible task to limit this story to describe a "dream day" in Anguilla.

My wife and I have been traveling at least once a year for the past 6 years, and it is our favorite vacation spot of all. We stay at the Carimar Beach Club located on the best beach in world at Meads Bay.

One of the most amazing things about this small island of Anguilla is the number of (what I rate) 5 star restaurants in every corner of the island.

If you don't feel like getting dressed up for dinner you can find a great road side BBQ, B&D and Ken's our favorites, with the best ribs and chicken you will have anywhere.

The island is so tranquil and peaceful, it is the best therapy for disconnecting yourself from your day to day life and re-energizing yourself.

We love the island so much we have adopted 9 dogs from there and brought them home with us, the dogs are not sure they appreciate the cold wintery weather of Chicagoland quite yet.

I am having trouble narrowing down the ideas for a perfect day. Sometimes it is just the fact of leaving Chicago (picture 1) and arriving in the warmth of the Caribbean sun (picture 2). Here is my perfect day in Anguilla :

Wake up whenever you want, no alarms, no meetings to attend etc.

Sit out on veranda at Carimar and read a book.

Head out to grab a quick breakfast of croissants and pastries.

Come back and grab a spot on the beach at Meads Bay.

Drive to East side of island for a late morning outdoor beach massage.

On the way back stop over at Ken's street side BBQ for slab of ribs and garlic bread with Watermelon Soda. (cannot get this soda at home)

Back to the beach to grab a chair on Meads Bay beach for a nap or beach side reading of book for the remainder of the afternoon.

Head over to Straw Hat for nice quiet dinner (have to have the fries) and great bottle of wine. Take your time.

Head back to the Carimar for a peaceful night's slumber.

The great thing about Anguilla is you can do this day after day going to different/new restaurants to eat, different books to read, and maybe go snorkeling instead of the massage.

Each day is a dream day in Anguilla.

If you enjoyed this Anguilla travel story... Click here to "Like" and comment on it at its Facebook announcement.

Note: Facebook does not allow you to interact with any Facebook page until you "Like" it. So, if you have not already done so, please click the "Like" button in the top left corner of this webpage, or at the Anguilla-Beaches Facebook page.