Anguilla Real Estate: The Guide...
Sea Feather Bay
Welcome to the most highly developed part of Anguilla. Sea Feather Bay is largely populated by wealthy expatriates. Its most famous resident is Ronald Webster (The "Father" of Anguilla)!
Let's see where we are on the island...
It's no wonder why this area is so favored. With great breezes, snorkeling, swimming, views out to St. Martin, it's some of the most popular Anguilla real estate.
The area is bliss!
Watch the video below to get a feel for Sea Feather Bay...
If you're looking for the area that's "most like home," or feels more suburban, then Sea Feathers is for you. As you can see, Sea Feather Bay has been built up...
Sea Feather Bay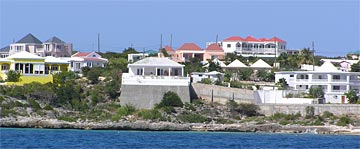 Many of these people discovered Anguilla 20 years ago. They started as tourists, I suppose. But they built on Sea Feather Bay, perhaps even bought land from Ronald Webster!
And now... it's "ExpatLand."
It is a gorgeous area. The above photo shows the eastern half of the the bay. Here is the Western half...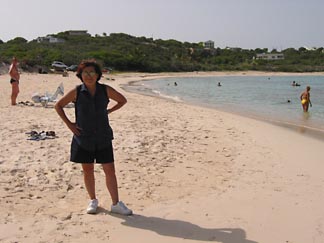 While the houses are built upon rocky cliff, this half features a gorgeous, gentle sandy beach.
The beach is sheltered and popular with snorkelers, both Anguillian and tourists.
You'll often find kids spearfishing here (legal only for Anguillians).
There are many high-end villas, and there is still some undeveloped Anguilla real estate available, too! As a matter of fact, even Ronald Webster, is selling some raw land on Sea Feather Bay...
How about we take a closer look at this beauty?
Blue Mom. Blue Bay!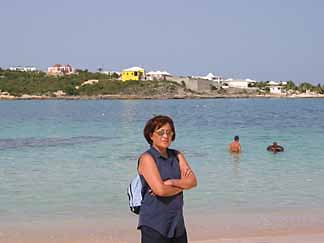 See that undeveloped property below and to the left of the bright yellow house (hard to miss that house)?
Ronald Webster has it on the market. What a spot!
Gold Sandy Crescent!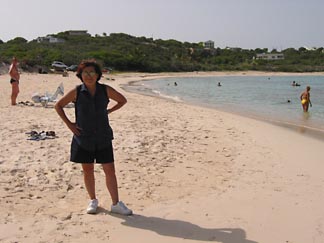 Out and Onto the Horizon!


The picture above was taken from the land for sale by Ronald Webster. The view is quite breathtaking, isn't it? And there is other land like it available.
Although it's among Anguilla's more expensive areas, it's still a bargain by "Anguilla real estate" standards. And where else could you live near the father of a country?
Contact Jackie Pascher and maybe you'll meet the "Father of Anguilla," enjoy spectacular views of St. Martin, and meet expats who just may convince you to become one, too!