Anguilla Villa Review of Sheriva
by Jonathan Rosario
(Irvine, CA)
First of all, thank you for this site, it's awesome. My wife and I stayed in Sheriva for our honeymoon just last year in August of 2008. Even though we were running close to "hurricane season" there was tons and tons of sun and everything.

The staff at Sheriva were beyond personable. Before we could think of getting our clothes laundered, they were already laundered, pressed and folded in our massive walk in closet. The infinity bath tub and private pool, the daily afternoon snacks, the included daily breakfast, and personal chef for dinners were all just part of what made this place so awesome.

For couples, the best part was probably the dual shower... hint. It was just awesome, every amenity, phenomenal staff, everything we dreamed of.

Going into it, we knew it was not on the beach, but it was literally a 2 minute drive (on your nearly private road safe for golf carts) to the Cap Juluca resort beach, Maunday's Bay.

Perhaps the only thing that would put Sheriva over the top is if it had its own private beach. During our stay, we visited Cap Juluca and CuisinArt, and toured the rooms and everything... but nothing came close to the quality, comfort of Sheriva.

Nori's Reply: I am so glad to hear that you enjoy the site! :-) Thank you so much for the Anguilla villa review of Sheriva.

My Dad and I have been so curious about what this boutique Anguilla hotel is like. It looks spectacular, so exclusive and luxurious! Your Anguilla honeymoon must have been a dream.

I was curious about Sheriva, so I did a little more digging...

Sheriva refers to itself as a "Luxury Boutique Villa Hotel." Made up of large villas and "villa suites," you are afforded all of the amenities of an Anguilla villa (privacy and space), without giving up the social aspects and service you find at Anguilla hotels.

Speaking of service, Sheriva is known for going above and beyond for their guests, providing them with many amenities.

And that brings me to location...

Sheriva is located near Cap Juluca in Anguilla's West End (great location for dining and beaching!). Sheriva is not beach-front. It sits on a slight promontory over-looking the salt ponds and St. Martin...



View of St. Martin from Sheriva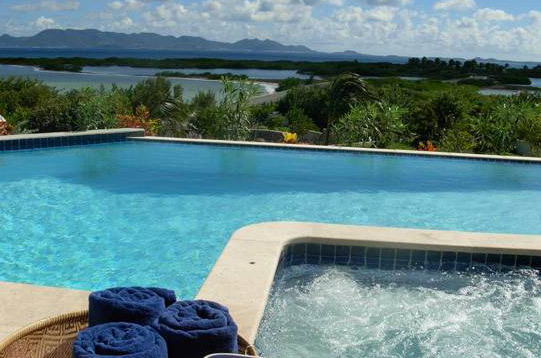 Photo From www.sheriva.com

Sheriva has made this drawback (not being located on sandy beachfront) a non-issue. The villa resort provides guests with golf carts to drive down to picture-perfect Maunday's Bay. There, they set you up with reserved beach chairs/towels/snacks/drinks.
It sounds like the perfect spot for large families and groups traveling together who want to spend time together, but who also want their privacy.
Rates start at $995/night in the summer (for a 1 bedroom "villa suite") and go up to $6,000/night in the winter months (for a large villa).