Mac and Hank's Retaurant, East Shoal Bay
by Jim D.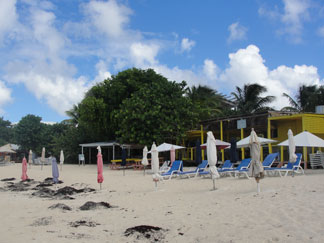 Mac and Hanks
Mac and Hank's restaurant, on Shoal Bay East, near Madeariman, is what I call a "true Anguilla" experience. Here is my Hanks review

On May 21, 2017, I had Mahi-Mahi with Creole sauce. It was FANTASTiC. Two side dishes and two glasses of wine. The waitress asked if I wanted to keep the tab open, and I said yes.

I explored the paradise beach and swam for a awhile. Next came a back massage on the beach. Suitably relaxed, I returned to Hank's to enjoy a beer and the view of the beach.

I was soon fast asleep under an umbrella, listening to the sea and dreaming of my adventure with the dolphins in the morning - at Blowing Point in Anguilla.

Highly recommended!. Paradise!

The worst - but also the best part - because it tells you a lot about Anguillians:

My credit card got blocked because I forgot to let them know I was in Anguilla. I could only pay part of my $48.00 bill.

That could turn into a sticky situation. Would I be washing dishes? Hank Harrigan, owner and chef, said no problem - just send him the $30.00 residual later.

It's nice to be in a place where old-fashioned trust of a stranger still exists.

I asked Hank how he learned to be such a master chef. He said he was born on the island and worked in top hotels. He is a wonderful person and like most locals, very calm.

Overall, a magical experience. Highly recommended!

Also, thanks for your website allowing me to express my thoughts about my trip. I stayed in Sint Maarten (Dutch side), which is booming now, and had a great experience there, too.

I was near airport and golf course. At the golf range, I loved driving the balls into the lagoon. They have a diver who retrieves them. $6.00 for a bucket. The iguanas peeked out from the bushes, adding to the fun.

I also took a six-hour snorkeling trip around the island--mostly around the French side. Swam with large turtles, saw many tropical fish that swim close to you, petted the large iguanas on a separate smaller island (?Pinel), and had lunch on the beach at another fantastic restaurant.

All-inclusive price for trip: $120.00. Wear a t-shirt while snorkeling to avoid sunburn on back. Our captain was "Stan the man," who loves telling about the history, old and recent, about his island. Fascinating stuff.

The small company is coconut reef.com, owned by an Australian couple. Very accommodating and friendly.