My Anguilla Experiences Before, During and After the SBI Conference
by Colleen
(Oregon)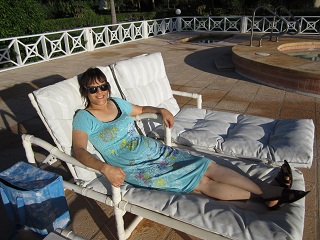 Poolside at Paradise Cove
Hi Nori!

I was the first SBIer to arrive at Paradise Cove for the SBI! conference Monday Nov 14th. Some of the highlights of Anguilla for me were walking to the beach and having a nice, friendly chat with the owner (I think) of Smokeys at the cove for about 30 minutes Tuesday morning.

Later (still the only conference attendee there) One of the ladies from the hotel desk gave me a ride to the entrance of the CuisinArt golf course behind the hotel where I walked part way to the club house. Someone offered me a ride to the club house on a golf cart the rest of the way there.

I got some pictures to show my dad, a retired golf coach. Then another employee gave me a ride on a cart to the back gate of the golf course, which was right next to Paradise Cove hotel.

I had fun in the rental car I rented Wednesday and Thursday. It wasn't as difficult as I thought driving on the left side of the road. When I was trying to find Central Baptist church, since most of the streets had no street name signs, I couldn't find the road to turn on to get there.

I walked into the library with my map to ask directions. A young student came behind me and said "Ma'am, are you lost?" (I think he saw the map and that I looked like a tourist). I said "kind of, I'm looking for Central Baptist Church." (

One of his peers came over and said "Oh, Central Baptist church, go up the road to the light, turn right and take the next left. It's a blue building with a school" I found it no problem then. I left a card and my name with a school employee and a request for a ride to church Sunday evening.

Later on Wednesday I drove with three other conference Attendees to Alberts market to shop for food to fix in our rooms. Thursday was our "ladies day out." Three other ladies from the conference and I went shopping in town, then drove down to Davidas for lunch.

A few of us were up by 6:30 A.M. to walk to Cove bay and do some swimming in the Caribbean on Saturday and Sunday. This was the only time I could get swimming in at the beach since the conference took up the time during the rest of the days and I was leaving early on Monday after the conference.

My Sunday night ended with a lady and her mom picking me up for church services Sunday evening from Central Baptist church. They were so friendly I felt like I was at my own home church.

Of course the memories and experience from the conference itself and having a barbecue at your parent's home will be ones I will always treasure. I told your mom I wanted to get a picture to send you with my sunglasses on like you have on in your picture on your site!

I found the friendliness and hospitality of the people in Anguilla unmatched by anyplace I can think of in the States or anywhere else that I've visited.
Join in and write your own page! It's easy to do. How? Simply click here to return to Your Anguilla Travel Story.