<![endif]-->
Sur La Plage 2 weeks in Paradise
by Janet Jones
(Marshfield, Ma 02050 USA)
surgery and it was the most amazing, wonderful healing and restful time.

The villa was immaculate, charming and contained everything you could think of ... just like your own well equipped home. We had books, cd's. dvd's, tv's, stereo, internet access as well as all the kitchen appliances .

Iris, the maid was most helpful and kept everything in wonderful order... washing our dishes, making sure we had enough towels for the house and the beach, changing our sheets every two days and then hanging the laundry out to dry in the sun.... an old fashioned treat that made you feel very pampered. She even insisted on showing us the way to the ferry so we could go shopping in St Marten for the day. ( she had us follow her so we would not get lost)

The most magnificent part of our two weeks was the incredible beach... It is so hard to give you the feeling of WOW when you walk down a little path through the sea grapes and come out upon the most pristine, white sand expanse with turquoise water. Just picture yourself with the Sun streaming down and sparkling on the water and you are sitting on a chaise listening to the water, a seagull fly over and no other human voice..... It is a magical place.



Sur La Plage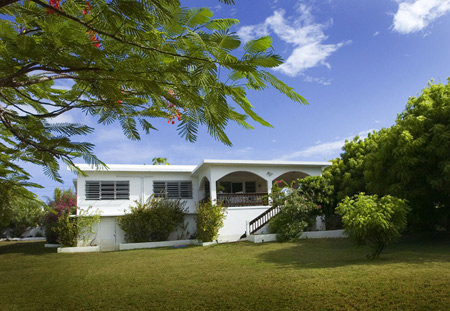 Photo From: www.anguillasurlaplage.com

We also took advantage of ordering dinner cooked by the onsite available Chef (a recent graduate of the Culinary Institute in Tortola). It was a magnificent meal of Cornish hen stuffed with fruits and wild rice, a magnificent sauce accompanied by tiny asparagus. For the cocktail hour, he served cheese, pate, and caviar with homemade toasted rounds of sourdough bread and a fabulous wine. Desert was an angelic concoction of bananas foster. YUM.

Sur La Plage Deck & Views


Photo From: www.anguillasurlaplage.com

I would be happy to talk to anyone about my incredible experience from January 7, 2008 to January 27th, 2008.
I cannot wait to go back!
Nori's Reply:
Thank you for your review of Sur La Plage, Janet!
The villa complex continues to get mixed reviews, varying from shining stories like yours to ones that have been complete nightmares.
I like to think that Sur La Plage has improved over the years, and since disappointing reviews have surfaced.
We were on the property not too long ago.
The location is hard to beat (just a 30 second walk down a garden path and you are on majestic Meads Bay). But, the grounds and units did look a little run down.
Considering the price (average of $500/night in the high season, and $300/night in the low season for a 2 bedroom unit), it may be a better bet to stay at
Carimar Beach Club
, which is right on Meads Bay, higher quality units, and less expensive.
Sur La PLage Anguilla Villa Review
by Dawn Clementz
(New Jersey, USA)
We had a bad time at Sur La Plage villa.

We arrived as scheduled in Anguilla and the place was a disaster. We waited four hours for it to be cleaned.

Next, the owner arrives with four friends and two dogs. They have the maid start to wash all their laundry from our villa.

The dogs bark through the night, as well as cats fighting under the windows. The animals. mess was scattered all over the lawn.

Then we run out of water. We approach the owner about the water crisis. She instructs US to check the water pump and pressure. No water. Then when we tell her again we have no water. Her friends tell us "you're whining."

We have our aged mothers with us we are concerned for their health. She said "too bad life is tough." The owner didn't bat an eye. With no sanitation we were left to take our mothers to a public toilet. The owner wouldn't let us into her villa as promised in the AM to wash.

Also, I sat on the hammock. It broke, landing me flat on my back. We were offered only excuses insults and shallow apologies.

No compensation at all. We were stranded with no sanitation. only mistreatment.

WARNING: do NOT stay at SUR LA PLAGE.

Nori's Reply: Because this was so serious, I e-mailed Dawn to 1) be sure that the e-mail address provided was valid and that I could reach a "real person" and 2) to verify that she had really entered this experience. Here was her reply...



"I did write this review. We have traveled quite extensively throughout the Caribbean and Central America. We have had a "few bumps in the road' before, but we have never been insulted for asking for basic necessities.

With our mothers in our care this was quite overwhelming. I was amazed at the rude comments. There is more to the story, but O wanted to make the review simple and direct.

Thank you for your contacting me. i hope my review will spare others the disappointment and regret I feel.

Our holiday was ruined. I regret most our mothers' loss. It is now difficult to travel with them. I hope I have what it takes to show them another better vacation sometime.

Sincerely,
Dawn Clementz

Honestly, I feel terrible to have to post this review about a bad Anguilla villa.
But it has been confirmed, as I contacted Dawn, she gave full e-mail address and locale. She stands by every word, in fact telling me that this was only the half of it. If anything is untrue, there are liability avenues that people can take. So I'm sure Dawn is very serious in her review.
And, of course, Sur La Plage can reply here if they like.
But the reason I feel terrible is that Anguilla is a wonderful place. The people are so wonderful that my father has tears in his eyes when he talks about the wonderful men building our future home in Anguilla. My Dad judges people only by their character and he tells me that he has never met such a truly fantastic team of people who work well together, who are fun to be with, and who take great pride in their work.
You can bet that he'll have them over to the house for BBQ's after the home is built, not just before as he did recently. Anguillians are simply caring and warm people.
Everyone we have ever met in Anguilla is caring and warm. And that's not pretend for the "tourists" like you feel in some places. It's very, very real.
Anguilla is the best place I have ever been -- I feel home when I'm there. And this site is a labor of love. But if someone is letting the rest of the island down and is not giving good service to customers, then part of this villa review section is not only to give GREAT reviews but also to point out which villas to avoid.
No place in this world is perfect, of course. So it's good to know what to avoid, I think.
Best regards,
Nori.
P.S. I also emailed Dawn to thank her for sharing her story. I thought it might be useful to know how she booked this villa. I asked her iIf it was through a rental agent, if she solicited their help towards resolution of the problem? It might be worth warning prospective visitors to use a reputable rental agent when reserving private villas.
Dawn replied and said she booked the villa herself. See our own "caveat story" and why it is good to use a respected real estate agent to rent your villa for you...
https://www.anguilla-beaches.com/anguilla-villas-careful.html
So yes, I agree totally. Use an excellent agent. Jackie is a close personal friend and takes great care of her clients.
Join in and write your own page! It's easy to do. How? Simply click here to return to Anguilla Villa Reviews.
Surprised by Above Story of Sur La Plage
by R. Matteson
I'm surprised by the comments above. My wife and I stayed at Sur La Plage about a year ago, and were looking into going back very soon.

Our experience was very different. Iris was absolutely charming and gave us a full tour of the houses (basement piled with linens and all) and brought us snorkeling gear, extra shampoo-- everything we needed when we asked for it.

We did some BBQ, and I remember marveling how everything we needed was handy, or in a drawer or otherwise easy to get to. I thought the floor was clean enough to eat off of and the beach-- WOW. The Beach was magnificent. Most of the time we had the entire sandy stretch to ourselves.

I would encourage you to talk with the owner and booking person. They were both more than gracious to us and even had a few honeymoon treats in the fridge on our arrival. I can't imagine things could be SO different.

Sincerely,
R.Matteson

Join in and write your own page! It's easy to do. How? Simply click here to return to Anguilla Villa Reviews.
Sur La Plage Villa - An Anguilla Pearl
by Ellie Cunningham
Sur la Plage on Meads Bay has SPOILED me for any other beach in the Caribbean. The first time I went there as a guest at my boyfriend's sister's wedding. We stayed the first 2 nights at a hotel in St. Maarten...I thought then I was in heaven.

Well, the day came to take the ferry over to Anguilla for the wedding. When we took the cab from Blowing Point to Sur la Plage, I thought my boyfriend was craaaazy. All I could see were half-built cinder block homes, chickens and goats.

When we arrived at Sur la Plage, it felt like finding a perfect pearl in an oyster. My boyfriend walked me down the path through the grapeleaves, and when we emerged, I opened my eyes to a scene that appeared to be a postcard. Sugar-sand, turquoise water and pelicans skimming for fish. The sun was setting and it was GLORIOUS.

The beach is a mile-long crescent slice of pure HEAVEN. When we went to the villa to unpack and settle in, I was again overwhelmed at the perfection I saw. Immaculate. Perfectly decorated and felt like home.

Iris the housekeeper told us all about Anguilla, where to go and what to see. (She even helped me iron my dress for the wedding!) We had a full library of movies, snorkel gear and unending supply of fresh beach towels. That was in 1997.

I fell in love on that trip, and now we are married and have a beautiful daughter. Over the years, we have traveled extensively, to other islands, other Caribbean beaches, stayed at other villas. We have found NONE compare to the beauty that is Sur la Plage on Meads Bay.
Join in and write your own page! It's easy to do. How? Simply click here to return to Anguilla Villa Reviews.