"Tranquility Wrapped in Blue"
by Tyrone Hodge
(California)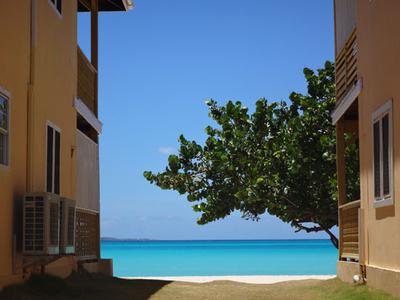 Between the buildings at Rendezvous Bay Hotel
Did you ever wonder what it would be like to experience Anguilla's "Tranquility Wrapped in Blue?" As an indigenous Anguillian, I've always stayed with relative or friends whenever I visited my homeland and I've always wondered what it would be like to truly experience the hospitality that we so willingly extend to the visitors to the island.

Well, I've had the opportunity to do so now on two occasions, the most recent of which I'll start with.

This last Anguilla Day, which saw the people recognize the 50th anniversary of our Revolution, my friends and I had reasons to be there, but that's irrelevant, but what was relevant was the exemplary accommodations and treatment extended to us by our hosts, Allan and Lisa Gumbs at Rendezvous Hotel on beautiful Rendezvous Bay.

Our accommodations were second to none, from the second floor overlooking miles and miles of a white powdered sandy beach which stretched as far as the eye could see - with an equal amount of azure blue waters, to a ringside view of St. Martin, to the five star restaurants at both Rendezvous Hotel and Smokey's on the Beach. It was truly an experience that I for one will not soon forget.

And as I promised, this was not the first time that my friends and I had experienced Tranquility Wrapped in Blue. Last year around the same time, my friends and I had another opportunity to sample Anguilla's hospitality, this time at the Paradise Cove Hotel where Dr. Frankie and Sheryl Hughes were our hosts. Again, our accommodations were second to none, with spacious suites complete with a fully equipped kitchen.

The staff like those at Rendezvous Bay, were super friendly and it would not be out of the ordinary to see Dr. Frankie Hughes sitting with a guest as he did with us. And speaking with Frankie, one gets the impression of the love with which he built Paradise Cove, for he could point to any tree on the premises, tell you its name and the conditions under which it was planted.

The staff waited on us hands and feet as the saying goes, and if they didn't have something on hand they would gladly go out and get it for you. I recall asking for a copy of the local paper which they didn't have at the time and in no time at all, they called and said they had a copy for me.

I know Dr. Frankie will probably not like me to say this, but in addition to being a successful Hotelier, he is also a highly regarded M.D and no one more than me appreciates that fact, for you see, on my most recent visit, I had a mishap and you guessed it, I called Dr. Frankie, and within minutes, he was at my door and he took care of my problem.

Tranquility Wrapped In Blue is not just relegated to the major venues such as Rendezvous and Paradise Cove, for all one has to do is drive around the island and sample the island's fare. Several places come to mind. One such place is Palm Grove at the beach at Junks Hole, where you can not only sample Nat's cooking but the waves at Savannah Bay. Continuing westward not far of the beaten path is the Falcon's Nest where the red snapper complimented with Anguilla's staples of peas and rice and sweet potato can be chased down with a cold bottle of Carib,(sorry folks) fair is fair, and as you look across the bay you will see Gorgeous Scilly Cay, where Eudoxie Wallace and friends will be more than willing to show you their version of Tranquility.

You can then walk off some of the calories to the foot of the bay and retrace the steps that I took as a young child growing up on the Point while you await the return of the fishing boats with their catch, an event that's really quite interesting. I recall a story of one local fisherman who had hooked a large fish, the names of both fish and fisherman escapes me right now, but long story short, the fish was too large to boat, (haul into the boat)and as fate would have it, the fisherman used his cell phone to summon help and, in no time at all his brother showed up and they were able to get the fish safely to shore.

It is just impossible to sample all of the places in a day, there's Bankie Banx's Dunne Preserve, where you can sample the pulsating sounds of his music as well as his food, there's Johnnos on the beach where you can sample the local delicacies as well as jazz, but before I leave I must give special mention to Gwen's Reggae Bar on Shoal Bay West, where in addition to the great food, you will get a chance to hear the personal song stylings of my former room and band mate, the man we lovingly call Tampa, none other than Mr. Keith Gumbs. Anguilla has something for everyone, whether you choose our five star hotels or our vast selection of affordable villas, come on down, a good and memorable time is waiting to be had by all.

So whether you are an indigenous Anguillian, or a first time visitor to our shores, Tranquility Wrapped in Blue has something to offer each and everyone regardless. So again, my friends and I wish to offer our unfettered thanks to all of our hosts.